A U.S. cryptocurrency researcher delivered a presentation on using blockchain technology to evade sanctions in April at a Pyongyang conference, leading to his arrest last week on allegations that he helped North Korea try to violate U.S. sanctions, prosecutors said.
Virgil Griffith, a U.S. citizen residing in Singapore, spoke at the April 2019 Pyongyang Blockchain and Cryptocurrency Conference, investigators said in a criminal complaint unsealed Friday in New York federal court. His presentation, entitled "Blockchain and Peace," was approved ahead of time by North Korean officials and it focused on how blockchain technology could be used to benefit the North Korean government, U.S. prosecutors say.
"Griffith provided highly technical information to North Korea, knowing that this information could be used to help North Korea launder money and evade sanctions," said U.S. Attorney Geoffrey Berman. "Griffith jeopardized the sanctions that both Congress and the president have enacted to place maximum pressure on North Korea's dangerous regime."
An organizer of the conference told Griffith that he should stress the potential money laundering and sanctions-evasion applications of cryptocurrency and blockchain technology, as those topics were most likely to resonate with the audience, according to the U.S. complaint. North Korean officials attending the conference asked him specific questions after the presentation, prompting technical discussions on the technologies, prosecutors said. After the conference, Griffith began formulating plans to facilitate the exchange of cryptocurrency between North Korea and South Korea despite knowing that assisting with such an exchange would violate sanctions, prosecutors said, citing an exchange with an unnamed individual. 
The conference, held at the Pyongyang Science and Technology Complex, was organized by Alejandro Cao de Benos, president of the Korean Friendship Association (KFA), and Christopher Emms, chief executive of TokenKey Ltd and founder and CEO of Gamesult.com. Emms, also an adviser to a token called SkyCoin, was listed as a speaker at the conference. About 100 people attended the conference along with Griffith, according to the U.S. complaint.
Cryptocurrencies, such as bitcoin or ethereum, are digital currencies, many of which trade along a blockchain, a digital ledger identifying the origin and recipient of any transaction by an alphanumeric mechanism. The case involving Griffith comes amid reports earlier this year that North Korea is in the early stages of developing its own cryptocurrency in a bid to avoid U.S. and international sanctions. Some media outlets are skeptical about North Korea's progress thus far, however.
Pyongyang has since 2017 undertaken efforts to exploit cryptocurrencies as the government seeks ever-more creative ways to evade sanctions, according to an April 2019 report by U.K.-based think tank the Royal United Services Institute (RUSI). The United Nations Panel of Experts reported in August that it is undertaking probes of at least 35 reported instances of North Korean actors attacking financial institutions, cryptocurrency exchanges and mining activity to earn foreign currency. North Korean hacker groups sanctioned by the U.S. in September have targeted virtual asset providers and cryptocurrency exchanges, stealing around USD 571 million in assets, according to the U.S. Treasury Department.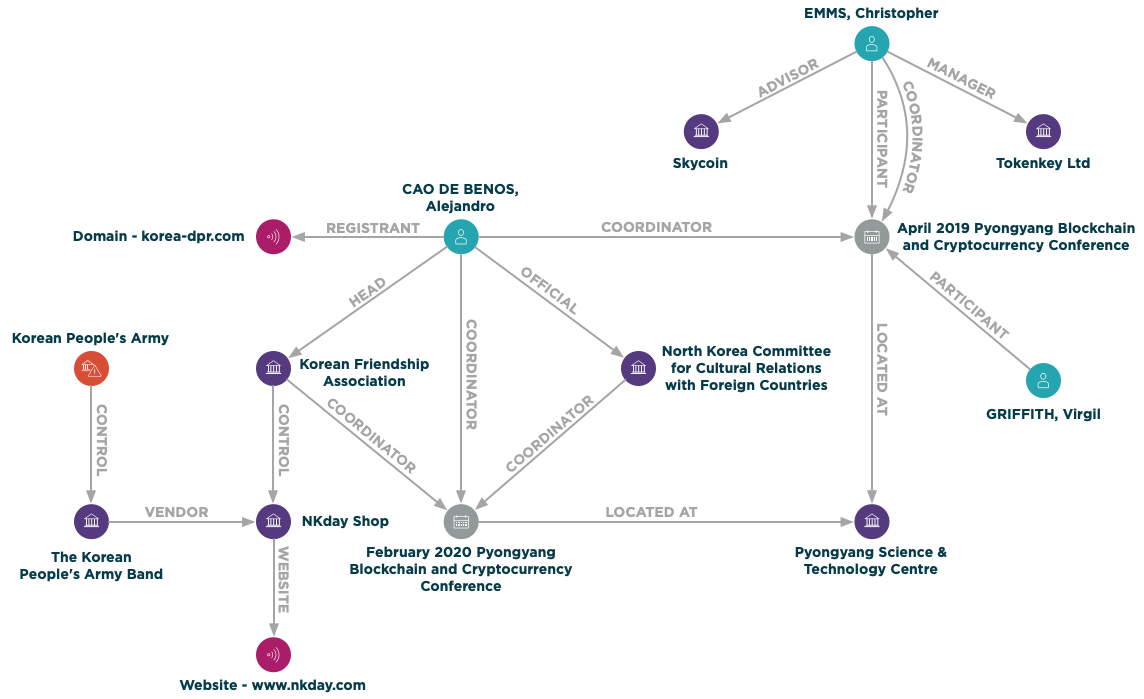 The U.S. State Department denied Griffith permission to travel to North Korea to give the presentation but he did so anyway, knowing that it violated sanctions against North Korea, prosecutors said. A North Korean diplomatic mission in New York, along with an unnamed individual, helped Griffith get his visa, according to the complaint. He paid EUR 100, kept the document separate from his U.S. passport and traveled through China to attend the April conference in Pyongyang, the complaint said.
Griffith was arrested Thursday at Los Angeles International Airport. A magistrate judge in Los Angeles ruled that he should be free while the case proceeds, according to a Los Angeles Times report filed late Monday after Griffith's initial court appearance. Griffith was released on USD 800,000 bond; his movements will be monitored electronically, and no date was set for his next court appearance, the LA Times reported.
"We dispute the untested allegations in the criminal complaint, and Virgil looks forward to his day in court, when the full story can come out," said Brian Klein, Griffith's attorney, in a statement posted on social media late Monday.
Griffith, who also wrote for the hacker magazine 2600, was the subject of a 2008 profile by The New York Times in which Griffith said he saw himself as a "disruptive technologist." WikiScanner, a data-tracing tool Griffith created in 2007, identified the editor of entries on Wikipedia by IP address; it quickly became the subject of media reports. A "#freevirgil" hashtag sprouted on social media in the days since Griffith's arrest.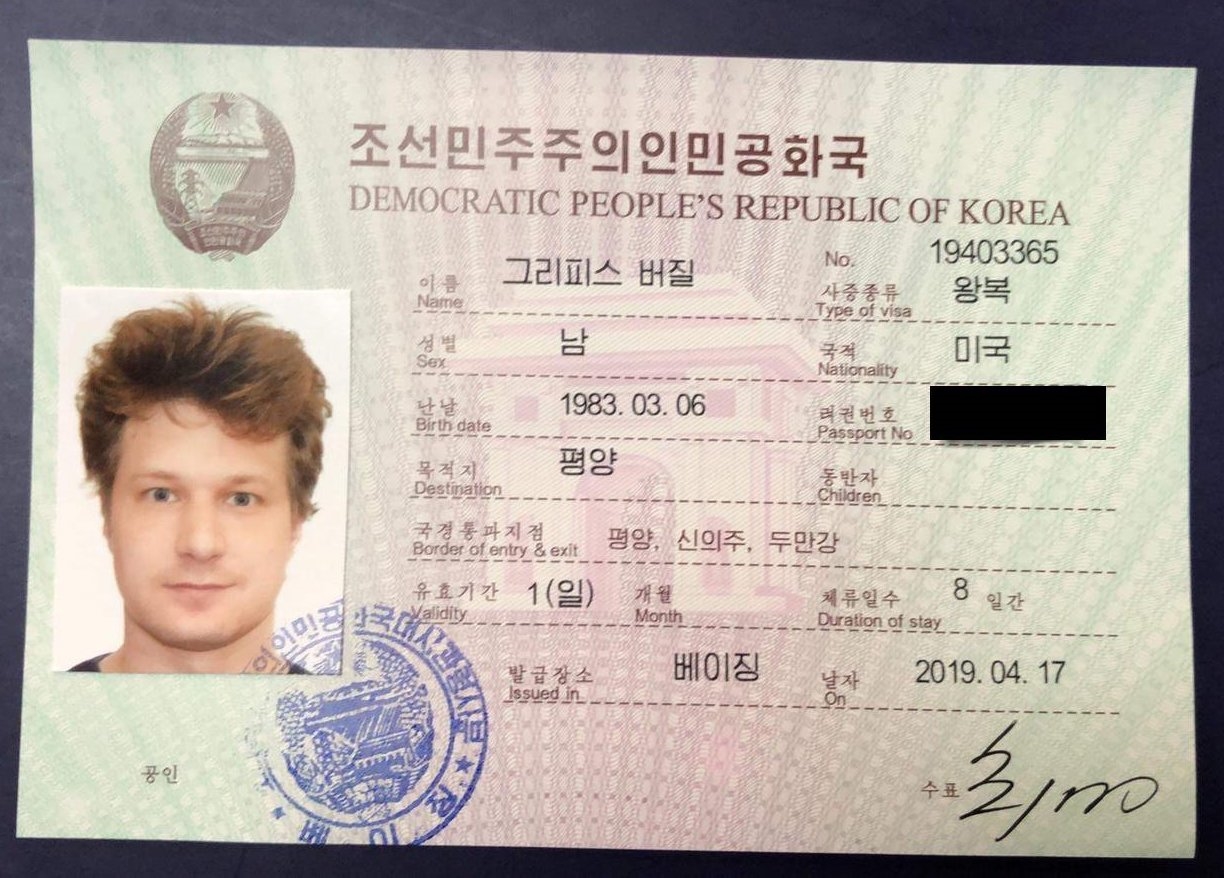 Griffith now works as a researcher of special projects at the Ethereum Foundation, a non-profit that supports research and development on the Ethereum platform, according to his personal website. He published research in March about how Ethereum was "game-changing technology." The Ethereum Foundation said Griffith had acted on his own, according to a statement quoted Monday by the New York Times. The price of Ethereum currency was relatively unchanged immediately after Griffith's arrest, though a South Korean crypto exchange reported a theft of USD 49 million worth of ethereum coins, leading that exchange to suspend withdrawals and deposits, according to a media report. 
Vitalik Buterin, a co-founder of Ethereum, defended Griffith in a thread on social media, saying he didn't think Griffith provided North Korea with any real assistance and that Griffith didn't gain personally from the trip.
Griffith is a shareholder of EtherCards Pte. Ltd., a company that brings blockchain technology to physical objects, and of True Names Ltd., according to Singaporean corporate records. He was a director of True Names until May 2018, records show. Griffith also was listed as an owner of Backbone Telecommunications, a now-dissolved company, according to corporate records.
Griffith promoted appearances at multiple conferences about cryptocurrencies, a review of his social media postings shows. He occasionally posted about North Korea, including his time eating at a North Korean restaurant in July in Bangkok and a photo in August of his North Korean visa. Griffith posted a link about new cryptocurrency compliance standards from the Financial Action Task Force (FATF), saying they were a "market opportunity" for North Korea to establish the first cryptocurrency exchange without know-your-customer (KYC) compliance.
In a deleted post from January, archived by Google, Griffith said he put down a deposit to travel to North Korea in April. Griffith said in a reply to another user that the trip was a personal vacation, not related to his employment at Ethereum. Griffith had posted in August 2018 saying he'd reached out to the organizers of the Pyongyang conference, and in September promoted the 2020 edition of the conference, posting a link. 
KOREAN FRIENDSHIP ORGANIZATION
The KFA, founded in 2000, builds international ties with North Korea, claiming members in 120 countries, according to its website. It is a leading member of a network of North Korean support groups that hold activities to positively spin the activities of the Kim Jong Un government, according to media reports. Cao de Benos, president of the KFA, dons a North Korean military uniform while claiming he is a "special delegate" for the North Korea Committee for Cultural Relations with Foreign Countries, according to media reports. The committee is an arm of the North Korean government that handles cultural exchanges.
Based in Spain, the KFA says it has "full recognition" from the North Korean government and branches in the U.K. and the U.S. A "shunned" former member of the U.K. branch said in an interview in May with NK News that the local chapter received no funding from North Korea, nor from the parent organization led by Cao de Benos. The KFA operates an online shopping website, called NKDay, where goods are available for purchase from sanctioned entities, including compact discs of music from the band of the Korean People's Army. 
It also organizes tours to North Korea, and promotes business opportunities in the DPRK, including through conferences such as the event prosecutors allege Griffith attended. The next Pyongyang Blockchain and Cryptocurrency Conference, also organized by Cao de Benos, is scheduled for February 2020. Griffith encouraged other Americans to travel to North Korea, including for the 2020 edition of the cryptocurrency conference, prosecutors said.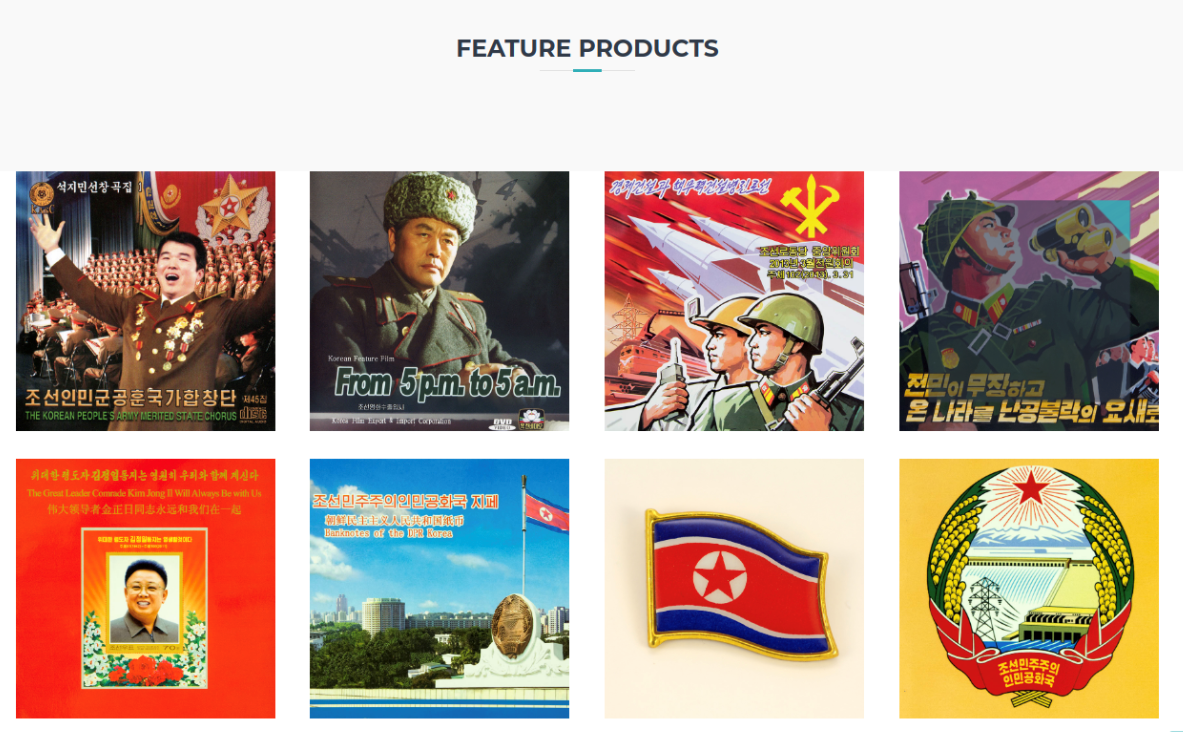 "If any of my academic/science/tech friends would like to give some lectures on science/technology at the Pyongyang Sci-Tech Complex (North Korea), do let me know," Griffith said in a social media post made on April 26, the day after the conference. "They have reached out to me to (sic) for recommendations of new people to invite to their country."