By Helen Koo, Edmund Xu and Samuel Rubenfeld
Sunday, April 26, 2020
---
Shipments of beer believed to be destined for North Korea connect to a much larger network of trade activity and provide a glimpse into how Pyongyang continues to defy international sanctions, according to the latest findings from the United Nations and a Kharon investigation.
The U.N. Panel of Experts investigated two shipments from St. Petersburg, Russia-based Baltika Breweries Co., both of which it said were seized at the port of Rotterdam in the European Union, where beer is categorized as a "luxury good."
U.N. sanctions prohibit exports of luxury goods to North Korea, but the international sanctions regime does not specifically ban alcohol exports, nor are the exports banned under Russian law, the Russian government told the U.N. panel.
Baltika never provided authorization for buyers in China to transport its products beyond its borders, in accordance with the contractual terms and conditions, the U.N. report said, citing Russia. Baltika is owned by Danish brewer Carlsberg Group, the fourth-largest beer company in the world. Dutch customs officials have previously seized alcohol believed to be bound for North Korea, including 90,000 bottles of Russian vodka, according to media reports. A U.N. investigation into the vodka shipment is ongoing, the panel said in the report.
Pyongyang continues to violate U.N. prohibitions on imports of petroleum, luxury goods and other sanctioned items, and on exports of coal and sand, according to the U.N. panel's report. The report, dated March 2, was initially released April 17 on the U.N. Security Council's website, but it was removed later that day and posted again on Tuesday, April 21.
The first beer shipment, of 957 cases, was sent in April 2019 to China-based Hunchun Huihe Economic and Trade Co., Ltd., according to the U.N. panel. But the bill of lading cited in an annex to the U.N. report said the consignee was Dalian Myunghae International Trade Co., Ltd., a company that lists a suite in Dalian's Wenyuan Hotel as its principal address. Dalian is a Chinese port town in Liaoning Province, which borders North Korea.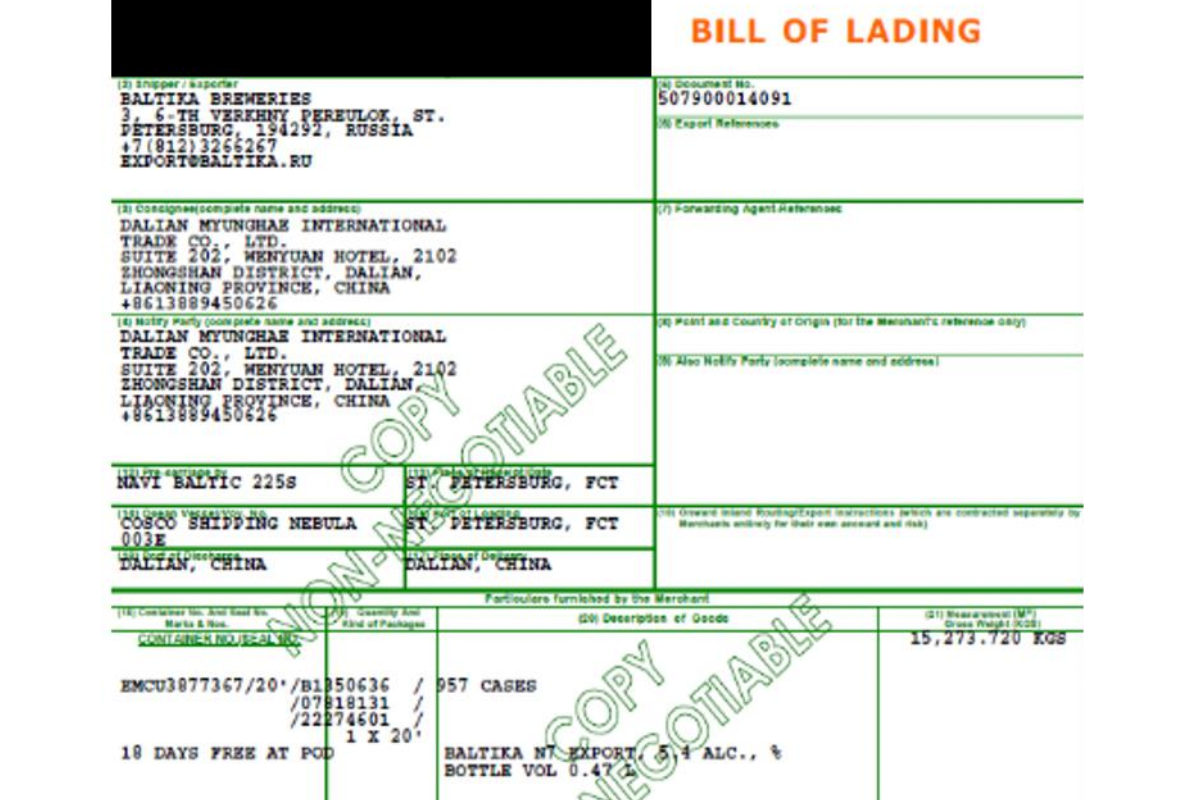 Hunchun Huihe Economic and Trade was the "buyer" of the beer, and Dalian Myunghae was the "importer," according to shipping data. Baltika also made three shipments in 2018 to Dalian Myunghae; the buyer then was Suifenhe Haibo Economic & Trade Co., Ltd., trade data shows.
The second Baltika beer shipment reviewed by the U.N. panel, of 3,100 cases, was sent in May 2019 to Liaoning Pilot Free Trade Zone Yurong Warehouse Co. Ltd., also located in Dalian. Yurong Warehouse separately received shipments of household goods and cosmetics in late 2019 and early 2020 from an Indonesian firm that also exported goods to Dalian Myunghae, shipping records show.
Dalian Myunghae is a Chinese trading company that focuses on the North Korean market, according to its profiles on Chinese business-to-business platforms. Among other things, the company has advertised that it managed now-scrapped North Korean vessels.
Companies based in Vietnam, Indonesia, Russia and elsewhere have shipped more than USD 32 million worth of goods to Dalian Myunghae and other firms registered at the same suite since January 2018, according to trade records reviewed by Kharon as part of an ongoing investigation into North Korea-related trade facilitation networks.
The vast majority of the shipments were sent to Dalian Myunghae, trade records show. It's unclear from the trade data whether the goods crossed the border into North Korea. The extent of this trading network has not previously been reported.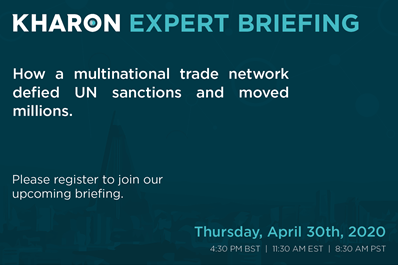 Park Myung Cheol, who holds 50 percent of Dalian Myunghae, also owned 50 percent of Hong Kong-based CK International until it was dissolved in March 2019, Hong Kong records show. CK International was sanctioned by the U.S. in January 2018 for operating in the North Korean transportation industry.
Hong Chunhua, who owns the other 50 percent of Dalian Myunghae, was the sole owner of the now-dissolved HongKong Cheong Song Shipping Material Co., Ltd., the registered owner of the North Korean-flagged vessel Kum Hae until 2018.
The Wenyuan Hotel, based in the Zhongshan district of Dalian, operates under the Dalian Wenyuan Group brand, according to the company's website, but corporate records show it is wholly owned by a New Zealander named Wynne Wong. It has 200 rooms and rates typically range from USD 32 to USD 49, according to booking websites.
Several Indonesian companies have sent goods in recent years to Dalian Myunghae.
PT Tunas Baru Lampung, a household products producer whose shares are traded on the Indonesian Stock Exchange, shipped 360,000 kilograms of soap products to Dalian Myunghae from April 2019 to January 2020, according to shipping records. A subsidiary of the publicly traded Wilmar International in July 2019 shipped 20,000 kilograms of crude glycerin, a biodiesel byproduct, to Dalian Myunghae. A U.S. agribusiness giant is one of Wilmar's largest shareholders, according to securities disclosures.
Another firm that shipped to Dalian Myunghae is the sanctioned Vietnamese wholesaler Pink Whale Company Limited, trade data shows. Pink Whale was sanctioned in 2017 by Australia for facilitating North Korea proliferation-related activity when operating under the name SUNICO Co., Ltd., Kharon reported last year.
The firm has since been dissolved, but at least three of its shareholders and managers now have similar roles at Rakhoi Wholesale Company Limited, a firm founded in September 2017 shortly after Australia designated Pink Whale, corporate records and social media profiles show.
Rakhoi Wholesale has also made shipments to Dalian Myunghae, according to shipping records. In 2018 and early 2019, the company shipped multinational brand name consumer goods, electronics and appliances to Dalian Myunghae and other companies based in the Wenyuan Hotel suite.
Rakhoi Wholesale names a number of U.S. and European companies as "top brands" and "golden partners" on its website.
The electronics and appliances shipped by Rakhoi Wholesale, valued at more than USD 80,000 according to the bills of ladings, are categorized under "HS" codes 84 and 85. Items listed under these two HS codes, an international standard for categorizing goods, are prohibited by the U.N. from direct or indirect export to North Korea.
Shipping records show that Dalian Myunghae has also received consumer goods from two other Vietnam-based companies. One company, Good Solutions Co. Ltd., shipped USD 2.6 million worth of consumer goods to Dalian Myunghae at the hotel between January 2018 and January 2020, trade data shows. The other, Sentmen Company Limited, shipped about USD 632,000 worth of products to Dalian Myunghae in 2019.
And Indonesian bulk commodities trader PT Nur Kencana Lestari Inti sent consumer goods to Dalian Myunghae last year, trade records show. Hamid Ali, the company's chief executive, was one of the parties identified last year by the U.N. as being "a key figure" in the attempt to smuggle 25,500 tons of coal from North Korea aboard the bulk carrier Wise Honest.
The vessel was seized by the U.S. government, sold at auction and eventually scrapped. The coal, tracked to a Vietnamese tanker called the Dong Thanh, is in custody along with the vessel, pending a final decision in line with relevant Vietnamese law, according to the latest U.N. panel report.
Other companies receive shipments at subunits within Dalian Myunghae's suite address, trade data shows. In December 2019, a shipment arrived at one of the suite's subunits for Liaoning Danxing International Forwarding Co. Ltd, a logistics company sanctioned in March 2019 by the U.S. Treasury Department for using deceptive practices that enabled North Korean procurement officials to buy goods for the government.
The subunit where Liaoning Danxing received the shipment is registered to a logistics company owned by Hong, one of Dalian Myunghae's owners, according to Chinese records.
For more information on this network and others, please log in to Kharon Clearview.
---