Belarusian Facial Recognition Software Rebranded to Enter U.S. Market
The company's U.S. partners distanced themselves following EU sanctions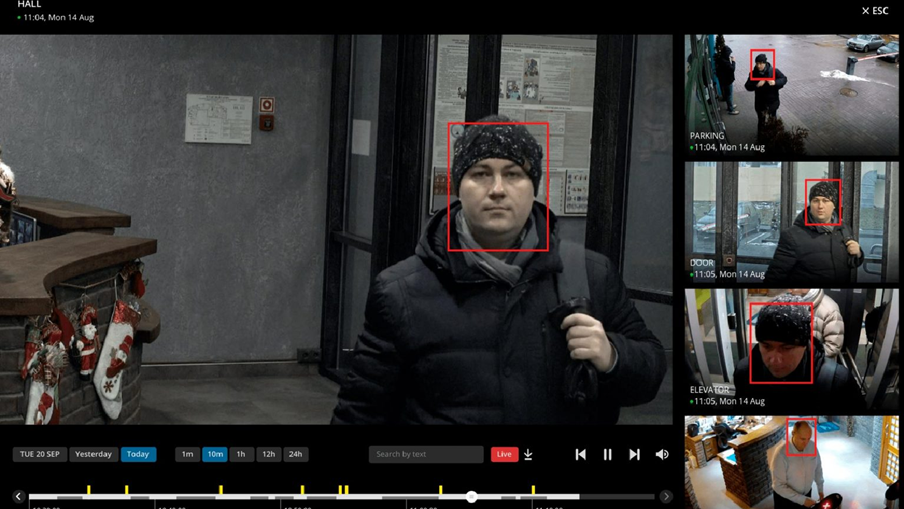 (Source: IrexAI Inc.)
By Megi Hakobjanyan, Abigail Buhrman and Samuel Rubenfeld
Monday, March 22, 2021
When Belarusian tech company Synesis LLC sought to bring its proprietary facial recognition platform to the U.S., it partnered with a firm based in Silicon Valley to help make the move.   
The agreement, announced in late-September 2019, was signed with GSD Venture Studios; the company provides a variety of services to help startups achieve growth, with a focus on assisting Russian artificial intelligence, blockchain and virtual reality companies, according to its website. As part of the partnership, Synesis opened an office in Silicon Valley, and the two companies also agreed to create a joint venture that would be led by GSD CEO Gary Fowler to help promote the product.
In November 2019, following the agreement between Synesis and GSD Venture Studios, IrexAI (IREX) was founded, establishing itself in Santa Clara, California, before a relocation early this year to Alexandria, Virginia, a city just outside of Washington, D.C. 
"I'm excited to be working with Synesis on their Kipod Smart City concept," Fowler said in a Synesis press release at the time. "They have done a lot of things right to get to this point and are ready to take the next step. GSD and I will help them get there." 
Kipod, the platform produced by Synesis, analyzes footage pulled from CCTV and other sources to identify and track individuals and vehicles. It has been used by Belarusian security forces in the apprehension of opposition figures, and for surveillance by other governments in the region, as well as for facilities monitoring by private companies, Kharon found. 
Kipod is one of several facial recognition technologies installed in the Moscow Metro. Both the Kazakh and Azerbaijani governments employ Kipod in certain cities to control crowds and investigate crimes, having installed the software in the wake of protests.
Synesis was sanctioned by the European Union in December for providing the system to the Belarusian authorities, "making the company responsible for the repression of civil society and democratic opposition by the state apparatus in Belarus," the EU said in its announcement of restrictive measures against the firm. Synesis has said it plans to appeal the listing.
A week after Synesis was sanctioned, Fowler issued a statement to dev.by, saying: "GSD Venture Studios is a strong supporter of human and political rights. GSD Venture Studios is no longer involved with Synesis." The contract between GSD and Synesis had ended a few weeks before the statement, dev.by reported, citing unnamed sources. Though GSD did not make a similar statement about IREX, articles mentioning the collaboration between GSD and IREX have been removed from GSD's website. 
Fowler, a self-described "serial entrepreneur," co-founded GSD with Derek Distenfield; he also established other startup accelerators based in the Commonwealth of Independent States (CIS), according to the GSD website. 
Both Fowler and Distenfield were listed as business development executives on the Belarusian Synesis website as of Dec. 18; information about the company's leadership was removed from the site after it was designated, however. They were also listed as CEO and COO, respectively, of IREX, according to a December 2020 cached version of the IREX website; at the time of this article's publication, however, neither of them were listed as executives.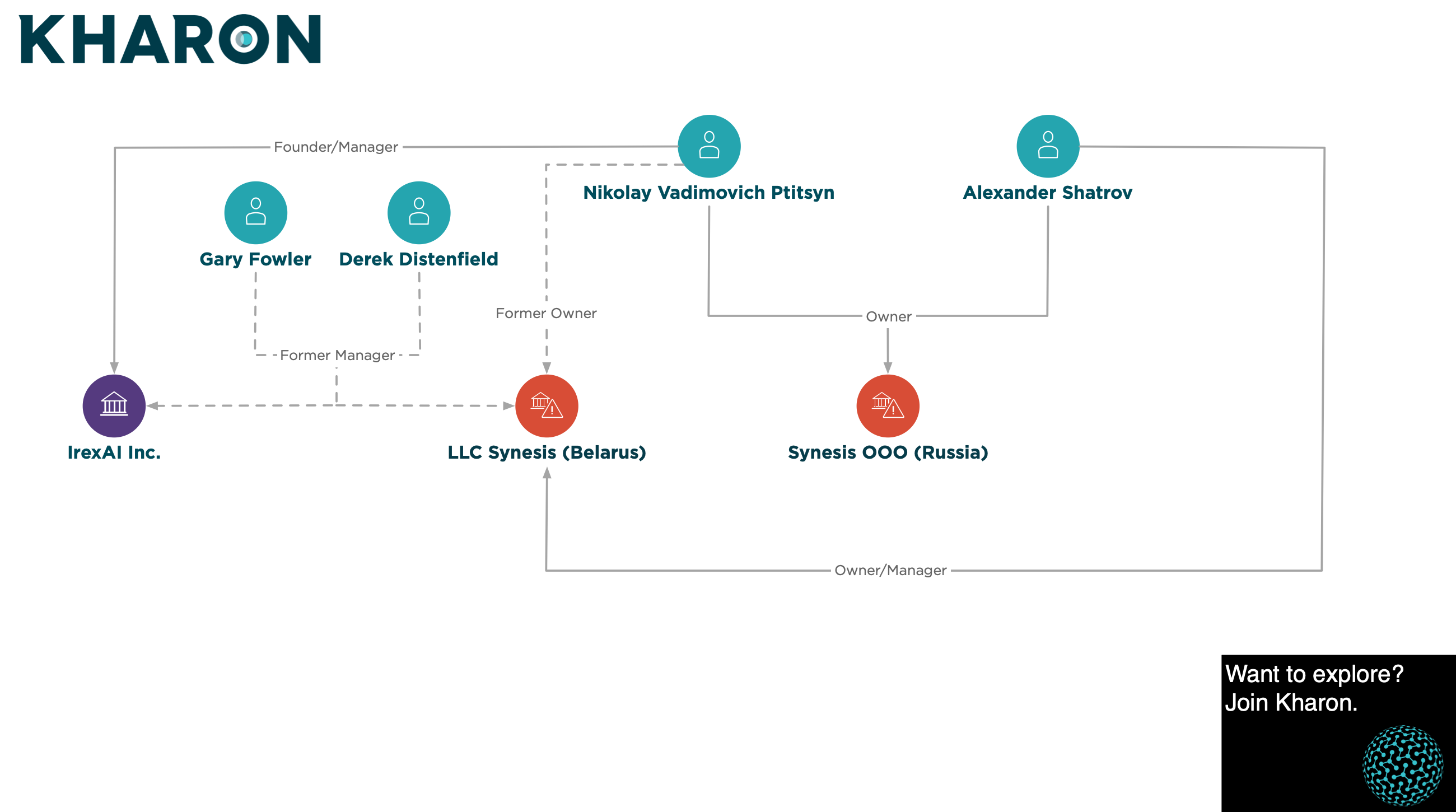 America's Kipod
A week before the sanctions on Synesis, IREX held a virtual event in coordination with Intel Corporation and the Department of Homeland Security (DHS). Prior to the event, IREX had announced a partnership with the nonprofit organization National Child Protection Task Force (NCPTF) to help identify and track missing and exploited children. NCPTF volunteers provide law enforcement services with investigative expertise to help catch and prosecute predators. 
The event included a 40-minute account from an intelligence analyst from DHS about the horrors of human trafficking, as well as a roundtable led by Fowler and other panelists and a demo of how IREX can be used to find missing children. Though IREX posted a press release in January about the event, no new users of the platform have been publicly announced since.
IREX has been called the "American version" of Kipod by Belarusian media; Alexander Shatrov, the owner of Synesis, confirmed that IREX was a "representative" of Synesis in the U.S. in response to a question during an interview after the EU sanctions designation. Nikolay Ptitsyn, a co-founder of Synesis, was listed as the head of IREX's product development, according to a prior version of the IREX website. The website was recently replaced, though the latest version appears to be in its launch phase. 

Like Kipod, IREX markets an artificial intelligence (AI)-powered security operating system that allows the user to track individuals and vehicles through footage gathered from cameras and security sensors. 
The terms IREX and Kipod were used interchangeably in technical specifications in the FAQs section of the IREX website before it was taken down, and an April 2020 promotional video for the IREX platform shows the Kipod logo in the top left corner of the user interface.

IREX can host its data either on a private or a third-party cloud provider, its website showed. The platform comes with dBrain cloud infrastructure "optimized for video processing and storage," according to a July 2020 review of IREX by the tech publication GISuser. The deployment "could be switched to a third-party provider easily," GISuser said in the review. 
The IREX software is responsible both for the initial processing of data and "the subsequent sending of all the processed data to the dBrain distributed storage system," the IREX FAQs section said.
dBrain is an open-source platform produced by a wholly owned subsidiary of Synesis that allows for the creation of a private cloud, analogous to Amazon EC2 and Google Cloud, according to the prior IREX website and corporate records. The system stores the data at a data center in Belarus. dBrain is the default platform for "private instances" of Kipod, according to the Synesis website. The Belarusian government's "public safety monitoring system" that uses Kipod is also one of the projects listed on dBrain's website. 
'It Sounds Like a Pretty Safe Bet to Me'
Fowler, the GSD Venture Studios co-founder, discussed funding for IREX with Ptitsyn, a co-founder of Synesis, during an interview in September 2020 for a show for VC Taskforce, a Silicon Valley-based venture community organization. IREX "sounds like a pretty safe bet to me," Fowler said. "I was on two panels earlier today with VCs and one of the things they said about they're looking for revenue producing companies. It sounds like you got it nailed, Nick." 

At the time, Fowler was listed as the CEO of IREX, according to a June 2020 archived version of the IREX website, though it was not mentioned in the interview.
Fowler "takes a senior operational role" in each GSD-backed startup to better assist them as needed, according to GSD's website. As part of his role, Fowler "travels frequently to Russia to promote GSD's international interests," the GSD website says. Through its accelerator program GSD Labs, which searches outside the U.S. for companies "bold enough to #GoGlobal," the firm also provides a variety of services, including press coverage and digital marketing, as well as a "demo day to invite only investors," according to the website. 
IREX's American Use Cases
Though IREX appears to have large ambitions for the U.S. market, based on its promotional materials, there are few examples of deployed use cases. 
Limited use of the IREX platform, focusing on loss prevention, was deployed in Miami, Florida, at Continental Rx Pharmacy, according to a May 2020 IREX press release that cites the pharmacy's CEO. The press release talks about future plans to expand IREX's deployment for the pharmacy, to include thermal imaging cameras to measure the temperature of the pharmacy visitors. 
"Our [IREX] pipeline is over USD 100 million and growing every day and we are thrilled to have developed an advanced computer vision technology that has the potential to bring people out of quarantine safely," Fowler said, in his role as the CEO of IREX at the time.
---