By Robert Kim
May 10, 2022
---
The double barreled family name Bonham Carter, world-famous in cinema since the 1980s, has more recently made headlines for a central role in the high-end western real estate holdings of sanctioned Russian oligarch Oleg Deripaska. Graham Bonham Carter, reported since 2017 to be working for Deripaska, has business relationships with the oligarch using an array of corporate entities that can complicate the understanding of underlying ownership interests. U.S. and U.K. authorities are investigating Deripaska and Bonham Carter at the same time that the U.S., U.K. and numerous other nations have pledged to find and confiscate properties of sanctioned Russian oligarchs. 
Mr. Deripaska Goes to Washington
A November 2017 Washington Post article reported that Deripaska owned one of the most expensive residences in the nation's capital since 2006, and that a second cousin of actress Helena Bonham Carter was managing the property. The article found that a 23,000 square foot, seven bedroom mansion near Washington's Embassy Row had sold for $15 million in cash in 2006 to an anonymously owned Delaware limited liability company. Management of the property was traced to Gracetown Inc., a New York company whose chief executive officer was Graham Bonham Carter.
The Washington Post also reported that Deripaska had established a British Virgin Islands (BVI) trust that purchased two properties in Manhattan, a $4.5 million townhouse in the West Village in 2006 and a $42.5 million house in the Upper East Side in 2008. Bonham Carter worked for both Gracetown Inc, and Terra Services, which British regulatory filings showed was formerly owned by Deripaska. 
A Room With a View, Managed by Bonham Carter
Company extracts reviewed by Kharon revealed that high-end real estate in the U.K. and France are linked to Bonham Carter, Deripaska, and Deripaska's cousin Pavel Ezubov, who is involved in the international ownership of assets linked to Deripaska. Legal entities registered in the U.K., BVI, and France were the owners of these properties, and Bonham Carter was their manager. Terra Services Limited, a U.K. limited company that was formerly majority owned by Deripaska and currently majority owned by Ezubov, is linked to most of these companies, but as a creditor, not as an owner. Bonham Carter was the general manager of Terra Services Limited in 2018, according to his LinkedIn account.  
London. 5 Belgrave Square in London, widely reported to be owned by Deripaska in media coverage of a brief takeover of the property on March 14 by protesters demonstrating against Russia's invasion of Ukraine, is owned by Ravellot Limited, a BVI company. According to a 2016 company disclosure, Terra Services Limited was a creditor to Ravellot Limited, whose agents are Ezubov and Bonham Carter. These arrangements appear to correspond with a March 14 statement by a spokesman for Deripaska that 5 Belgrave Square belongs to members of his family, not to Deripaska himself.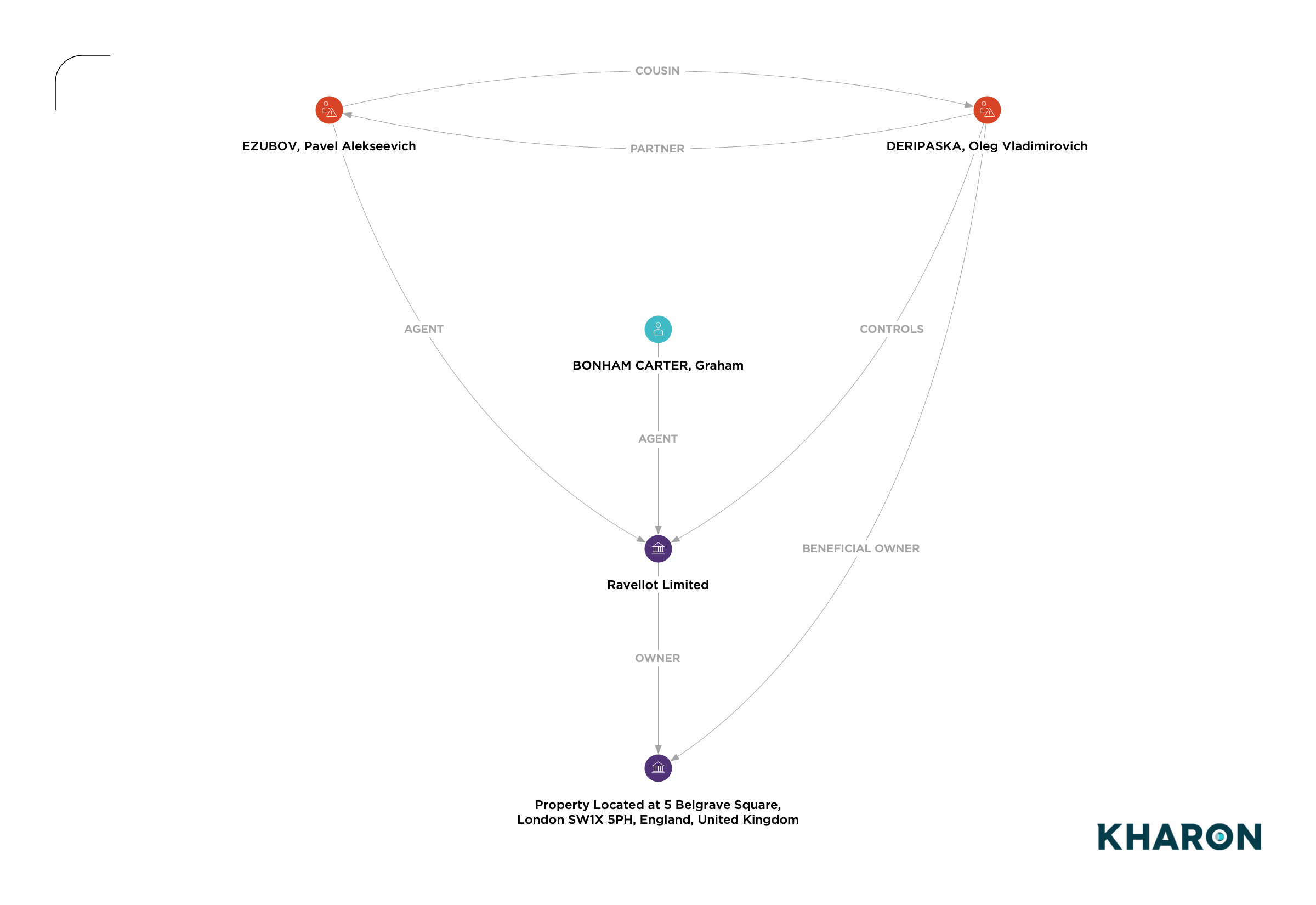 Paris. According to 2018 company extracts from the France Registry of Companies and Commerce, 33 Rue de l'Université and 38 Rue de Berri in Paris are owned by 33 Rue de l'Université SCI and Le Cordillera SCI, respectively, each a French Société Civile Immobilière (SCI), a company for the ownership and management of real estate. Bonham Carter was listed as a manager for each company on the company extracts, and Terra Services Limited is a creditor to each.
Saint-Tropez. The Villa Herakles, a private oceanfront villa in Saint-Tropez, is owned by Winberg Saint Tropez SCI according to French court filings. Deripaska and Ezubov have unknown ownership stakes in Winberg Saint Tropez SCI, whose manager is Bonham Carter.  
Investigations of Deripaska and Bonham Carter
Deripaska and Bonham Carter have been under investigation by law enforcement in the U.S. and U.K. The FBI searched the Washington house and a New York property linked to Deripaska in October 2021. A spokesperson for Deripaska stated that the searches were "connected to U.S. sanctions." The U.K.'s National Crime Agency obtained a court order freezing five bank accounts associated with Bonham Carter, on suspicion of being used to help Deripaska avoid U.S. sanctions. The court order was issued on March 4, preceding the U.K.'s sanctioning of Deripaska on March 10.
The U.S., U.K., France, and a host of other nations have launched task forces to investigate and seize properties of sanctioned Russian oligarchs. The U.S. Department of Justice announced its Task Force KleptoCapture on March 2, and the multilateral Russian Elites, Proxies, and Oligarchs (REPO) task force was first announced on February 26 and further worked out on March 16.