A procurement network of front companies tied to actors sanctioned for aiding Iran's ballistic missile program has evolved, as recent activities indicate the network continues to market dual-use goods such as carbon fiber and laboratory technology, a Kharon investigation has found.
Hossein Pournaghshband and his company Mabrooka Trading were sanctioned in January 2016 for helping procure carbon fiber for Navid Composite Material Company, the Iranian subsidiary of Sanam Industrial Group, which was sanctioned by the U.S. and the United Nations as a subordinate of an Iranian Ministry of Defense subsidiary. Mabrooka was founded by, and is part of a larger network associated with, the Ervin Danesh Aryan Company, which was sanctioned in February 2017, also for its work with Navid Composite, according to a Treasury designation statement.
The Ervin Danesh network sought to acquire equipment from foreign suppliers, having performed contract work since at least 2015 for Navid Composite, which boasts a production line of polyacrylonitrile-based carbon fiber, according to the Treasury in 2017. Mostafa Zahedi, a sanctioned employee of Ervin Danesh, worked with Pournaghshband to procure goods ultimately destined for Mohammad Magham, the blacklisted managing director of Navid Composite, the Treasury said.
Polyacrylonitrile, or PAN, fibers are the chemical precursor to high-quality carbon fiber, which is found in common daily items, as well as missiles and propellant rocket motors.
ZIG DANESH AHORA
In August of last year, Pournaghshband took majority ownership of Zig Danesh Ahora, an Iranian company established in January 2018. The company's website lists laboratory equipment of the same brands marketed by Ervin Danesh, including American brands such as TA Instruments, Bruker and ThermoFisher Scientific.
Many of these products, such as spectrophotometers and chromatography equipments, require a Treasury license for export to Iran.
Zig Danesh's website features a variety of carbon-based products, including carbon fibers and sheets, though without mentioning any brand. The company emphasizes on its website that it is "ready to provide services" to companies and industries in a wide array of economic sectors, including oil and gas, commercial factories, construction, and research and science.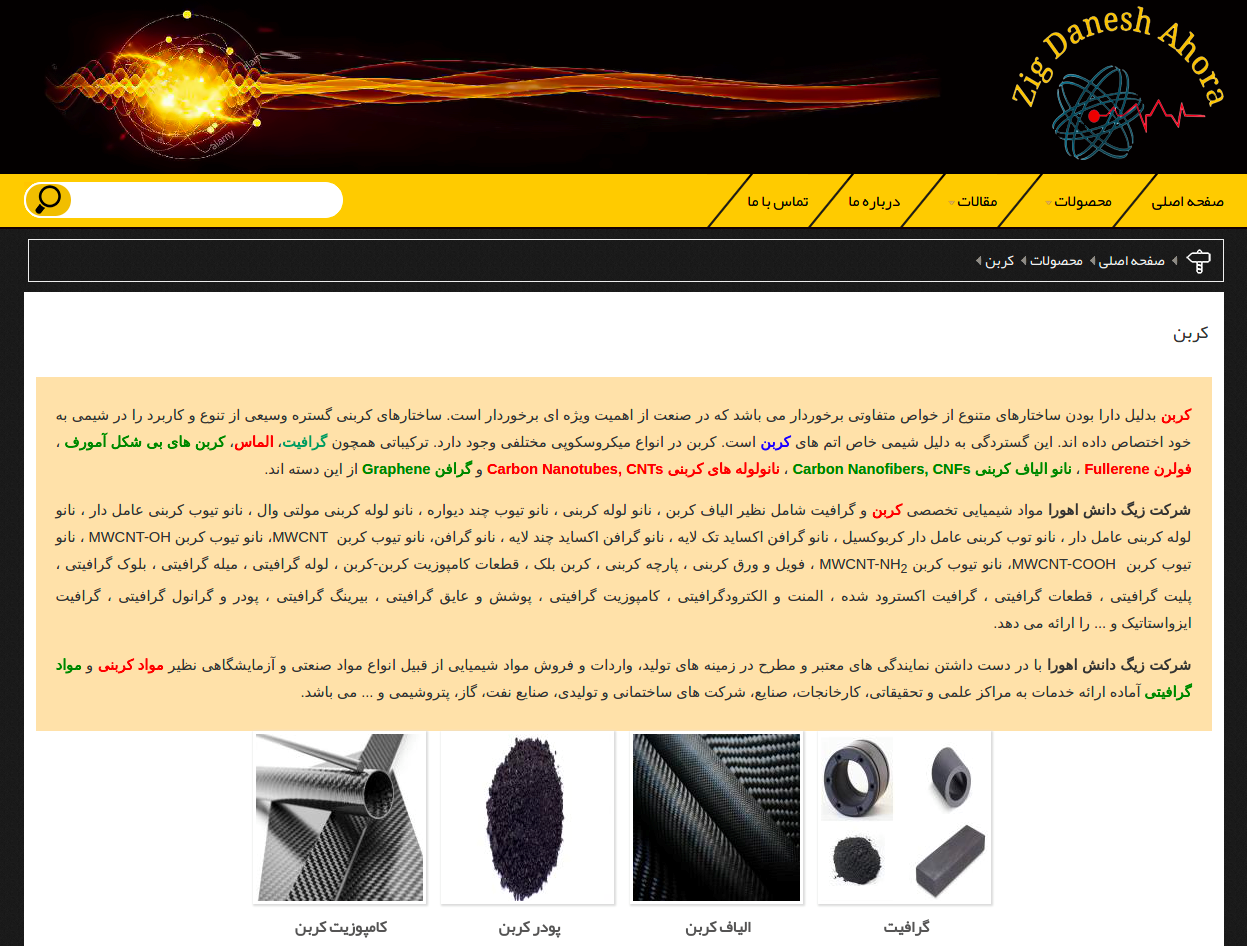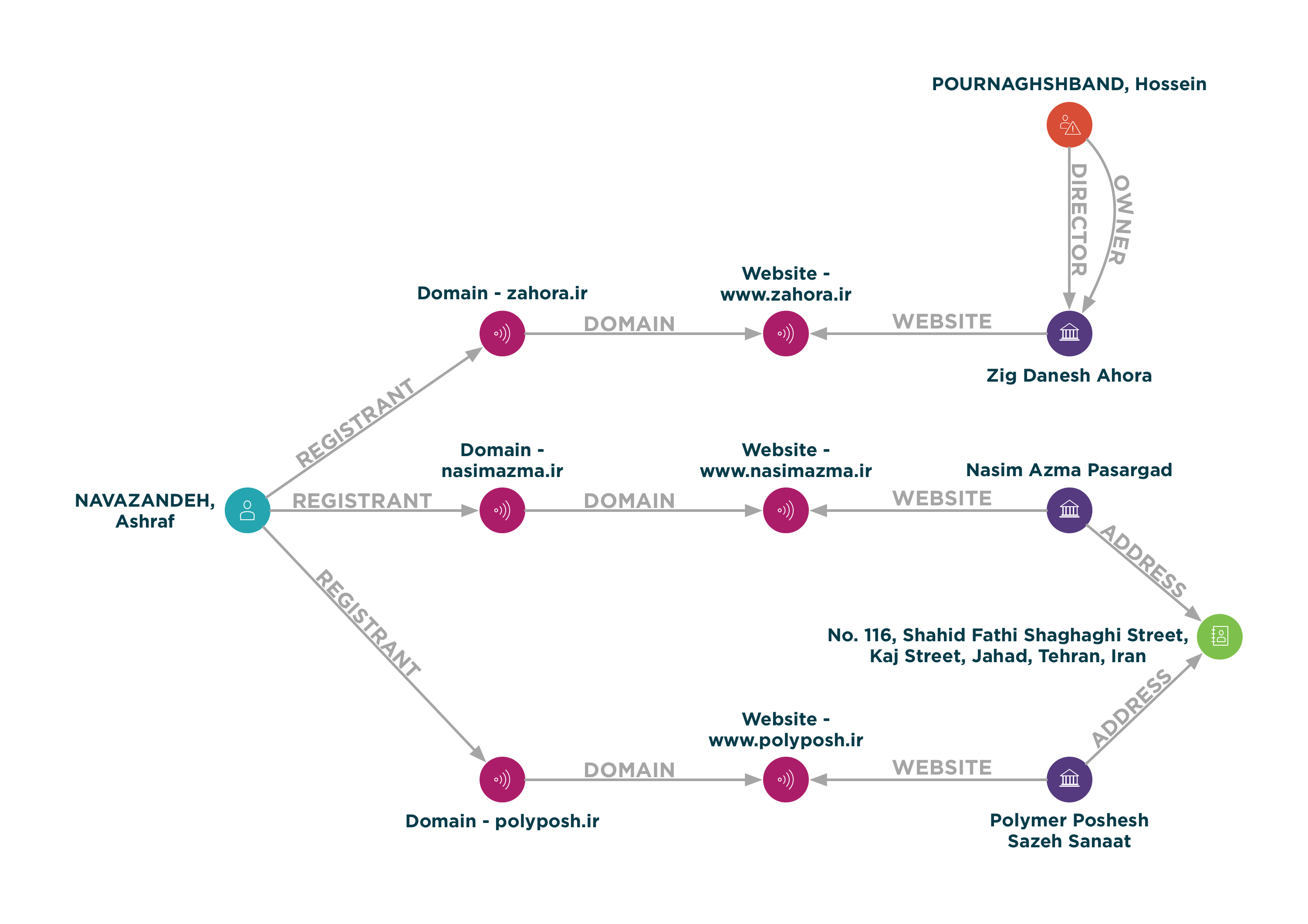 Research into Zig Danesh Ahora's domain records leads to other companies marketing similar laboratory equipment and carbon fiber online.
The registrant of Zig Danesh Ahora's website also registered the websites of Nasim Azma Pasargad and Polymer Poshesh Sazeh Sanaat, which are located in the same building in Tehran with other related entities in the network. Polymer Poshesh markets industrial goods and polymer coating materials on its website. Carbon fiber is a polymer-based product.
VARIANCHEM
Nasim Azma Pasargad shares a phone and fax number with another firm, Varianchem.
The last archived version of Varianchem's website from August 2018 closely resembles the Zig Danesh website. The Varianchem website includes a catalogue marketing foreign-produced equipment and materials, such as oils, lab equipment and catalysts including a few products from CeTech Co. Ltd., a Taiwanese producer of carbon material.
An online Varianchem ad published in August 2018 marketed the "Sale of Sanctioned Chemical Products" and touted that Varianchem had "franchises in the fields of production, import and sale of chemicals such as solvents, industrial and laboratory materials, chemical and petrochemical catalysts, various insulators, plastic and polymer materials."
Varianchem also shared a phone number with Feshar Dama Jaryan, which was dissolved in February 2018 but continued to market carbon-fiber products manufactured by Toray Industries and AvCarb Material Solutions as recently as September 2018, according to an archive of its website.
Toray Industries, a carbon-fiber giant based in Japan, had more than $16 billion in sales in 2018, according to its earnings statement. (Its Missouri-based subsidiary, Zoltek Industries, settled an unrelated sanctions matter in December 2018 involving conduct that occurred before Toray acquired the firm.) AvCarb, based in Massachusetts, was bought by an investment firm for $12 million in 2013; the company had previously developed materials for the Apollo space program and U.S. military aircraft, according to the company's website.
An earlier version of the archived Feshar Dama site listed Ervin Danesh at the top of the site and provided detailed company profile information for Ervin Danesh. By late 2017, after Ervin Danesh was sanctioned by the US, the same company profile information was changed to name Feshar Dama in place of Ervin Danesh.
One of the owners of Feshar Dama is also the owner of Ervin Danesh, according to the companies' disclosures. And the firms shared an address and other contact information, according to the archived versions of the website.
Another Feshar Dama website continues to market laboratory equipment, including furnaces, freezers, ovens and refrigerators. The website carries a copyright for the Ervin Danesh company.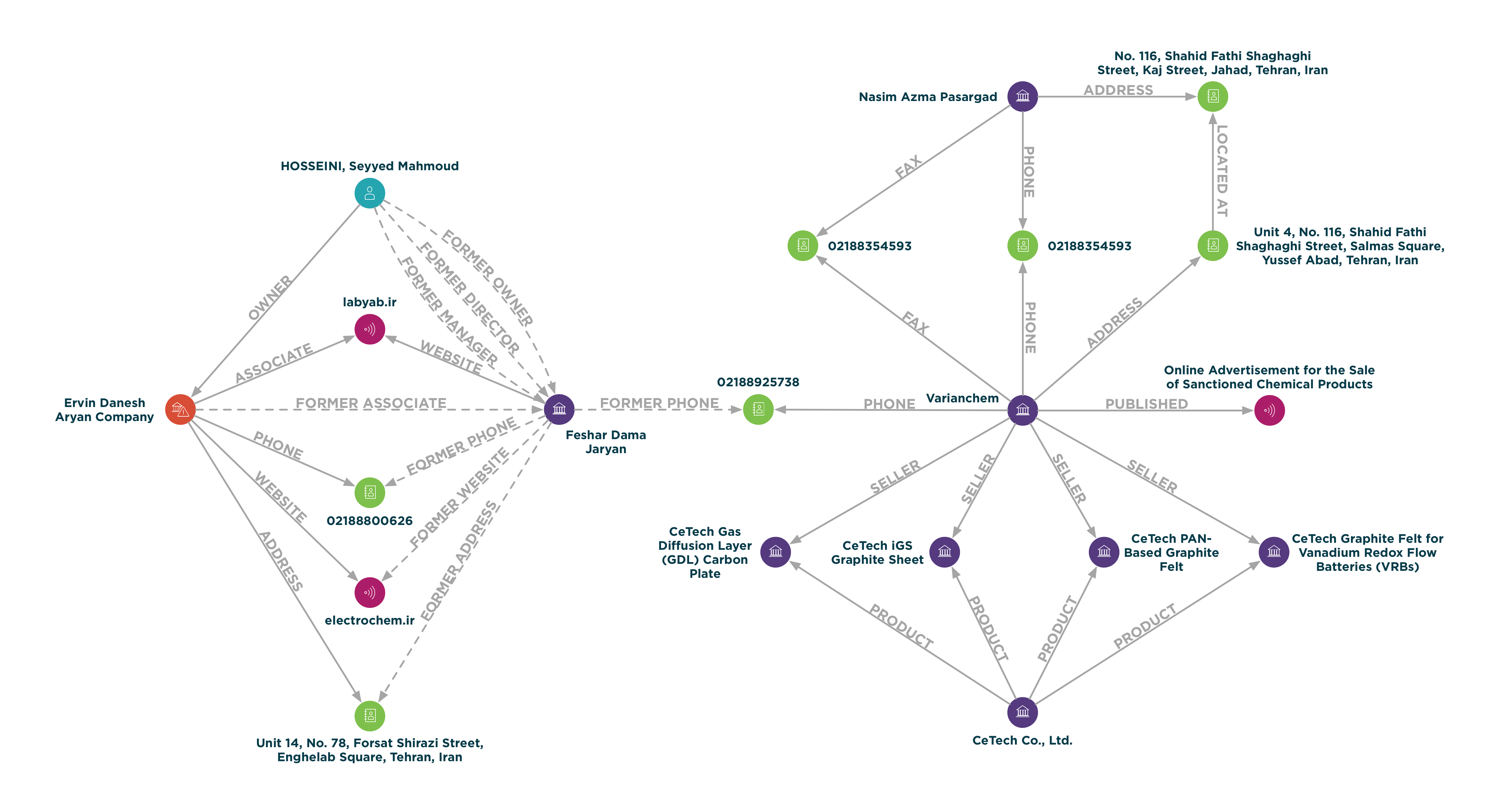 Analysts from the Iran team contributed to this report.