Cartel Members Sanctioned Following Mexican Account Freezes
The cartel appears to be increasing fentanyl production, the DEA has said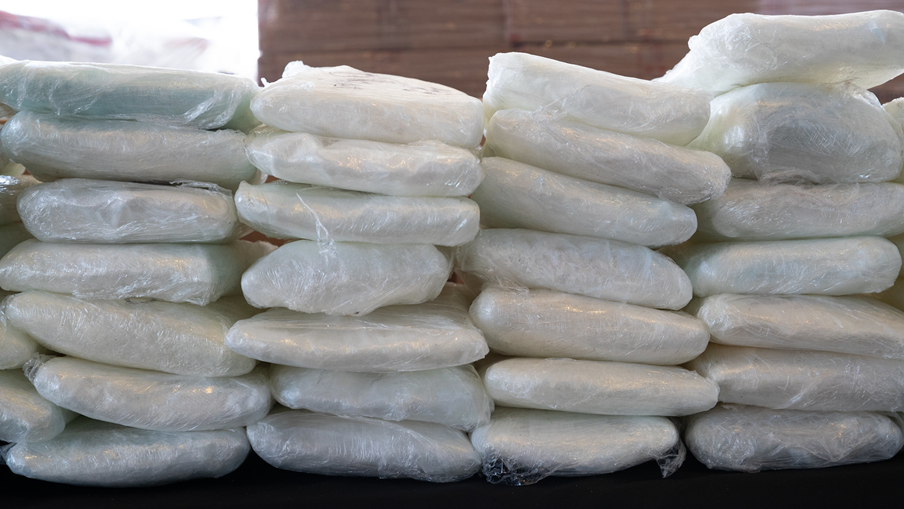 A U.S. Customs and Border Protection (CBP) seizure in 2019 of millions of dollars worth of fentanyl and methamphetamine. (Source: CBP)
By Samuel Rubenfeld
Tuesday, April 6, 2021
The U.S. Treasury Department on Tuesday sanctioned three members of the Cartel de Jalisco Nueva Generacion (CJNG), a Mexican transnational crime group that officials have called one of the world's most dangerous.
Carlos Andres Rivera Varela and Francisco Javier Gudino Haro allegedly helped orchestrate assassinations using high-powered weaponry on behalf of CJNG, the Treasury said. Alejandro Chacon Miranda facilitated travel senior CJNG members and their allies, according to the Treasury, which also designated his travel agency.
"CJNG is a major contributor to the illicit drugs, including fentanyl, flooding the United States," said Andrea Gacki, director of the Treasury's Office of Foreign Assets Control (OFAC). "Today's action is a reminder that [the] Treasury will continue to sanction those providing support to CJNG, whether that person is a violent actor or a complicit businessperson."
Gudino Haro owns or controls the Puerto Vallarta-registered agricultural company Agricola Costa Alegre S.P.R. de R.L., which was also designated Tuesday, the Treasury said. Chacon Miranda, who arranged travel for CJNG-related trips to facilitate the movement of money and drugs, has also used his travel agency to provide services to CJNG, according to the Treasury.
The designations of the three men come a week after Mexico's financial intelligence unit (FIU) froze their bank accounts, according to a report by Milenio, a Mexican media outlet. 
They are affiliated with senior CJNG members, including Gonzalo Mendoza Gaytan, who is also known as "El Sapo" and was sanctioned in May 2019 along with his wife, according to the Treasury. Mendoza Gaytan, who has been the CJNG plaza boss for Puerto Vallarta, Jalisco, Mexico, is responsible for significant violence, the Treasury said. Mendoza Gaytan has expanded CJNG's reach across Mexico and is in charge of the cartel's political relations, according to a report by Infobae, a Latin America-focused media outlet.
Rivera Varela and Gudino Haro are allegedly responsible for a June 2020 attack on Omar Garcia Harfuch, Mexico City's secretary of public security, that left him wounded and killed three others, the Treasury said. They were also behind the December 2020 assassination of the former governor of Jalisco in Puerto Vallarta, according to the Treasury. 
The designations mark OFAC's 13th action against CJNG, which was sanctioned in 2015 along with its leader, Nemesio Ruben Oseguera Cervantes, who is also known as "El Mencho," the Treasury said. The U.S has offered a reward of up to USD 10 million for information leading to Oseguera Cervantes' arrest. He is thought to live in the mountains of south Jalisco, keeps a very low profile, has a sense of humor and an explosive personality, according to an investigation into the cartel's violent rise to power published last week by The Guardian. 
Mexican cartels are increasingly responsible for producing and supplying fentanyl to the U.S. market, according to the 2020 National Drug Threat Assessment released last month by the Drug Enforcement Administration (DEA). The U.S. has sanctioned and prosecuted traffickers of fentanyl, a synthetic opioid up to 100 times more potent than morphine. 
CJNG, one of the two most dominant transnational crime groups in Mexico, appears to be increasing the production of wholesale quantities of fentanyl in both powder and poll forms, the DEA said. The organization is also diversifying its sources of precursors and moving to chemicals further down the synthesis chain to avoid international chemical controls, according to the DEA report.
CJNG is believed to have killed as many as 27 members of a rival organization last week in the western state of Michoacan, and days later paraded around its weapons and armored vehicles in the same community where the killings occurred, Infobae reported. The organization has also used U.S. e-commerce and payment processors to buy military-grade weapons, VICE reported.
In other recent actions, OFAC sanctioned a range of businesses and individuals linked to CJNG and its ally, the Los Cuinis Drug Trafficking Organization (DTO). Juan Manuel Abouzaid El Bayeh was sanctioned last month for facilitating drug shipments and money laundering for CJNG; he had held a leadership role years ago at a Mexican lifestyle magazine with connections to current and former Los Cuinis and CJNG members, Kharon reported in March.
---