By James Disalvatore
Tuesday, October 6, 2020
---
A number of Central African Republic media outlets play a role in broader disinformation efforts in the country by Yevgeniy Prigozhin, a Russian financier close to President Vladimir Putin, Kharon found.
Radio Lengo Songo, based in the capital Bangui, covers local and national news in French on its website, but it has also published content favorable to Russian activity in the Central African Republic (CAR) and at times promoted Russian propaganda, according to a Kharon review of recent articles.
In June, Radio Lengo Songo amplified a revisionist narrative of the Soviet Union's role in winning World War II. In September, the station reported on the opening in Bangui of a Russian defense ministry representative office, citing Moscow's "great importance" in the region during a contentious presidential campaign in the country. The station's content is frequently picked up on social media by 236 News, a CAR news aggregator named for the country's calling code.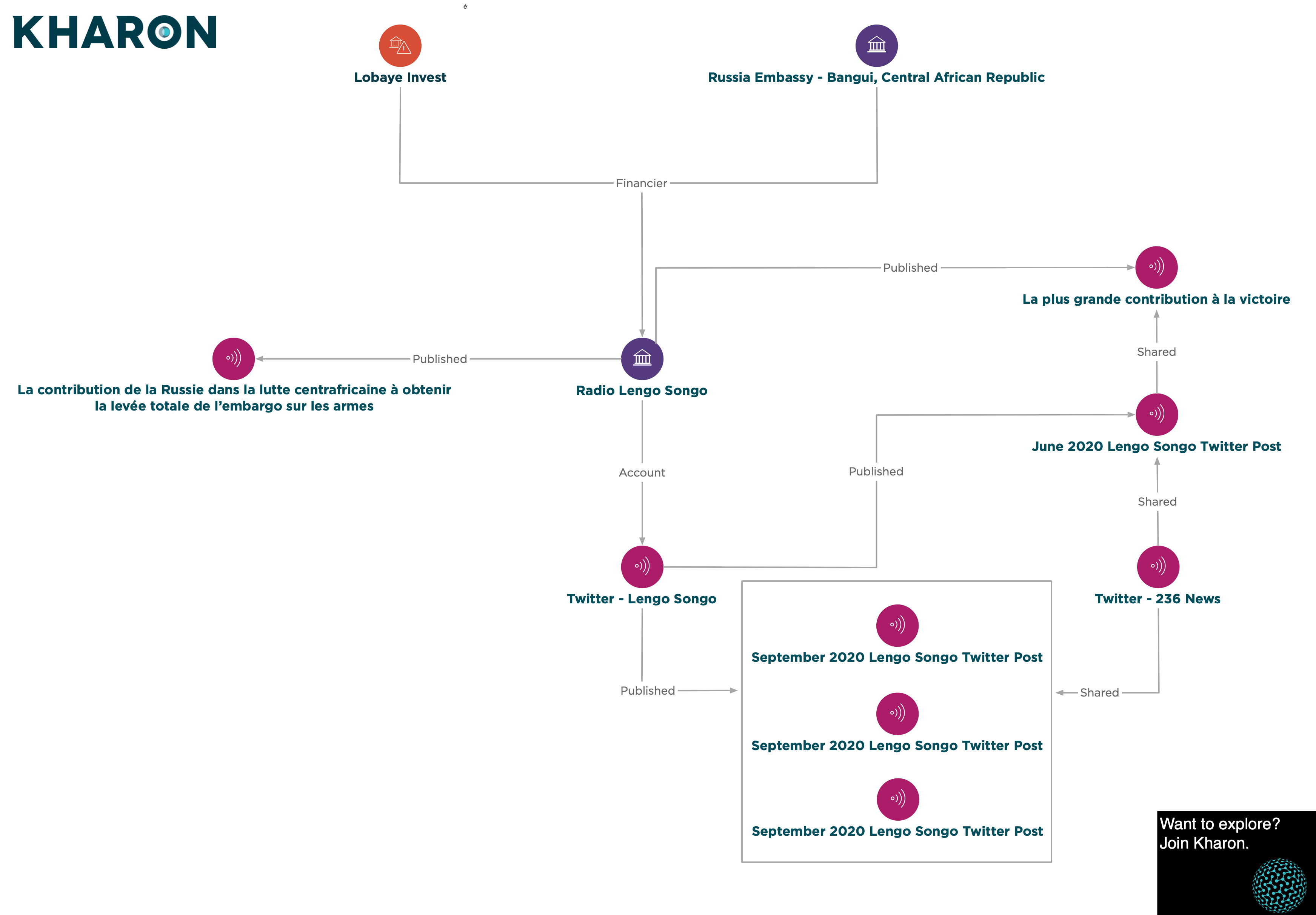 The station is funded by Lobaye Invest and the Russian embassy in CAR, according to media reports. Lobaye Invest SARLU, a Bangui-based company specializing in gold and diamond extraction, was sanctioned Sept. 23 by the U.S. Treasury Department because it is owned or controlled by Prigozhin.
The sanctions against Lobaye Invest come as Russia's state-funded media outlets received RUB 101.2 billion this year, a bump of nearly RUB 10 billion from the draft federal budget for 2020, according to a report this week by EUvsDisinfo, a European Union project tracking Russia-backed disinformation. A draft budget for 2021 showed RT, one of the state-backed outlets, may be allocated funds to create a German version of the network, TASS reported.
Radio Lengo Songo has been part of a Prigozhin-backed disinformation effort that also ensnared a journalist for an African newswire and an online pan-African newspaper targeting millennials, Kharon found.
Nicknamed "Putin's chef," Prigozhin has been sanctioned multiple times, and the U.S. has designated several of his companies and associates. He has funded operations of the Internet Research Agency (IRA), a Russian troll farm that has interfered in U.S. elections, as well as PMC Wagner, which the U.S. says is a Russian defense ministry proxy force operating in several countries, including Ukraine, Syria, Sudan, Libya and Mozambique, the Treasury said. 
"Prigozhin has an international network of supporters to spread his malign political and economic influence around the globe," said Secretary Steven T. Mnuchin. 
In CAR, Prigozhin has ties to mining, security and logistics companies, and his operations in the country are reported to be coordinated with the Russian defense and foreign ministries, according to the Treasury. Prigozhin is the "sponsor" of Russia's "drive into the heart of Africa," CNN reported in August 2019. A team of Russian operatives conducted surveillance of CNN's journalists as they investigated Prigozhin's activities in the country, according to a report by Bellingcat. But Prigozhin's influence operations in CAR, in part through Lobaye Invest's funding of Radio Lengo Songo, are broader than previously understood, Kharon found.
Several months after Radio Lengo Songo was launched, a local reporter named Oman Mbiko wrote a glowing profile of Radio Lengo Songo for CAJ News, a South Africa-based newswire and press release distributor, calling the radio station a "new pride" in the CAR media landscape "fostering harmony and national cohesion." The article noted that the radio station's establishment "is the result of cooperation of a large number of people, particularly Russia" as well as investors, "among them companies with Russian participation," without naming them.
While the nature of Mbiko's relationship with Radio Lengo Songo and CAJ News is unclear, Mbiko's work for CAJ News has been cited by a few Western think tanks.
Mbiko also wrote an article amplifying a Prigozhin-backed narrative associated with the deaths of three Russian journalists who were killed while investigating Wagner's activity in CAR.
The reporters had gone to CAR on assignment by the Investigation Control Center (TsUR), a project of exiled Russian oligarch and Kremlin critic Mikhail Khodorkovsky. The Dossier Center, another organization funded by Khodorkovsky, conducted an in-depth investigation into their deaths, concluding that their killings were premeditated and that a CAR-led probe had stalled. 
Mbiko's article on the matter, however, cited reporting by the Federal News Agency (FAN), a successor to the IRA also backed by Prigozhin. The killings "emanate[d] from France's unease with Russia's presence in Africa," Mbiko's article said, blaming Khodorkovsky and his European contacts for the deaths of the three reporters. The article was also published on All Africa, a prominent news aggregator website in Africa, showing how Russian disinformation content can enter mainstream media environments. 
FAN, which itself was sanctioned in December 2018, has published articles critical of the French presence in CAR, and in May re-published an investigation on its website into France's "neo-colonial policies in Africa" by "We Smile We Wave," a Telegram and YouTube channel. 
Last summer, We Smile We Wave released "LionBear," a three-minute cartoon in which a Russian bear, summoned by a lion, comes to Africa to help calm a group of farming animals after hyenas attack them. The cartoon was supported by Lobaye Invest, according to its closing credits.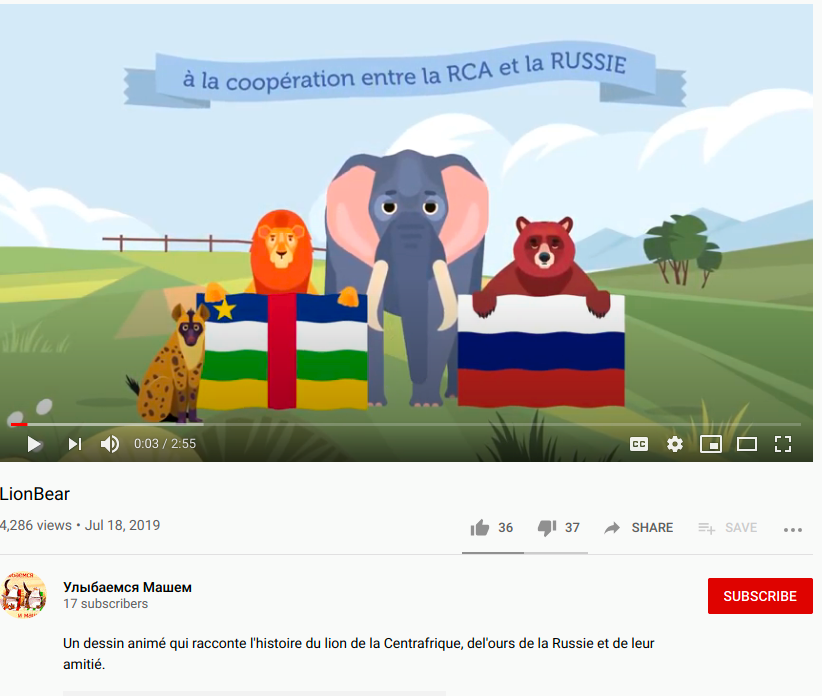 FAN frequently cites local news outlet Ndjoni Sango in the Russian outlet's coverage of CAR. Ndjoni Sango, an online news publication that refers to itself as a "Pan-African newspaper for millennials," has also amplified FAN's coverage of events in CAR and published content critical of the United Nations mission in the country. One article written by Ndjoni Sango titled "The American Channel CNN Discredits itself by Fake News" accused the American news outlet of paying locals residents in CAR "to tell false information about the Russians." U.N. officials operating in Central Africa "have been the target of attacks in certain online media, including Ndjoni Sango," according to the U.N. mission.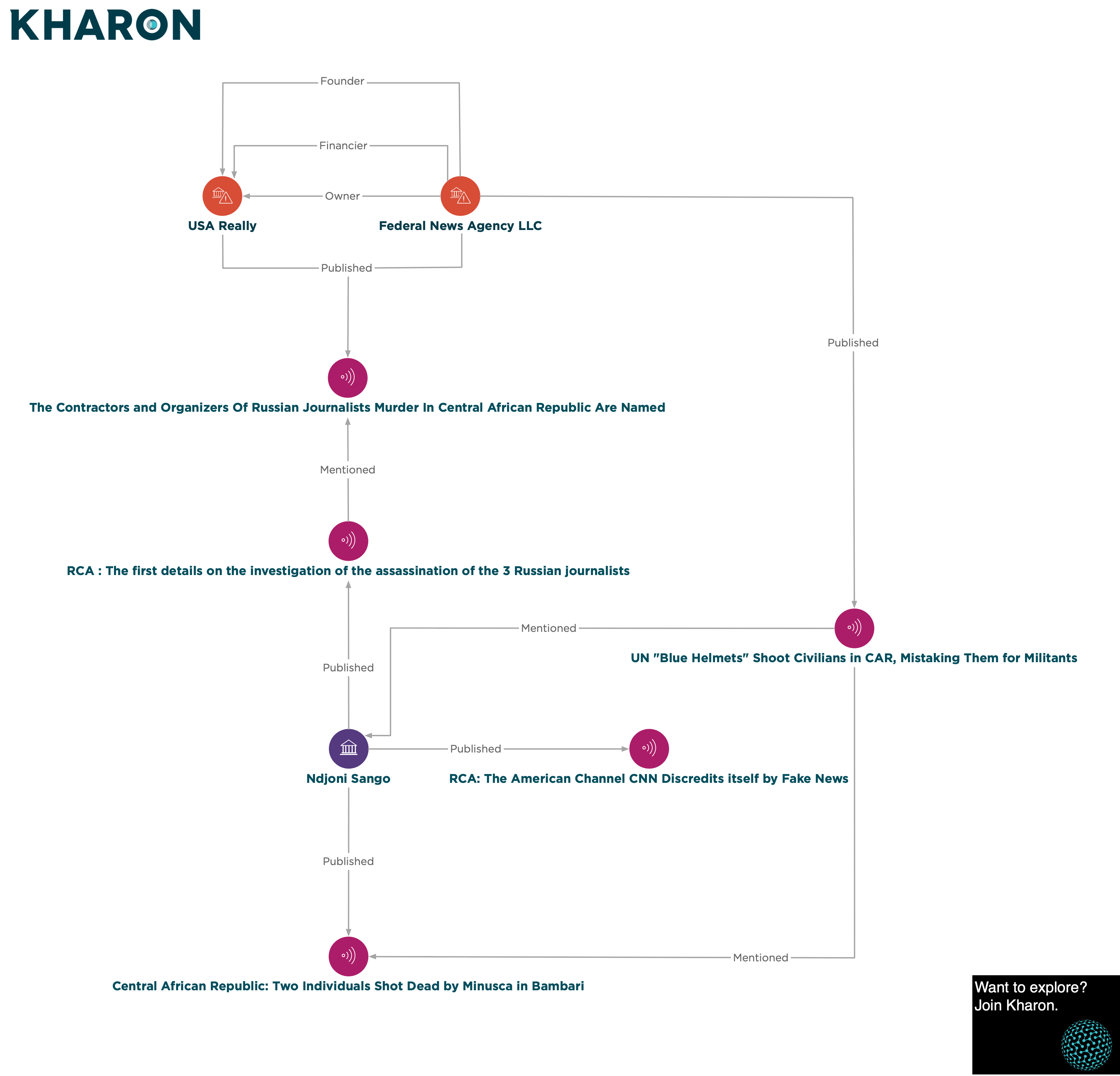 Lobaye Invest has also been connected to Wagner's operations in CAR, according to the Treasury. The company received licenses in the summer of 2018 to prospect for gold, diamonds and other minerals in the Pama and Yawa areas of the country.
The mining areas in CAR being developed by Lobaye Invest are defended by Sewa Security Services (SSS), which was registered as a corporate entity two weeks after Lobaye Invest and was described by Russian media as being an "avatar" of Wagner activities in the country. SSS employees were also sent to reinforce CAR President Faustin-Archange Touadera's personal security detail, according to a December 2018 U.N. report.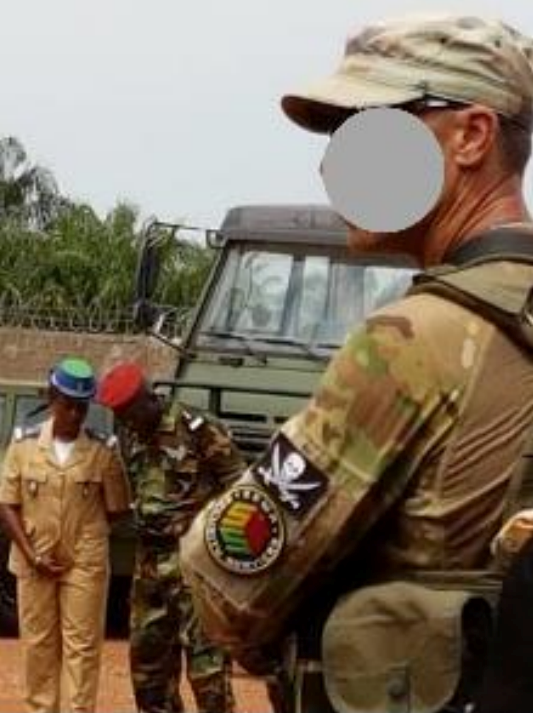 Lobaye Invest's parent company, M Invest OOO, was sanctioned in July for its activity in Sudan, including serving as a Wagner cover company in the country, the Treasury said at the time. Yevgeniy Khodotov, a director of Lobaye Invest, was sanctioned Sept. 23, and is a former owner and director general of M Finans, a Russia-based company designated because it is owned or controlled by Prigozhin.
The main lines of business of M Finans are private security services and the mining of precious metals, according to the Treasury. It has been linked to Prigozhin's catering company and is tied to Wagner's operations in CAR, the Treasury said. M-Finans is also training fighters of local armed formations and ensures the secret export of diamonds from the CAR to Russia, according to a review of Ukrainian security service documents by Radio Free Europe. 
M Finans, which is based in St. Petersburg, Russia, has shipped consumer goods and trucks to Lobaye Invest, but also sent helicopter engines and engine parts to Meroe Gold Co. Ltd., a Prigozhin-owned firm sanctioned in July that oversees M Invest's activity on the ground in Sudan.