China Prosecutes Several Cases of North Korean Smuggling Conspiracies
Court documents detail cases of coal, zinc and sand smuggling, activity banned under U.N. sanctions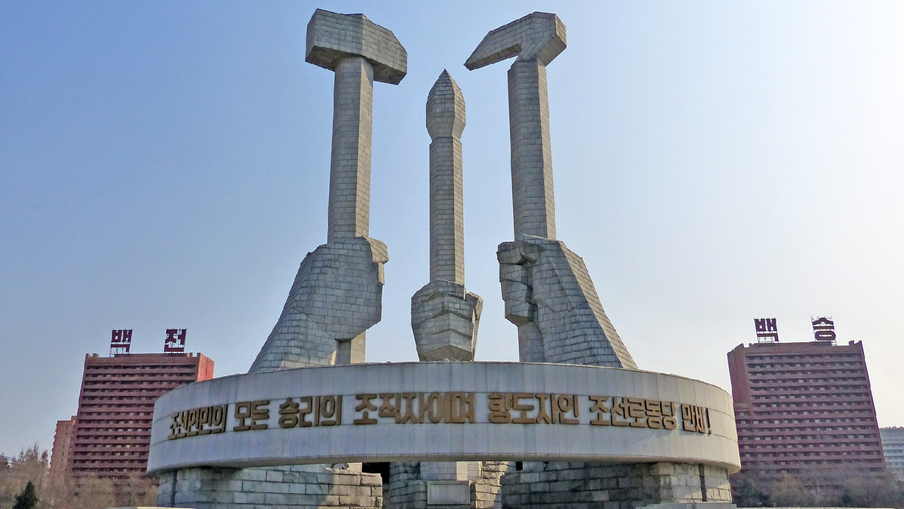 The Monument to Party Founding, in Pyongyang, North Korea.
By Edmund Xu
Friday, March 19, 2021
Chinese courts in recent months have delivered convictions, or are in the process of hearing cases, involving the smuggling of illicit North Korean goods such as coal, sand and zinc, according to a recent review of criminal cases by Kharon. 
United Nations sanctions prohibit the import of any of the products from North Korea, though the U.N. was not referenced in the court documents and the cases were prosecuted under Chinese anti-smuggling laws. The U.N. committee that manages the sanctions program against North Korea, including deciding which goods should be prohibited, was established in 2006 in response to the country's nuclear weapons program. China has been criticized by the U.S. over the years for failing to effectively enforce U.N. sanctions requirements. 
The court documents reviewed by Kharon lay out, in some cases through summaries of witness testimony, how the defendants allegedly smuggled the illicit goods into China through clandestine ship-to-ship transfers in North Korean waters or off China's eastern coast. In one case, documents show that Chinese multinational metals processors purchased some of the smuggled minerals, though there is no evidence that they knew of the products' illicit origins.
China is North Korea's largest trading partner, accounting for 95 percent of North Korea's foreign trade since the imposition of the U.N. sanctions in 2017, including the bans on coal, sand and zinc, according to 38North, a North Korea-focused think tank under the Stimson Center. Trade between the two nations plunged amid the COVID-19 pandemic, Chinese customs data show, though there was an uptick in North Korean maritime activity last month, according to NKPro, a North Korea-focused publication, citing location (AIS) transponder data. 
The first case seen by Kharon details several conspiracies to illicitly smuggle North Korean coal and zinc powder into China through maritime routes. The four defendants, Wang Bisheng, Jin Chunlie, Gu Nai'an, and Yang Hongquan, were all found guilty of smuggling, received prison sentences and were fined between RMB 100,000-150,000. Another suspected co-conspirator is still being prosecuted in a separate case, court records show.
Coal is North Korea's most profitable export, but its trade has been restricted since 2017 by U.N. sanctions. The trade continues despite the restrictions, according to U.N. investigators.
According to witness testimonies summarized in the court documents, the first coal smuggling scheme was coordinated by an individual surnamed Zhang, who ordered his subordinate Yang Hongquan to organize the illicit shipments in the port city of Lianyungang, China. Zhang, whose first name was not disclosed, is still at large, the court documents show.
The coal was transferred via Wang's crane vessel from a North Korean ship onto the Chinese flagged ship Fei Xiong 5 between October and November 2019 near Lianyungang. Separately, the conspirators had signed an unspecified contract with Fuzhou Tenghuang Trading Co., Ltd. related to the coal shipment, but shortly after the Fei Xiong 5 arrived in port, the Chinese Coast Guard seized the vessel and over 6,000 tons of coal on board. A later investigation by Lianyungang customs showed that the defendants had evaded more than RMB 432,000 worth of taxes on the smuggled coal. 
Wang also facilitated the ship-to-ship transfer in June 2019 of North Korean zinc powder onto a Chinese vessel in two separate instances, totalling nearly 2,000 tons of powder, court documents show. Though the documents did not specify which vessels conducted the ship-to-ship transfers, witness testimony focused on the movements of the China-flagged Zhe Sheng 97278 and the North Korean-flagged Jung Gang 6 vessels. 
The buyers of the illicit zinc powder, according to an investigation by the Binhai Public Security Bureau, were Henan Yuguang Zinc Industry Co., Ltd. and Henan Jinli Gold Lead Group Co., Ltd. Both companies are "approved trading brands" on the London Metals Exchange; Henan Yuguang Zinc Industry has signed sales contracts to supply zinc concentrate to a Canadian metals company, U.S. securities filings show. It's unclear whether either company was aware of the illicit origins of the zinc, or if any North Korean-origin zinc made its way to Canada.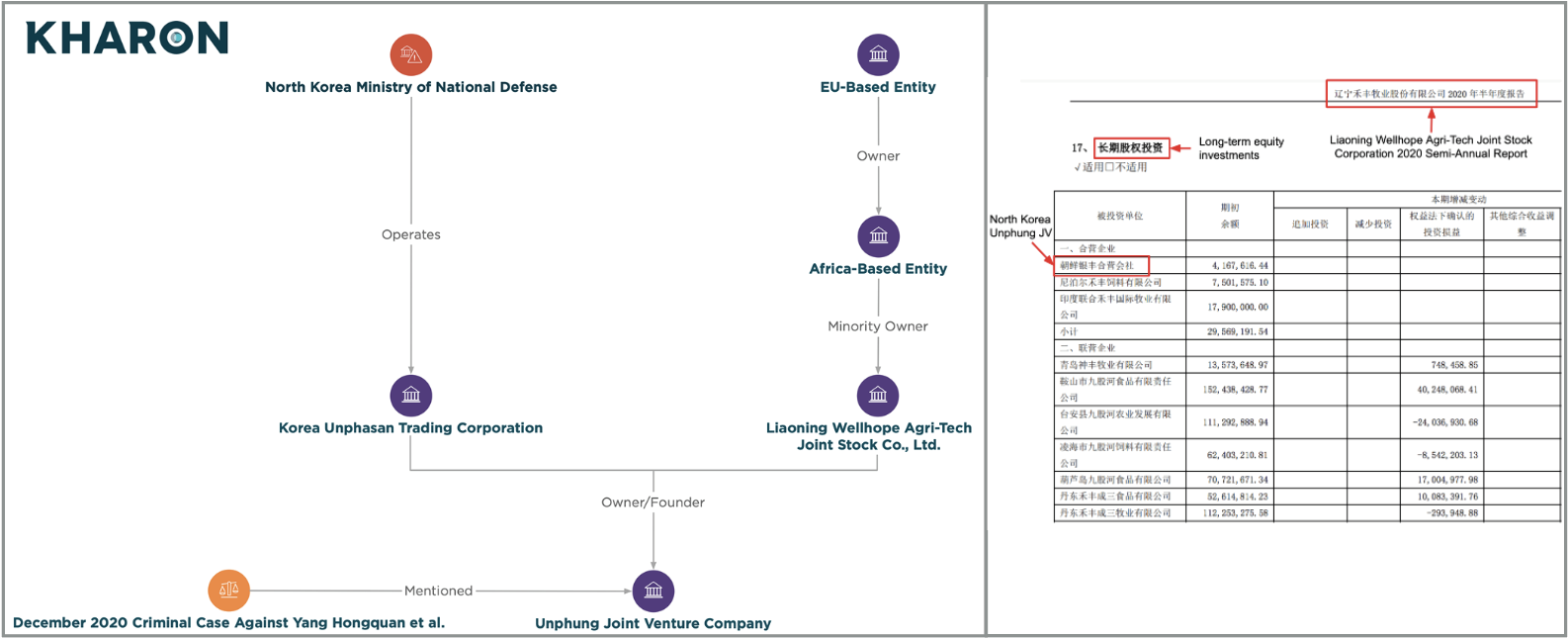 A court-provided translation of the North Korean laboratory test results for the zinc powder named North Korea-based Unphung Joint Venture Company on the document, indicating that the company may have played an unspecified role related to the zinc. Unphung is a joint venture between North Korea's Unphasan Trading Corporation and China-based Liaoning Wellhope Agri-Tech Joint Stock Corporation. In 2016, the U.N. prohibited establishing or maintaining joint ventures in North Korea. A Dutch agriculture group owns a minority stake in Wellhope Agri-Tech, Chinese corporate records show.
A separate case on appeal in Shanghai affirmed a lower court ruling sentencing the ringleaders of a North Korean sand smuggling scheme to five or more years in prison and RMB 200,000 or more in fines per defendant.
North Korea has ramped up its sand smuggling operations in recent years, earning the country more than USD 22 million in 2019, according to a U.N. report. Sand is one of the most traded commodities on the planet, according to the U.N.; it is a key ingredient in construction materials such as concrete, as well as electronic processors. 
According to court documents, an individual surnamed Li, who is being investigated in a separate case, instructed Qiang Wu, Huang Wei, and Tao Liangzhi in early 2019 to smuggle North Korean sand into China. 
The conspirators allegedly used the Fei Long 7777 vessel at least three times to receive North Korean sand in North Korean waters, before sailing back to China to sell the sand, court documents show.
The smuggling ring was uncovered in June 2019: As the Fei Long 7777 was returning from North Korean waters, a Chinese Coast Guard ship began tailing the vessel, leading Huang to order Qiang to destroy the vessel's location transponder (AIS) equipment. The Coast Guard ultimately seized the vessel, and a later investigation revealed that the conspirators managed to smuggle more than 16.6 million kilograms of sand, according to court documents. 
Separately, a smuggling case over a 2017 transaction involving North Korean anthracite coal is pending in Chinese court. According to proceedings quoted in a September 2020 blog post written by the defendant's lawyer, the coal was allegedly transported on the Hao Fan 2 vessel, transshipped through Russia and then declared to Chinese customs as Russian-origin coal.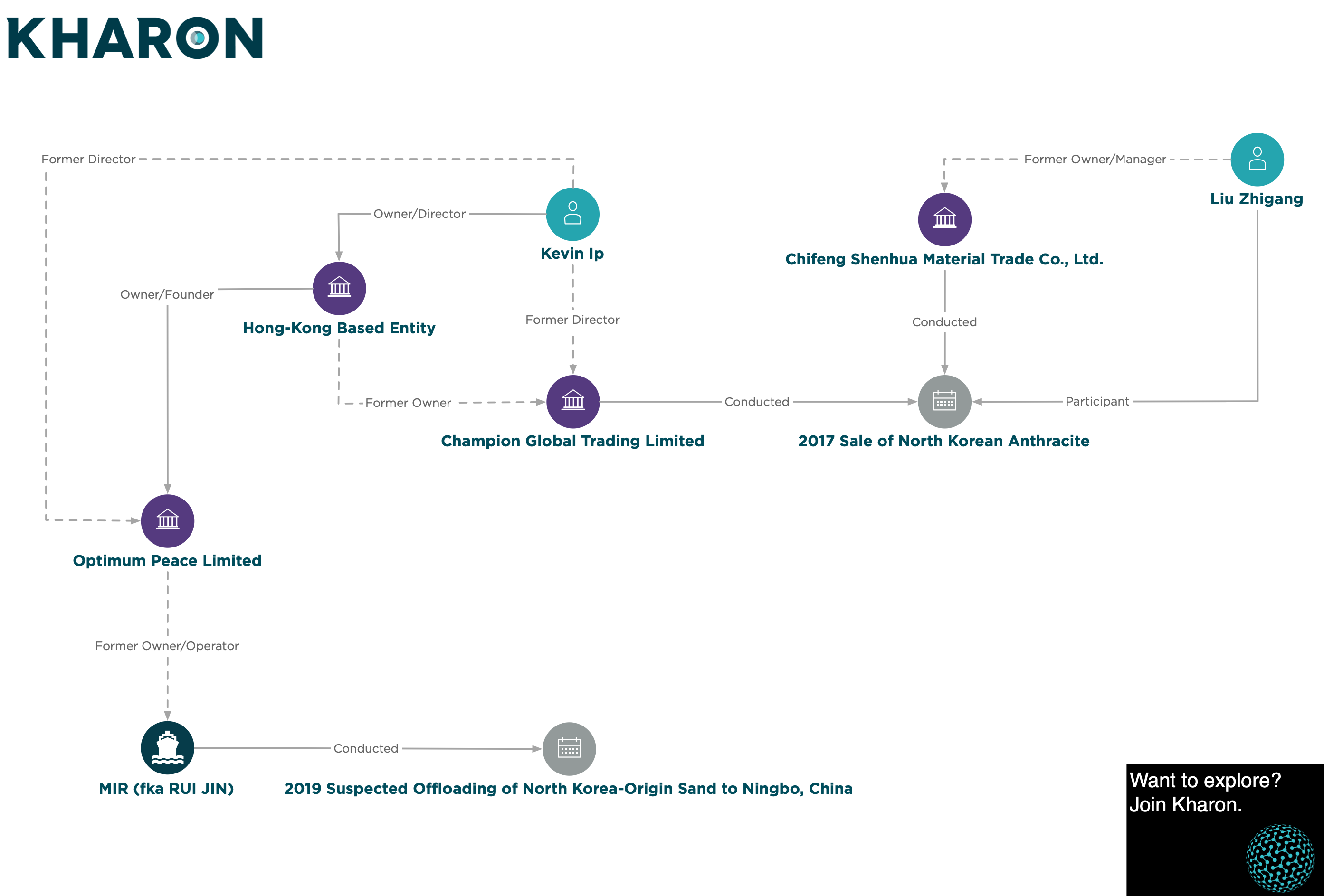 The Hao Fan 2 was sanctioned by the U.S. in 2018 and described as one of several vessels capable of carrying more than USD 5.5 million worth of coal at a time. The coal cited in the 2017 case in China was allegedly sold by Hong Kong-based Champion Global Trading Limited to Chifeng Shenhua Material Trade Co., Ltd. Defendant Liu Zhigang had a stake in Chifeng Shenhua Material Trade until 2015 and was a director.
Champion Global Trading was dissolved in January 2020. Liu Zhigang's lawyer maintains that Liu was not aware that the anthracite was from North Korea, according to the blog post.
An individual named Kevin Ip was Champion Global Trading's director when the anthracite was allegedly sold in 2017. 
Ip also indirectly owns 50% of Optimum Peace Limited, according to Hong Kong corporate records. Optimum Peace owned the vessel Rui Jin until mid-December 2019, shortly after the vessel was detained for allegedly engaging in illicit North Korean sand smuggling near Ningbo, China, according to a U.N. report. Neither Ip nor any other Champion Global Trading executives were mentioned in publicly released court filings tied to the case, however. 
---