By Robert Kim, Peter Maroulis, Edmund Xu, Morgan Brown, and Kelsey Hamilton
October 13, 2022
---
Two Hong Kong-based companies have sold electronic components to a Russian-based firm that acts as the "principal importer" for a company that sells foreign products directly to Russian defense companies, a Kharon investigation has found. The electronic components sold to the Russian firm have included American-origin parts.
Western Semiconductors and Electronics Sent to Russia Via China 
Russian-based Vest Ost OOO acts as the "principal importer" of electronic components to Promelektronika Group, one of the country's largest providers of electronic components. According to transaction data reviewed by Kharon, Promelektronika's subsidiaries sell foreign products directly to the Russian "military-industrial complex," providing microchips, photodiodes, and other electronic components to military research and development institutions in numerous fields, many of them sanctioned by the U.S. and other Western governments.

Vest Ost's suppliers include Hong Kong-based King-Pai Technology (HK) Co. Limited, which in June 2022 was added to the U.S. Commerce Department Bureau of Industry and Security's (BIS) Entity List for supporting Russian military industries. Vest Ost also purchased items from Hong Kong-based 3HC Semiconductors (HK) Co. Limited, which is wholly owned by the same individual who owns King-Pai Technology.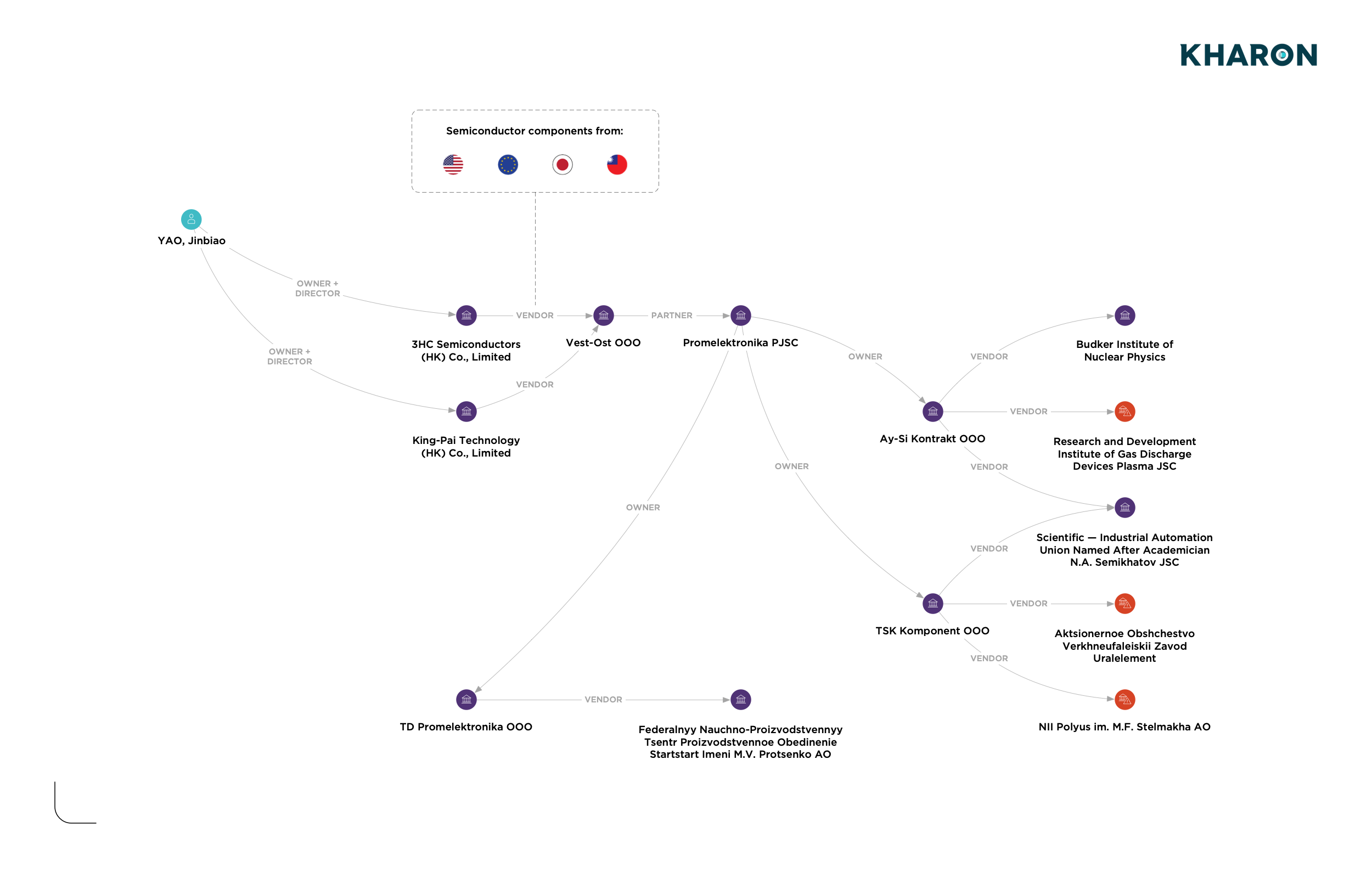 The electronics sold to Vest Ost by King-Pai and 3HC Semiconductors include microchips for satellites and American-origin microcontrollers and diodes, whose defense applications include usage in the guidance systems of rockets and cruise missiles.
Between April 2019 and May 2022, Vest Ost acquired semiconductors and other electronic components made by firms based in the U.S., Germany, Netherlands, Japan, and Taiwan through numerous Hong Kong-based companies, according to shipping data reviewed by Kharon. It is not clear what percentages of Vest Ost's imports were directed to Promelektronika and to other military industrial clients. 
Additional Russian companies that sell products to Russian defense companies have acquired electronics from companies elsewhere in China. Testpribor AO, a Moscow-based company, has acquired diodes, resistors, and transistors made by firms in the Netherlands and Japan from Zeyuan Technology Limited, an entity based in the southeastern Chinese city of Shenzhen. These items have various applications, including within many modern weapons systems.
Deliveries of these electronic components from Zeyuan Technology to Testpribor occurred as recently as June 2022, according to trade data reviewed by Kharon. 
Sanctioned subsidiaries of Rostec, the massive Russian state-owned military-industrial enterprise added to the BIS Entity List in March and designated by the U.S. Department of the Treasury in June, have purchased electronic components from Testpribor, according to trade data reviewed by Kharon. 
Concern Avtomatika, a holding company wholly owned by Rostec, was among the sanctioned companies that were supplied with electronics by Testpribor. It is not known if any of these components were procured via Zeyuan Technology. Concern Avtomatika's subsidiaries design and manufacture products tied to public security, cyber warfare, information security, and unmanned aerial vehicles (UAVs), according to OFAC's designation of Rostec in June. 
U.S. Attempts to Further Restrict Suppliers of Russian Military 
As the war in Ukraine continues, the United States has imposed restrictions on companies in China and other third countries that are supplying electronic components to Russian firms procuring foreign items for Moscow's defense industries. In late September, the U.S. Department of the Treasury sanctioned Chinese and Armenian entities identified as "suppliers" to the Russian military. 
Russian guided missiles and other weapons systems used in the invasion of Ukraine rely on imported electronic components made by U.S., European and Asian companies, according to recent media reports and field studies of Russian military equipment captured in Ukraine. Military experts have cited reliance on the imported parts, which are a focus of western sanctions and export controls to hamper Putin's war effort, as a key vulnerability of Russia's military and the defense industries that arm and equip it.