Chinese Crime Boss 'Broken Tooth' Built Business Network After Prison Stint
Wan Kuok Koi, a triad leader, uses a cultural association to legitimize his business activity, the U.S. Treasury Department said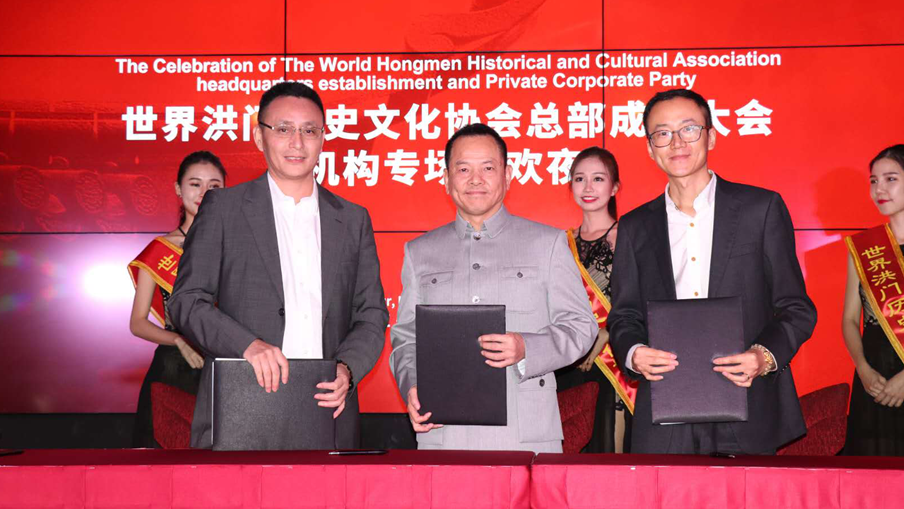 Wan Kuok Koi (center) announces the July 2018 signing of legal agreements concerning Hongbi, a cryptocurrency he initiated. (Source: Sohu)
By Priscilla Kim, Morgan Brown, Edmund Xu and Samuel Rubenfeld
Tuesday, February 2, 2021
He may be an organized crime boss, but even a gangster is good to his mother.
Wan Kuok Koi, who is also known as Yin Guoju or "Broken Tooth," is the head of the 14K Triad, an organized crime syndicate in China. He has thrown a banquet in mid-January for his mother's birthday every year since his 2012 release from a Macau prison, according to an article shared last month on Chinese social media. The parties have increased in size and scale in recent years as she reached advanced age; for her 86th birthday this year, the event was moved to the mainland amid the pandemic, and it featured a four-tier cake, the article said.  
"Regardless of how bad Yin Guoju's previous behavior was and how bad his influence was, it is certain that Yin Guoju is a person who pays great attention to family and is very good to his loved ones, especially his mother, and is absolutely full of filial piety," the article said.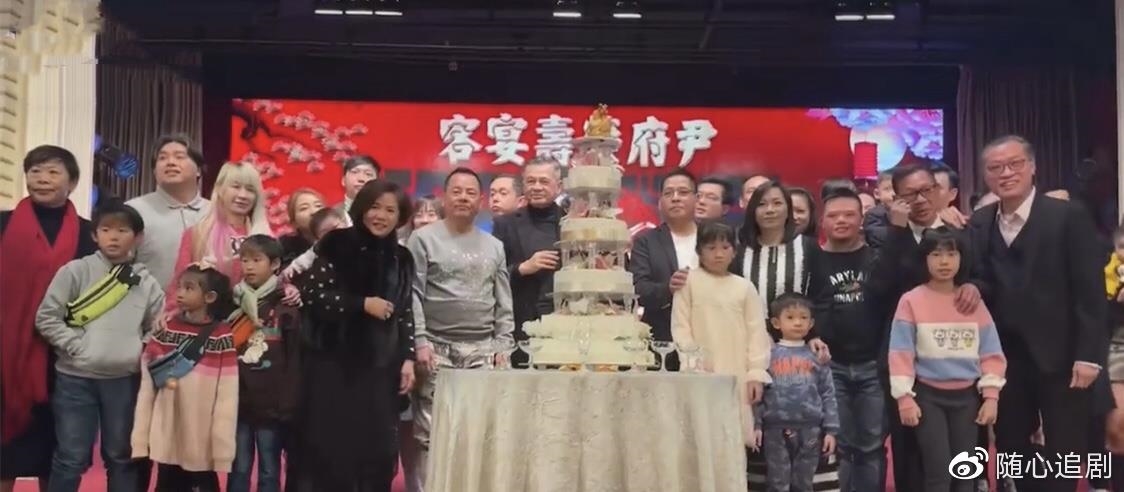 Wan's "previous behavior," however, is what led to his designation in December by the U.S. Treasury Department. He was sanctioned under the Global Magnitsky Act in actions announced Dec. 9 to coincide with International Anti-Corruption Day. Others designated that day included a former Kyrgyz government official involved in a USD 700 million bribery scheme, and a Liberian lawyer and lawmaker who bribed judges to decide cases in his favor.
Wan heads the 14K Triad, one of the world's largest Chinese organized criminal organizations, according to the Treasury. Triads are historical criminal gangs in China; the 14K engages in drug trafficking, illegal gambling, racketeering, human trafficking, bribery, corruption and a range of other criminal activities, the Treasury said. Wan has also established entities in Cambodia, Hong Kong and Palau, and is a member of the Chinese People's Political Consultative Conference (CPPCC), a top political advisory body, according to the Treasury.
The 14K Triad is trying to use Wan's Cambodia-based World Hongmen History and Culture Association in an effort to legitimize itself, spreading across southeast Asia through a business network involved in cryptocurrencies, real estate and a security company specializing in protecting investments associated with China's Belt and Road Initiative (BRI), the Treasury said. 
Wan protested the U.S. sanctions in a video posted on Weibo days after the designation, saying he was a "patriot" of China and urging the U.S. to "be cautious in words and deeds." Wan said the U.S. should stop the "malicious smearing" of him and the Hongmen association.
A spokeswoman for China's foreign ministry said Wan was not a member of the CPPCC at either the national or local level. The U.S. claim is "just despicable," she said, and "another proof that some people in the U.S. are fabricating lies and unscrupulously attacking and smearing China." 
Meanwhile, a man identified in media reports as a close associate of Wan's was recently arrested at Amsterdam's Schiphol Airport, on an international warrant issued by Australia. 
Tse Chi Lop, a Chinese-Canadian drug kingpin who has been called "Asia's El Chapo," a reference to jailed Mexican drug lord Joaquin "El Chapo" Guzman, had imported multibillion-dollar drug shipments into Australia since 2008, the Sydney Morning Herald reported following the arrest. Tse allegedly leads Sam Gor, an alliance of five Chinese triads formed in the 1990s amid warring among the organizations, Reuters reported in 2019. 
Wan's 14K is one of the five triads in Sam Gor, which drew methamphetamine revenues of at least USD 8 billion per year in 2018, the United Nations Office on Drugs and Crime (UNODC) said, according to the Reuters report. The UNODC called the figure "a conservative estimate," saying the revenue number could be as high as USD 17.7 billion, the Reuters report said. 
Born in the Macau slums in the 1950s, Wan rose through the organized crime ranks and got the nickname "Broken Tooth" after losing nine teeth in a fight. In 1999, he was sentenced to 15 years in prison for criminal association, loan sharking and illegal gambling; he was released in 2012, saying at the time he wouldn't return to the gangster life, and that he wanted "to be left alone." 
In the years since his release, Wan has had business dealings in sectors traditionally associated with gangland crime, such as gambling, but his ventures have also included forays in the technology sector, cryptocurrency and even a line of beer, Kharon found. 
Wan was briefly the non-executive chairman of Inix Technologies Holdings Bhd, a Malaysian investment holding company specializing in software development, but he left the board just days before he was sanctioned, records show. He has also owned VIP rooms located at Macau casinos, including the Macau National Ying VIP Club at the Casino L'Arc Macau, according to a February 2016 article by CalvinAyre, a gaming and cryptocurrency-focused outlet. As of August 2020, Wan still owned the VIP club, according to a Malaysian securities filing announcing his appointment to the board of Inix Technologies.
Two other appointees to the Inix Technologies board named alongside Wan were described in media reporting as his representatives. 
One, Tan Choon Hwa, remains on the board as non-executive vice chairman, according to the Malaysian Stock Exchange. He has an expansive business network in Malaysia, including a stake in other companies traded on the stock exchange, records show. 
Wan's other representative, Lee Han Keat, owns a stake in Inix Technologies, as well as other companies in Malaysia and China, corporate records show. As of May 2020, Lee co-owned Malaysia-based Fortunestar Development Sdn. Bhd. with Xu Ran Ran, corporate records show. However, Xu Ran Ran is a false name for Wan's wife Xu Xiaoxue, according to an investigation into the couple's activities in Palau by the Ministry of Justice's Special Team.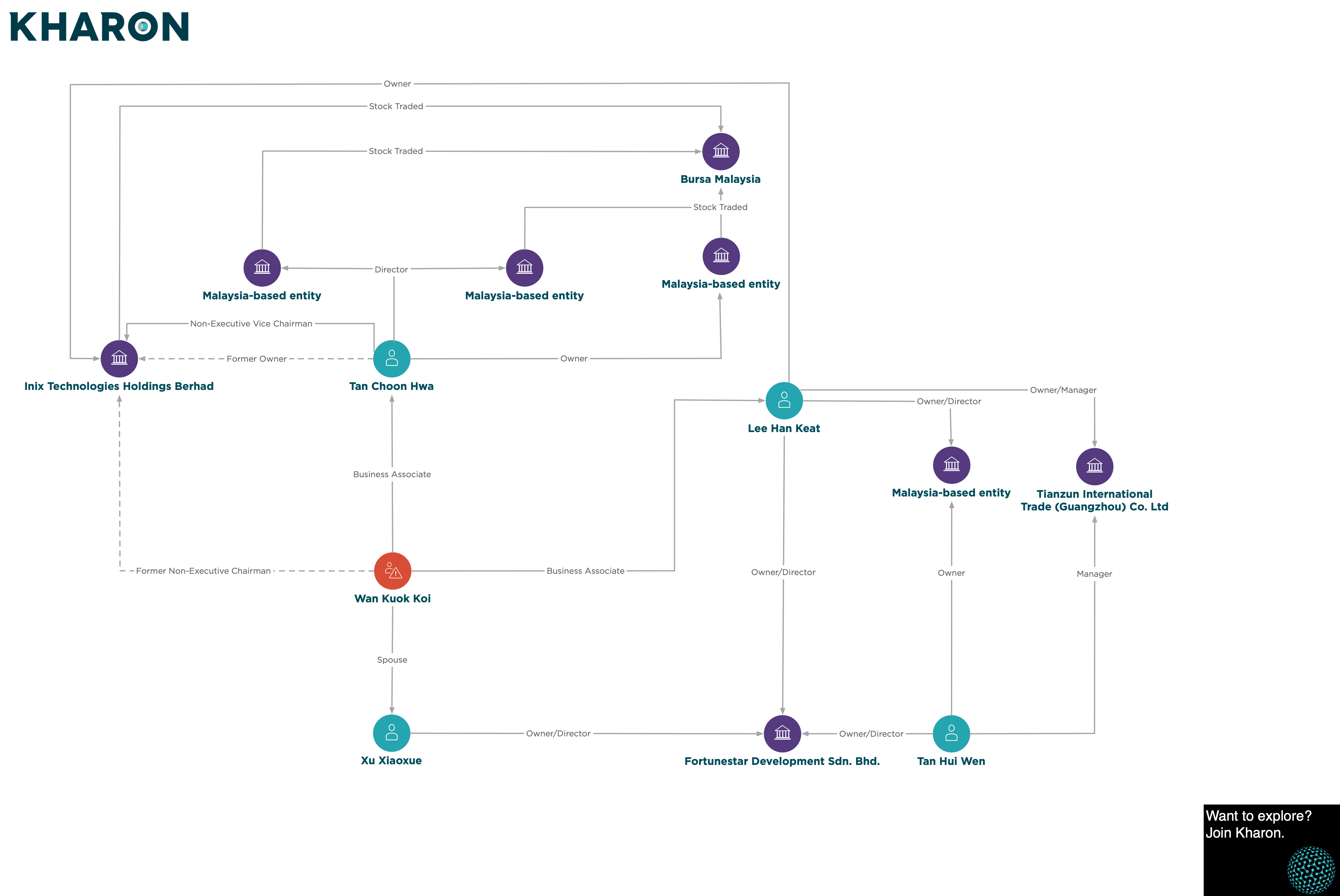 Under the false name, Xu is also listed as the chair of an investment firm in Cambodia that bears the Hongmen name, and as the owner of an investment management firm and a ginseng company in Hong Kong, records show.
The Palau China Hung-Mun Cultural Association, which was also sanctioned by the Treasury due to Wan's control, posted on Wechat that it had signed a HKD 200 billion agreement with the Palau government to build a tourism and casino district in the island nation. The Palau government denies any such deal was made, according to a local media report.
Dongmei Group, another entity sanctioned by the U.S. due to Wan's control, is the key investor in the Saixigang Industrial Zone in Myanmar, the Treasury said. The firm signed development contracts with four entities at a March 2020 project launch attended by Wan, according to an article from the Chinese Academy of Management Science's Institute of Industrial Innovation. The development's progress is unclear, but it was scheduled to be completed by 2020, according to media reports.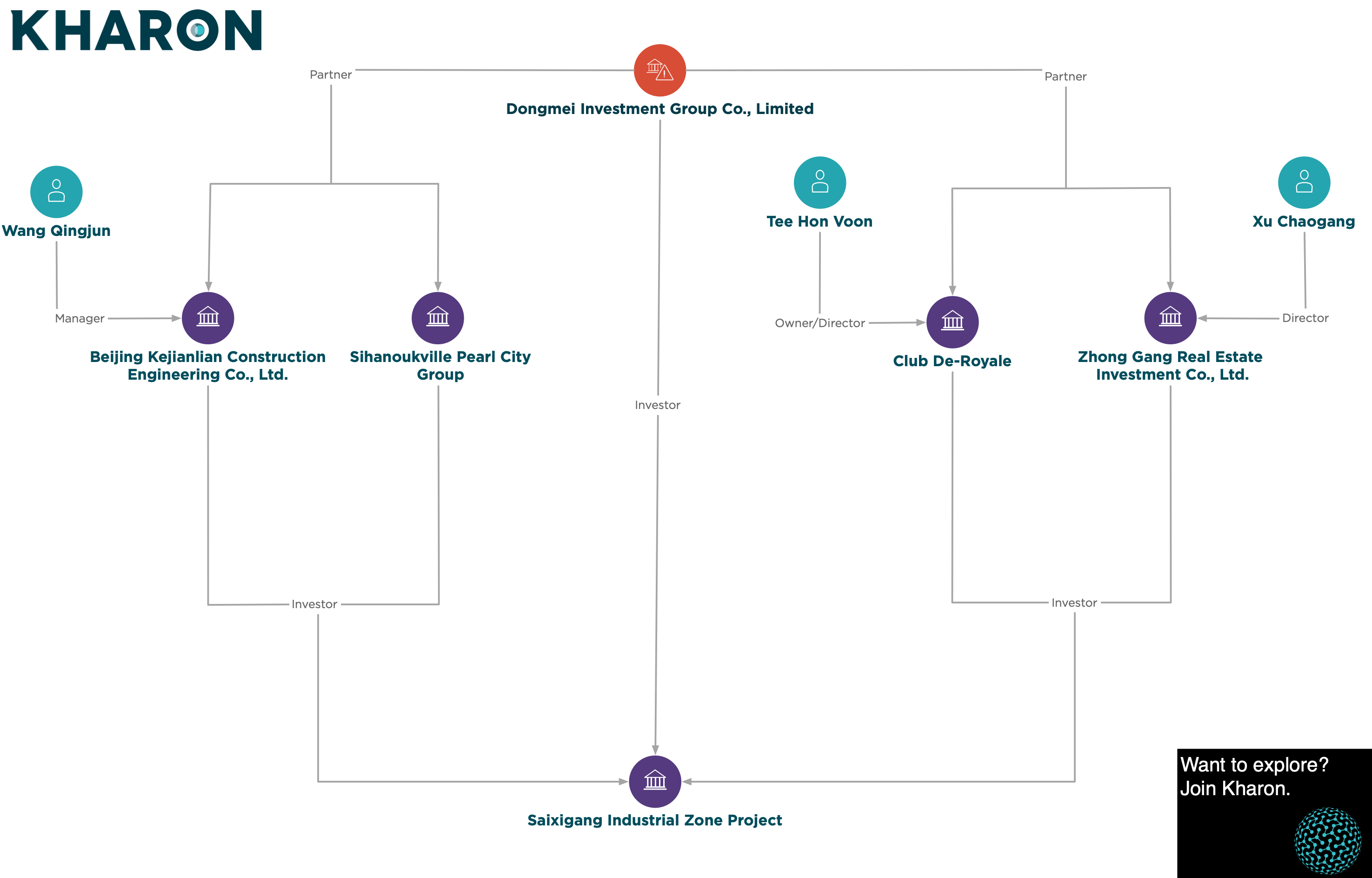 In several cases, Wan's business interests are intertwined with, or in some way involved, the World Hongmen History and Culture Association, Kharon found. 
A senior consultant to the association established a firm called Hongmen Security Company, which an earlier media report had said would protect BRI developments. The U.S. has taken an interest in projects associated with BRI, China's massive international infrastructure development program, including last year's sanctions on a Chinese company developing a massive tourist district in Cambodia, and export controls imposed on a leading BRI contractor.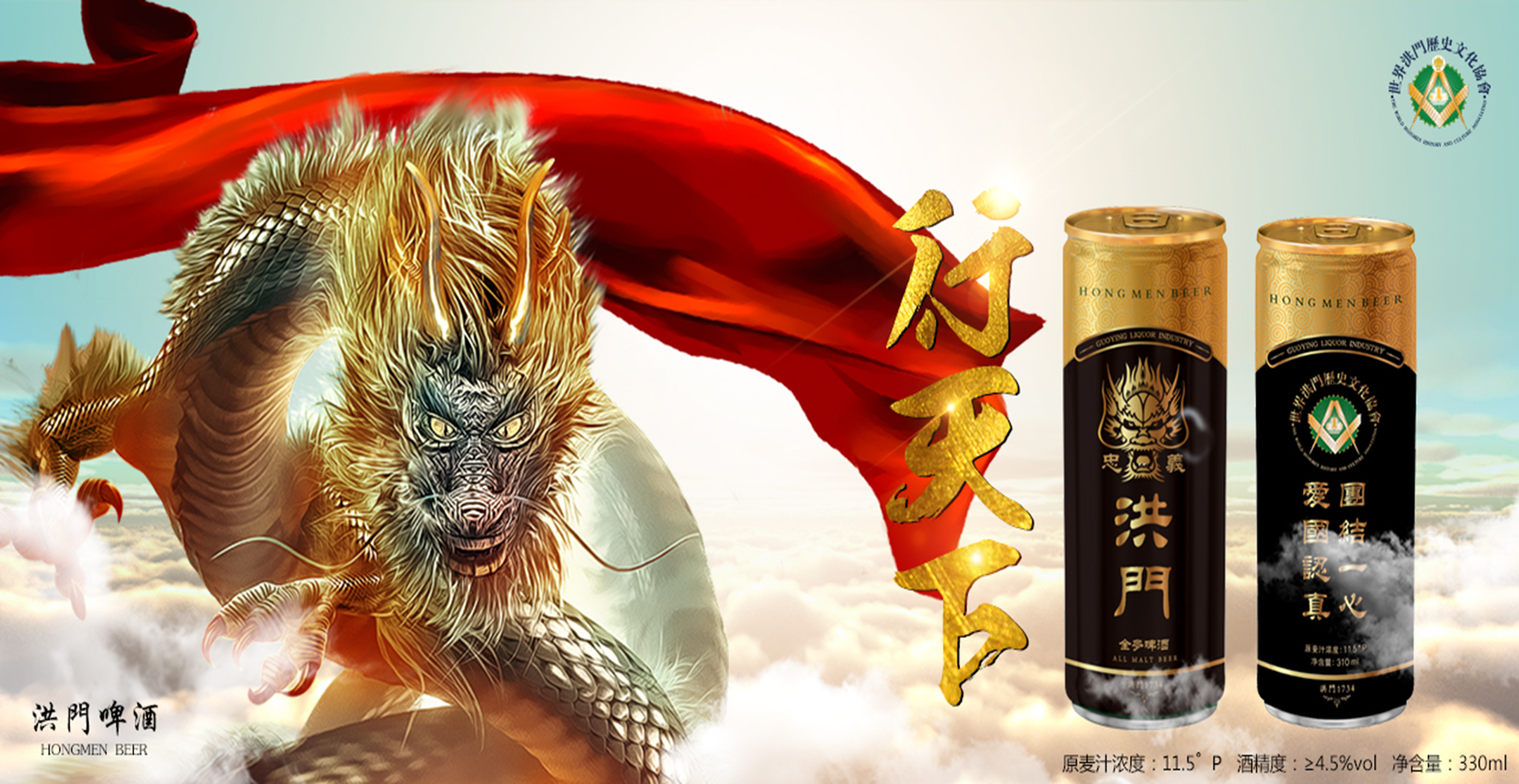 Wan was the "chief endorsement" for an amber lager beer, called Hong Men Beer, which was produced by China-based Zhongshan Guoying Liquor Co., Ltd., but bears the cultural association's logo. The beer is marketed in China, Cambodia, Macau and the Philippines. Wan was also behind the launch of a series of Hongmen-branded watches and red wine, according to Chinese media reporting.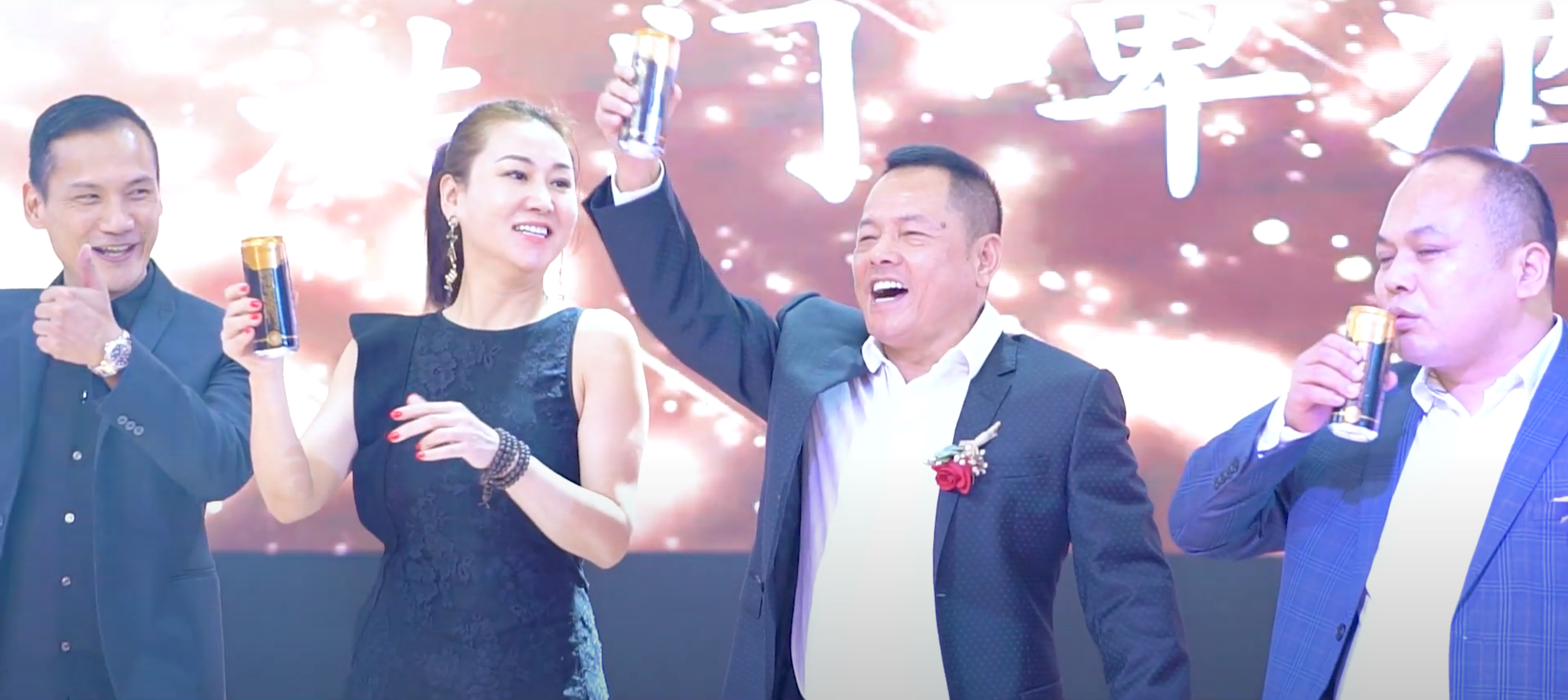 At a June 2018 event celebrating the establishment of the association's Cambodian headquarters, a number of China- and Hong Kong-based companies received authority to use Hongbi, a cryptocurrency initiated by Wan a month prior, as a "circulating digital asset in the payment and settlement links of the business system," Chinese media reported. 
Wan had raised USD 750 million in an initial coin offering (ICO) for Hongbi, the South China Morning Post reported in 2018. 
The currency used a German blockchain infrastructure, according to a Hongbi whitepaper, and it was traded on an exchange called "a.top," New Zealand media reported. Wan was listed on the a.top domain registration in March 2019, but his name has since been redacted.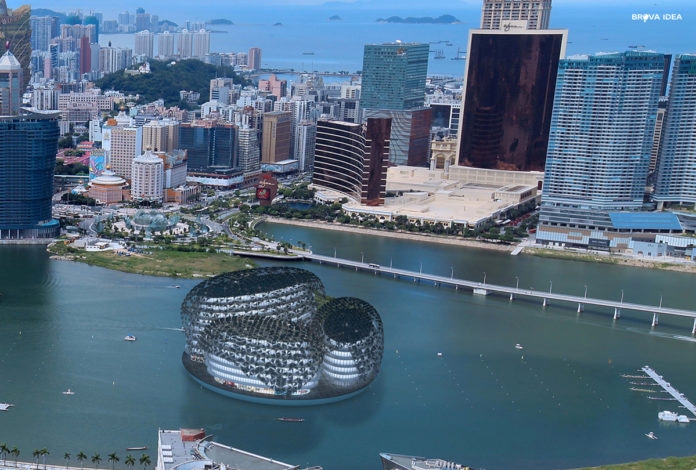 Wan also may be linked to Dragon Coin, another cryptocurrency; he was listed as a co-investor in the ICO by British Virgin Islands-based Dragon Incorporation, according to media reports. 
Dragon Incorporation, however, denied any collaboration with him, after a photo seen by Reuters showed Wan pictured in a corporate document. The company said the document was part of "an outdated business plan." The funds raised from the ICO were intended to fund a floating Macau casino; the coin is still in circulation, but the casino wasn't built after the contractor pulled out of the project in November 2017, Macau Business reported at the time. 
Helen Koo contributed to this report.
---