By Kharon Staff
August 10, 2023
---
State-owned and private companies in mainland China and Hong Kong have supplied Russia with hundreds of millions of dollars worth of priority dual-use products through circuitous routes, a recent report by the U.S. Office of the Director of National Intelligence (ODNI) warned.
Russia has turned to China for the critical components it needs for its military production. In turn, China has become "an increasingly important buttress for Russia." Defense companies, and small and medium-sized enterprises have supplied Moscow with semiconductors, chips and other technology used in Russian weapon systems, fighter jets and Unmanned Aerial Vehicles, the ODNI report says.
High Priority Battlefield Items
The E.U., U.S., U.K. and Japan recently issued a high priority list of sanctioned battlefield goods to which businesses "should apply particular due diligence and which third countries must not export to Russia." The list includes four tiers of 38 Harmonized System codes (otherwise known as HS codes) of products found in Russian military systems in Ukraine.
In 2022, Chinese exports of just 9 of the highest priority HS codes of electronic circuits, navigational and communication products to Russia were valued at over $1.5 billion dollars, according to a review of the UN Comtrade Database.
For more information on how to identify exposure to sanctioned high priority battlefield products, see "Regulators Flag Importance of HS Codes and Transshipment in Sanctions Due Diligence" or contact a Kharon expert.
Transshipment Channel
Documenting the extent of circumvention of sanctions and export controls is challenging when sanctions disrupt established trade and supply patterns. While the recent ODNI report notes that U.S. intelligence "lacks sufficient reporting to assess" if Beijing was deliberately inhibiting export control end-use checks, it concludes that Chinese firms "probably are assisting Russia in circumventing and evading export controls."
According to data reviewed by Kharon, Russia has acquired chips, semiconductors, navigation equipment, other military-related technology, and products from China both directly and indirectly through intermediaries in other transshipment points. These shipments are received by Russian military end users or companies under western sanctions.
Kharon research has found that a network of import-export companies in Hong Kong connected to two Russian businessmen, Mikhail Vinogradov and Alexey Chichenev, supplied Russian customers with millions of dollars' worth of restricted HS code products.

Over the past year and a half, Hong Kong-registered companies owned by the two businessmen, and located in the same office suite in the Bonham Trade Centre in central Hong Kong, exported microelectronic components and other flagged HS code products to Russian customers, including those that supply blacklisted end users.
Other enterprises in China, including those owned by Russian nationals, are supplying high priority HS code products to Russia, Kharon research has found. In the case of Maxim Marchenko, the Hong Kong companies he controls were used to ship microelectronic components using a shell company in Mongolia as a conduit, according to corporate and trade records. 
U.S. export controls against Russia apply not only to American-origin commodities, software, and technology, but also to certain items produced with controlled U.S. software or technology.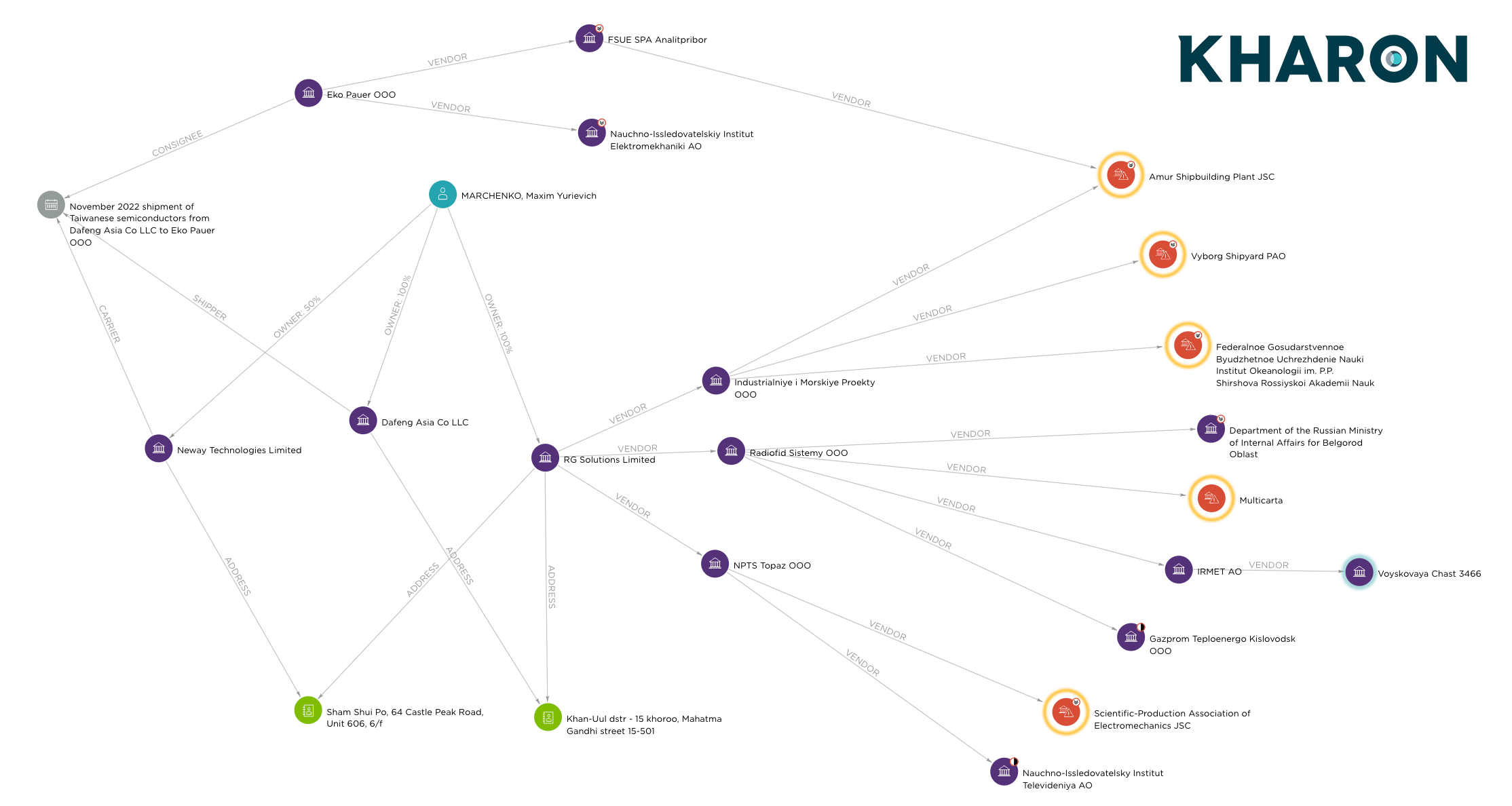 Kharon ClearView and LensView users can explore the full network directly in the Kharon platform. Click here to view.