Chinese Firms Use Western Technology for South China Sea Buildout
CNOOC and a subsidiary have engineering contracts with U.S. and European firms amid new U.S. export controls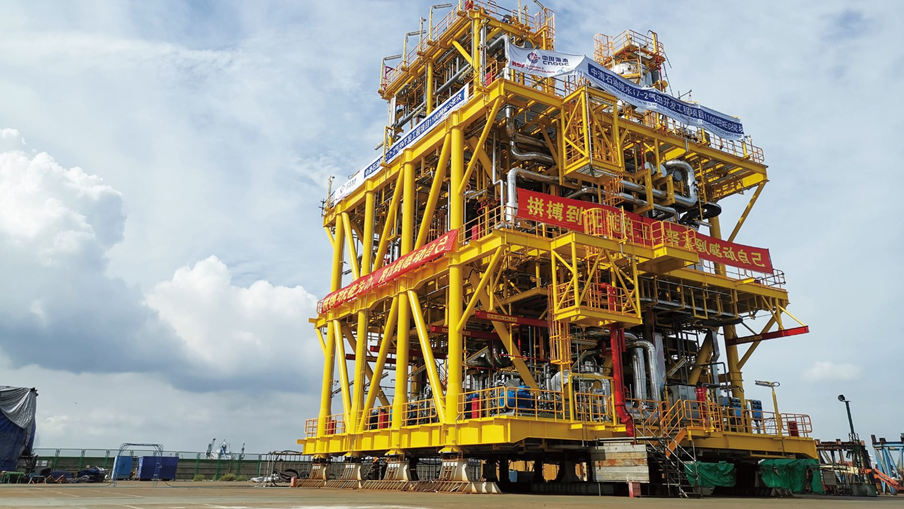 The Lingshui 17-2 gas field glycol regeneration system was delivered to the South China Sea in September 2020. (Source: Nantong, China)
By Priscilla Kim and Samuel Rubenfeld
Friday, January 15, 2021
This is Part 1 of a series on China's development of the South China Sea. Read Part 2 here, and Part 3 here.
Western companies have supplied China as it militarizes the South China Sea, activity that goes beyond building a series of disputed islands and involves an array of infrastructure, security and energy projects in the sea itself, Kharon found. 
China National Offshore Oil Corporation (CNOOC) and a subsidiary have engineering services contracts with U.S. and European companies to develop a deepwater gas field in the South China Sea, as the U.S. government announced export restrictions on the state-owned oil firm. 
The exploration and extraction of oil and gas in the South China Sea is "not only in CNOOC's business interests but also helps defend the country's [China] maritime sovereignty and safeguard its national interest," the company has said. The deepwater gas field, known as Lingshui 17-2, is located within the continental shelf of China and Vietnam. 
The U.S. Commerce Department on Thursday added CNOOC to its Entity List, calling the company a "bully" of the People's Liberation Army used in the South China Sea to intimidate China's neighbors. The U.S. listing imposes a license requirement, with a presumption of denial, for exports to CNOOC -- except for crude oil and a number of petroleum products. 
CNOOC was also among the companies identified in December by the U.S. Defense Department as a Chinese military firm. Last week, the U.S. Treasury Department added CNOOC to its list, implementing investment restrictions imposed as of Monday under a White House executive order. The White House on Wednesday amended the executive order to prohibit certain sales and purchases of securities and to mandate divestment of holdings in a Chinese military firm within a year. S&P Dow Jones Indices said Wednesday in a statement that it would remove securities listed by CNOOC from its indices, in line with U.S. requirements. Also Thursday, the Defense Department added to its list of Chinese military companies, and the Treasury provided additional guidance for complying with the order.
As part of Thursday's moves, the U.S. State Department reaffirmed the position it took in July regarding China's claims to the South China Sea, saying that Beijing's claims have no legal basis and citing a 2016 Arbitral Tribunal ruling under the Law of the Sea Convention, to which China is a party. The State Department on Thursday accused CNOOC of using a survey rig in 2014 to intimidate Vietnam, pointing to comments from the company's then-chief executive who called the vessel "mobile national territory."
"The world will not allow Beijing to treat the South China Sea as its maritime empire," the State Department had said in the July policy statement.
Beijing's current claims to sovereignty over the waters, based on a "nine-dash line" plotted on a Chinese map in 1936, go back more than 2,000 years, according to a policy paper from China's Ministry of Foreign Affairs. In its policy paper, China argues that it was the "first country to discover, name, explore and exploit the resources of the South China Sea Islands and the first to continuously exercise sovereign powers over them."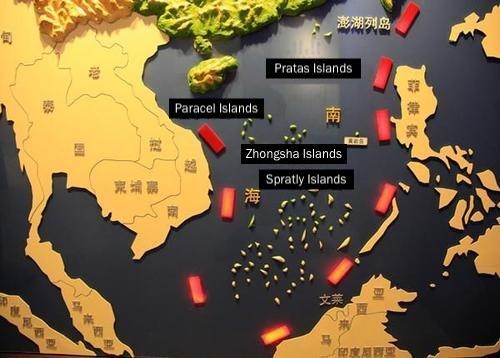 China's claims are not only driven by the sea's natural resources, including fish and seabed minerals, but also its strategic military position, which has turned into a regional conflict. The dispute led The Atlantic magazine to call the South China Sea both "the most important body of water for the world economy," through which a third of world trade passes, and "the most dangerous body of water in the world," where the two militaries could collide. The U.S.-China rivalry over the sea may be intensifying, the South China Morning Post reported this month.
In early December, China's military held live-fire combat drills as the U.S. Navy entered the sea, Newsweek reported, citing a Chinese military outlet. A U.S. maritime strategy released in mid-December said China "continues to militarize disputed features in the South China Sea and assert maritime claims inconsistent with international law." 
The Chinese Coast Guard continued its near-daily patrols in the sea throughout last year, according to an analysis by the Asia Maritime Transparency Initiative (AMTI) at the Center for Strategic and International Studies (CSIS), a Washington, D.C.-based think tank.
Nevertheless, large Chinese companies are using U.S. and European technology to stake their maritime claims, Kharon found. In some cases, it's unclear whether the Western firms knew how their technology would be used, as the products were acquired via Chinese intermediaries.
The relationships also highlight the complicated nature of commercial supply chains that connect U.S. and European suppliers with Chinese firms, which may be engaged in dual-use activities with a civilian and military purpose. The U.S. in June expanded its controls on exports to China to cover all military end users, in addition to military end use. Beyond CNOOC, the Commerce Department has placed export controls on multiple Chinese firms for their roles in building islands and militarizing the South China Sea.
International trade attorneys reached by Kharon said U.S.-origin exports to China have been under heightened scrutiny from authorities, including at the port of departure. 
"They're reviewing transactions very carefully," said Douglas Jacobson, partner at the law firm Jacobson Burton Kelley PLLC, in an interview. "They're asking for end-use statements," he said, advising any company involved in China-related export transactions to have documents in hand.
"This is a big issue; I've seen an exponential spike in detentions and seizures," Jacobson added.
One driver behind China's claims to the sea is access to an estimated 11 billion barrels of untapped oil and 190 trillion cubic feet of natural gas. CNOOC, as well as its subsidiary Offshore Oil Engineering Co., Ltd. (COOEC), have contracts with various U.S. and European companies to provide engineering services to the development of Lingshui 17-2.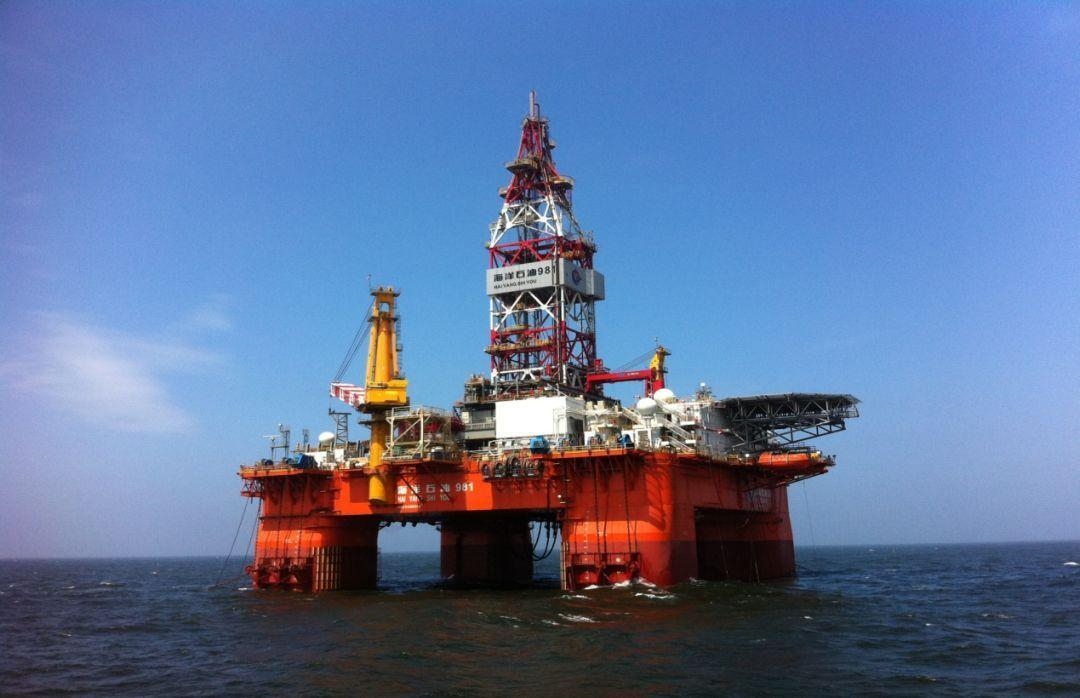 Lingshui 17-2 was discovered by the CNOOC drilling rig Hai Yang Shi You 981 (HYSY 981), the vessel cited by the State Department in its statement as having triggered diplomatic tension when it was deployed by China in May 2014 into Vietnamese-claimed waters. 
The rig design came from Friede & Goldman, a Texas-based firm beneficially owned by China Communications Construction Co., Ltd. (CCCC). (Five CCCC subsidiaries were among the two dozen companies placed on the U.S. export controls list in August, while CCCC itself was listed in December.) U.S.-based InterMoor won a contract from COOEC in May 2019 to install deepwater mooring systems for the Lingshui 17-2 floating production facilities, while a December 2019 press release from Luxembourg-based Subsea 7 S.A. announced that it would be connecting subsea pipelines to the Lingshui 17-2 platform for the gas field.
Friede & Goldman's design, which makes use of U.S. generator parts, is still used as a design for other CNOOC oil rigs. As of October 2020, CNOOC was in negotiations with Philippines-based PXP Energy regarding a memorandum of understanding on joint oil and gas development in the South China Sea, as reported by Reuters.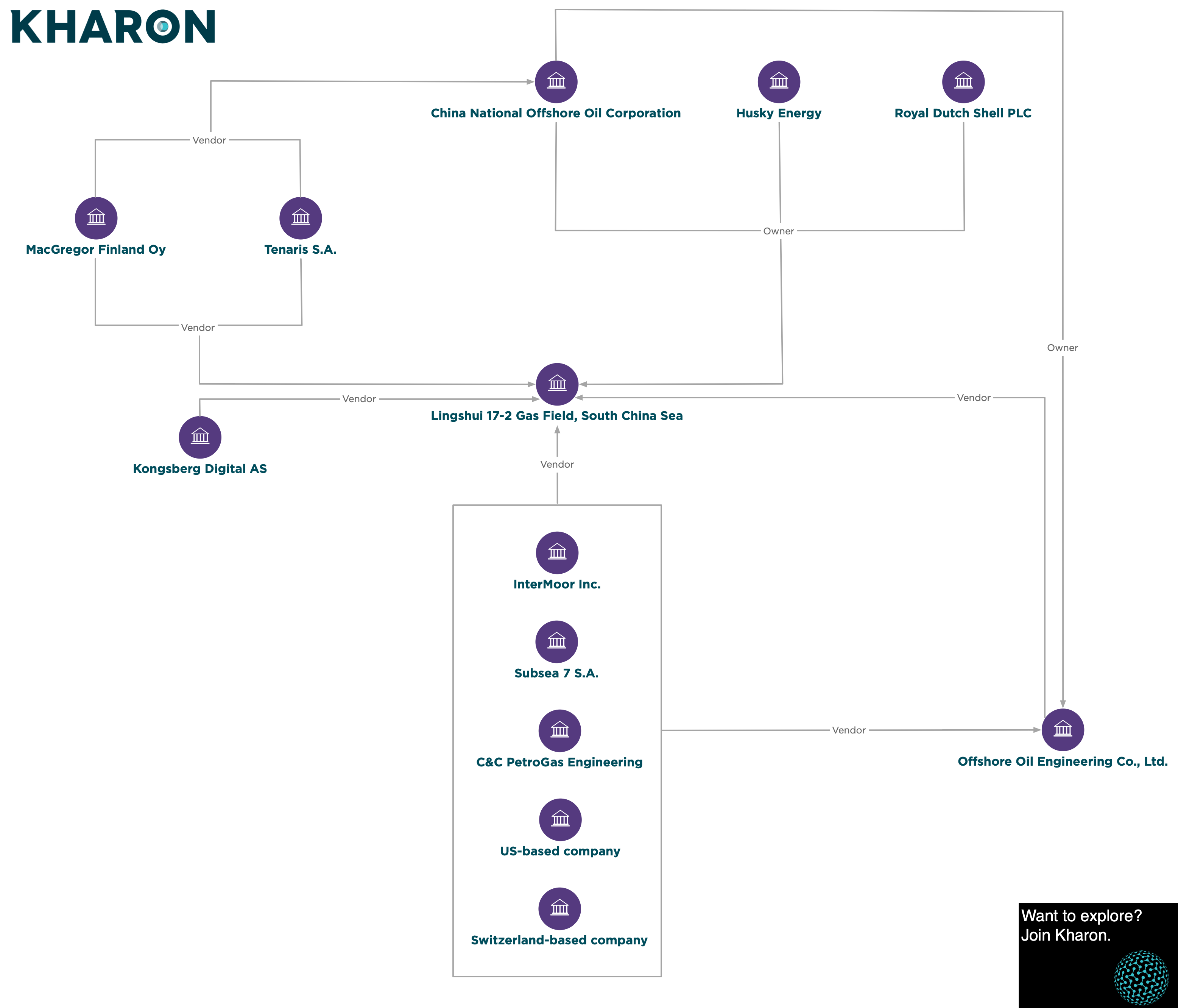 ---