Companies sanctioned Wednesday by the U.S. State Department, or their majority-owned subsidiaries, own or operate more than 50 vessels, according to maritime data and corporate records reviewed by Kharon.
Though some of the vessels may have exhibited suspicious patterns, many operate globally, demonstrating the potentially wide-ranging effects of the designations. Chartering companies are already moving to cancel voyages, even if the companies involved weren't sanctioned, according to a report by Lloyd's List, a leading maritime journal. 
The companies and individuals designated Wednesday had aided in the transport of Iranian crude oil purchased after May 2, the final day Beijing could import Iran's oil without the risk of sanctions, the State Department said. Two subsidiaries of Chinese shipping giant Cosco Shipping Corporation Ltd. (COSCO) were among those sanctioned, though the designations do not affect the ultimate parent company, according to guidance from the U.S. Treasury Department.
Cosco Shipping Energy Transportation Co. Ltd., the parent company of COSCO Shipping Tanker (Dalian) Co., Ltd., said in a Chinese-language filing with the Hong Kong Stock Exchange that it halted trading of its shares pending a further announcement. Cosco Shipping Energy has a fleet of 120 tankers, including 44 very large crude carriers, according to The Wall Street Journal, which first reported the filing with the stock exchange.
The parties sanctioned Wednesday majority or wholly own a number of companies not named by the U.S., Kharon found. However, assets majority-owned by sanctioned parties are automatically blocked, according to the Treasury's 50 percent rule. The sanctioned parties and their companies, in turn, own or operate the vessels.
COSCO Shipping Tanker (Dalian) Co., Ltd. majority owns China LNG Shipping (Holdings) Limited, which operates vessels identified by Kharon.  
The Dapeng Star, a liquefied natural gas tanker that is operated by China LNG Shipping (Holdings), mainly travels between the Chinese port of Dapeng, and Dampier, Australia, according to maritime data. The Dapeng Star is currently docked in the Port of Dampier, which exports liquefied natural gas. The Min Rong, another vessel operated by China LNG Shipping (Holdings), primarily travels between Xiuyu, China, and Indonesia's Tangguh liquefied natural gas (LNG) terminal, the data shows.
Vessels operated by the Hong Kong-based Pan Cosmos Shipping & Enterprises Co., Ltd., a wholly-owned subsidiary of COSCO Shipping Tanker (Dalian) Co., Ltd. according to Hong Kong records, could also be affected. The Cosgrand Lake, a crude oil tanker operated by Pan Cosmos, has traveled to three continents this year, including stops in countries such as Brazil, Venezuela, South Africa, Iraq and Singapore, maritime data shows.
COSCO Shipping Tanker (Dalian) Co., Ltd. also holds a majority stake in Shenzhen COSCO Long Peng LPG Transportation Co., Ltd., according to Chinese corporate records. The company owns and operates the vessel Ping An Yuan, which has traveled to China, South Korea and Thailand this year, maritime records show.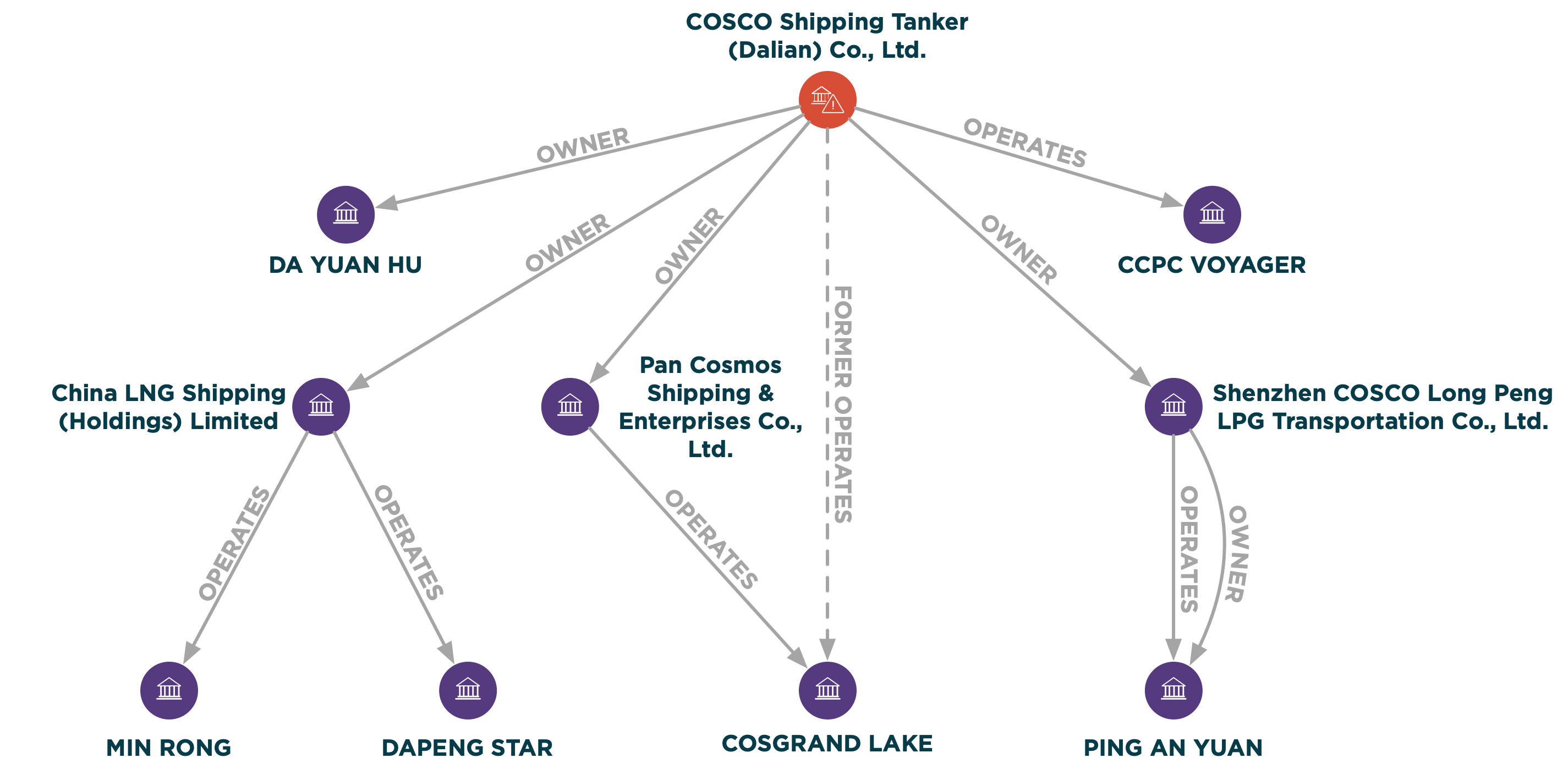 Vessels directly owned or operated by those designated Wednesday have also traveled globally in recent months, according to maritime data. The Da Yuan Hu, which is owned by COSCO Shipping Tanker (Dalian) Co., Ltd., has traveled to Singapore and the United Arab Emirates in recent months. It is currently in the Atlantic Ocean, having left Singapore on July 16 for a journey to Dos Bocas, Mexico, maritime data shows.
Some of the vessels that are owned or operated by the designated companies have exhibited patterns that indicate possible sanctions-evasion activity. 
One of these patterns relates to manipulating the vessel's AIS system, or location transponder. The Sea Gloria, Sea Dolphin, Tian Ma Zuo and CPCC Vanguard, all vessels owned or operated by companies sanctioned Wednesday, had turned off their AIS systems at some point this year, Kharon previously reported. The Gas Orpheus, of which COSCO Shipping Tanker (Dalian) Seaman and Ship Management is the technical manager, traveled to the Persian Gulf in June before turning off its AIS system. The vessel returned this week to the Persian Gulf, according to maritime data.