By Edmund Xu
October 19, 2022
---
A Chinese aviation equipment supplier supplied by Western aerospace companies shares ownership and is co-located with a Hong Kong-based firm that the U.S. government named as a "military end user," a Kharon investigation has found.

The U.S. Department of Commerce's Bureau of Industry and Security (BIS) warned that foreign companies on the Entity List may use legally distinct "affiliates" to facilitate transactions in violation of U.S. export controls.

Shenzhen Chengtai Aviation Company Limited, based in the coastal province of Guangdong, China, counts leading U.S. and European aerospace manufacturers as its suppliers while simultaneously maintaining close ties with Hong Kong-based Star Tech Aviation Company Limited, a company that the U.S. Department of Commerce determined in 2020 to be a Chinese "military end user."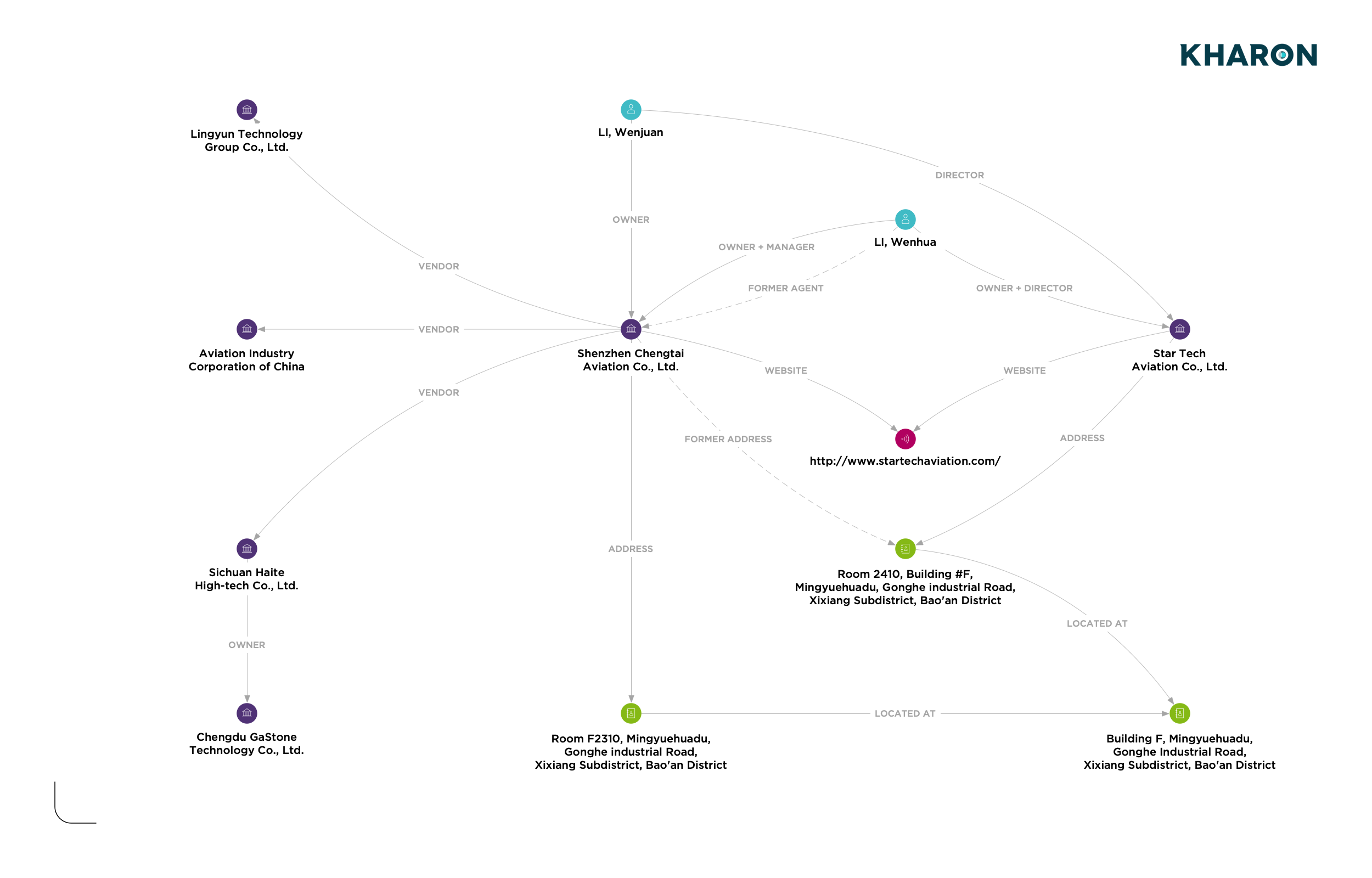 Chengtai Aviation and Star Tech are majority owned by the same person, according to corporate records and company disclosures. The two companies also share common leadership, the same website domain, and were previously co-located at the same Shenzhen address until the U.S. designation of Star Tech as a military end user in December 2020. Chengtai Aviation changed its address to a neighboring room in the same building in May 2021.

According to BIS export control guidance, companies acting as an "agent, front, or shell company, or affiliate" of a listed entity are "likely violating" export control regulations.

Chengtai Aviation's other customers include the Aviation Industry Corporation of China and others that have supplied aircraft parts to the People's Liberation Army.

BIS notes in guidance to industry that it is a "red flag" indicator of export control evasion when a customer, its address, or other identifiers closely match a listed entity, which may require enhanced due diligence procedures to be applied. Furthermore, BIS export control guidance encourages exporters to conduct additional due diligence on customers who are parents, subsidiaries, or sister companies of listed entities to ensure that items are not destined for the listed entity.