On September 6, 2018, the US Department of the Treasury sanctioned Muhammad al-Qatirji and his al-Qatirji Company for facilitating fuel trade between the Government of Syria and the Islamic State of Iraq and al-Sham (ISIS).
According to the designation statement, "in a 2016 trade deal between the Government of Syria and ISIS, the Qatirji Company was identified as the exclusive agent for providing supplies to ISIS-controlled areas, including oil and other commodities." 
The US Treasury stated that Muhammad al-Qatirji "is responsible for import and export activities in Syria and assists with transporting weapons and ammunition under the pretext of importing and exporting food items. These shipments were overseen by the U.S.­-designated Syrian General Intelligence Directorate." The statement added that the al-Qatirji Company, a Syria-based trucking company, "has also shipped weapons from Iraq to Syria." 
The US Treasury also designated Yasir 'Abbas for facilitating "oil and weapons imports on behalf of the Syrian regime, including involvement in the shipment of goods and military equipment from Iran to Syria." The statement noted that as of 2017, the Syrian Ministry of Petroleum "allocated all oil import contracts to Yasir 'Abbas."
Qatirji Business Empire in Syria   
Muhammad al-Qatirji and the al-Qatirji Company have broad commercial holdings in Syria, ranging from a security firm to an agricultural company. The al-Qatirji Company notes on social media that it "invests in the commercial, industrial, real estate and tourism sectors."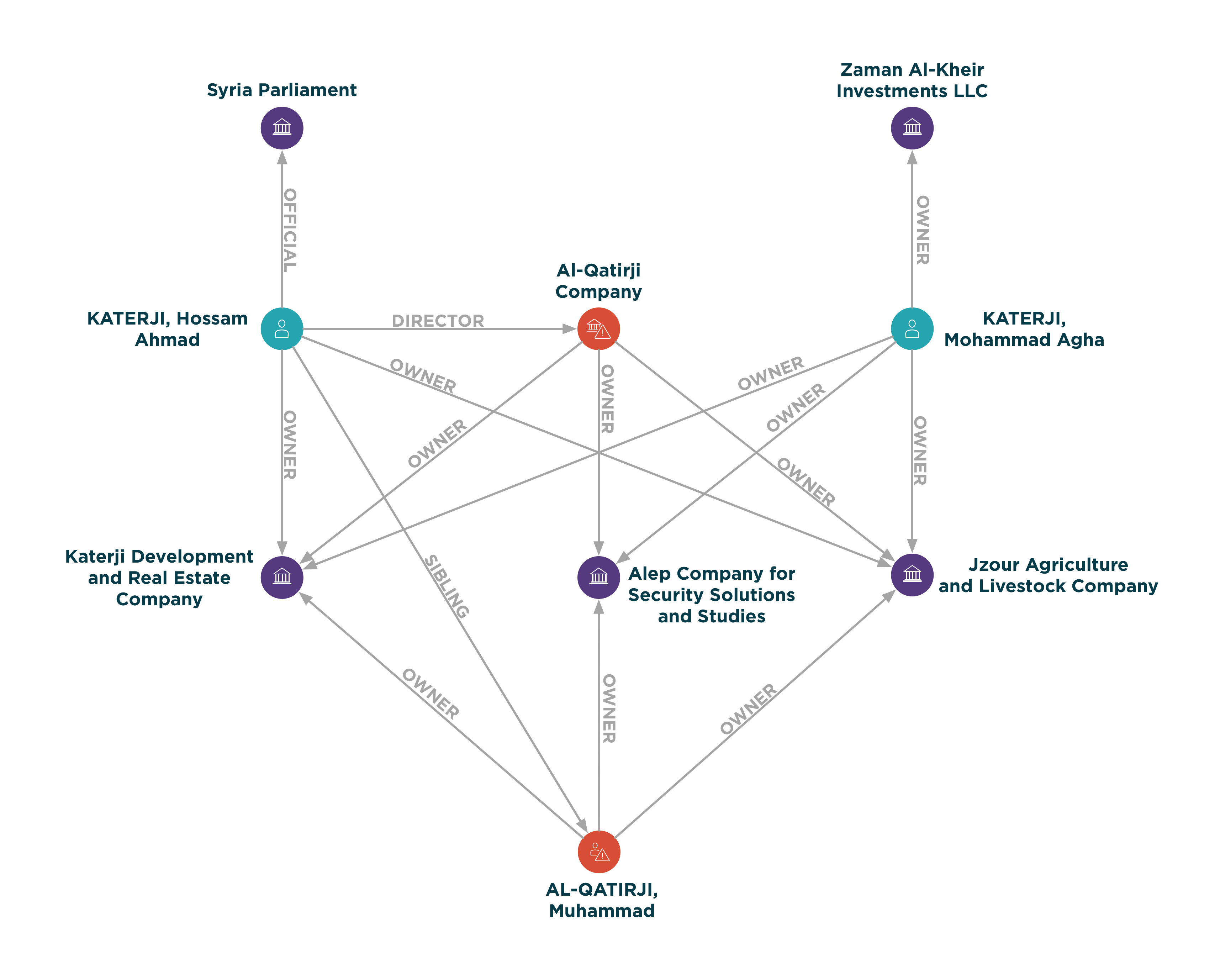 Muhammad al-Qatirji's brother Hossam Ahmad Katerji, a member of Syria's parliament, serves as the chairman of the al-Qatirji Company. The two brothers hold shares in a number of al-Qatirji Company subsidiaries, including Katerji Development and Real Estate Company, Alep Company for Security Solutions and Studies, and Jzour Agriculture and Livestock Company. 
Mohammad Agha Katerji also has ownership stakes in a number of al-Qatirji Company subsidiaries. Mohammad Agha Katerji separately holds a 90 percent stake in Zaman Al-Kheir Investments LLC, a freight transportation services company based in Tartous, Syria. 
Other al-Qatirji Company subsidiaries in Syria include White Gold Industrial Company, Roboua al-Jazirah Import Export Company, Golden Gate Company for Import and Export, and Asl Investment and Contracting Company.
In March 2018, Muhammad al-Qatirji and Hossam Ahmad Katerji founded a new al-Qatirji Company subsidiary in Syria, Arfada Petroleum Private Stock Company, which is licensed to buy and sell petroleum products and dig oil wells. The two brothers collectively own 67 percent of the company.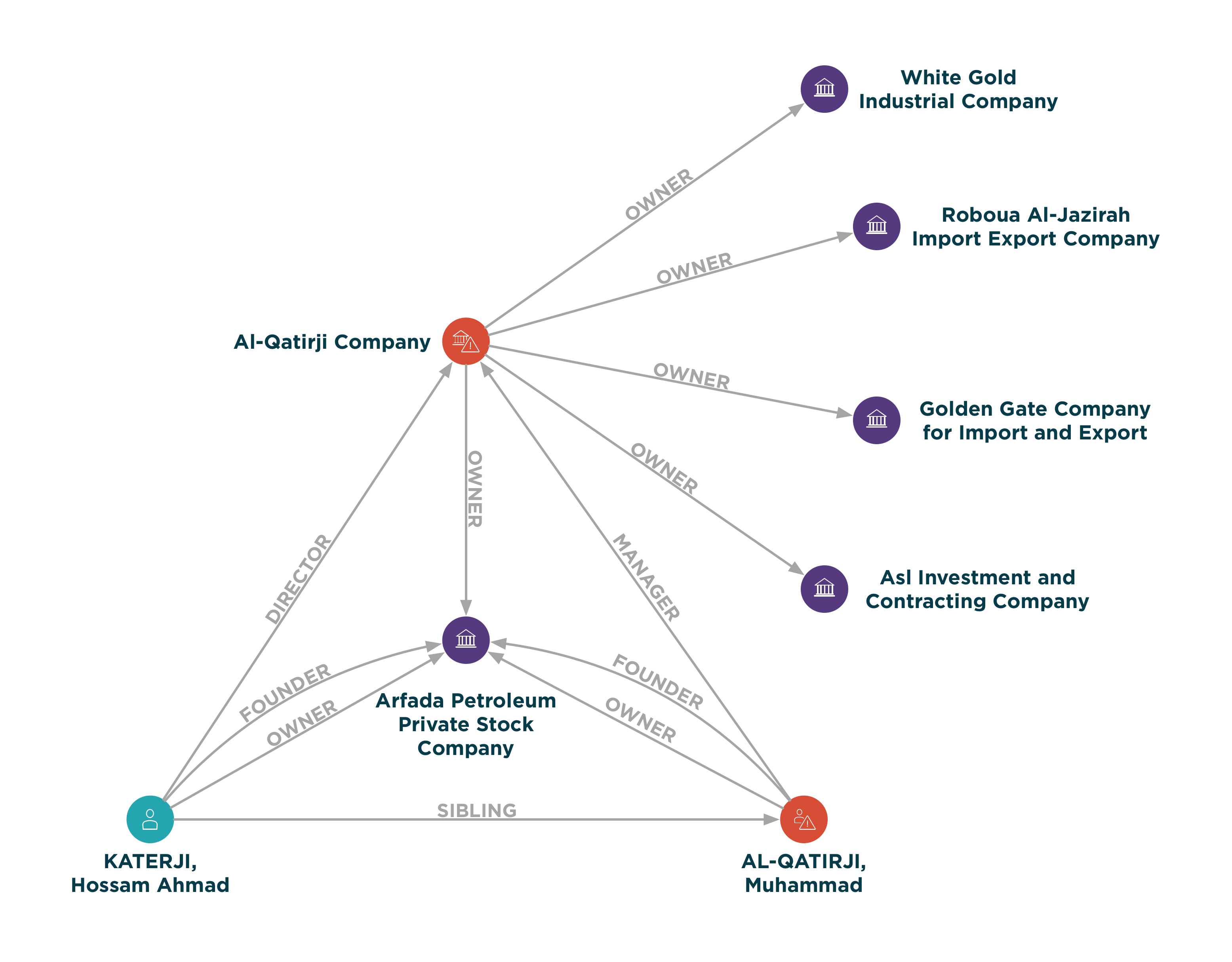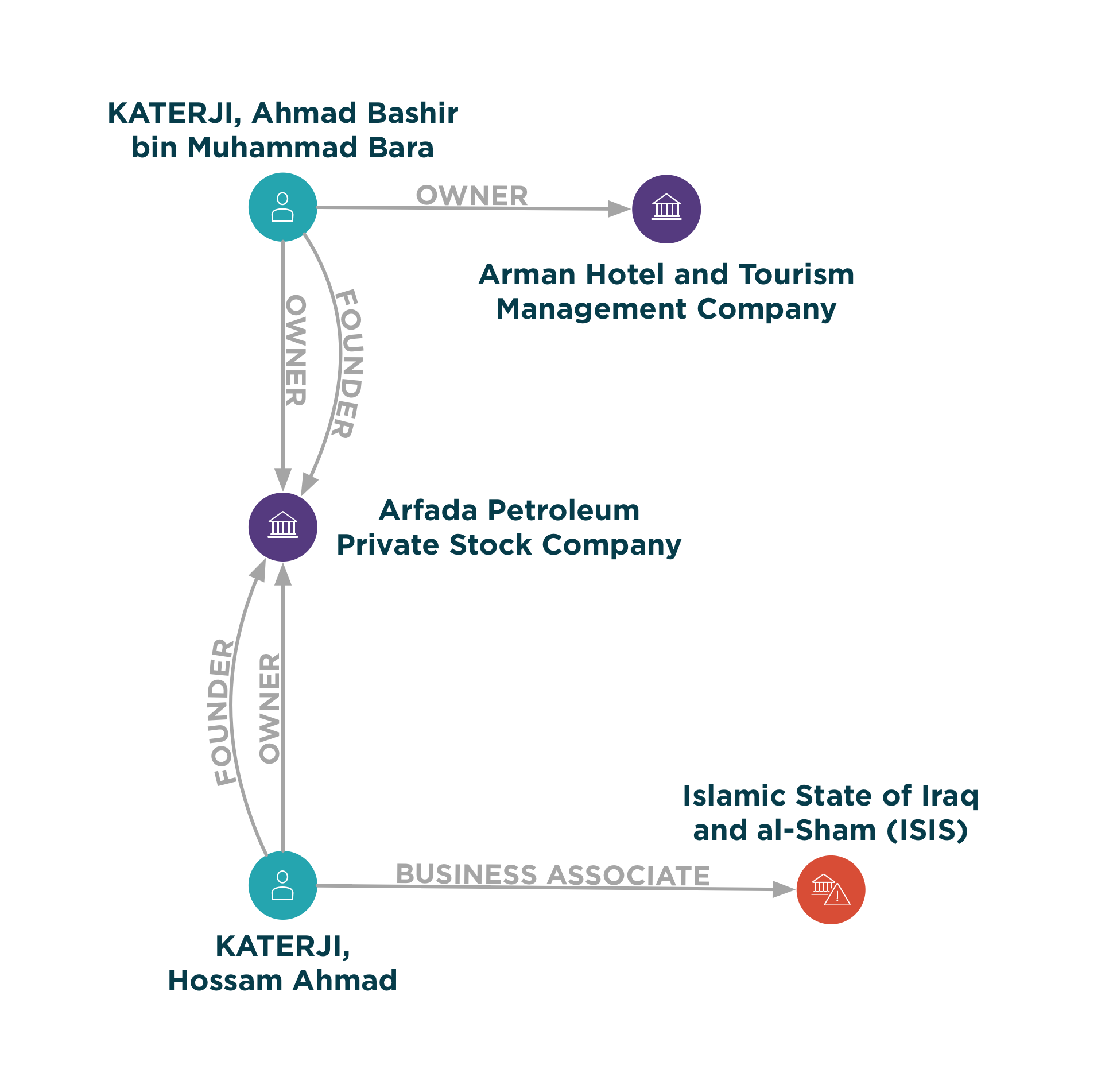 Arfada Petroleum's other founder and owner, Ahmad Bashir bin Muhammad Bara Katerji, is the majority owner of the Syria-based Arman Hotel and Tourism Management Company.
According to a 2017 investigative report, Hossam Ahmad Katerji was involved in purchasing wheat from farmers in ISIS-controlled parts of northeastern Syria and transporting it to areas of Damascus controlled by the Government of Syria. Traders working on behalf of Hossam Ahmad Katerji gave 20 percent of their supply to ISIS, according to a media report. 
Yasir 'Abbas' Commercial Network in Syria
Yasir 'Abbas is the founder and owner of a number of Syria-based companies, including Young King Company, Qadra Trading Company, Superior Company for Tourism Projects, Al-Bajaa Trading Services Company, and Top Business Company. 
Yasir 'Abbas also manages the Syria-based Al Aziz Group. According to the Young King Company website, Al Aziz Group is a project of Young King Company. 
According to media reporting, Yasir 'Abbas' Young King Company imported 24 tons of gas into Syria between 2013 and 2014 without declaring customs.