By Ines Chung and Edmund Xu
July 18, 2023
---
Publicly traded Chinese companies that produce silicon wafers, a key semiconductor component of solar cells and integrated circuits, buy polysilicon from Xinjiang – a region of China subject to U.S. and European sanctions and import restrictions due to evidence of forced labor practices. While much attention has been focused on U.S. and European importers whose supply chains may be exposed to forced labor risks in Xinjiang, investors with exposure to emerging market equity and debt funds face similar risk.   
Xinjiang is responsible for nearly half of the world's polysilicon production. In 2021, the U.S. Department of Labor added polysilicon from China to its List of Goods Produced by Child Labor or Forced Labor, and the Department of Commerce also imposed license requirements on the export, reexport, or transfer of goods from Xinjiang-based polysilicon producers due to forced labor concerns.
Xinjiang Daqo New Energy is one of China's largest polysilicon producers, accounting for 16.5% of the country's total polysilicon output in 2022, according to financial disclosures. The U.S. Bureau of Industry and Security (BIS) added Xinjiang Daqo and three other polysilicon producers, including Xinjiang GCL New Energy Materials Technology, to its Entity List in 2021 for utilizing forced labor. 
One buyer of Xinjiang polysilicon is TCL Zhonghuan Renewable Energy Technology, which is based more than 2,000 kilometers from Xinjiang in Tianjin and serves as a global producer and distributor of semiconductor materials and devices used in integrated circuits, consumer electronics, transportation and other sectors. The company is traded on the Shenzhen Stock Exchange. With a market cap of approximately 125 billion CNY ($17.5B USD), public fund data show that the stock has been held in a variety of emerging market focused funds offered by US, European and Canadian asset management firms, including Goldman Sachs, Mackenzie Investments, and J. Safra Sarasin.
TCL Zhonghuan is a minority owner of Xinjiang GCL and acquired more than RMB 5.7 billion (approximately USD $795 million) worth of materials from Xinjiang GCL in 2022, according to company disclosures. Last December, TCL Zhonghuan announced that it planned to increase its purchases from Xinjiang GCL in 2023 to RMB 7 billion. 
In October 2022, TCL Zhonghuan reported that one of its subsidiaries had contracted with an undisclosed supplier for 432,000 tons of polysilicon between 2023 and 2028. Xinjiang Daqo New Energy announced on the same day that it had contracted with an undisclosed customer to supply it with the same quantity of polysilicon over the same period.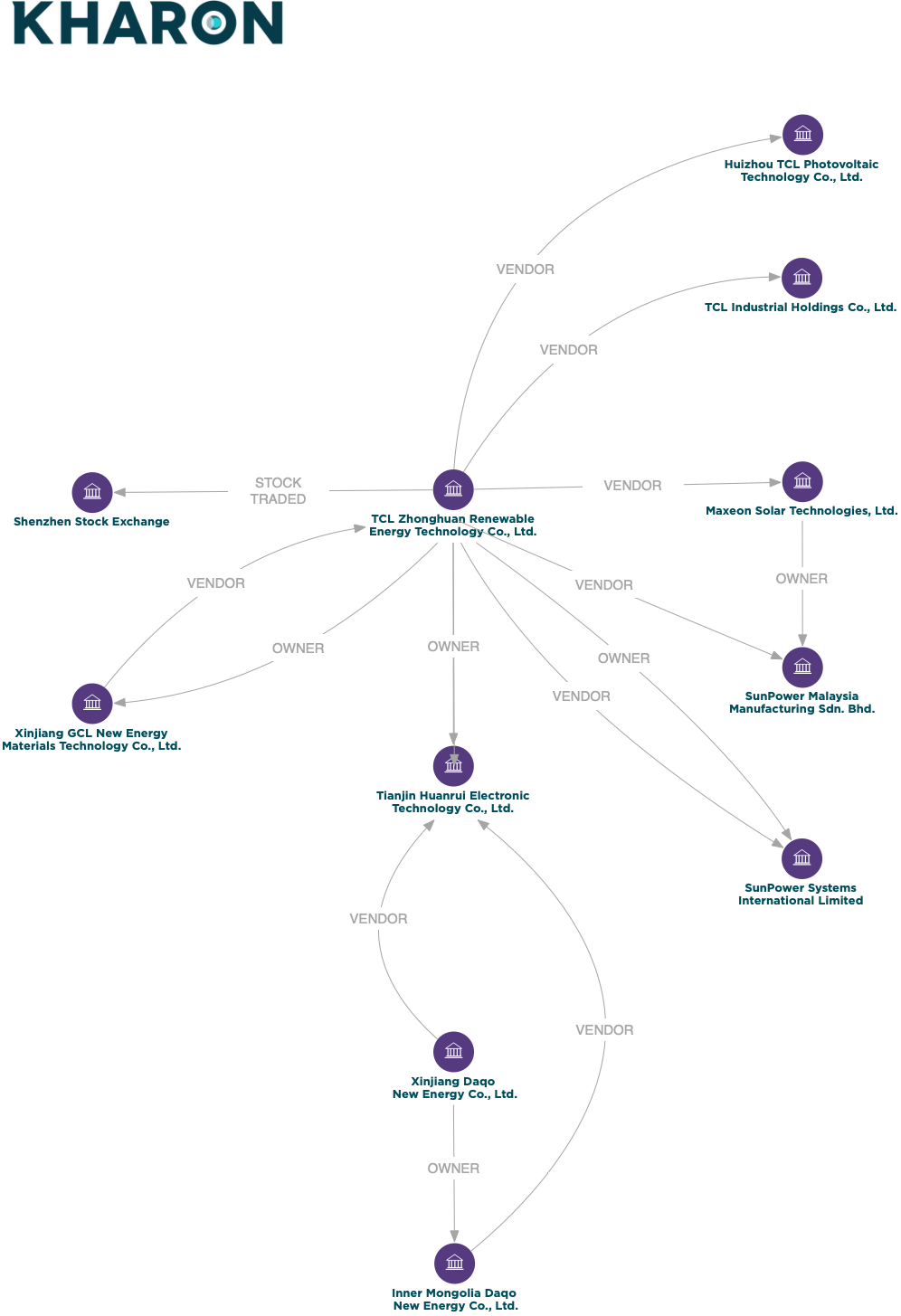 Kharon ClearView and LensView users can explore the full, live chart directly in the Kharon platform. Click here to view.
TCL Zhonghuan supplies silicon wafers to foreign manufacturers of solar cells and panels, to include a Singapore-based multinational company with a manufacturing subsidiary in Malaysia whose purchases of silicon wafers from TCL Zhonghuan exceeded RMB 482 million (approximately USD $70 million) in value in 2022, according to corporate disclosures. The Malaysian subsidiary's solar cells were exported to the U.S. through other subsidiaries in France and Mexico, according to shipping data.