By Peter Maroulis and Robert Kim
November 1, 2022
---
A German private partnership in a small town in Bavaria has been a supplier of advanced microelectronics and other Western-manufactured technology used by Russian defense companies before and after the February 2022 invasion of Ukraine. 

R&S Electronics Gbr does business primarily with Russian customers, according to trade data reviewed by Kharon. Its co-owner and managing director Friedrich Allgeier is the former manager of Munich Electronic Company GmBH, another Germany-based company that sold Western-origin semiconductor components to Russian customers. Selling semiconductor components made in Western countries to Russian import-export firms and technology companies is a key business of R&S Electronics, according to publicly available trade and shipping data. The company's website is inaccessible beyond its home page and provides no information about its business.

One of R&S Electronics' main customers is Testpribor AO, a Russian company that supplies semiconductor components to sanctioned military end users in Russia. Testpribor is neither sanctioned nor appears on the export control lists of the EU or U.S. Department of Commerce's Bureau of Industry and Security (BIS). As recently as March 1, 2022, Testpribor imported Western-origin semiconductor components from R&S Electronics, such as attenuators and diodes. R&S Electronics made 30 shipments of goods valued at approximately USD $640,000 to Testpribor from 2019 to 2022, according to shipping data.

Testpribor has supplied semiconductor components to U.S.-designated subsidiaries of the sanctioned Russian state-owned defense conglomerate Rostec and of Tactical Missiles Corporation JSC, which produce missiles and precision-guided weapons.

The Planar Company, a U.S.- and U.K.-designated Russian limited liability company that supplies telecommunications and other electronic equipment to sanctioned Russian state-owned entities, has been a customer of both R&S Electronics and Munich Electronic Company. R&S Electronics sold Western-origin semiconductor components – such as diodes, resistors, piezo-electric crystals, integrated circuits, and fixed capacitors – to The Planar Company, making 1,725 shipments of goods valued at more than USD $5 million to The Planar Company from 2020 to March 2022, according to shipping data. Munich Electronic Company sold the same types of semiconductor components to The Planar Company as recently as March 3, 2022.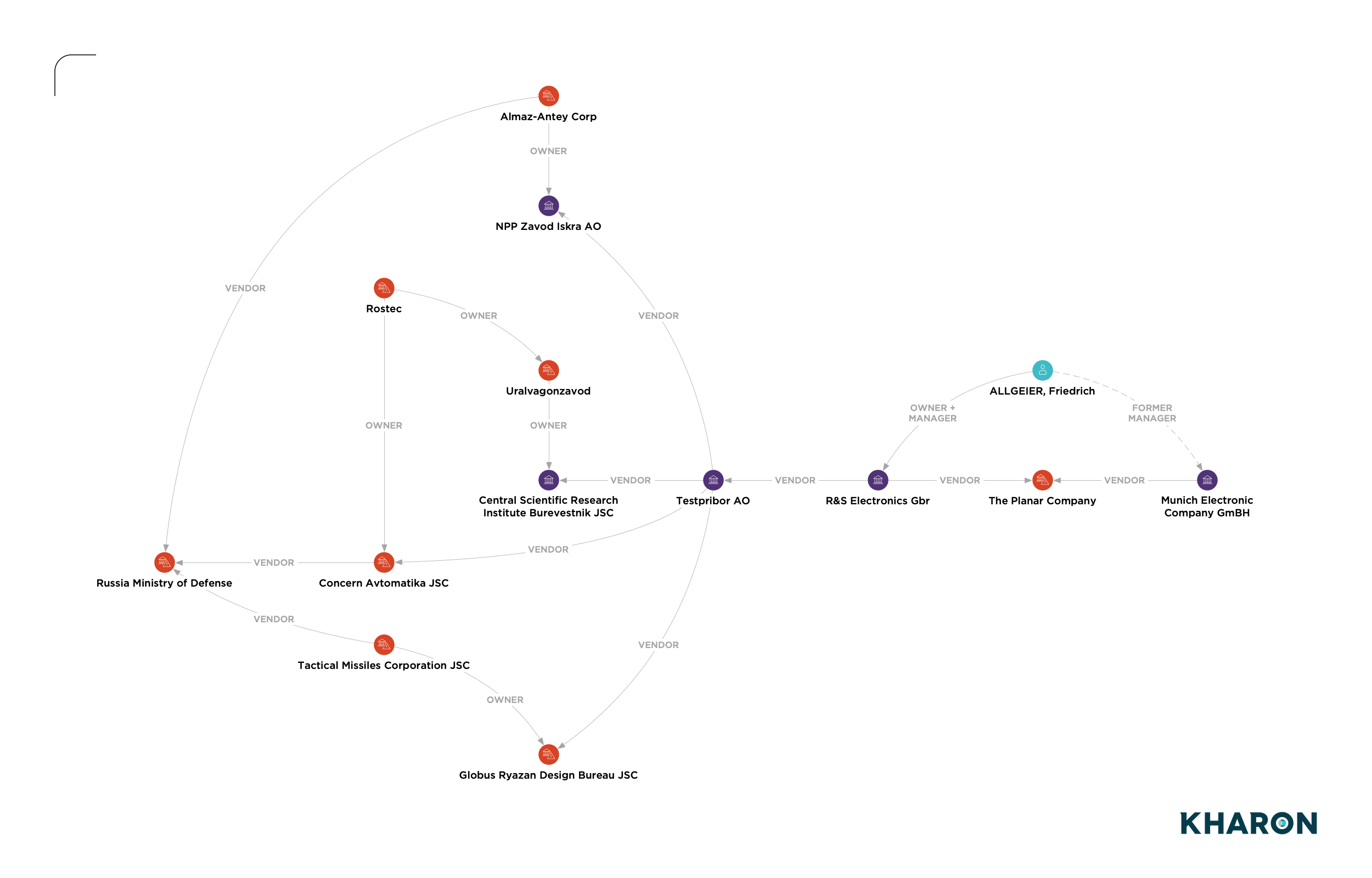 R&S Electronics and Munich Electronic Company are two of a number of companies in Europe, China, and other regions that have supplied Russian defense companies with foreign technology essential to manufacture military equipment used in Ukraine.

___


Learn more about recent sanctions and enforcement actions targeting parties involved in Russia's military-industrial complex.