'Go Find Something Evil and Kill It:' Members of Three Percenter Groups Operate Online Retailers, Sell Weapons
Canada sanctioned the decentralized anti-government militia group last month and recently released a report about how ideological extremist groups raise funds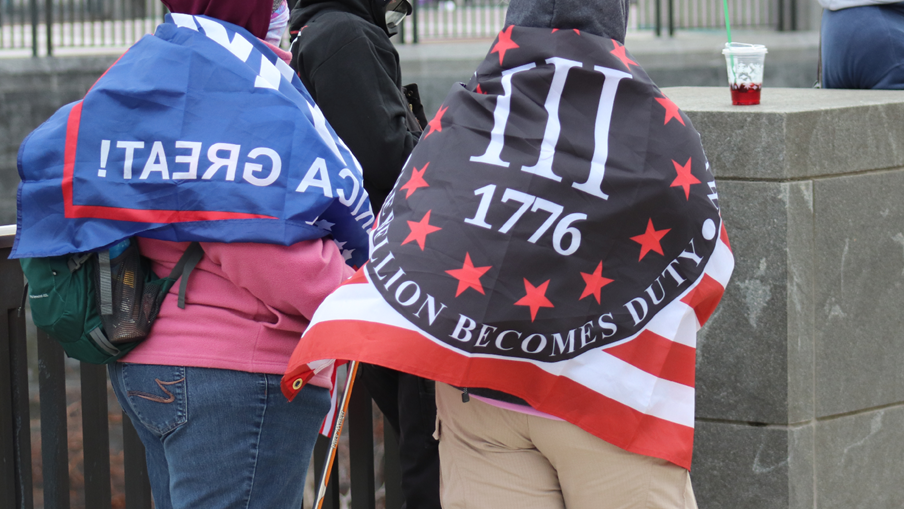 A person with the Three Percenter flag wrapped around their body. (Source: Elvert Barnes, via Wikimedia Commons)
By Zach Caldwell and Samuel Rubenfeld
Friday, July 16, 2021
In St. Maries, Idaho, a city of about 2,500 about a three-hour drive south from the Canadian border, Christian Kerodin and his wife Holly manage an online retailer called III Gear LLC, where customers can buy items such as a "War Eagle" patch or a stainless steel garotte, a weapon used to kill a person by strangulation.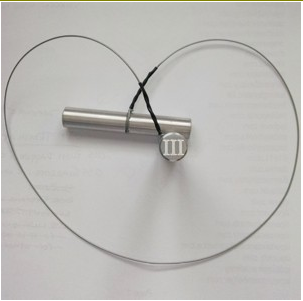 Purchase of a garrotte comes with a three-hour class at a survivalist training camp in St. Maries called the Jedburgh Academy, which is also run by the Kerodins. Among other things, the Jedburgh Academy offers classes on "stealth implementation" for the weapon, which III Gear LLC claims is a faithful reproduction of a means to quietly dispatch sentries used by agents of the World War II-era Office of Strategic Services, a precursor to the CIA. 
The couple appear to have longtime ties to the Three Percenters, a decentralized extremist group connected to the broader militia movement in the U.S. sanctioned in June by Canada as a terrorist entity. Christian Kerodin had claimed "ownership of the Three Percent idea," according to the book "Alt-America: The Rise of the Radical Right in the Age of Trump," by journalist David Neiwart. 
The Three Percenters' name comes from a false belief that only three percent of Americans fought against the British during the Revolutionary War, according to the Canadian listing. The entity has a presence in both the U.S. and Canada, the Canadian government said, noting that, among other things, the group has been linked to bomb plots targeting U.S. government buildings and Muslim communities. Two leaders had directed a plot in 2020 to kidnap the Michigan governor and execute public officials by hanging them on live television.
Three Percenter embers describe themselves as "Threepers," "III%ers" or simply "patriots," and are active in all U.S. states, according to an expert cited by the New York Times. A national chapter identifying itself as "The Three Percenters - Original" said in February that it was disbanding due to negative attention brought by the insurrection in the U.S. Capitol. Six men, four of whom identified themselves as members of Three Percenter militias, were indicted in June by U.S. authorities on conspiracy charges related to the breach. 
Fundraising tactics: Earlier in July, the Canadian government issued a terrorist activity financing profile on ideologically motivated violent extremism (IVME), finding that actors raise their money in part through commercial activities, such as selling merchandise, charging membership fees and collecting donations. These groups use the funds to recruit new members, engage in day-to-day operations and carry out promotional efforts, as well as organize marches, establish safe houses and support incarcerated members, according to the Canadian government. 
The Canadian study follows a report by the Financial Action Task Force (FATF), an international standard-setting body, that also found that most ethnic and racially motivated terrorism groups finance their activity through legal sources such as merchandising.
However, right wing extremist groups have adapted as online platforms cracked down on their fundraising and networking, Kharon reported last year. 
Business interests: The Kerodins operate a network of businesses that include a restaurant in St. Maries and a Rockville, Maryland publisher named Kerodina Press, LLC that markets Three Percenter books, including "III Percent Patriots: The Fight for Liberty" and "III to Liberty: the Fight to Restore the Constitution" sold on Amazon.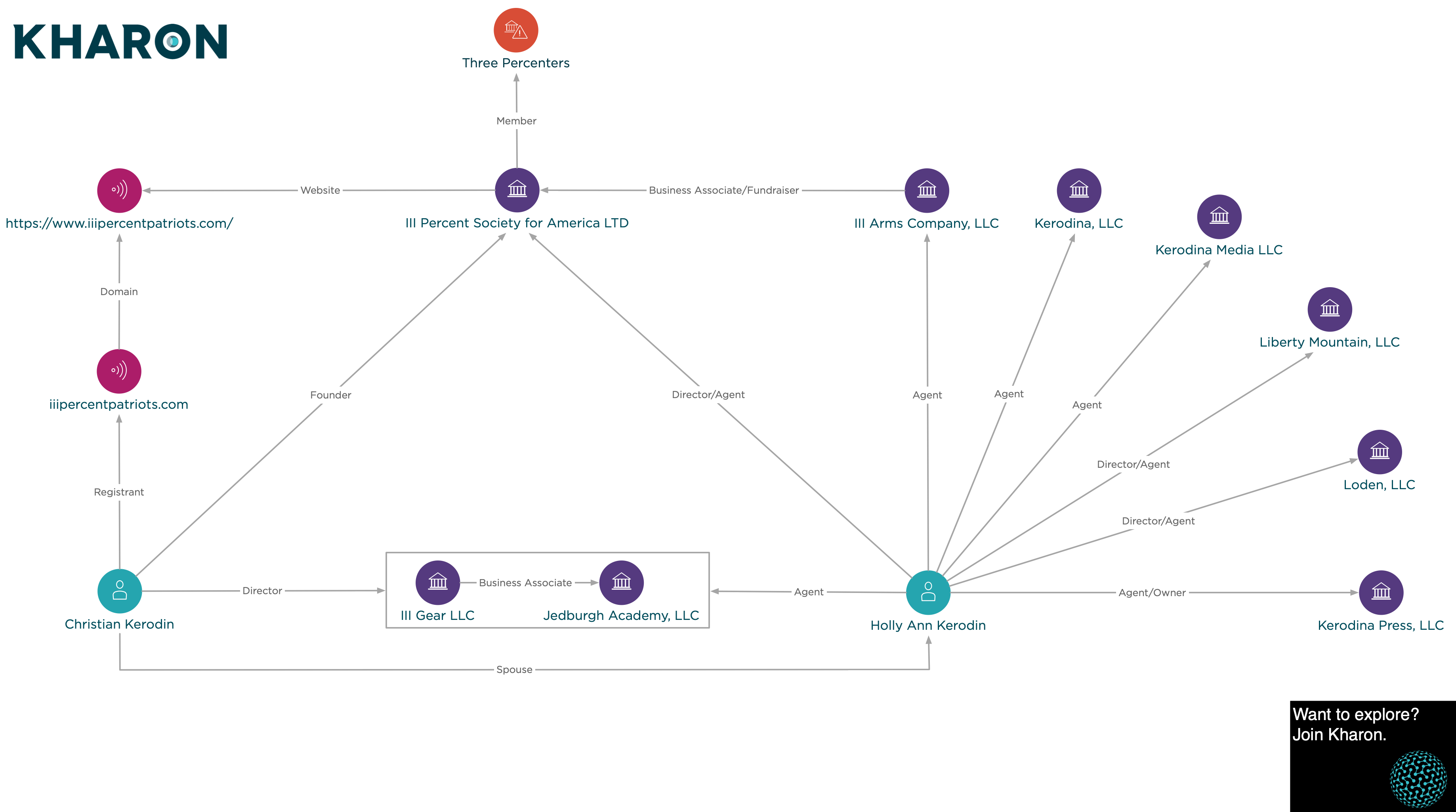 In 2014, the Kerodins established an entity called III Society for America LTD and, until it was anonymized, Christian Kerodin was listed as the registrant of the website for the III Percent Society for America, which describes itself as the "final line of defense of Liberty." On its website in July 2019, the III Percent Society of America issued a set of standing orders for members including "When the war is begun (sic), go find something evil and kill it." 
III Arms, a III Percent Society gun retailer registered in Idaho by Holly Kerodin, sells "80 percent build" kits with partially-machined firearm parts that it markets as requiring no background checks and leaving "no paper trails." 
Aligned groups: Overall, the Three Percenters constitute a part of the broader anti-government militia movement, with which it shares a political ideology, according to a profile by the Anti-Defamation League (ADL). Many local or regional Three Percenters create groups that operate in the world, as well as online; some were traditional militia groups using the Three Percenter label, while others aren't involved in paramilitary activity, the ADL profile said. In a statement on its former website, The Three Percenters - Original distanced itself from the insurrection in the U.S. Capitol, noting that "there are lots of 'Three Percenter' groups."
The Three Percenters - Original group, which disbanded in February, was led by Mississippi-based Kaleb Hill, who manages a security company and describes himself as a former U.S. Army infantryman. Hill, whose security firm received a pandemic aid loan, also operates a photography company that is featured on the wedding site The Knot and is included in its "Best of Weddings Hall of Fame." 
The Three Percenters - Original group's web domain, registered by Hill before it was anonymized, now directs to an online retailer known as Patriot Corner that as recently as Jan. 15 had identified as a Three Percenters store. Patriot Corner continues to sell Three Percenter merchandise alongside apparel of the military lifestyle brand Grunt Style as well as other tactical gear, such as weapons sights, from national retailers.
In Georgia, a group called III Security Force has described itself in the past as "A well regulated militia. III% security force militia. Patriot group. Threepercenter group," according to an archived version of the website. III Security force is led by paralegal and Marine Corps veteran Chris Hill, who also calls himself "Blood Agent." In the website's current version, he says the group's goal is to "advocate for positive change in how the III% Militia is portrayed by the people, the media and the government" by providing event security, humanitarian aid and disaster relief.
As of last August, the III Security Force was fundraising on its website through Hill's Cash App account. The site now features an "urgent request for assistance," asking supporters to furnish documentation of "lies, myths, and misconceptions" on the part of media organizations and anti-facist activists. Hill has taken the same appeal to social media platforms, including Gab, in an effort to build a legal case "against all who have assailed me." He claims the case is backed by activist group Project Veritas.
Decrying that he has been banned from multiple online platforms, including Facebook, Twitter, GoDaddy, Cash App and PayPal, Hill said the media, the ADL, the U.S. government and others have wrongly portrayed the III Security Force as a white supremacist and domestic terrorist group. "In the end, I feel like I am the 'Thought Criminal' Orwell was writing about," he said.
---