By Zach Caldwell
Wednesday, June 16, 2021
---
Hamas has turned to aligned charities, successors to sanctioned organizations and shell companies based abroad to raise funds following the recent conflict with Israel, Kharon found.
The latest flare-up in the war between Hamas and Israel ended with a cease-fire that took effect May 25 and had largely held until new airstrikes this week. The Israeli bombing campaign against targets in the Gaza Strip left widespread property damage, which is leading to an influx in foreign reconstruction investment and international assistance. 
U.S. and European officials have acknowledged the difficulties of preventing Hamas from benefiting from the foreign investment. "If we do this right, reconstruction and then – and relief for the people of Gaza, far from empowering Hamas, I think has the potential to undermine it," U.S. Secretary of State Antony Blinken said May 25, during a press briefing while in Jerusalem. U.K. Foreign Secretary Dominic Raab told the BBC it was "critically important" to ensure funds "do not drift into the pockets of Hamas," and instead help alleviate the plight of Palestinians.
Hamas, which is sanctioned by the U.S. and European Union, in the meantime has turned to its various pre-existing networks in Asia, Europe and the Middle East to raise funds, Kharon found. 
In Malaysia, the Palestinian Cultural Organization - Malaysia (PCOM), which is led by Hamas representative Muslim Imran, co-sponsored an online event in mid-May that hosted Hamas leader Musa Abu Marzouk. In remarks addressed to the Malaysian people, Marzouk said "you are partners in this battle" and encouraged viewers to participate in jihad through "financial aid." Other sponsors of the event included the Malaysia branch of the sanctioned Hamas organization al-Quds International Foundation, and MyCare, a Malaysian charity.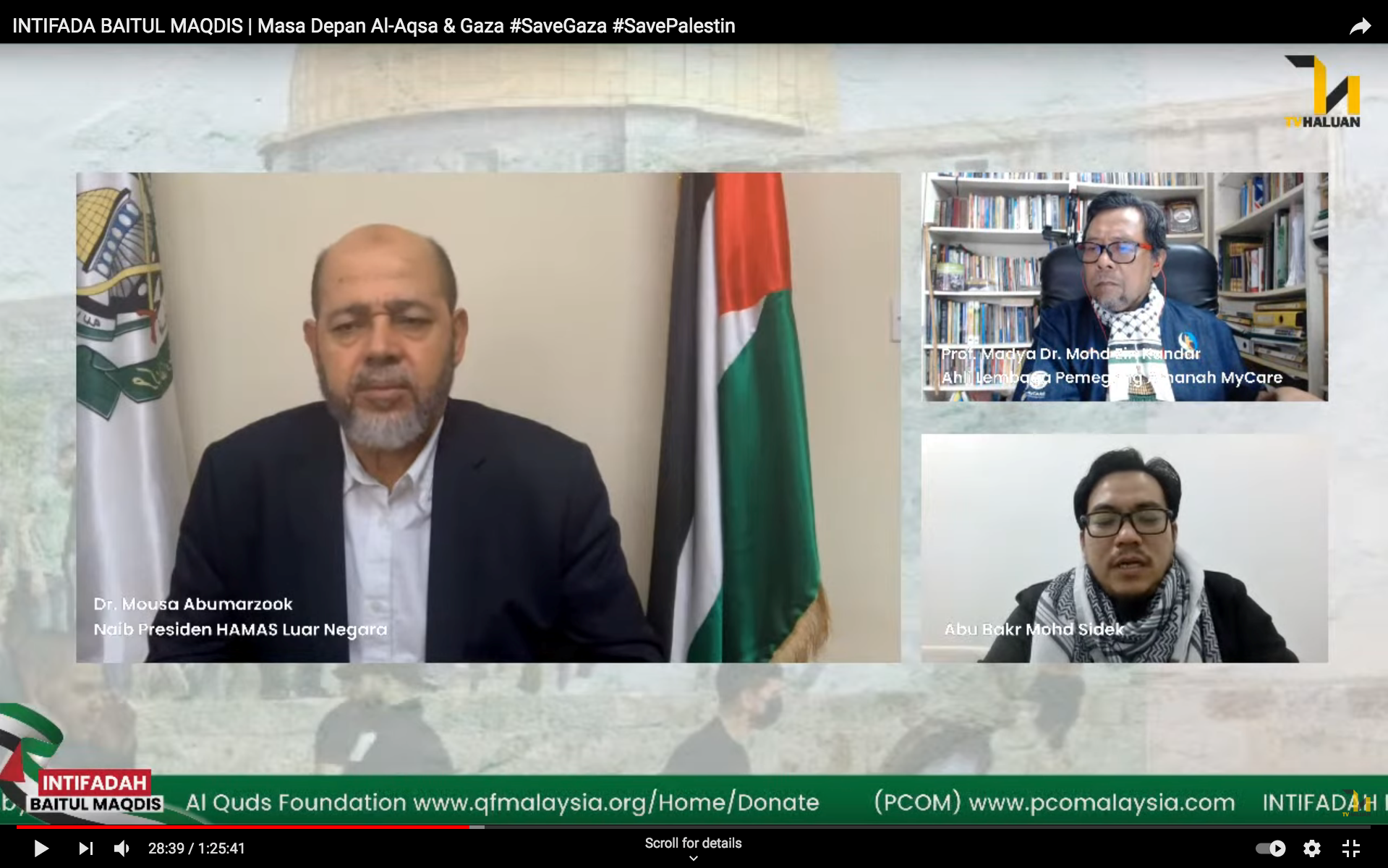 The online event, dubbed Intifadah Baitul Maqdis, in reference to the recent uprising in Jerusalem, also provided donation information for a MyCare-led campaign, Palestine Under Attack, that solicits funds with the proclamation: "Let us rise up and defend the Palestinian land from Zionist invasion." The campaign received donations totaling more than USD 1.1 million by Wednesday, according to MyCare's website.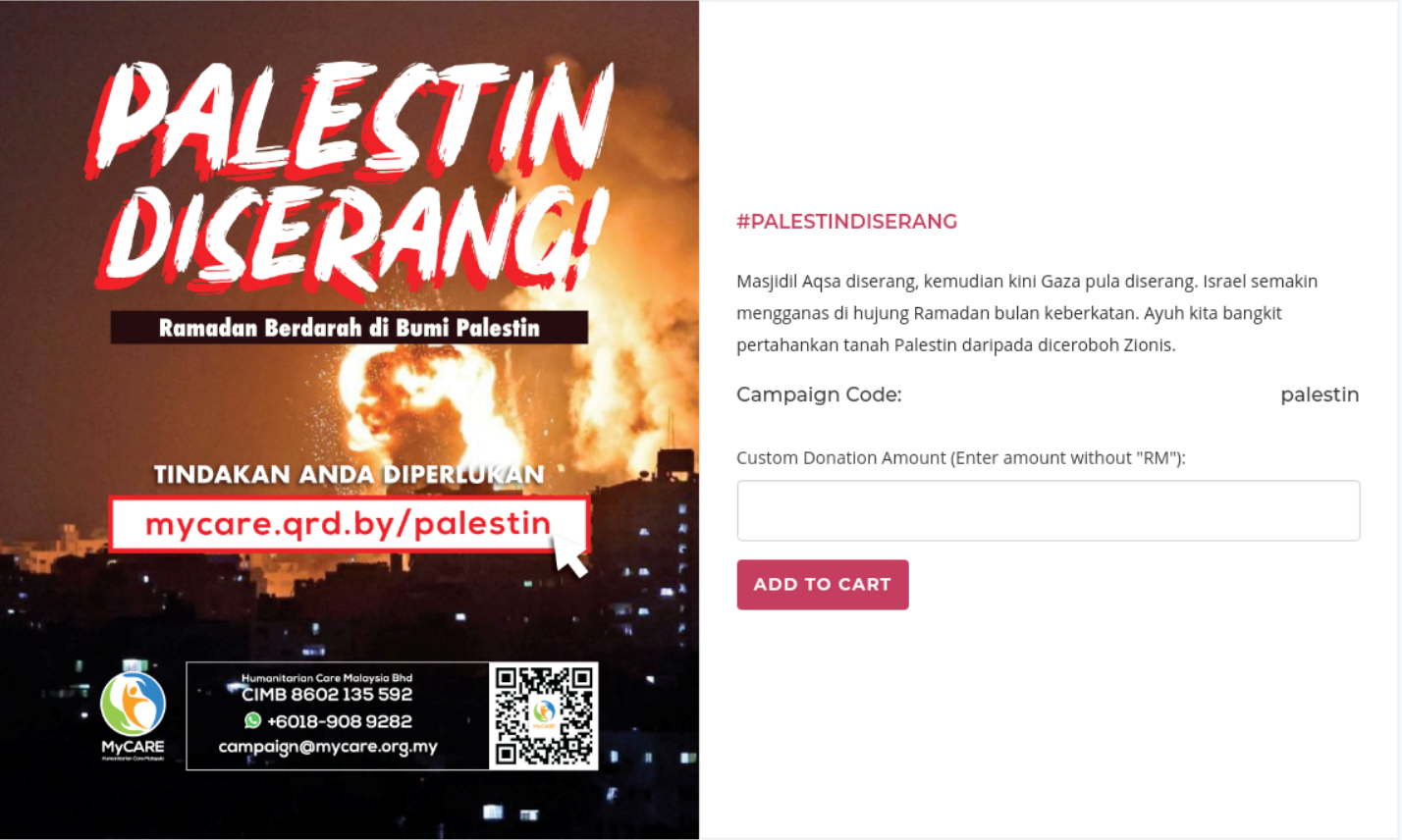 Other foreign charities affiliated with Hamas are also engaged in post-conflict fundraising on behalf of the group, Kharon found. 
France: The French charity Humani'terre relaunched a campaign it called Operation SOS Gaza & Al-Quds, for which it solicited credit card and check donations through the organization's website. Humani'terre appears to be a successor to Comite de Bienfaisance et de Secours aux Palestiniens (CBSP), which was sanctioned by the U.S. in 2003 for its role in Hamas fundraising efforts. CBSP changed its name to Soutien Humani'terre in 2018 but has not been active since the name change.
Turkey: A Hamas organization also utilized Aqdar Yonetim Hizmetleri Limited Şirketi, a recently established company in Turkey, to tap foreign currencies through an account it held at a Turkish bank. 
As the most recent conflict with Israel began, the Gaza-based Palestinian Zakat Institution established the Emergency Relief Campaign and solicited euro and U.S. dollar donations at a Turkish bank in Istanbul through an account held by Aqdar Yonetim, according to a social media account for Palestinian Zakat Institution and Turkish records. Palestinian Zakat Institution has been led by senior Hamas figures, including Abd al-Raman Tamraz, a right hand man of deceased Hamas founder Sheikh Ahmed Yassin.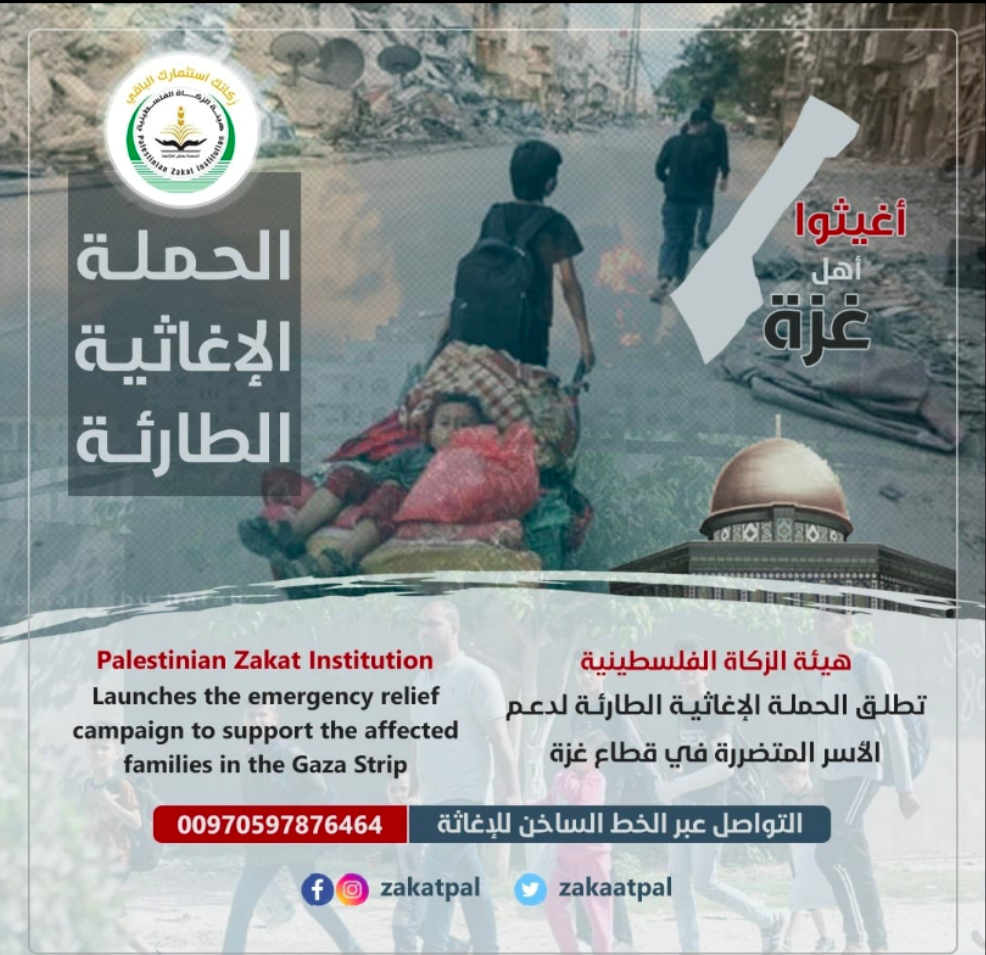 Aqdar Yonetim, the Turkish company, reports to be involved in an array of business activities, including computer technology imports, service and repairs, real estate and travel services, according to its profile with the Istanbul Chamber of Commerce. Aqdar Yonetim's manager and sole shareholder also was a co-registrant of the web domain of a Hamas-run TV station, records show.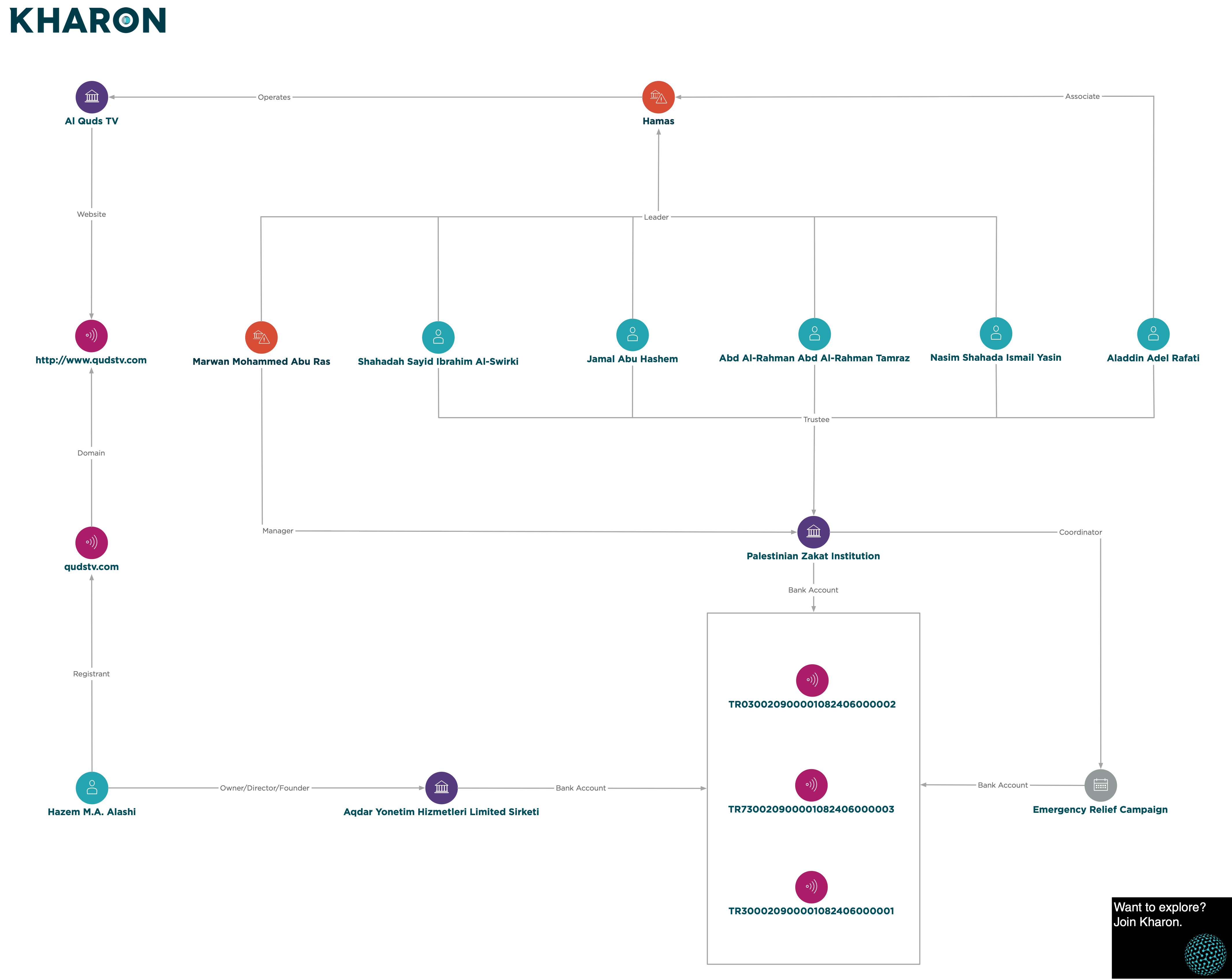 Cryptocurrency donations: And, beyond its networks of charities and affiliates around the world, a senior Hamas official told The Wall Street Journal that the group has seen a spike in bitcoin donations, though the person declined to say how much cryptocurrency it has received. 
Last year, the U.S. seized 150 cryptocurrency addresses associated with the Izz al-Din al-Qassam Brigades, Hamas's armed wing, and took control of the group's websites, prosecutors said at the time. The al-Qassam Brigades' Telegram channel continues to solicit Bitcoin donations by linking to an al-Qassam site. The site, active as of this month, generates a unique wallet for donors and warns them not to pass it to others "for the sake of your security and privacy." The al-Qassam Brigades received up to USD 100,000 in bitcoin since the beginning of the year, with a spike in donations in May during the conflict with Israel, according to an analysis by blockchain firms and CoinDesk, a digital-currency focused news outlet.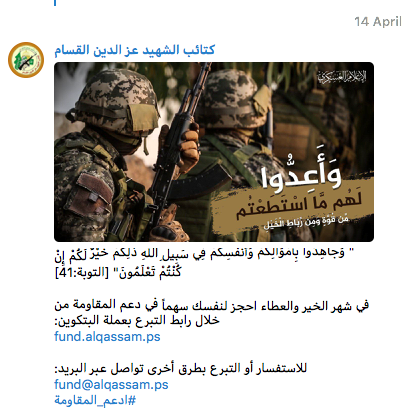 Analysts of the Counterterrorism/Middle East team contributed to this report.