By Samuel Rubenfeld
Wednesday, November 24, 2021
---
Two financial facilitation networks were sanctioned this fall for their support to Hizballah and Iran's Islamic Revolutionary Guard Corps - Qods Force (IRGC-QF), according to the U.S. Treasury Department. 
One network concerned four individuals who raised funds for Hizballah, including a subordinate to the Lebanese group's leader, Hassan Nasrallah. The other, led by previously designated facilitators, helped move tens of millions of dollars worth of gold, electronics and foreign currency for Hizballah and the IRGC-QF, according to the Treasury.
The facilitation networks were sanctioned Sept. 17. "Hizballah and the IRGC-QF continue to exploit the international financial system to finance acts of terrorism," Andrea Gacki, director of the Office of Foreign Assets Control (OFAC), said at the time. 
Hizballah was designated in 1997 as a foreign terrorist organization (FTO) by the U.S. State Department and sanctioned in 2001 under the Treasury's counterterrorism authorities. The IRGC-QF was sanctioned in 2007 for supporting numerous terrorist groups. 
This week, Australia said it would designate Hizballah in its entirety, having listed its External Security Organization (ESO) since 2003. The group continues to threaten terrorist attacks and supports organizations such as Palestinian Islamic Jihad (PIJ) and Hamas' armed wing, Australia said Wednesday. Hizballah quickly denounced the Australian designation.
Hasib Muhammad Hadwan, who is also known as Hajj Zayn, is a senior official in Hizballah's general secretariat and responsible for raising funds from donors and businessmen outside Lebanon, the Treasury said. His office manager, Ali al-Sha'ir, has been accepting financial contributions on Hizballah's behalf since 2000, according to the Treasury.
Hadwan had directed an associate, a Lebanese businessman, to import food subsidized by the Lebanese government through his companies and then send the funds he earned back to Hizballah, local media reporting noted late last year.
Talib Husayn 'Ali Jarak Ismai'l coordinated the transfer of millions of dollars to Hizballah from Kuwait through Jamal Husayn 'Abd 'Ali 'Abd-al-Rahim al-Shatti, and he traveled to Lebanon to meet with Hizballah officials to donate money to the group, according to the Treasury, which sanctioned them both. 
Isma'l was previously the manager of Alkout Television, a satellite network shuttered in 2017 by Kuwaiti authorities after finding it had ties to Hizballah, the Associated Press reported at the time. As of Sept. 21, Al-Shatti was the manager of a Kuwait-based agent of Mahan Air, the Iranian airline sanctioned by the U.S. in 2011 for supporting the IRGC-QF, Kharon found. 
Gold, Electronics and Foreign Exchange
Separately, the network involved in gold, electronics and foreign currency transactions was helmed by Meghdad Amini, who was sanctioned in May 2018, and Ali Qasir, who was designated first in September 2019 and again in the September action. 
Amini was sanctioned for his role in helping the IRGC-QF transfer cash out of Iran to the United Arab Emirates for conversion into U.S. dollars, while Qasir was designated for acting on behalf of Rostam Ghasemi, an IRGC-QF official, the Treasury said. Qasir continued to work with Ghasemi to arrange Iranian foreign oil sales after their designations, according to the Treasury. 
The network they led, which includes nearly 20 individuals and front companies located in multiple countries and jurisdictions, was aided by a team of trusted subordinates, the Treasury said.
Omid Yazdanparast, Mohammad Ali Damirchilu and Samaneh Damirchilu facilitate gold and currency smuggling from Iran to Turkey via commercial flights operated by Mahan Air, the Treasury said. A fourth man, Mohammad Reza Kazemi, facilitates the gold sales in Turkey.
The gold proceeds are brought back to Iran and transferred to Amini and Qasir, according to the Treasury. Mostafa Puriya and Hossein Asadollah sell electronics in the United Arab Emirates on behalf of the network through a Dubai-based company.
Morteza Minaye Hashemi, an Iranian national based in China, has laundered "vast sums of money" for the IRGC-QF and Hizballah working with Kazemi through foreign currency conversions and gold sales, according to the Treasury. He controls multiple companies in Hong Kong and mainland China, and is aided by Chinese nationals who helped him open bank accounts and serve as straw owners of the companies.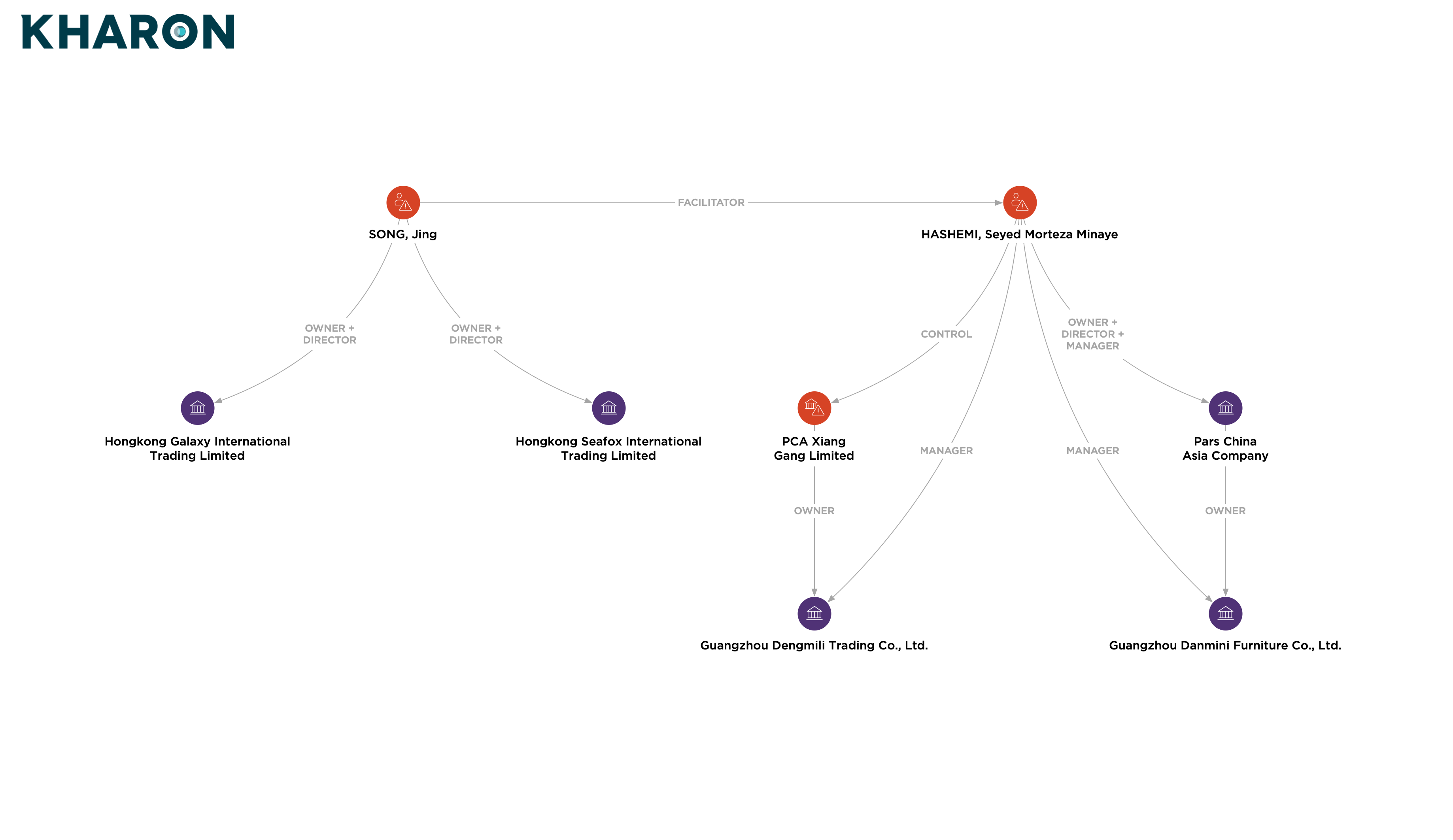 As of May 2020, Hashemi was the majority owner, chair and managing director of an Iranian company that had a Chinese subsidiary he began managing years ago, according to corporate records reviewed by Kharon. Neither firm was sanctioned as part of the Sept. 17 designation; the subsidiary's status is unclear. PCA Xiang Gang Limited, a company designated due to Hashemi's ownership or control, wholly owned a Chinese subsidiary managed by Hashemi that also wasn't designated, Kharon found. 
Song Jing, a Chinese national, was sanctioned for helping Hashemi open bank accounts and serve as a straw owner for his companies. As of September 2020, Song wholly owned and directed two firms in Hong Kong that were not designated by the U.S., Kharon found.