By Kharon Staff
November 8, 2023
---
A Yemeni businessman living in exile in Türkiye since 2014 has been linked to several businesses and organizations with ties to Hamas, including Trend GYO, a real estate investment firm that was sanctioned by the U.S. government last year. 
In October, the U.S. Department of the Treasury sanctioned additional operatives of Hamas for managing Trend GYO, which the Treasury labeled "a secret investment portfolio" wort​​h hundreds of millions of U.S. dollars. The sanctions came after Hamas's October 7 terrorist attack against Israel. 
Al-Ahmar, who no longer appears on official records of Trend GYO, is the chairman of the Al-Ahmar Group. The conglomerate operates 90 companies in various sectors, including oil and gas, financial services, mobile phones, and real estate developments. 
According to a LinkedIn page of an Al-Ahmar Group company, the conglomerate manages 6 businesses in Türkiye, including the U.S. sanctioned Trend GYO and Saba Investing Venture Capital, which is majority owned by Hamid al-Ahmar.
Trend GYO and Saba Investing report to be located at the same Istanbul address, according to their websites. In a June 2022 financial report, Trend GYO names Saba Investing as one of its clients. 
Al-Ahmar also founded and partly owns SabaTurk Foreign Trade Joint Stock Company, a Turkish investment firm that focuses on real estate, agricultural production, foreign trade, and port management.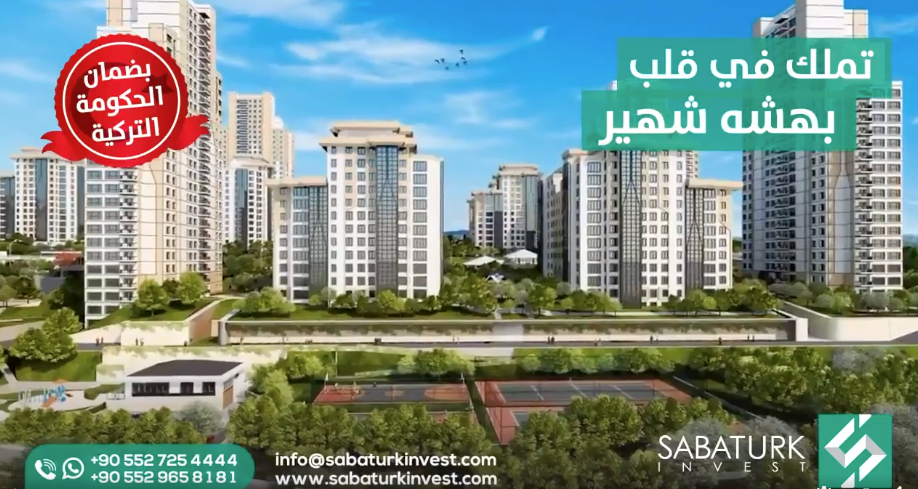 Ties to Hamas Leaders and Organizations
Kharon has found that al-Ahmar currently leads two organizations – Al-Quds International Foundation and Parliamentarians for al-Quds – that support Hamas efforts, according to a review of corporate records, entity websites, and social media.
As of July 2023, al-Ahmar is the chairman of Al-Quds International Foundation, a U.S. sanctioned Hamas front. 
In a July 2023 social media post, al-Ahmar reported on a recent meeting of Al-Quds Foundation's board where it praised "the heroic resistance fighters in the occupied West Bank" and called for "enabling the resistance in Jenin and the entire West Bank with all necessary weapons and equipment." 
The U.S. sanctioned Al-Quds International Foundation in 2012 "for being controlled by and acting for or on behalf of Hamas."
According to the U.S. Department of the Treasury, the organization was established in Beirut by members of Hamas and "exist[s] to support the families of Hamas fighters and prisoners and to raise money for programs and projects in the Palestinian territories intended to spread Hamas's influence and control."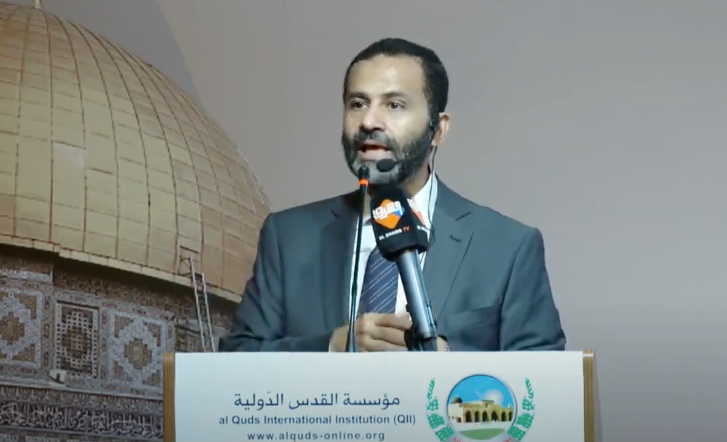 Since 2016, al-Ahmar has been the president of Parliamentarians for al-Quds, which has held several events attended by senior Hamas leaders.
The most recent event was held at its headquarters in Istanbul on October 14 following the terrorist attack on Israel. During the press conference, al-Ahmar and members of the organization defended Hamas's attacks against Israel. Marwan Abu Ras, a U.S.-sanctioned Hamas leader, spoke at the event alongside al-Ahmar.

Founded in Istanbul in 2015, Parliamentarians for al-Quds consists of about 1,500 members from several locations, including Palestine, Türkiye, Yemen, Egypt, Jordan, among others, according to its website. 
Sanctioned Hamas leader Ahmad Yousef Abu Halabiyye was a member of the organization as of 2017. 
Global Business Enterprise
Al-Ahmar currently owns and manages more than 90 businesses in Europe, Africa, and the Middle East. 
According to corporate records, al-Ahmar is the chairman and part owner of Investrade Portfoy Yonetimi AS, a publicly-listed company traded on the Turkish Stock Exchange that was founded in 2017.
Investrade Portfoy's other owners include Investrade Co B.S.C Closed in Bahrain and Saba African Bank in Djibouti. Both are either owned or controlled by Al-Ahmar Group, a business conglomerate chaired by Hamid al-Ahmar. 
---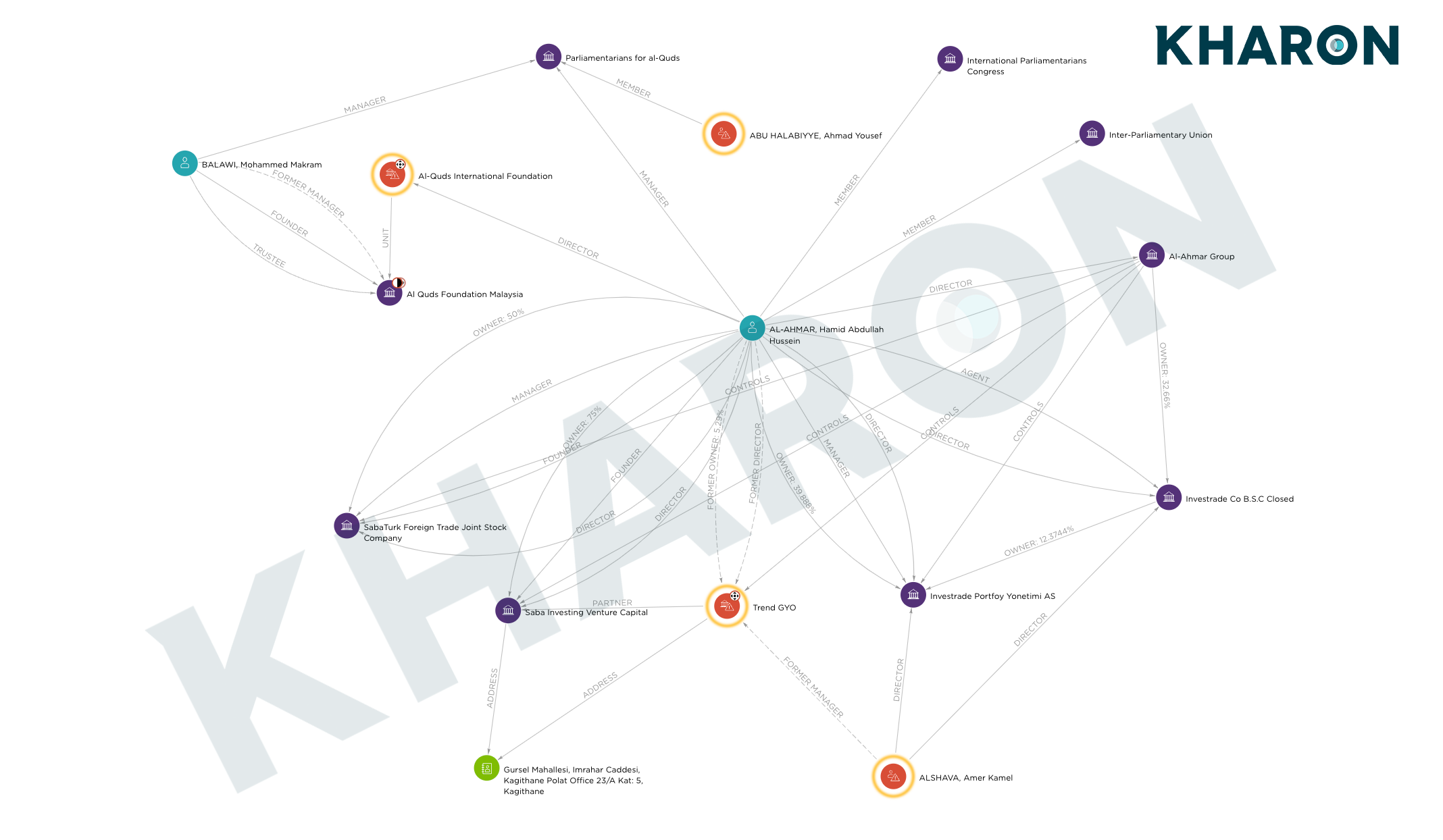 Kharon ClearView users can explore the Trend GYO, Al-Ahmar Group, and Hamid al-Ahmar's holdings. Click here to view.
---
One of Yemen's Most Influential Figures
Born into one of Yemen's wealthiest and most powerful families, al-Ahmar was elected to the Yemeni parliament in 1993 as a member of the Muslim Brotherhood's Yemeni Congregation for Reform (Islah). He was later selected as a member of the party's Supreme Authority (Shura Council), according to its website. 
Hamid al-Ahmar is the son of Islah co-founder Abdullah Hussein al-Ahmar, who established the Brotherhood-affiliated party in the early 1990s alongside Yemeni cleric Abdelmajid al-Zindani. A veteran of the Afghan jihad, Zindani was sanctioned in 2004 by the United Nations, European Union, and U.S. for his "long history" of working on behalf of al-Qaida and serving as a mentor of Usama bin Laden.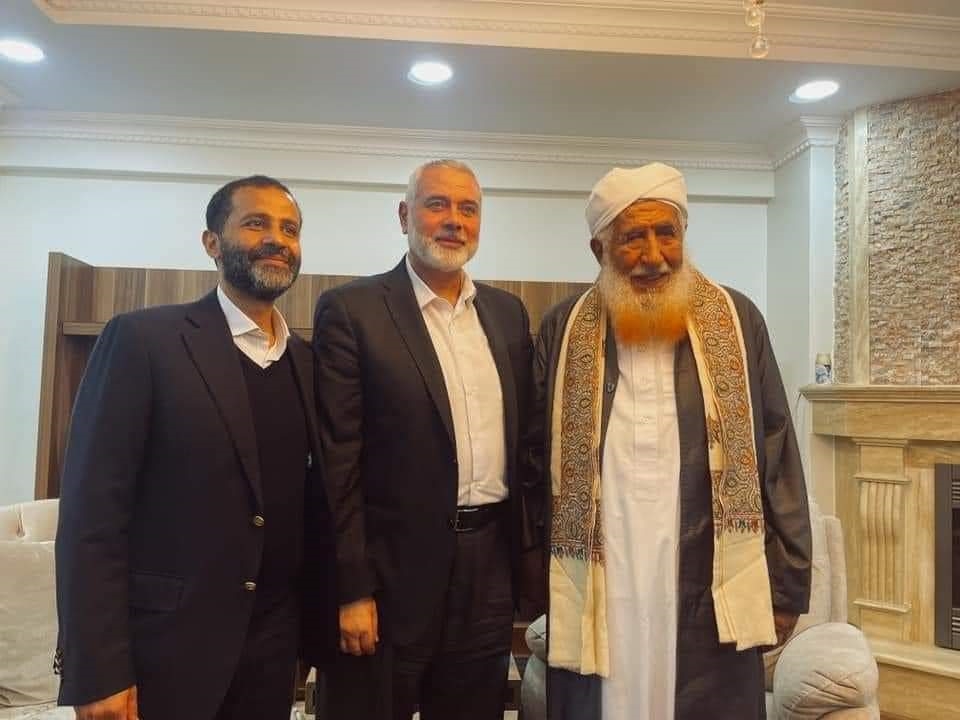 After the removal of Yemen's longtime leader Ali Abdullah Saleh in 2011, al-Ahmar was viewed as a rising star in the country's political future. A Newsweek profile at the time labeled him as a key player and a potential future president of Yemen. 
However, since the Iran-backed Houthi militia's takeover of Sana'a in 2014, al-Ahmar has been living in exile in Türkiye, where he has continued his political and business activities.