By Maxim Kondratenko and Robert Kim
May 3, 2023
---
A Turkey-based intermediary has shipped western-manufactured electronic components and computer chips from Germany to Russia, including to the same Russian buyer as a Turkish supplier recently sanctioned by the U.S. government. 
On April 12, the U.S. Department of the Treasury designated companies based in Turkey, Hong Kong, and the UAE for exporting electronics to Russia, as part of an action targeting 54 individuals and entities in 20 jurisdictions for financial facilitation and sanctions evasion. The Turkish company, Azu International Ltd. Sti., "provided to Russia multiple shipments of foreign-origin electronics technology such as computer chips," according to the Treasury. 
The founder and part-owner of Azu International, Gokturk Agvaz, used his Germany-based company, Smart Impex GmbH, to acquire western electronics and export them to a Russian company named Fastimpeks OOO via an intermediary in Turkey. Trade data indicates that these shipments continued up until a few days before the outbreak of war in Ukraine. 
Azu International was established at the end of March 2022 and within a week made its first shipment of electronics to Fastimpeks. Over the course of the following six months, Azu International made more than 900 shipments of chips and other computer hardware to Fastimpeks with a total value of over $18 million, according to public trade data. These shipments included electronic components from leading manufacturers based in the U.S., Japan, South Korea, Taiwan, and Switzerland.
In an October 2022 interview, following reports that German authorities were investigating Smart Impex GmbH and others for possible violation of European Union sanctions against Russia, Agvaz told Reuters that Smart Impex had stopped exporting to Russia to comply with EU trade restrictions. "We cannot export to Russia, we cannot sell to Russia, and that's why we just sell to Turkey," Agvaz said.
A Kharon investigation shows that Smart Impex also sold computer components to another Turkish entity, Cozum A.S., that then exported the same types of electronics to the same Russian customer.  Cozum sent 15 shipments of computer components valued at approximately $210,000 to Fastimpeks in September-November 2022, according to trade data. These shipments included items manufactured by companies in the U.S. and Switzerland. Cozum does not appear on any U.S. or EU sanctions or export control black list. 
Smart Impex's managing director resigned in December 2022 after learning that its shipments to Azu International were destined for Russia, and German authorities searched the company's offices in February 2023 as part of an ongoing investigation into EU sanctions violations, according to media reports.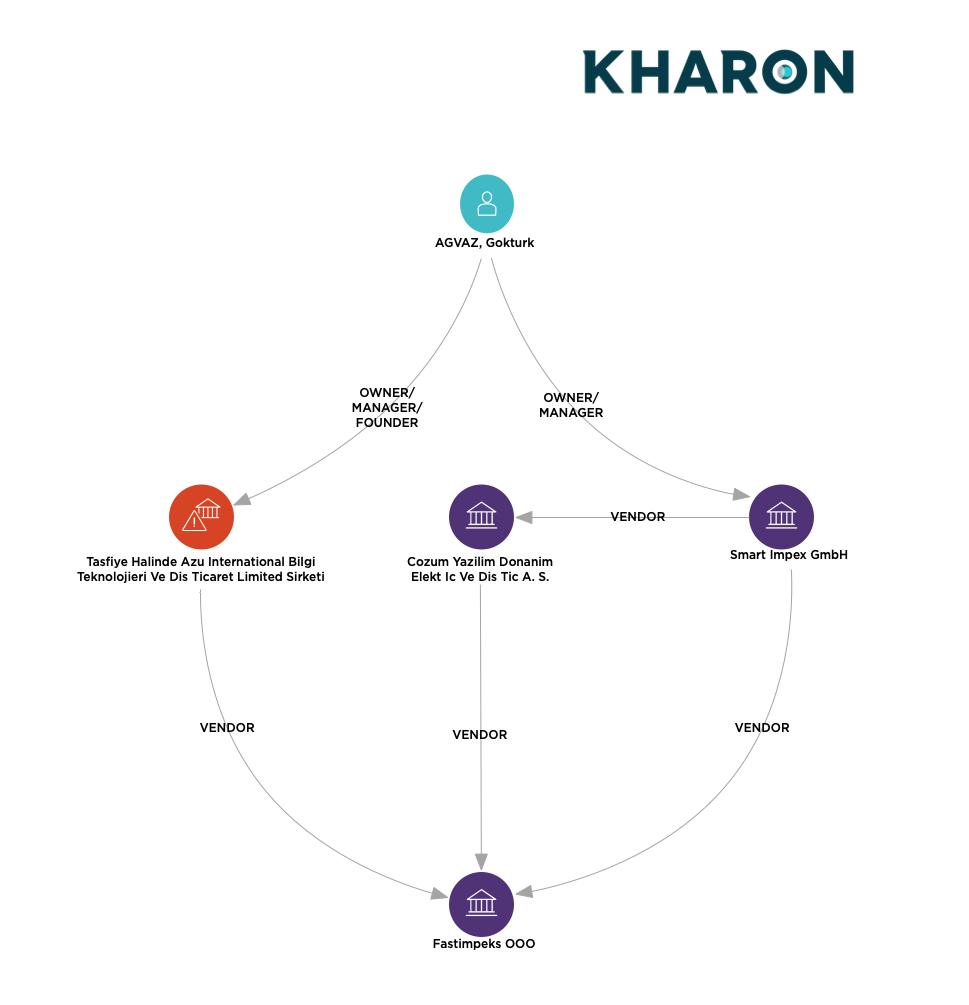 Related Articles
Russian Defense Companies Import Advanced Electronics Through Turkey
Russian Evasion Networks Use Shell Companies in Germany and Malaysia to Acquire Technology for Military Use
German Partnership Supplied Western Dual-Use Technology to Russian Defense Companies
U.S. and EU Warn of Russian Defense and Military Supply Chains