By Kharon Staff
September 5, 2023
---

Global investors and businesses in the oil and gold sectors of South Sudan face reputational, money-laundering and potential sanctions and export control violations risk, a recent U.S. government advisory has warned.
On August 14, the U.S. Departments of State, Labor and Commerce issued the South Sudan Business Advisory. The advisory outlines the risks businesses may encounter if they are currently operating in, or considering operations in, South Sudan. These risks stem from the shortcomings of the transitional government of President Salva Kiir to implement reforms, improve transparency, manage public finances, and address corruption and human rights violations.
Several weeks before the advisory was released, officials from the U.S. Department of State, the U.K.'s Foreign, Commonwealth & Development Office, and the Norwegian Foreign Office held a meeting with companies involved in South Sudan's oil sector. The discussion focused on standards for conducting due diligence and managing sanctions risk to ensure that businesses do not provide revenue to malign actors in South Sudan, according to a press release. A year earlier, the United Nations (U.N.) Security Council established a sanctions regime targeting South Sudan, including an arms embargo, travel ban, and financial restrictions.
Corruption and Nepotism in the Oil and Gold Sectors
Businesses in South Sudan should conduct appropriate due diligence or run the risk of engaging in conduct that exposes them to violations of anti-bribery and anti-money laundering laws and economic sanctions, the U.S. advisory cautioned.
"Businesses and individuals should be particularly wary of the associated illicit finance, reputational, economic, and potential legal risks of conducting business and utilizing supply chains of enterprises with ties to the South Sudanese government officials or their family members."

– U.S. Government, South Sudan Business Advisory, August 2023​
In South Sudan, the oil and gold industries serve as lucrative financial streams for the government, with oil sales alone contributing to over 90% of the government's revenue. However, an environment of endemic corruption and nepotism raises concerns, as it's prevalent for businesses operating in these sectors in South Sudan to be linked to both current and former government and military officials.
Family members of sanctioned South Sudanese politician and former Chief of General Staff of the army, Paul Malong Awan, own a network of gold and petroleum mining and trading companies. General Awan is sanctioned by the U.N. for human rights violations and obstructing peace talks and reconciliation in South Sudan.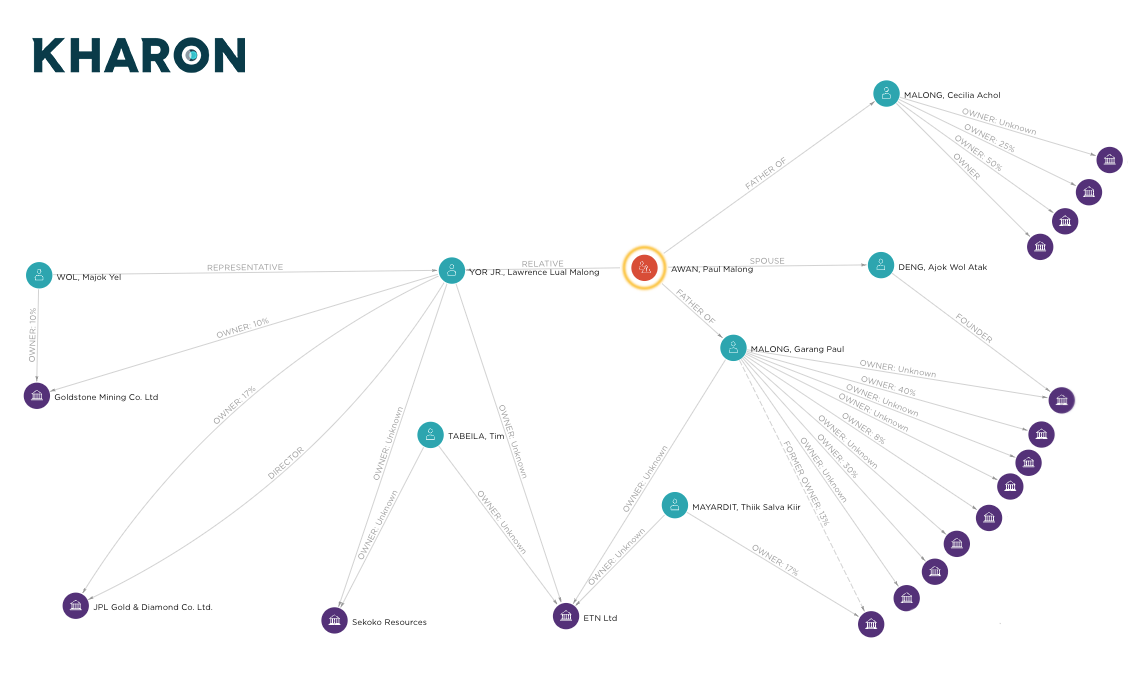 In 2021, General Awan's stepson, Lawrence Lual Malong Yor (aka "Young Tycoon"), was sentenced to six years in prison in Uganda for an illicit gold and money laundering scheme. In January 2023, Malong Yor announced on X, formerly known as Twitter, that he was released from prison. Since that time, he has posted about his travels and business activity on numerous social media platforms. Malong Yor reports to be the founder, CEO, and owner of South Sudan International Trade and Investment (Pty.) Ltd., a South Africa-registered investments firm where he is listed as a director, according to a review of his social media and South African corporate records.