Iranian Bitumen Paves Chinese Development in Africa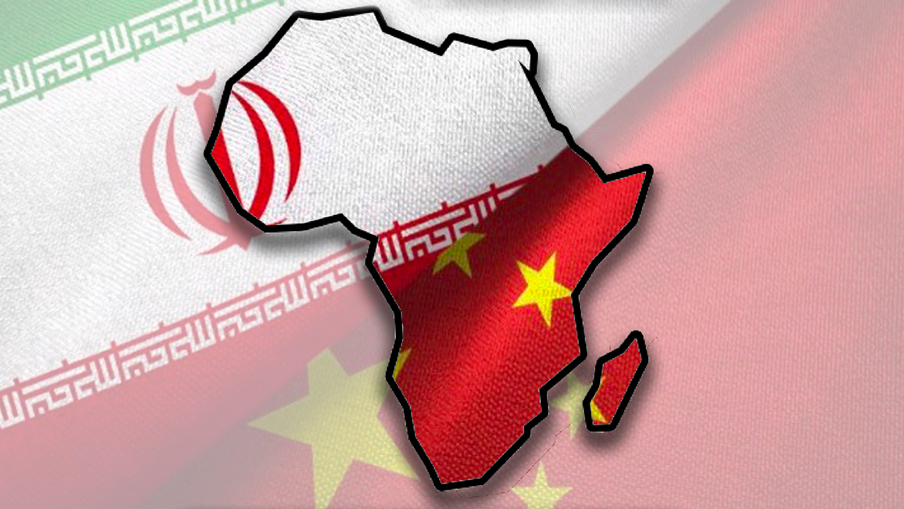 By Audrey Everist
Tuesday, May 25, 2021
A Chinese company is building a section of highway connecting the Kenyan capital Nairobi with a commercial region more than 80 kilometers away with Iranian-origin bitumen shipped through intermediaries.
The highway is one of several road projects in Africa paved with Iranian bitumen, according to a Kharon investigation. Exports have remained steady over the past year, despite U.S.-led sanctions pressure and an economic downturn driven by the COVID-19 pandemic. 
When the U.S. reimposed sanctions on Iran in 2018, it had prohibited trade in petroleum and petroleum products, including "asphalt . . . and miscellaneous products obtained from the processing of: crude oil . . . and other hydrocarbon compounds." Foreign firms that continue to trade in petroleum products could be subject to secondary sanctions based on U.S. sanctions authorities.

Domestic Diversion Enables Export Growth
Iran is the largest producer of bitumen in the Middle East, and the seventh largest producer and exporter in the world, producing about 5 million tons of bitumen per year, according to the state-run Islamic Republic News Agency (IRNA). Bitumen is traded as an oil and petrochemical product on the Iran Mercantile Exchange (IME), where transactions are conducted by licensed brokers.
The Iranian government has distributed bitumen to domestic contractors as an incentive to construct roads in rural areas. In the last Iranian calendar year from 2019-2020, the parliament ordered 2 million tons of bitumen in its annual budget, valued at USD 600 million, to be dispensed.

The bitumen sector is dominated by two players, Pasargad Oil Company and Jey Oil Refining Company. Pasargad Oil, which has six refineries and an annual production capacity of more than 4 million tons, claims to hold more than half of the domestic market share and a significant portion of the export market.
Jey Oil has a smaller production capacity but exports 70 percent to 80 percent of its product, and it has units in Kenya and South Africa. Jey Oil is majority owned by the National Iranian Oil Company (NIOC), a sanctioned Iranian state-owned enterprise. Any asset majority owned by a sanctioned party is legally blocked under the U.S. Treasury Department's "50 Percent rule."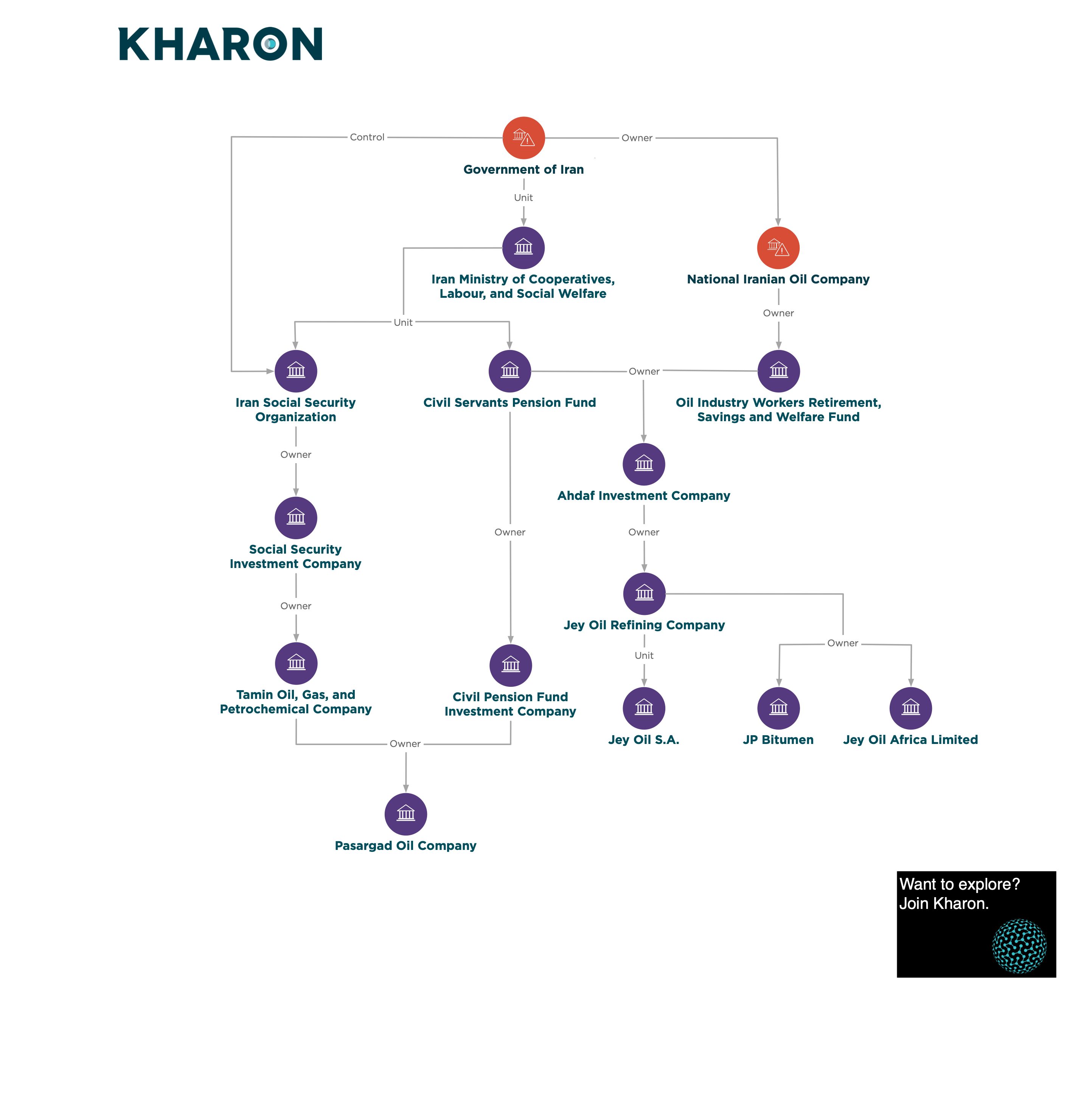 Diversion of Exports of 'Black Gold'
More than USD 150 million worth of Iranian-origin bitumen has been shipped to Kenya and Uganda by traders based in Iran, the United Arab Emirates, Oman, Turkey and Hong Kong since 2018, according to trade data reviewed by Kharon. Other shipments are listed as Emirati-origin, but the shippers are Iranian companies, Kharon found. 

An unnamed exporter in Tehran told The Wall Street Journal in 2019 that he sent his company's bitumen to the UAE, where it was repackaged and given a fake certificate of origin marking the product as Emirati. He said the trade volumes aren't affected by U.S. sanctions.
Iranian bitumen fluctuated around the range of USD 100-300 per ton in 2020, according to Argus Media and listings in a Telegram group reviewed by Kharon. Iranian bulk bitumen was sold for up to USD 200 cheaper per ton than bitumen originating elsewhere in Asia, Kharon found.
In the 2020-2021 Iranian calendar year, Iran's non-oil exports amounted to USD 34.79 billion, according to the Trade Promotion Organization. At USD 7.36 billion, petrochemicals and base oils made up a fifth of total non-oil exports. In the first ten months of that period Iran exported more than USD 625 million of bitumen, according to the Trade Promotion Organization: data for the last two months were unavailable.
In the same period there were more than USD 31 million of Iranian-origin bitumen shipments arriving in Kenya and Uganda, the bulk with Chinese state-owned construction companies and their local offices identified as the consignees, according to trade data reviewed by Kharon.
The Road to East Africa
The contract for the Kenol-Sagana-Marua Highway in Kenya, part of the Capetown to Cairo Trans-Africa Highway TAH4 project, is valued at USD 273 million and scheduled to be completed by 2022. The project is funded by the African Development Bank (AfDB) and Africa Growing Together Fund, a co-financing venture set up in 2014 by the AfDB and the People's Bank of China.
China Wu Yi Co., Ltd., which has an office in Kenya, in 2020 was a contractor for a section of the highway. The company received more than USD 12 million in Iran-origin bitumen in Kenya. 
China Wu Yi has participated in over 61 projects in Kenya since 2006,  with a cumulative value of RMB 12.57 billion (USD 1.95 billion). The company has participated in Belt and Road Initiative Projects in Kenya, according to its website.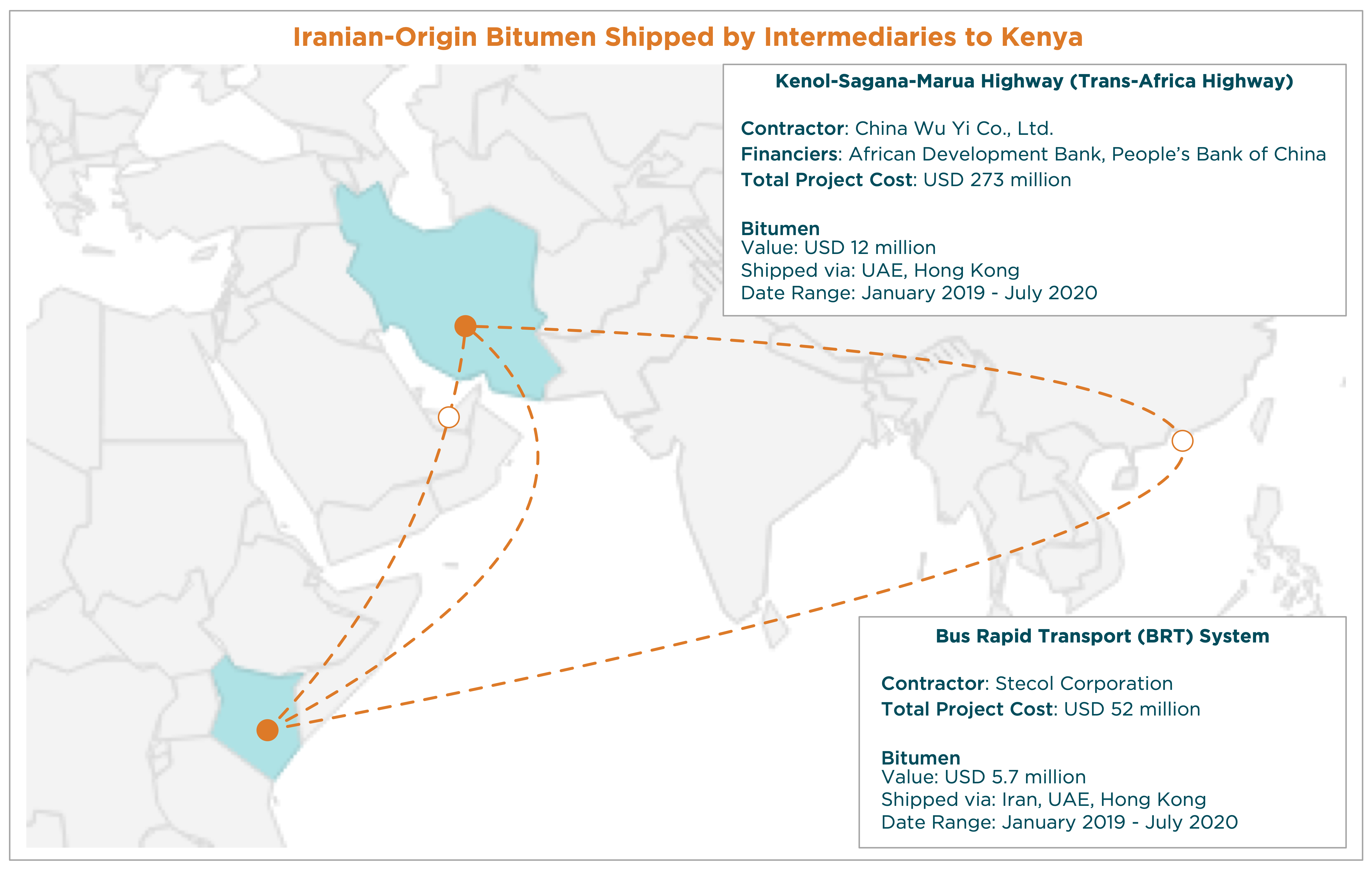 After signing a contract in July 2020 with the Kenyan government to build a Bus Rapid Transport (BRT) system in Nairobi, Stecol Corporation received about USD 5.7 million in Iranian-origin bitumen from companies in the UAE, Hong Kong and Iran. About USD 3.15 million of the bitumen was shipped by UAE-based Alam International FZE between September 2019 and February 2020; and all but one shipment originated in Iran and the other came from Iraq, according to trade data.
Stecol was estimated to have won around USD 160 million in contracts in Kenya, according to Africa Intelligence, an outlet covering the continent with a focus on the extractive industries. 

Chinese firms building highways in Uganda are also sourcing Iranian bitumen.
Chongqing International Construction Corp. has been a contractor for Ugandan-government infrastructure projects financed by foreign institutions, including AfDB, the World Bank, and the Export-Import Bank of China. The 111 kilometer Hoima-Butiaba-Wanseko road project in western Uganda was intended to facilitate economic growth in the region through enabling increased tourism and oil exploration. The project, which cost more than USD 179 million and received funding from the Export-Import Bank of China, was scheduled to be completed in April 2021, according to a July 2020 media report. Last week, the Ugandan government requested an additional UGX 101.9 billion (USD 28.7 million) for three road projects, one of which is the Hoima-Butiaba-Wanseko road, according to local media.
Chongqing International has implemented 48 Chinese foreign aid projects, according to its website, and is a participant in the Chinese Belt and Road Initiative (BRI). 
China and Uganda signed a memorandum of understanding (MOU) for joint cooperation within the Belt and Road Initiative framework in September 2018. The BRI, China's trillion-dollar international infrastructure program, has drawn U.S. national security interest, including sanctions and export restrictions. Meanwhile, Uganda's debt is expected to increase to almost 50 percent of its gross domestic product (GDP) by June 2021, according to government budget planning papers, driven by borrowing for large-scale infrastructure projects and spending in response to the Covid-19 pandemic. Chongqing International received more than USD 3.5 million in bitumen shipments from JP Bitumen, an Iran-based subsidiary of Jey Oil Refining Company. More than 70 percent of the product is listed in the trade data as Emirati-origin.
Black Gold Trading Co., a customer of Iran's Pasargad Oil as of 2018, sent USD 688,799 of bitumen to Chongqing International Construction Corp. in Uganda between May and August of 2020, trade data shows.

Sinopec Petroleum Construction Shengli Corporation is the contractor on the Kyenjojo – Kabwoya road project, a 100 kilometer stretch funded by the World Bank through the International Development Association. The company received about USD 1.2 million in bitumen, corresponding to almost 2 million kilograms (2,000 tons), from China, the UAE and Iran via a Hong Kong-based trader in 2019, according to trade data. It received another USD 545,000 in bitumen from Tehran-based Parsian Energy in 2019 and 2020; the origin of the shipments is listed in trade data as Iran and the UAE.
Paving the Way for Corrupt South Sudan Road Magnate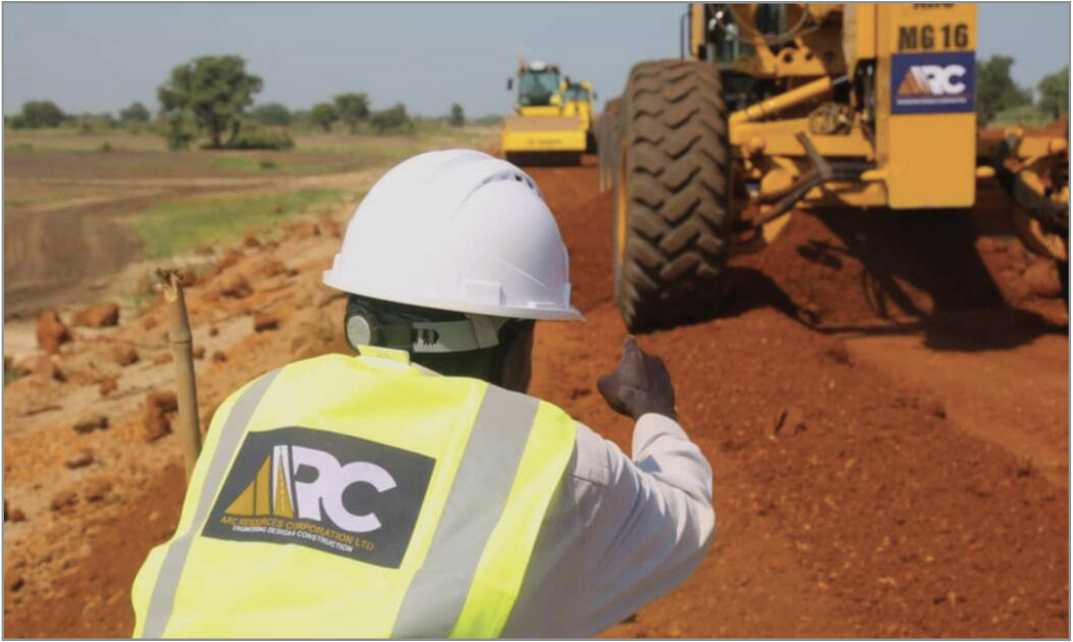 In South Sudan, Juba-based ARC Resources Corporation Ltd, a contractor for the Ministry of Roads and Bridges, received bitumen valued at more than USD 2 million from companies in the UAE and Iran in 2020, according to trade data. ARC Resources was registered by South Sudanese businessman Benjamin Bol Mel, who was sanctioned by the U.S. in 2017. 
Bol Mel has served as President Salva Kiir's financial advisor and private secretary, and he was awarded road construction contracts "worth tens of millions of dollars" by South Sudan's government, through a company he oversaw, the U.S. government said at the time.

---