By Kharon Staff
October 19, 2022
---
At the heart of Iran's overseas network of brokers and front companies facilitating petroleum trade is a Hong Kong-based firm that, while sanctioned by the U.S. in 2020, continues to play a central role in Iran's global operations.
Recent government sanctions, media reports, and Kharon investigations have revealed that Iranian trade of petroleum and petrochemical products – valued at tens of billions of dollars per year – has continued in the face of international sanctions through networks of proxy companies, facilitators and financiers in South and East Asia and parts of the Middle East. 
In recent months, a series of U.S. sanctions have targeted parts of these Iranian trade facilitation networks, and Western media have reported that Western financial institutions provided services to Iranian proxies, foreign exchanges, and intermediaries that handled trade on behalf of sanctioned Iranian exporters. 
However, the networks of trading and shipping companies involved in facilitating Iranian trade and aiding the country evade U.S. sanctions are more expansive and far-reaching than previously reported, involving other companies, businessmen, and jurisdictions that sanctions have not yet targeted.
Financial and Shipping Facilitators 
On September 29, an international network of Iranian brokers and front companies were sanctioned by the U.S. Department of the Treasury's Office of Foreign Assets Control (OFAC), for their role in the sale and shipment of hundreds of millions of dollars worth of Iranian petroleum and petrochemicals to customers in Asia. According to the U.S. government, the entities "played a critical role in concealing the origin of the Iranian shipments" and enabling Iranian brokers to transfer funds and ship products to foreign buyers.
Sierra Vista Trading, a Hong Kong-based company recently sanctioned, sold Iranian petrochemicals to buyers in China and Turkey, according to OFAC and trade data reviewed by Kharon. Sierra Vista and other intermediary front companies were used to pay UAE-based shipping companies Clara Shipping LLC and Virgo Marine for shipments of Iranian petroleum and petrochemical products to Asia, according to OFAC. 
At the heart of this network of front companies is Triliance Petrochemical Co. Ltd., a Hong Kong-based company sanctioned by the U.S. in 2020. Triliance is a "critical component of Iran's petroleum and petrochemical sectors, which brokers the sale of Iranian products to foreign purchasers," using a network of subsidiaries in Iran and other countries to purchase Iranian petroleum and petrochemicals for shipment to China and India, according to OFAC. The front companies enabled Triliance to conceal the origin of shipments from Iran and also conceal its payments to the shipping companies used to transport Iranian-origin products to foreign buyers. 
Clara Shipping and Virgo Marine, which were sanctioned on September 29, are operators of the Panama-flagged liquified propane gas (LPG) tanker Gas Allure, according to information on their websites. The Gas Allure was included in the sanctions announced on September 29. 
Iranian national Mohammad Reza Zarei is the owner and manager of Virgo Marine, and an officer in Panama-based companies that own the Gas Allure and other tankers not currently sanctioned, according to maritime and corporate data reviewed by Kharon.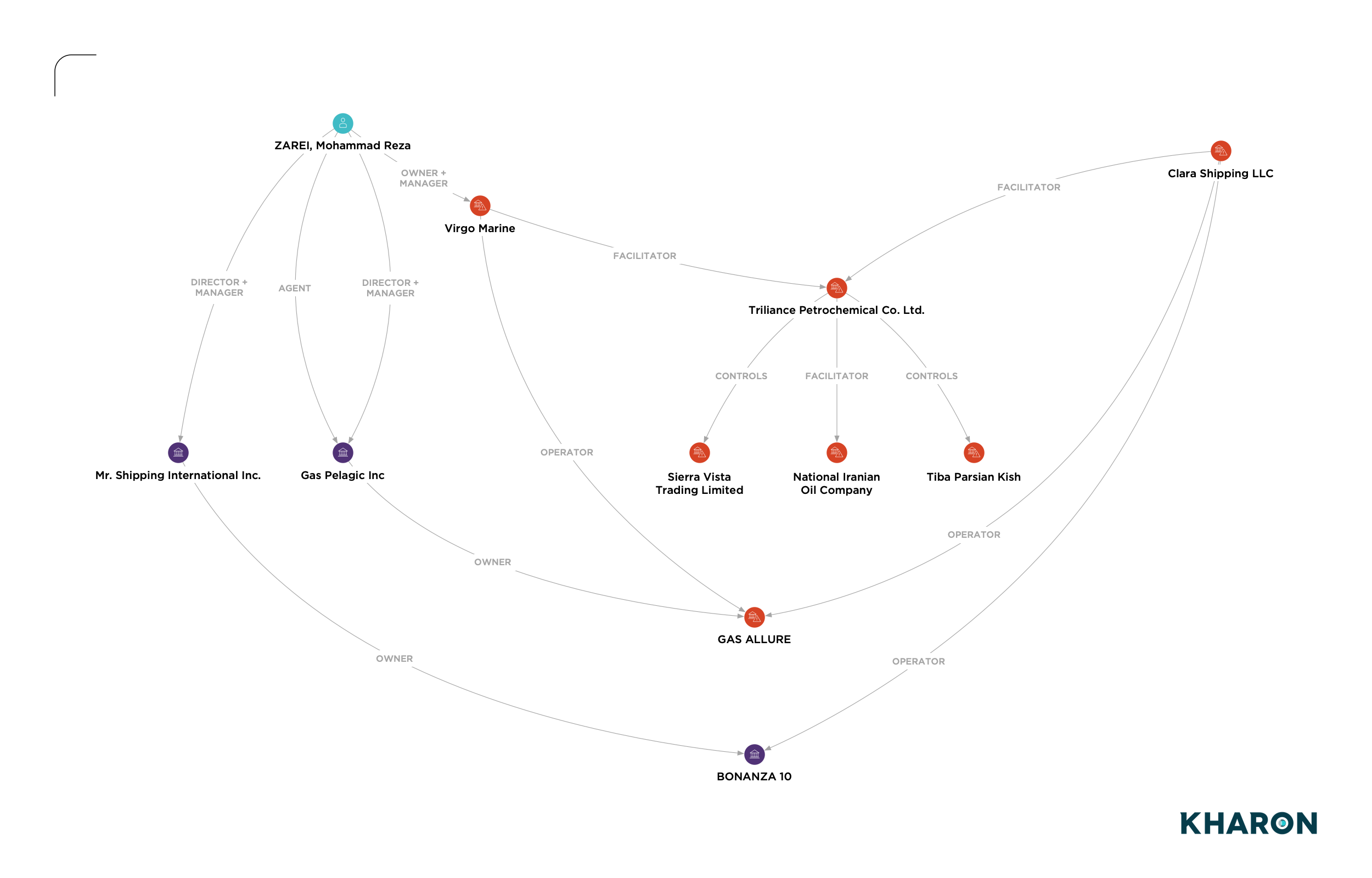 Sanctions Pressure Continues 
Exports of petroleum and petrochemicals provide a crucial source of revenue for the government of Iran and are a key part of U.S. sanctions pressure against Iran. The recent sanctions designations are only the latest in a series of U.S. actions against global networks of sellers, traders, and shippers of Iranian petroleum and petrochemical products outside of Iran:
On September 29, the U.S. State Department designated two China-based companies involved in the storage and shipping of Iranian petrochemicals, the operator of a commercial crude oil storage facility and the manager of a tanker.

In August, OFAC sanctioned companies in the UAE, Hong Kong, Singapore, and Malaysia and a Panama-flagged tanker that were used to facilitate the sale of Iranian petroleum and petrochemicals in East Asia.

In July, OFAC designated an international network of individuals and entities in Iran, China, Vietnam, and Singapore that "used a web of Gulf-based front companies" to facilitate the sale and delivery of hundreds of millions of dollars of Iranian petroleum and petrochemical products.

  
The most recent sanctions announcement warns that further actions are coming, stating explicitly that sanctions enforcement actions will continue "on a regular basis" to "severely restrict Iran's oil and petrochemical exports" and that "anyone involved in facilitating these illegal sales and transactions should cease and desist immediately if they wish to avoid U.S. sanctions."   
_____
For more information about the September 29 sanctions designations, see the October 6 Kharon Quick Take briefing U.S. Sanctions Financial and Shipping Facilitators of Iranian Petrochemicals and Petroleum Sales.