Iranian Steelmakers Seek to Stay the Course Despite Covid-Depleted Demand
Metals firms access raw materials and production technology through foreign markets despite U.S. trade prohibitions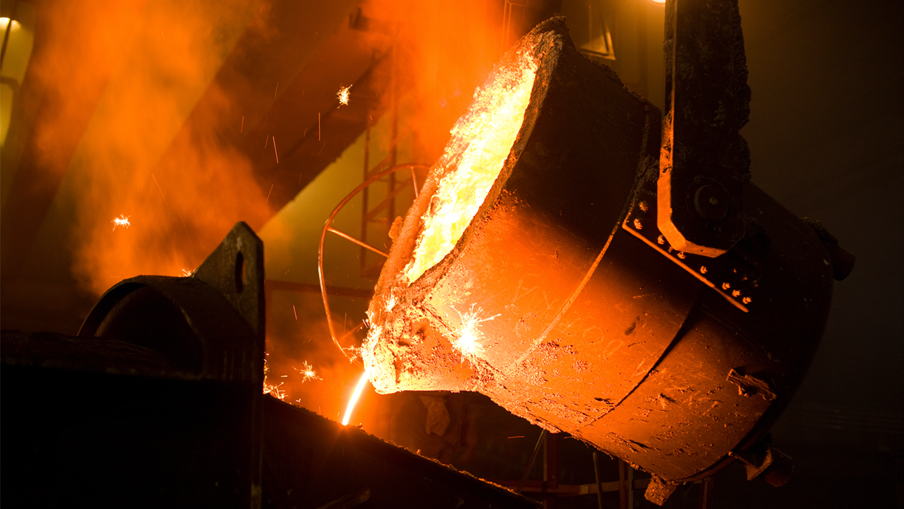 Source: Shutterstock
By Audrey Everist and Samuel Rubenfeld
Thursday, June 18, 2020
Iranian steel producers seek to maintain growth in the country's steel sector amid sudden export struggles brought on by the coronavirus pandemic. 
Production fell for the first time in a decade in the month spanning March to April 2020, the Iranian Steel Producers Association reported in May. 
"The outbreak of coronavirus over the past few months stifled most industries in the domestic and foreign market, and the steel industry has not been unaffected by this, but domestically, steel producers are continuing production with additional health protocols," Donya-e Eqtesad, an Iranian business newspaper, reported this week. 
Farzad Arzani, chief executive of Hormozgan Steel Company, said in an interview with Donya-e Eqtesad that while there are tough days ahead, the steel market is moving toward equilibrium and should prosper. Hormozgan Steel, one of Iran's largest steelmakers, is prepared to handle various scenarios, Arzani said, noting that the domestic market is less affected by the spread of the virus than the drop in export demand. The U.S. sanctioned the company in January.
Exports of Iranian steel products were down 40 percent in the first two months of the Iranian calendar year ending May 20, compared to the year before, according to data published June 15 by the Iranian Steel Producers Association. The sudden downturn follows export growth, despite U.S. sanctions and broader economic declines, of more than 18 percent for the Iranian year, which ended March 20, prior to the peak of the pandemic, the trade group had said in April.
"The corona crisis has affected Iran's steel production and exports, and in a situation where global demand for steel has fallen sharply because of the crisis, steel export conditions should be eased so that the country's steel industry can overcome the crisis with minimal damage," the group said Monday in a press release.
Iran, which had been one of the world's coronavirus epicenters, reopened its economy in May and has since seen a surge in cases.
The U.S. campaign of "maximum pressure" on Iran has decimated the country's exports of oil and oil products, leading Tehran to turn to alternatives, such as metals. The White House, in turn, issued an executive order in May 2019 authorizing sanctions on the metals sector. The U.S. Treasury Department made its first designations under the authority in January, sanctioning more than a dozen of Iran's largest steel and iron manufacturers, including Hormozgan Steel, as well as foreign firms purchasing materials from the manufacturers. 
The sanctioned firms collectively generate billions of dollars in annual revenue, the Treasury said at the time, and they employ large numbers of Iranians. Top markets for Iranian steel were Thailand, the United Arab Emirates, Iraq, and Indonesia, according to 2018 data published last year by the U.S. Commerce Department. The main markets for Iranian-made slabs and billets, semi-finished steel products, are primarily in southeast Asian countries, where the virus has yet to reach its critical stage, said Arzani, the Hormozgan Steel chief.
As of December 2019, Esfahan's Mobarakeh Steel Company, one of the sanctioned firms, had accounted for the largest share of the country's steel output, according to its owner, state-owned mining holding company Iranian Mines and Mining Industries Development and Renovation Organization (IMIDRO). 
Iran produced 47 million tons of steel for the twelve months ending in March 2020 but plans to produce 55 million tons of steel by 2025, about 63 percent of which it expects to fill domestic demand, according to the government's steel production plan. 
To expand production of steel and other metals products, such as aluminum, the Iranian metals sector accesses raw materials and production technology from foreign and domestic suppliers, despite U.S. trade prohibitions against the sector. 
"Even under U.S. sanctions, the sector is working properly," said Keyvan Jafari Tehrani, an Iranian steel market expert, in a late-March interview with Mehr News. Acknowledging that sanctions have made importing some specific raw materials for steel production difficult, and that sanctions are the sector's main challenge, Tehrani said it "can gain a good score" in 2020. 
"They are not waiting for the sanctions to be removed but have planned to survive," he said. 
Flax to Fire 
Several of Iran's top steel producers source production materials from Iran Ferrosilice, Kharon has found. Led by Ali Asghar Haji Baba, the man known as the "founder of the Iranian foundry industry," Iran Ferrosilice was the country's first producer of ferrosilicon, according to its website.
Ferrosilicon is used as a deoxidizing and alloying agent in the production of steel and cast iron, where it increases strength, hardness and corrosion resistance. It also has uses in the chemical and electrical industries. 
A former quiltmaker once targeted as an enemy of the Shah, Haji Baba's career in the foundry industry was depicted in a 2017 biopic called "Flax to Fire." 

Financial records filed by Iran Ferrosilice in late 2019 name two Indian companies and two Chinese firms as its suppliers of electrode paste, a material used in the production of ferroalloys, including ferrosilicon. 
Electrode paste, made from coke or from heat-treated coal combined with a bitumen binder, is used to make electrodes, which conduct electricity in a furnace to generate the heat necessary to produce steel or other metals. 
The U.S. State Department in December 2019 issued an advisory on the sanctions risks for parties involved in transfers or exports to Iran of graphite electrodes and needle coke, essential materials for steel production. China and India are two of the major suppliers of graphite electrodes to Iran, according to a March 2019 blog post from China SteelMint, an industry information company. 
Graphite electrodes and electrode paste both conduct electricity necessary to melt steel in electric arc furnaces, which are used in the production of most Iranian steel. 
New Delhi-based TUF Metallurgical Pvt. Ltd. sold 657 metric tons of electrode paste valued at nearly USD 800,000 to Iran Ferrosilice in January 2019, trade data and corporate disclosures show. 
TUF Metallurgical doesn't advertise an office in Iran, but the LinkedIn account for a TUF marketing manager said he is posted in the company's Bandar Abbas, Iran, office, where his job involves "looking after" the import and export of ferroalloys, carbon products and minerals as well as handling communications with Mobarakeh Steel, Khouzestan Steel and others. 
Maharashtra Carbon Pvt. Ltd., based in Chandrapur, India, lists Iran Ferrosilice and Iran Ferroalloy Industries Co., another company owned and chaired by Haji Baba, as "precious customers," according to its website. It, too, sold electrode paste to Iran Ferrosilice during the Iranian year ending March 20, 2019. 
Rongxing Carbon Products Co., Ltd. sold 500 tons of electrode paste to Iran Ferrosilice in a "trial order" in July 2019, according to a press release by the Chinese company. More than 500 tons of electrode paste produced by Rongxing Carbon Products was also shipped to Iran Carbide Company in March 2019, according to a bill of lading published on the Rongxing Carbon Products website.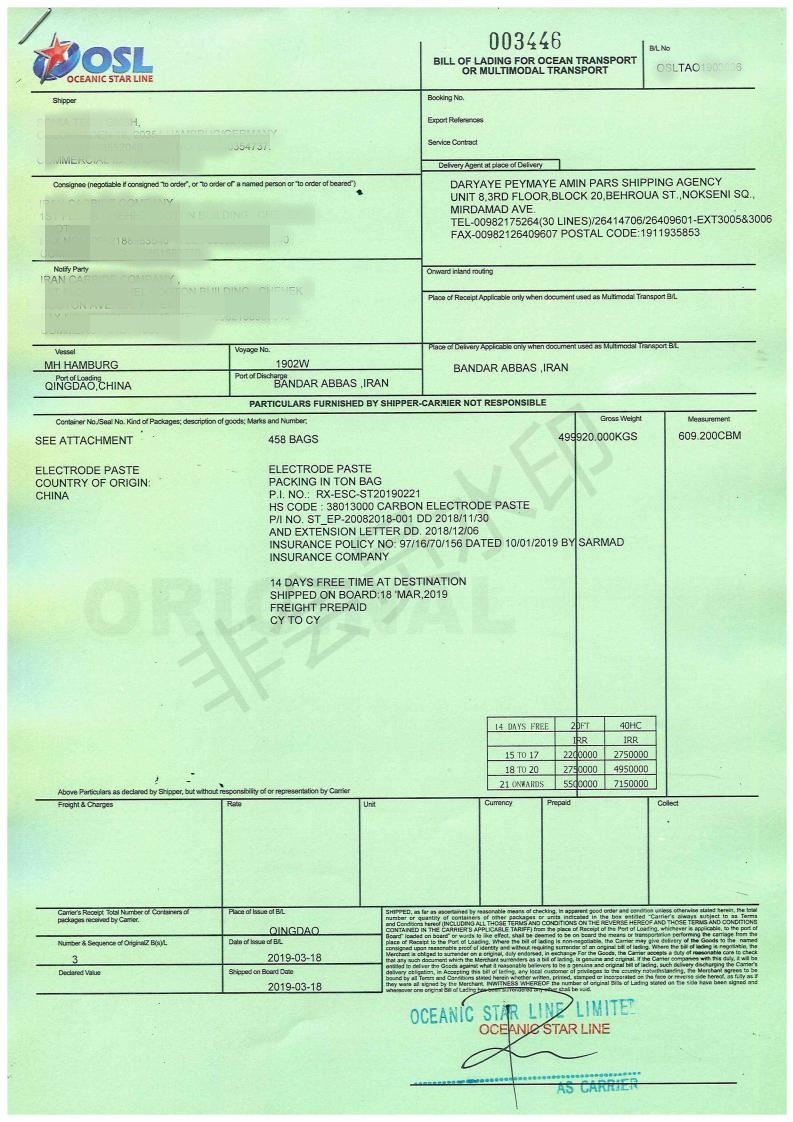 Iran Carbide is a producer of calcium carbide, and it lists sanctioned Iranian steelmakers Khuzestan Steel, Khorasan Steel, and Hormozgan Steel as its customers, according to its website. Calcium carbide is used in steelmaking to desulfurize iron, and it is a source of energy that increases the productivity of steelmaking furnaces.
High Quality at an Affordable Price
In addition to the sourcing of raw materials, Iranian steel producers also lean on foreign suppliers to acquire necessary production technology and equipment. One such company, Reputable Trading Source LLC located in Oman, was sanctioned by the U.S. in January.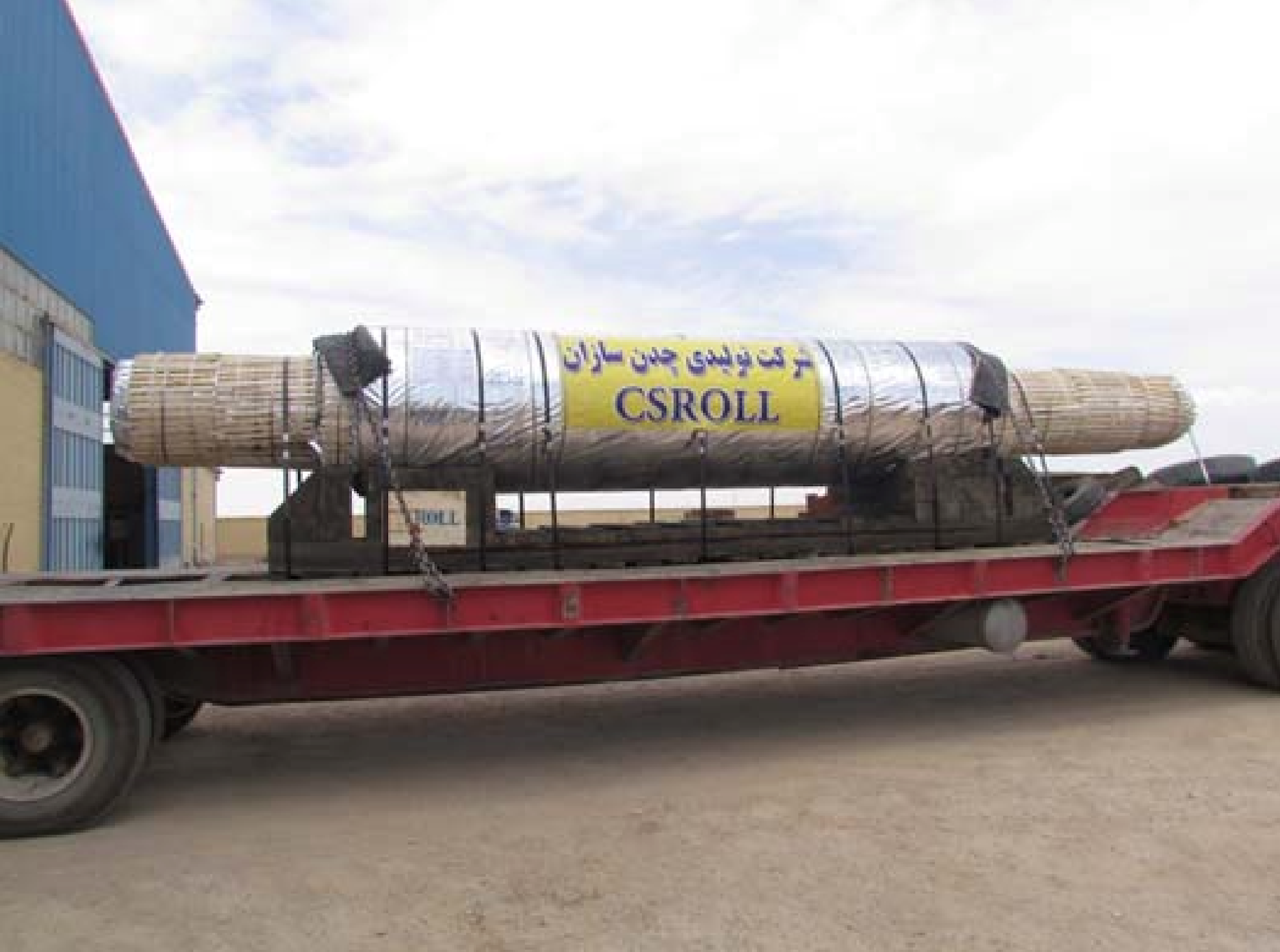 Chodan Sazan Co. says it's the largest and most well-known steel roll producer in Iran and the larger region, providing material to Mobarakeh Steel and Oxin Steel Company, among others. Chodan Sazan is a majority owner of Ghaltak Sazan Sepahan Co., which makes casting parts for companies in Iran's steel industry.
Both Chodan Sazan and Ghaltak Sazan Sepahan received induction furnace parts in 2019 from Indian firm Abhay Induction Tech Private Limited, according to trade data. Induction furnaces produce a high yield of steel from raw materials and have a limited environmental impact. Sharma visited several steel companies in Iran in May 2019, playing "an important role" in the delivery of high-quality induction furnaces at an affordable price, according to a press release.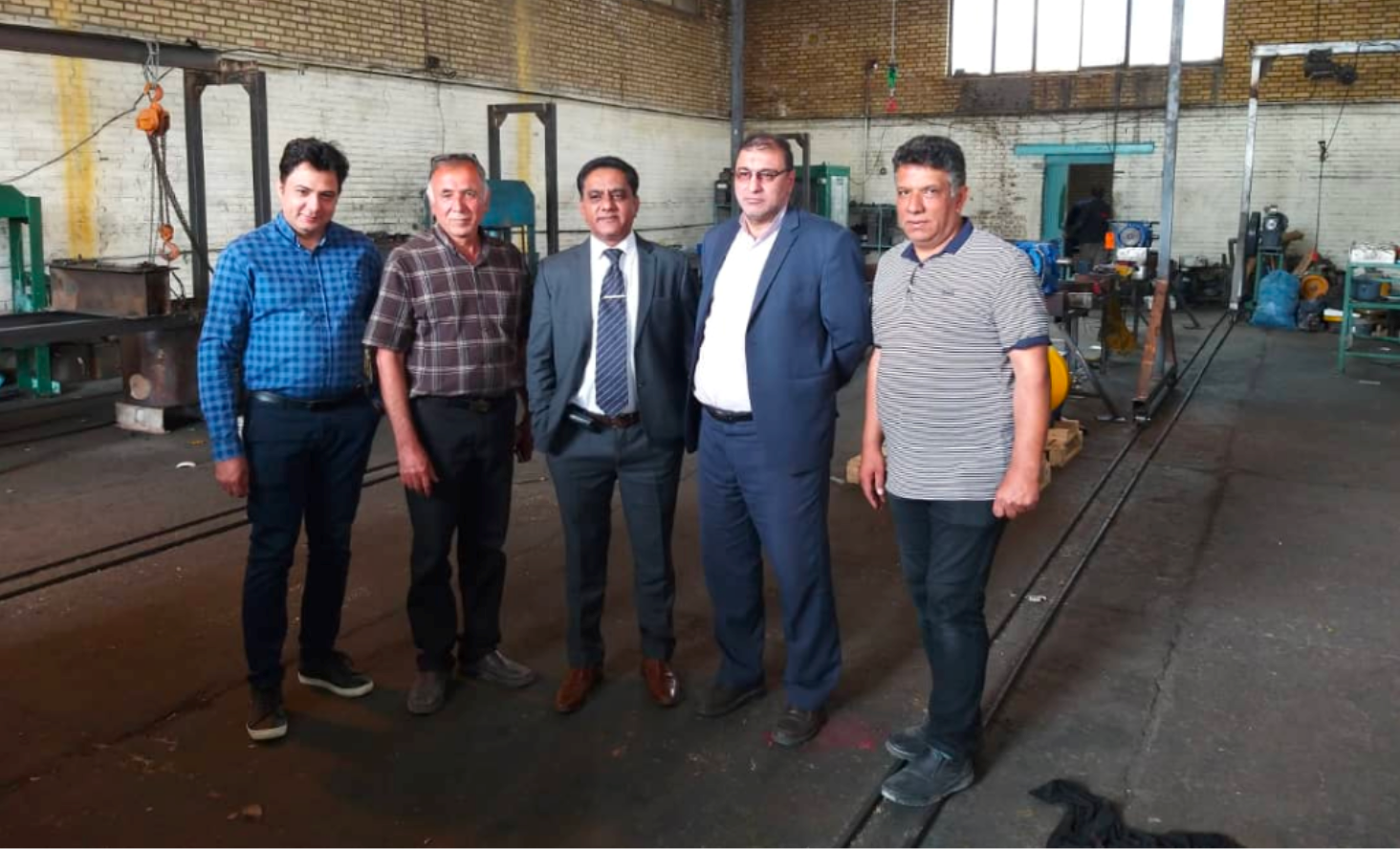 Chodan Sazan also founded a company in Turkey named Chodan Sazan Iron and Steel, which was later renamed CS Metal. A Chodan Sazan executive told an Iranian outlet in 2018 that CS Metal has no financial relationship with Iran in order to limit its exposure to sanctions.  
However, CS Metal facilitated the export of products made by Iran-based Ghaltak Sazan Sepahan last year to Russian companies, according to trade data. 
In one case, CS Metal exported two shipments of production equipment from Ghaltak Sazan Sepahan in 2019 to OMZ Spetsstal OOO, a majority-owned subsidiary of Gazprombank. In another, CS Metal shipped material "by the order of Ghaltak Sazan Sepahan" to Severstal PAO, a steel firm controlled by Russian billionaire Alexei Mordashov, which sells steel products to companies in Europe and the U.S.
Alexis Nicholson contributed to this report.
---