Iraqi Militia Leader Sanctioned by U.S. Over Human Rights Abuses
He previously served as a top national security official in the Iraqi government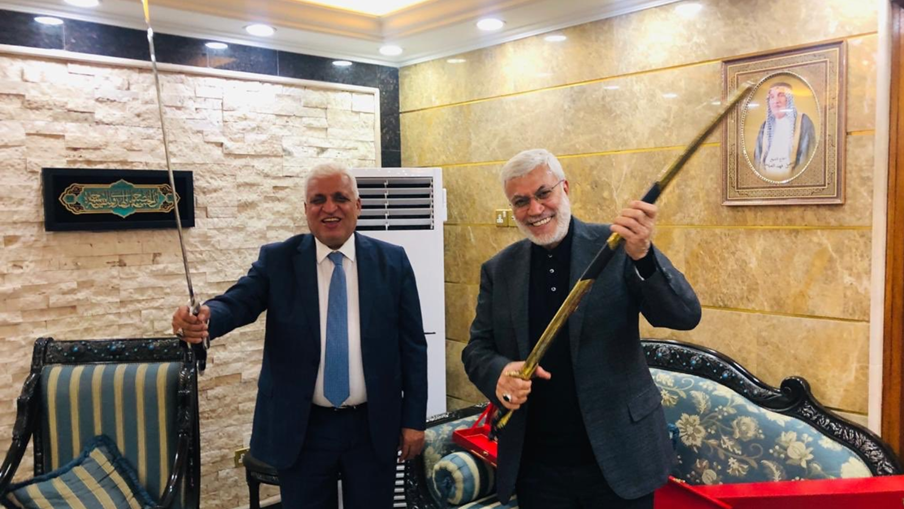 Falih al-Fayyadh (left) holds a sword in an undated photo with Abu Mahdi al-Muhandis. (Source: Popular Mobilization Forces)
By Samuel Rubenfeld and Rana Armanous
Monday, January 11, 2021
The U.S. Treasury Department on Friday sanctioned Falih al-Fayyadh, a former Iraqi national security adviser, over his role in human rights abuses, including his oversight of the violent suppression of protesters in 2019. 
Al-Fayyadh is head of the Iraqi Popular Mobilization Committee (PMC), a body created under Iraqi law to bring Iran-backed militias operating in Iraq, known collectively as the Popular Mobilization Forces (PMF), under formal government control, according to the Treasury. With al-Fayyadh in charge of the PMC, many of the body's subcomponents fired live ammunition against peaceful protesters in late 2019, resulting in the deaths of hundreds of Iraqis, the Treasury said. 
The protesters had been demonstrating against corruption, economic stagnation, Iranian influence in Iraqi domestic affairs and other issues, the Treasury said. Al-Fayyadh was supported in the suppression effort by Iran's Islamic Revolutionary Guard Corps-Qods Force (IRGC-QF), the external operations branch of the Islamic Revolutionary Guard Corps (IRGC), according to the Treasury. Both the IRGC and IRGC-QF have been sanctioned since 2007; the IRGC was designated in April 2019 as a foreign terrorist organization (FTO).
"By directing and supervising the murder of peaceful Iraqi demonstrators, Iran-aligned militants and politicians such as Falih al-Fayyadh have been waging a violent campaign against Iraqi democracy and civil society," said Treasury Secretary Steven T. Mnuchin.
Al-Fayyadh, who had served until July as the Iraqi prime minister's national security adviser, is president and founder of Ataa Movement, an Iraqi political movement, and chair of al-Nahrain Center for Strategic Studies, a governmental institution, according to an al-Fayyadh social media account and a profile of him for a regional media forum. 
Then-U.S. Secretary of Defense Mark Esper met with al-Fayyadh in October 2019 at the Pentagon, where they discussed mutual security concerns, according to a U.S. readout. The Iraqi Foreign Ministry called Al-Fayyadh's designation "an unacceptable surprise," and added that it will follow up with the U.S. on the issue, according to a Reuters report.
Al-Fayyadh was part of an IRGC-QF-supported crisis cell with militia leaders Qais al-Khazali and Hussein Falah al-Lami, as well as IRGC-QF commander Qasem Soleimani and PMC deputy leader Abu Mahdi al-Muhandis, the Treasury said. Al-Khazali and al-Lami were sanctioned in December 2019, and Soleimani and al-Muhandis were both killed early last year in a U.S.-led airstrike. Al-Fayyadh delivered a speech earlier Friday calling for the exit of foreign forces from Iraq in which he also commemorated the anniversary of the deaths of Soleimani and al-Muhandis, saying the ultimate response is "preserving [their] goals." 
"Iran-aligned PMC forces continue to wage a murderous campaign against political activists in Iraq who are calling for free and fair elections, respect for human rights, and transparent and accountable governance," said Secretary of State Mike Pompeo. "Many of these elements have established fictitious organizational cover names to hide their culpability for ongoing attacks against the Iraqi state."
Though the PMF was established to fight the Islamic State of Iraq and al-Sham (ISIS), many of the militias are increasingly focused on advancing their own economic interests and supporting Iranian interests in Iraq, the Treasury said. The militias have been evolving over the years and are following the model set by Hizballah, the Lebanese militant group, Kharon reported in 2019. 
The U.S. has ratched up its efforts to combat the militias and other Iranian proxies, Kharon has found, including by imposing sanctions on their leaders and facilitators, and seizing websites.  
The PMF on Friday congratulated al-Fayyadh on social media for being sanctioned, saying he had joined "the honorable people whom the U.S administration considers enemies." By Saturday, the spokesman for Asaib Ahl Al-Haq (AAH), another U.S. sanctioned PMF militia led by al-Khazali, called the designation "a great violation against Iraq and its sovereignty" in an interview with Rudaw, a Middle East-focused news outlet.
In recent months, the PMF has helped with relief efforts related to the coronavirus pandemic, including by opening an oxygen production facility in Basra and an oxygen filling station in Karbala to aid hospitals.
A new group called "Rubu Allah" was formed in Iraq and is believed to be associated with Kataib Hezbollah (KH), according to a report in October from Al-Hurra, a U.S.-based Arabic language network, citing a source in the Iraqi Interior Ministry's intelligence agency. Rubu Allah has already been linked to several attacks in Iraq that begin with inciting an issue using fake social media accounts, Al-Hurra reported, citing an armed groups expert.
KH is a PMF militia that has been designated since 2009 as an FTO, and its current leader was sanctioned last year. Al-Muhandis, killed in the airstrike, was its former leader. The U.S. in October seized KH's web domain, and a month earlier had seized two domains associated with Aletejah TV, a media outlet it controlled. 
---