By Reggie Kramer
August 30, 2023
---

Terrorist and militant groups affiliated with al-Qaida and Islamic State in the Greater Sahara in Mali are engaged in an armed confrontation for resources and control of territory and trade routes against government forces backed by the Russian Wagner Group, a recent U.N. report said.
The report by the U.N. Panel of Experts on Mali warned that terrorist groups are taking advantage of the stalled 2015 peace agreement to attack civilians, steal cattle to purchase weapons and finance their insurgency, and seize control of territory. According to the U.N., "in less than a year, Islamic State in the Greater Sahara has almost doubled its areas of control in Mali" and has "revamped its supply routes from Nigeria through the Niger and Libya."
The Presence of Wagner Group
The Malian Armed Forces, with assistance from Wagner, have been deployed to areas where Islamic State seized control of territory. However, the government-aligned forces "appeared more interested in maintaining their zones of influence than in preventing attacks on civilians by Islamic State in the Greater Sahel," the U.N. said.
Following the August 2020 coup, the military government welcomed Wagner fighters into the country. Russian officials confirmed to the U.N. Panel of Experts the presence of Wagner fighters in Mali as "private contractors," and that Russian military instructors were in the country based near the main airport of Bamako. Russian officials have pledged to continue providing "comprehensive assistance" to the Malian government after the death of Wagner's head, Yevgeny Prighozin, in a plane crash outside of Moscow last week.
In Mali, the Wagner Group and its leaders have benefited from their presence by receiving concessions from the government for gold mining. The U.N. Panel of Experts reports it is investigating individuals and entities illegally benefiting from gold mining and trading from northern Mali, including those affiliated with Islamic State and other armed groups.
Wagner has set up a network of companies to facilitate its gold mining and trade activities. Alpha Development and Marco Mining Sarl, two mining companies affiliated with Wagner in Mali, were founded by Russian nationals Viktor Popov and Sergey Laktionov. The two companies were reportedly set up by "Wagner-linked geologists" to explore opportunities for government concessions, according to a recent Wall Street Journal report. Alpha Development and Marco Mining are also said to share personnel with M-Invest OOO, a sanctioned Wagner front company that has been used as "a cover" for operations in Sudan.
A third co-founder of Alpha Development in Mali is involved in other gold mining and trading companies, including Gold Resources du Mali Sarl and Baris Travaux S.a.r.l.. The latter is affiliated with a network of other gold trading firms that share the same address and/or phone number, according to records filed with the Mali Ministry of Mines. Another individual connected to these firms is a cousin of Lamine Seydou Traore, Mali's former Minister of Mines, according to a report by the French-language news magazine Jeune Afrique. Lamine Traore was reportedly a major facilitator of Wagner's arrival in Mali, negotiating the country's mining deals with Wagner-affiliated companies.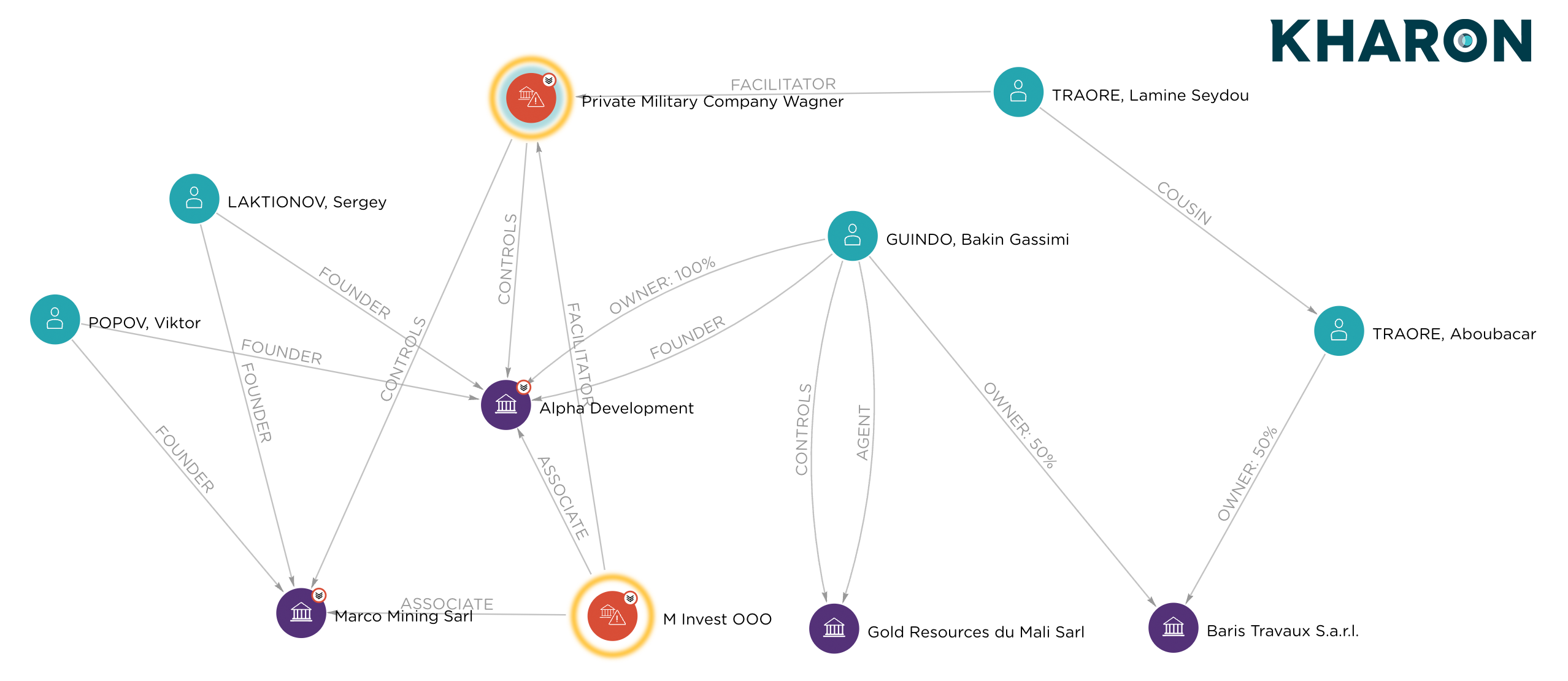 Kharon ClearView and LensView users can explore the full network directly in the Kharon platform. Click here to view.
​The June 2023 U.S. government "Africa Gold Advisory" encouraged businesses and investors to apply "a risk-based approach to due diligence" and "consider responsible investment" in all aspects of the gold sector in Africa to mitigate exposure to sanctions evasion, money laundering, conflict and terror financing, human rights and labor abuses and environmental degradation.

The Financial Action Task Force and Organization for Economic Co-operation and Development have also warned that illicit gold trafficking in Africa could finance armed conflict and be used by criminal networks to launder money into global markets.​

Sanctions Evasion and Money-Laundering Concerns
Implementation of sanctions measures against individuals subject to a U.N. asset freeze under Security Council Resolution 2374 remains "a mixed picture," the Panel of Experts reported. Armed groups and militia leaders that operate networks of companies are engaged in sanctions evasion and money-laundering activities that threaten the stability of the west African country.
Of particular interest is the complex network of companies that may be allowing the terrorist financier and drug trafficker Mohamed Ben Ahmed Mahri to violate the asset freeze and to launder money.
Ben Ahmed Mahri was sanctioned by the U.N. in 2019, and subsequently the European Union, U.S. and U.K. governments, for engaging in militant activities that threaten the security and stability of Mali. The recent U.N. Panel of Expert report highlights the complex network of companies, including Tilemsi Holding, Tilemsi Distribution-TILDIS, and Tilemsi Transport voyageurs, which generate cash flows for Mahri.
​