By Robert Kim and Kharon Staff
August 10, 2022
---
From obscure companies in Vladimir Putin's home city of St. Petersburg to choice properties in Russian-seized territory in Crimea, a network of companies recently given the name "LLCInvest" holds assets worth tens of billions of dollars for Russia's leading oligarchs, including those closely associated with President Putin. The network is far larger and more widespread than previously reported.

The LLCInvest Network

Russian corporate and domain records, as well as other publicly available records reviewed by Kharon, have revealed that the LLCInvest network consists of hundreds of interconnected companies, nonprofit organizations, shareholders, leaders, managers, properties, and other assets throughout Russia and other countries.

The LLCInvest network does not exist as a formal entity; its name is derived from "LLCInvest.ru", an email domain used by numerous entities identified as associated with it.

An investigation by the Organized Crime and Corruption Reporting Project (OCCRP) gave the LLCInvest network its name and identified 86 companies and nonprofit organizations associated with the network, holding assets worth at least USD 4.5 billion.

Entities in the LLCInvest network are connected by shared ownership, management, addresses, and contact information. Numerous sanctioned oligarchs hold ownership shares of LLCInvest network companies. Russian individuals not subject to sanctions are owners or managers of other entities within the network. Many of these entities and individuals have email addresses using LLCInvest.ru and other frequently used email domains, including mksmail.ru and abrossiya.ru. More than 20 companies in the network share a single telephone number.

Bank Rossiya, Yuri Kovalchuk, and the Consulate of Thailand in St. Petersburg

Yuri Kovalchuk, an oligarch sanctioned by the U.S., EU, Canada, and U.K., and Bank Rossiya, a St. Petersburg-based bank sanctioned by the same jurisdictions, are in the chain of ownership of many entities in the LLCInvest network. Kovalchuk held approximately 40% of Bank Rossiya's shares as of 2019, according to data from Russia's Central Bank, and is a former chairman of its board of directors. He owns or controls several companies in the LLCInvest network.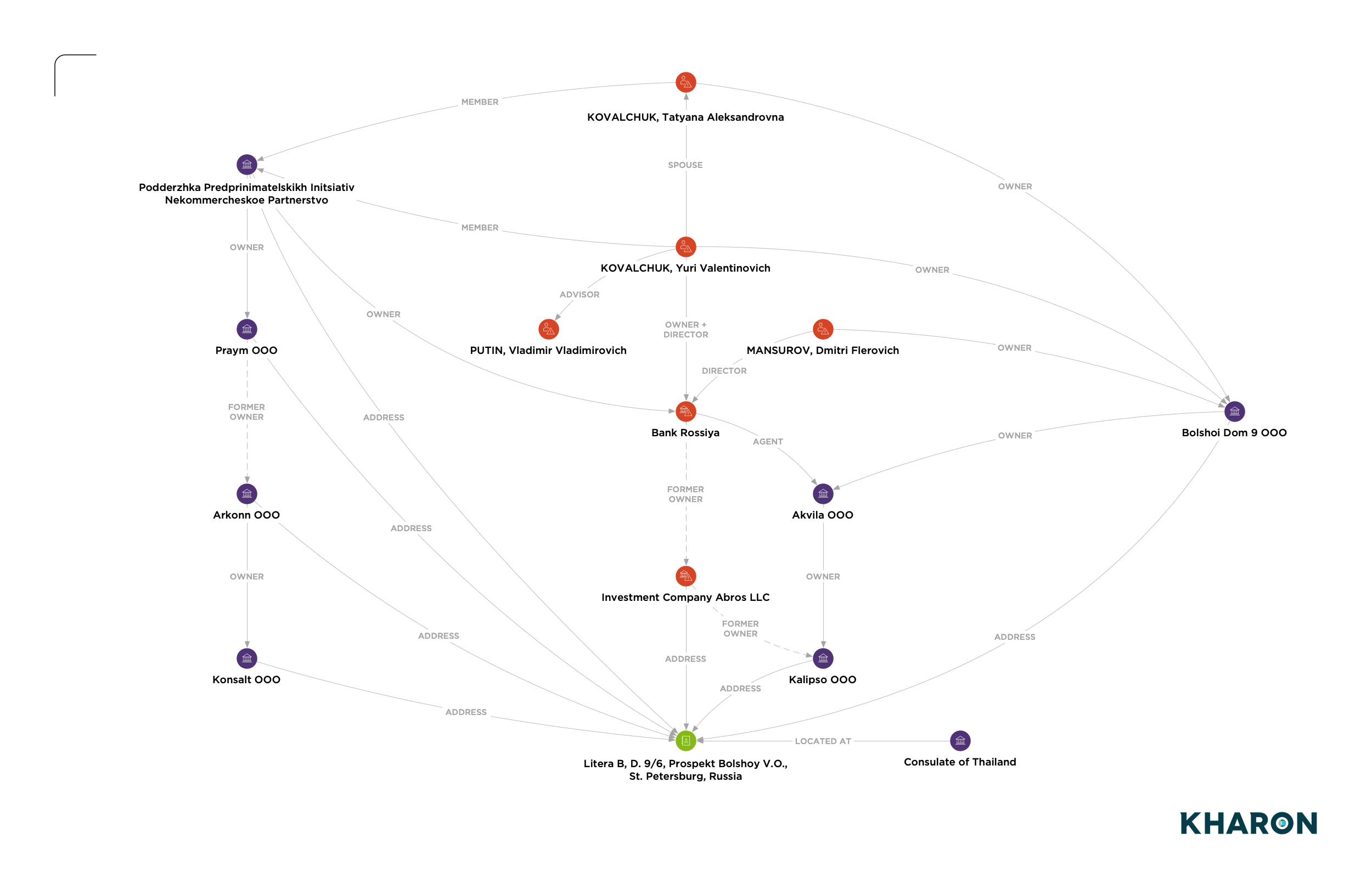 Kovalchuk is among the oligarchs from St. Petersburg who have been most closely associated with Vladimir Putin, even before his rise to the presidency. Kovalchuk is a founding member of the Ozero ("Lake") Dacha Cooperative, a small group including Putin that acquired country houses on a lake near St. Petersburg and formed an association in 1996, when Putin was a local political figure in St. Petersburg. The U.S. Department of the Treasury described Kovalchuk in 2014 as "the personal banker for senior officials of the Russian Federation including Putin," and "referred to as one of his 'cashiers.'"