Luxury Project in Syria Built on Expropriated Land, U.S. Says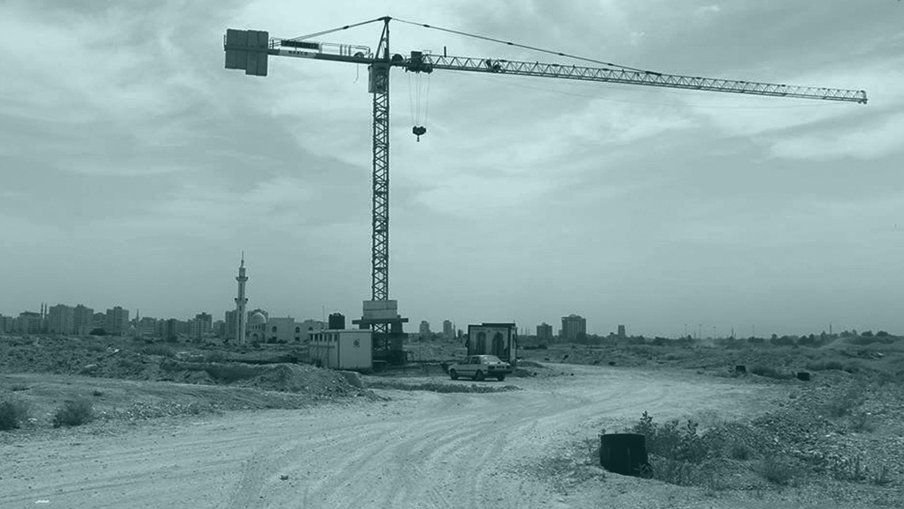 Construction occurs at the site of Marota City, a planned luxury development in Damascus to be built on land seized from people displaced during the civil war. (Source: Marota City)
By Samuel Rubenfeld
Friday, June 19, 2020
The U.S. Treasury Department on Wednesday announced sanctions on reconstruction projects in Syria, including one it said was built on land expropriated from people displaced during the country's nearly decade-long civil war.
After forcing millions of Syrian citizens to flee, President Bashar al-Assad's government and its supporters are pouring resources into building luxury real estate, evicting and razing the property of tens of thousands of residents in working-class areas of Damascus sympathetic to the opposition, according to the Treasury. 
"The United States will not stand by while the Assad regime displaces civilians to benefit regime-friendly elites," said Secretary Steven T. Mnuchin.
The latest U.S. sanctions reinforce and expand upon measures undertaken by the EU in January 2019 and February 2020, the Treasury said. The U.S. State Department on Wednesday designated Syria's first lady, Asma al-Assad, and more than a dozen others.
Officials on Wednesday also threatened further sanctions on Assad-tied businessmen profiting from the country's reconstruction efforts. "These playgrounds for oligarchs are going to be sanctioned," said James Jeffrey, the U.S. State Department's special representative for Syria engagement, in a teleconference with reporters.
Marota City, the largest investment project in Syria, is aimed at bringing in a wealthy and loyal demographic, the Treasury said. In the wake of land seizures, a 2015 Syrian legislative decree formalized the funding and management model for the development, according to the Treasury. 
The Marota City project, which will feature high-rise residences, commercial space and tunnels underground across the development, "will contribute to the dawn of a new Damascus," according to its website, putting the historic city "on the map of modernity and globalism." 
Damascus Cham Holding Company, the entity created by the governorate of Damascus to oversee the Marota City project, was sanctioned Wednesday by the Treasury, along with several other firms involved in the project. Investors in Marota City, which has been profiled by Kharon, were previously sanctioned by the U.S. and European Union. 
Most of Marota City's infrastructure has been completed, and the owners began to obtain design approval for building construction, according to a statement dated June 3 posted to the project's website. On Wednesday, Marota City launched an interactive map on its website of all residential, investment, and retail properties in the project, and, in a reply to a comment on its Facebook page, said the project is "moving forward" and encouraged investors to visit the project "to see the progress" for themselves.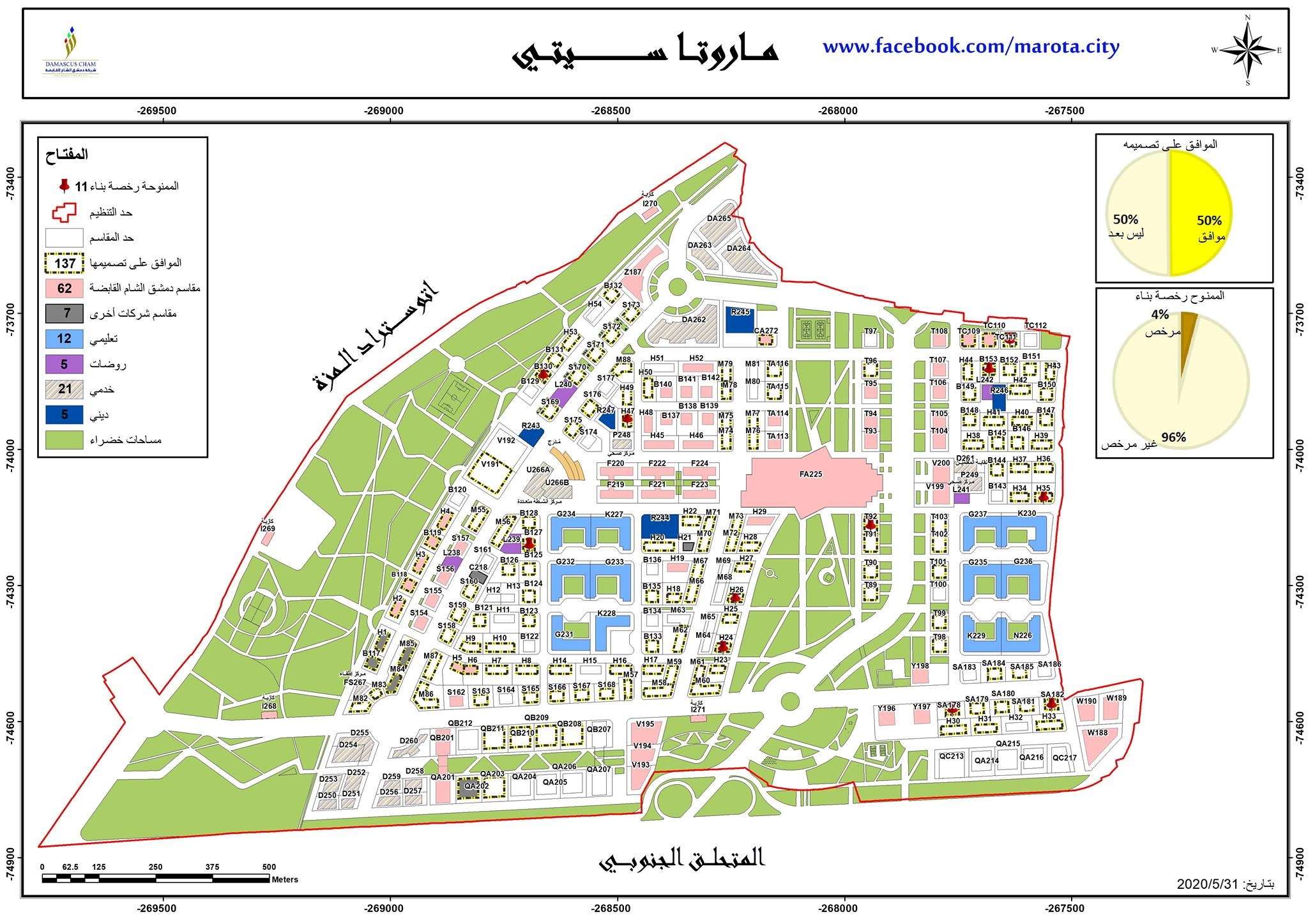 Damascus Cham Holding created a series of joint ventures and facilitated the flow of private investment into the development of the expropriated land, according to the Treasury.
Contributing only the seized land, the governorate has depended on government-friendly businessmen for financing, allowing private investors to profit from the land, the Treasury said. In each joint venture, Damascus Cham Holding's share of the profits are granted to the governorate, according to the Treasury. Three Damascus Cham Holding-established joint ventures, and multiple private sector partners, were sanctioned Wednesday.
Aman Damascus JSC, a partnership between Damascus Cham Holding and Syrian businessman Samer Foz's Aman Group, won the right to build three skyscrapers and five housing properties at Marota City in a contract worth USD 312 million, the Treasury said in June 2019. Foz, whose ties to Bashar al-Assad helped him land a windfall in reconstruction projects, was sanctioned by the U.S. in June 2019, along with Aman Holding and Aman Damascus. He and Aman Damascus were designated by the EU in January 2019.
Syrian businessman Mazen al-Tarazi, who was sanctioned by the EU in January 2019 and arrested two months later by Kuwaiti authorities, had poured USD 320 million into Marota City, Kharon reported at the time of his detainment. His commercial network stretches beyond Syria into Kuwait, Lebanon and the U.K., Kharon reported. Al-Tarazi was released three days later after an examination of his investments, according to a report from March 2019 by al-Qabas, a Kuwaiti daily newspaper. 
Though Syrian businessmen Hayan Qaddour and Maen Rizk Allah Haykal withdrew from the Marota City project, according to media reports, interest from international investors continues. (Qaddour and Haykal were delisted by the EU in late May for halting "their sanctionable behaviour.") 
Mussan Al-Nihas, an owner of Al-Qaisar Investment Company, which is made up of Lebanase, Kuwaiti, and Syrian partners, was reported in April to have been "suffering from 8 months of slow negotiations" to sign contracts for the construction of two residential towers in Marota City. 
In late March, Marota City reported on the start of the concrete casting for two luxury residential apartments. The project is being implemented by a Syrian development company chaired by a Saudi businessman with interests throughout the Middle East and the U.K.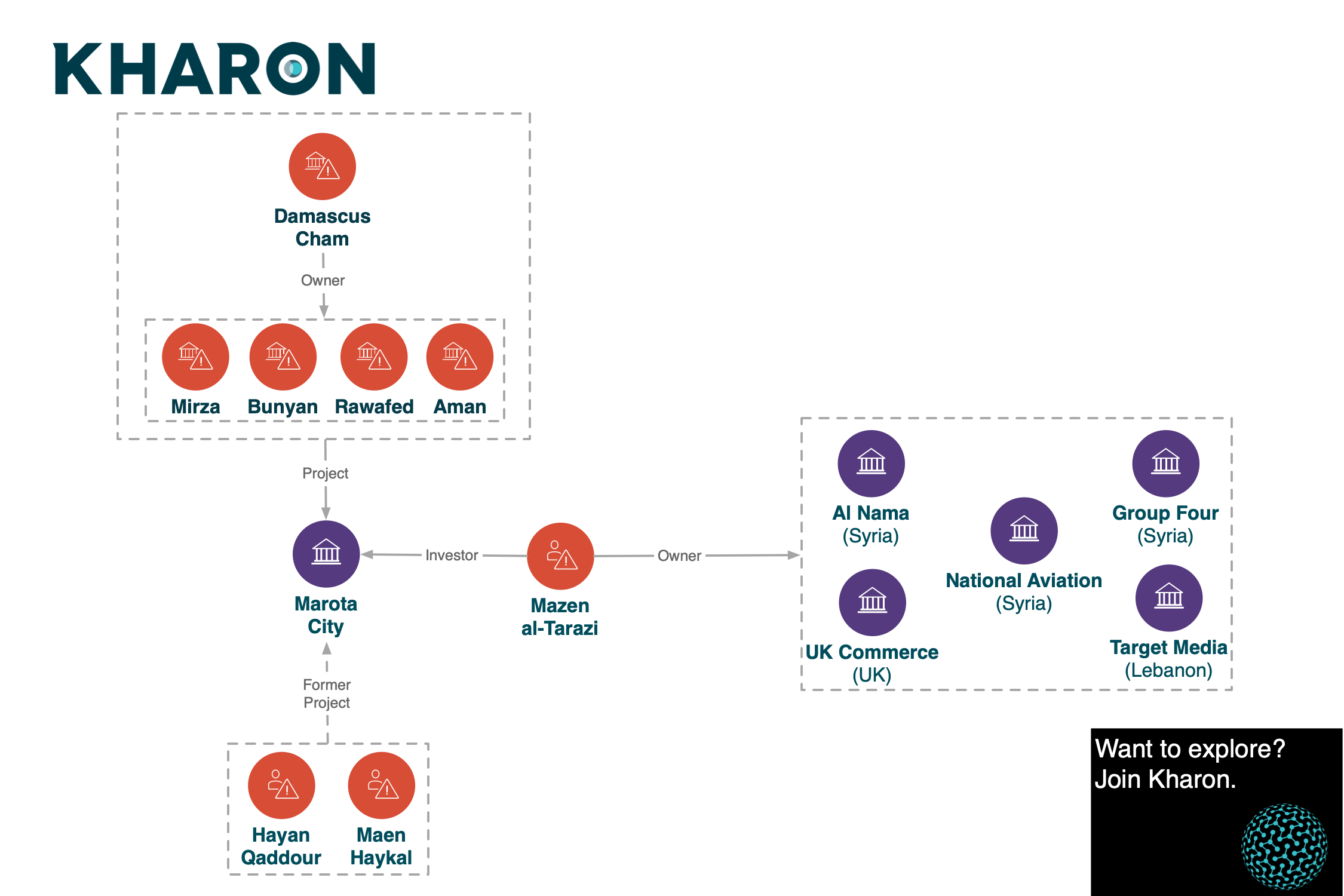 Grand Town Tourism City
Syrian businessmen Nader Kalai and Khaled Al-Zubaidi, and their company, Zubaidi and Qalei LLC, were also sanctioned Wednesday for their roles in developing and managing a luxury development project near the Damascus airport on behalf of the Syrian government, the Treasury said.
Grand Town Tourism City is set to include a shopping mall, golf course, villas, an entertainment center and more, according to the Treasury. 
The development is an advanced smart town "whose details bear the alphabet of life and humanity," with structures that "rise as icons of beauty, embodying the dreams of every man on Earth," according to an archived version of its website from last year. 
Though the status of the project is not clear, its centerpiece is the luxury five star-Ebla Hotel, which the Treasury sanctioned for being owned by the Syrian government. 
The Syrian Ministry of Tourism has praised the Ebla Hotel, the country's largest, for benefiting both the government and its investors, and underscored its importance in the country's reconstruction, according to the Treasury. 
The Syrian government granted Kalai and Al-Zubaidi a mutually beneficial 45-year contract to construct and manage Grand Town Tourism City in exchange for 20 percent of its revenues, according to the Treasury. Kalai and Al-Zubaidi also manage Ebla Hotel, the Treasury said. 
Kalai, a Syrian government insider, has a number of business ventures beyond Grand Town Tourism City including some outside of Syria, the Treasury said, imposing sanctions on several of them. His wife, Miriam Rouf Alhaj, has since 2007 been manager of two Austrian companies and a Canadian firm sanctioned Wednesday by the Treasury, corporate records show. One of the Austrian firms, Castle Holding GmbH, has invested in multiple companies in Syria, as well as several abroad, according to corporate records.
Kalai also has stakes in multiple companies outside of Syria that weren't referenced by the Treasury, Kharon found. He owns stakes in Romania-based Pendelum SRL involved in development projects, and two Lebanon-based import and export firms: Siloserve SAL Offshore SAL and Overland Holding SAL, according to corporate records. 
And Kalai is scheduled to stand trial in Canada in August on charges that he violated that country's sanctions on Syria, Canadian media reported last month. Kalai, who has permanent resident status in Canada, allegedly made a payment of SYR 15 million (about CAD 140,000) in November 2013 to a real estate and telecommunications company called Syrialink, the report said.
Analysts from the Counterterrorism/Middle East team contributed to this report.
---