Wee Tiong VS Sdn. Bhd., a Malaysian ship-bunkering company that has serviced international clients, has shifted its ownership structure and leadership since a former owner and director, Tan Wee Beng, was sanctioned by the U.S. as a money launderer for North Korea.
Tan Wee Beng, who was sanctioned in October 2018, held a 30 percent stake in Wee Tiong VS Sdn. Bhd. and served on its board of directors, according to corporate records dated before his designation. He no longer holds a director position at the company. The other owner of Wee Tiong VS Sdn. Bhd at the time, Md Serah Bin Jali, has since become the sole shareholder of the firm.
Wee Tiong VS Sdn. Bhd. disclosed revenues of 606.8 million Malaysian Ringgit ($148.3 million) for the financial year ended Feb. 28, 2018. The company serves as the Malaysian branch office of Wee Tiong Holdings Pte. Ltd., a commodities trading company.
Kharon profiled Wee Tiong Holdings Pte. Ltd. in January when exploring a broad network of shipping companies in Singapore owned by Tan Wee Beng, his brother and father.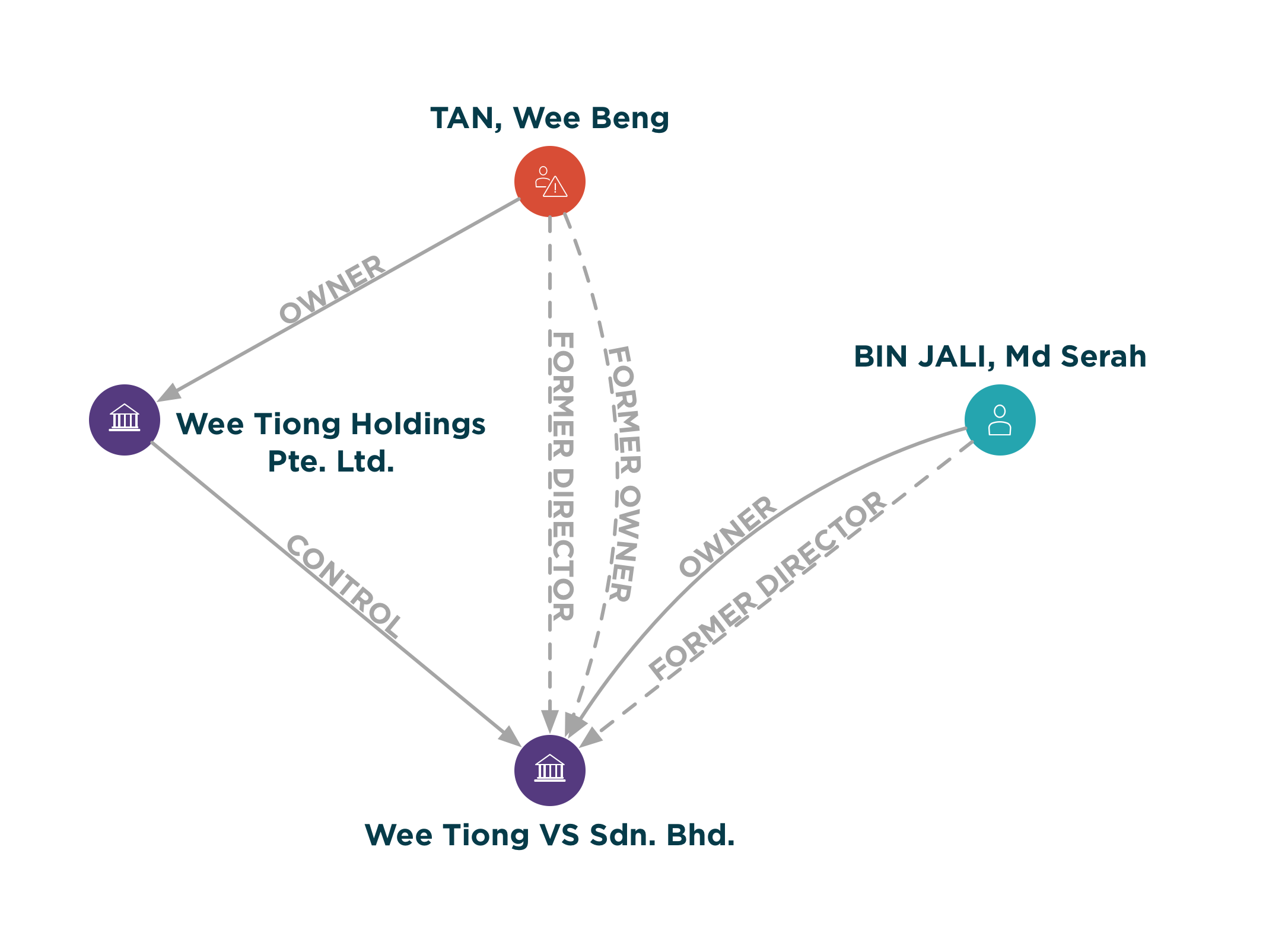 WEE TIONG LAWSUIT AGAINST THE FBI
Wee Tiong VS Sdn. Bhd was apparently aware of an investigation into the company more than a year before the sanctions against Tan Wee Beng. It filed a lawsuit in 2017 against the Federal Bureau of Investigation, saying it "had no legal authority to administer U.S. sanctions laws or to identify new persons as SDNs [Specially Designated Nationals].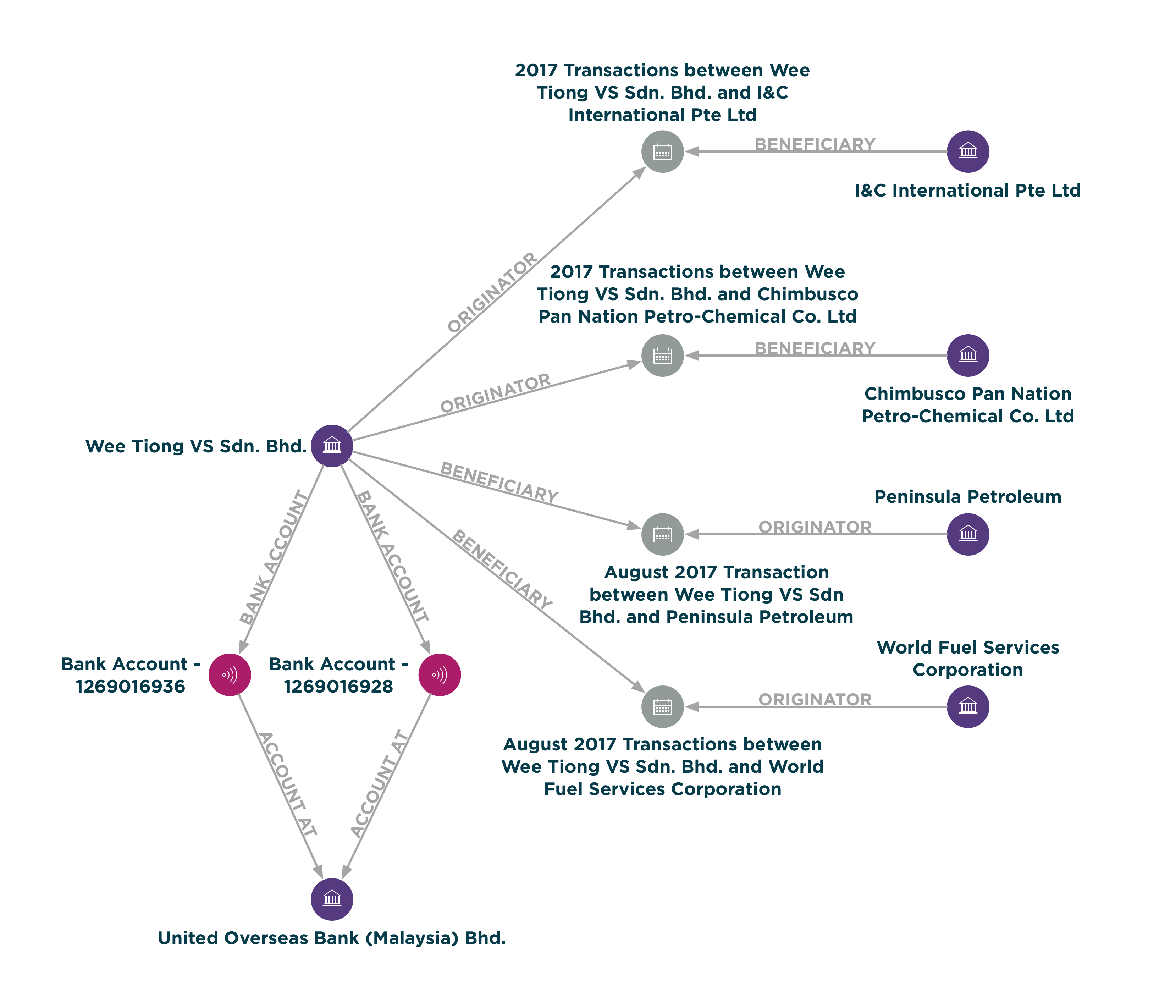 The complaint also noted that the agency that does have the authority, the U.S. Treasury Department's Office of Foreign Assets Control, had told the company that it wasn't subject to sanctions. The FBI "has sent at least one letter to Wells Fargo, JP Morgan Chase & Co. and other banks wrongfully identifying Wee Tiong as an entity on behalf of North Korea," according to the complaint. In August 2017, Wee Tiong filed to dismiss the lawsuit after the FBI clarified to the financial institutions that they did not "intend to suggest that Wee Tiong has been designated by the Office of Foreign Assets Control as a Specially Designated National."
Disclosures in the civil suit show the international scope of Wee Tiong VS Sdn. Bhd.'s business dealings. The company sent and received wire transfers from firms in Singapore, Hong Kong, the U.K., and the U.S. for ship refueling services.
Court documents filed in August 2017 also show that Wee Tiong VS Sdn. Bhd. maintained USD and SGD accounts with United Overseas Bank (Malaysia) Bhd.
SHIFTING CONSTELLATIONS OF VESSEL OWNERS AND OPERATORS
Wee Tiong VS Sdn. Bhd. was the registered owner and operator of the Poseidon, after taking control of the vessel from fellow Tan Wee Beng-owned company WT Marine Pte. Ltd. in March 2018. Since December 31, 2018, Poseidon is owned and operated by SSC Logistics Sdn. Bhd. and Intership Marine Sdn. Bhd., respectively.
Five other vessels owned or operated by Wee Tiong VS on or after Tan Wee Beng's designation are no longer in the company's control. Malaysia-based Fultonn Marine Sdn. Bhd. and Fultonn Petroleum Sdn. Bhd. now own or operate these vessels, according to maritime records.