Myanmar Military Conglomerate Sanctioned by U.K.
The company, which has dozens of subsidiaries, was sanctioned last month by the U.S.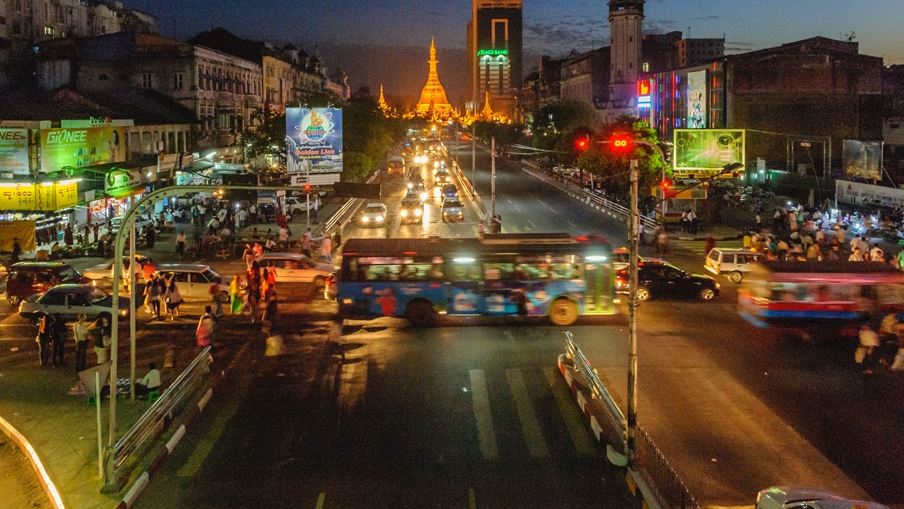 The city of Yangon in the evening. (Source: Alexander Schimmeck, via Unsplash)
By Samuel Rubenfeld and Helen Koo
Wednesday, April 7, 2021
The U.K. last week sanctioned Myanmar Economic Corporation (MEC), a military-linked conglomerate, over its involvement in human rights abuses following the coup.
MEC, which has dozens of subsidiaries involved in manufacturing, mining and telecommunications, was also sanctioned last month by the U.S., and is listed by Canada. Though the firm is owned in practice by the Myanmar defense ministry, it is associated with the Tatmadaw, the armed forces, according to a sanctions notice issued by the U.K. government. 
Several MEC board members are current and former high-level Burmese military personnel, the U.K. said. MEC is led by Min Aung Hlaing, the leader of Myanmar's military coup, the U.S. said when it designated the firm. Min Aung Hlaing is sanctioned by the U.K., U.S., Canada, and the European Union. The U.S. government refers to the country as Burma.
"The U.K.'s latest actions target one of the military's key funding streams and impose a further cost on them for their violations of human rights," said Foreign Secretary Dominic Raab.
The MEC designation came the same day that tougher U.K. enforcement guidance from the Office of Financial Sanctions Implementation (OFSI) went into force. Last week, the U.K. joined the U.S. and sanctioned Myanma Economic Holdings Public Company Limited (MEHL), another military holding company.
MEC's dozens of subsidiaries are mainly focused on manufacturing and mining, though others are involved in trade, transport, gems, communications and other sectors, according to a United Nations fact-finding mission report from 2019. The list should not be considered as exhaustive, the U.N. cautioned at the time. Taken together, MEHL and MEC control more than 100 companies that operate across the Burmese economy, and an additional 27 businesses are closely affiliated to the conglomerates through their corporate structures, the U.N. report said. MEC also has subsidiaries involved in supplying natural resources to the military, the U.S. said when it sanctioned the company last month. Telecom International Myanmar Company Limited (Mytel), the state-run telecommunications firm, is minority owned by Star High Company, one of the MEC subsidiaries listed by name in the U.K. sanctions notice, according to corporate records. Viettel Global Investment Joint Stock Company, the largest single shareholder of Mytel, is itself owned by the Vietnamese defense ministry, records show. 
MEC leaders are involved in, and on the board of, Mytel, Kharon found. Since the coup, protesters have called for boycotts of goods and services linked to the Tatmadaw, including from Mytel. Photos posted online show local shops saying they don't sell top-up cards for Mytel devices, Asia Times reported last month.
Mytel has worked with, and received services from, various foreign firms, Kharon found. The company's apps are available on major mobile app stores. Google told Reuters last month that it had disabled a number of Burmese military-linked accounts on the company's platforms, and though Apple has condemned the violence in Myanmar, it also faced accusations that it blocked a security update to a virtual private network (VPN) app.
Mytel has also partnered with China-based mobile game developer Shanghai Moonton Technology, and Vietnam-based Elofun Entertainment lists it as a client, according to a media report and Elofun's website. Mytel launched a direct carrier billing partnership with Fortumo, an Estonian mobile payment processor ultimately owned by a U.S. company, according to a Fortumo press release. It also deployed information and communications technology (ICT) services from a Yangon-based subsidiary of Huawei Technologies, a local executive of the Chinese networking equipment giant said in a media interview. And Mytel uses optical character recognition technology from Singapore-based Misfit Technologies.
Irrawaddy Green Tower (IGT) rents Mytel cell phone towers, according to a 2019 U.N. Human Rights Council report. IGT is owned by a Singaporean holding company that counts the International Finance Corporation (IFC), a subsidiary of the World Bank Group, among its shareholders, records show. The World Bank put a hold on its Myanmar-related disbursements since the coup, IFC said in a statement dated Feb. 1. Other MEC subsidiaries that have worked with foreign firms include Dagon Beverages Company Limited, whose beers are sold on southeast Asia-based e-commerce platforms, and Coal Mine and Power Plant (Mai Khot), which is operated by a joint venture established in 2019 by a Myanmar company and a publicly traded Thai firm, according to a review by Kharon. The mine project wasn't implemented in 2020 due to the COVID-19 pandemic, and it will require a review and a reassessment of the risk factors, the Thai company said in a year-end summary.  
India's Adani Group came under fire last week after documents reported by the Australian Broadcasting Corporation appeared to show the company had paid USD 30 million to MEC in "land lease fees" associated with a container port project in Yangon. An additional USD 22 million was "likely to also flow to MEC as the owner of the port site," the ABC report said.
The company responded in a statement, saying that an Adani Group subsidiary had won the port project in 2020 through a competitive bid. The statement didn't mention a relationship with MEC, but it said the land acquisition was facilitated by the Myanmar Investments Commission under the guidance of the then-civilian Burmese government. 
The sanctions on MEC came as the human rights situation in Myanmar continues to deteriorate. More than 40 children have been killed since the coup, according to tallies by The New York Times and the charity Save The Children. Security forces have killed 581 people overall, Assistance Association for Political Prisoners (Burma), a human rights group, said Tuesday. Minorities in the borderlands are facing fresh fears, the AP reported Monday. Easter eggs became a symbol of defiance.
Han Lay, a Burmese beauty queen, criticized the military from an event in Thailand, after she had participated in anti-coup protests, the BBC reported. "In Myanmar, journalists are detained ... so I decided to speak out," she told the BBC in a phone interview from Bangkok. 
---