By Samuel Rubenfeld and Helen Koo
Friday, September 3, 2021
---
The U.K. government on Thursday announced sanctions on U Tay Za, a businessman with extensive links to the Myanmar military, and his business empire, the Htoo Group of Companies.
U Tay Za has close ties to both the current and former Myanmar military governments, and his company, Htoo Group, is a large business network with regionwide operations, the U.K. government said. He joined high-ranking officers in May for a trip to attend an exhibition in Russia where the delegation was to discuss "over 20 megaprojects," including the procurement of arms and military hardware, with their Russian counterparts, according to media reports.  
U Tay Za owns or is a director of Myanmar- and Singapore-based companies in the fields of hospitality, timber and petroleum trade, agricultural production, gems and jewelry, construction and more, according to corporate records reviewed by Kharon. He holds the vast majority of shares in Htoo Group and is the firm's chairman, records show.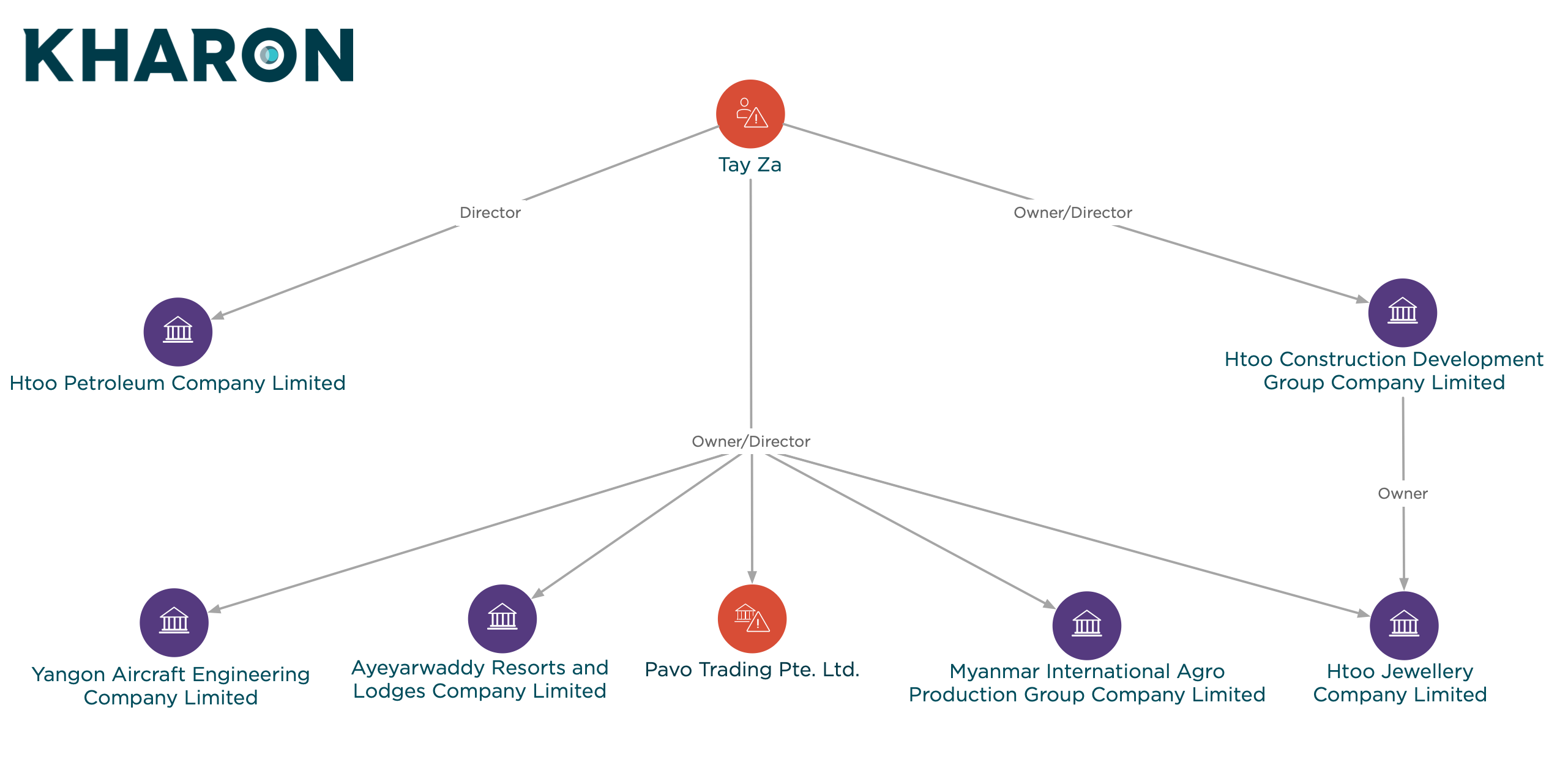 Htoo Group has companies in the aviation, agriculture, financial services, sports and entertainment, trading, and food and beverage sectors, according to its website. It was named by a United Nations fact-finding mission in 2019 as one of the "largest crony companies" in Myanmar due to links and relationships that benefit the military and its leadership.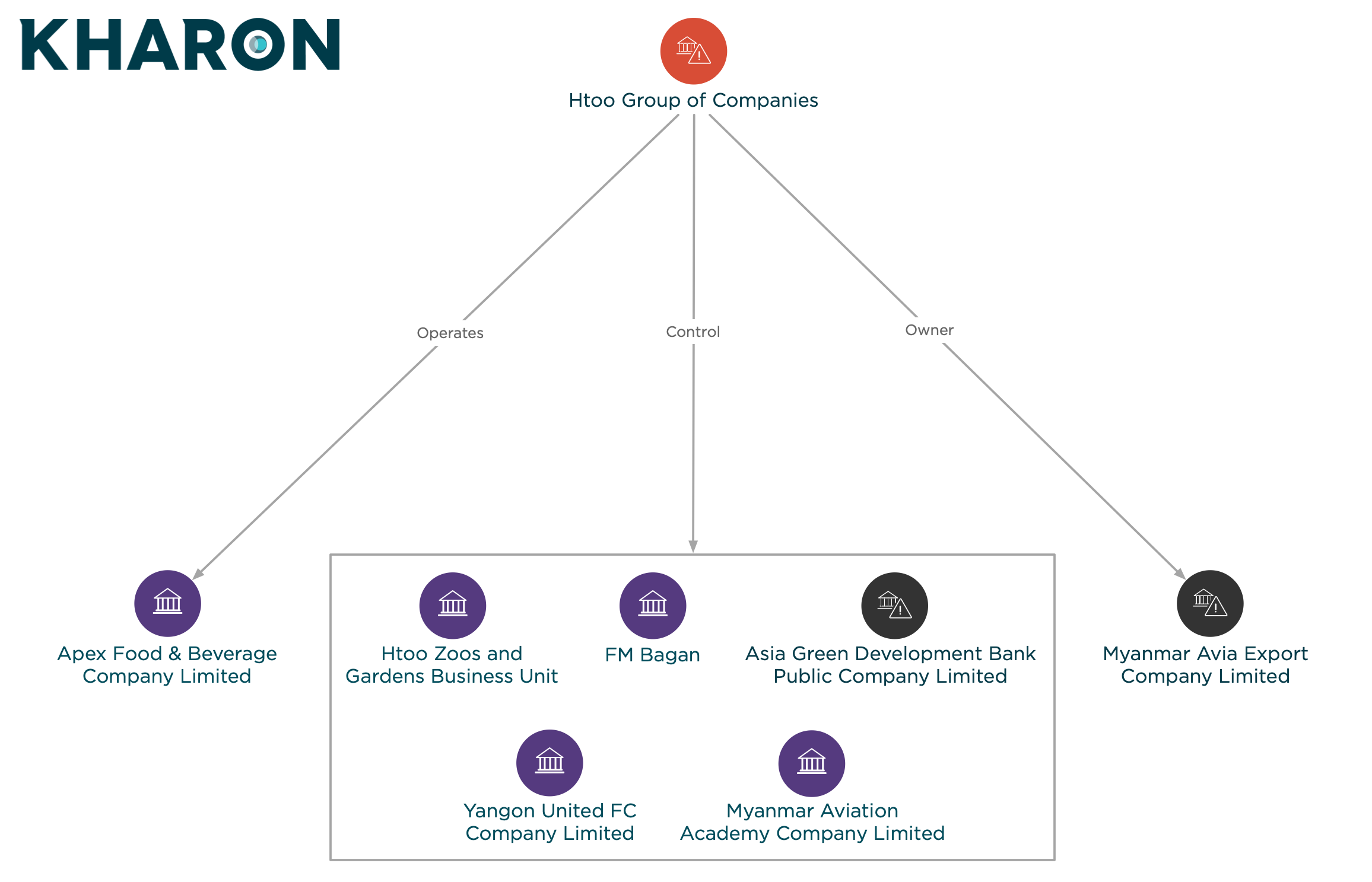 Myanmar Avia Export Ltd, a Htoo Group subsidiary, has connections to the Myanmar military and was responsible for brokering aircraft deals and arms with Russia, according to the U.K. government. The firm is Myanmar's sole representative for Russia's Export Military Industrial Group (MAPO), and of the Russian helicopter company Rostvertol, The Irrawaddy, an independent Myanmar news outlet, reported in May.
U Tay Za's fortunes have waxed and waned over the years, but he was poised for a comeback with the Myanmar military back in power, The Irrawaddy reported in June. He has historically received western media attention and was characterized in 2012 by Reuters as "perhaps Myanmar's best-known tycoon," having given the children of military leaders roles in his businesses in exchange for contracts and import licenses in profitable sectors.
Along with his family, U Tay Za also has a lengthy sanctions history: He was named in the annex of a 2007 U.S. executive order and delisted in 2016, when the U.S. terminated its then-sanctions program during a period of democracy in Myanmar and warming U.S. diplomatic ties. The U.S. launched new sanctions on Myanmar in the wake of the military coup.
In 2015, the U.S. removed sanctions on his wife, Thidar Zaw, who had also been named in the annex. His son, Pye Phyo Tay Za, successfully challenged a designation by the European Union in 2012 and was also delisted by the U.S. in 2016.
U Tay Za, his wife, his son and Htoo Group are all sanctioned by Canada. 
The latest sanctions follow recent efforts to ensure the supply of weapons to Myanmar is halted, the U.K. government said. It comes as the conflict grinds on between protesters and the military government, which took power in February and is known as the State Administrative Council (SAC). Min Aung Hlaing, the SAC leader who has been sanctioned by the U.S., U.K., EU and Canada, named himself last month as prime minister of what the military termed "the caretaker government." 
"The military junta has shown no signs of halting its brutal attack on the people of Myanmar," said U.K. Foreign Secretary Dominic Raab. "Along with our partners, the U.K. will continue to restrict the junta's access to finance and the supply of arms used to kill innocents, including children, and target those who support the junta's actions."
More than 1,000 people have been killed by security forces, according to figures from the Assistance Association for Political Prisoners, a human rights group. The military is struggling to recruit new officers as personnel join the anti-coup protesters, according to media reports.