By Samuel Rubenfeld
Tuesday, August 17, 2021
---
An Omani national has facilitated the sale and shipment of Iranian oil through his companies to obscure the involvement of Iran's Islamic Revolutionary Guard Corps-Qods Force (IRGC-QF), the U.S. Treasury Department said last week, imposing sanctions on him and part of his corporate network.
Mahmood Rashid Amur Al Habsi's companies have transported shipments worth tens of millions of dollars for the IRGC-QF, the Treasury said. He has worked with senior IRGC-QF officials, including former oil minister Rostam Ghasemi, and used several companies to facilitate the shipments of oil to foreign customers, including to buyers in East Asia, according to the Treasury. Ghasemi, first sanctioned in 2010, was designated again in 2019 by the U.S under its counterterrorism authorities amid his role facilitating oil and petroleum products shipments for the IRGC-QF. 
"The IRGC-QF has been using revenue from Iranian petroleum sales to fund its malign activities. These sales depend on foreign intermediaries to obscure the IRGC-QF's involvement," said Secretary of State Antony Blinken.
Al Habsi managed a vast network of individuals, shipping and oil companies, and vessels to sell petroleum products for the group's benefit, the Treasury said. 
As part of his oversight of shipping operations, he tampered with location (AIS) transponders aboard vessels, forged shipping documents and paid bribes to circumvent Iran-related restrictions, all signs of potential sanctions evasion, according to the Treasury. 
As of 2017, Al Habsi co-owned and directed the Oman-based firm Nimr International LLC, and two additional entities not sanctioned by the Treasury, along with Omani national Nasser Rashid al-Rajhi, according to corporate records. Al-Rajhi was also a director of Oman-based Orbit Petrochemicals Trading as of 2017, records show. Al Habsi used both Nimr International LLC and Orbit Petrochemicals as part of his facilitation of Iranian oil deals and shipments, the Treasury said. 
Both firms were part of the Nimr International Group of Companies, which is also involved in oil and gas services, according to an archived version of its website. Four other firms were part of Nimr International Group, according to the archived version of Nimr International's website.
Nimr International signed a long-term agreement to provide bunkering services at the Port of Duqm in Oman, according to a January 2020 media report. The company has been growing its marine business, the report said. Bunkering is the process of fueling and resupplying vessels; the U.S. warned in September 2019 that anyone providing bunkering services to an Iranian vessel, or to a vessel carrying prohibited goods to or from Iran, could be subject to sanctions.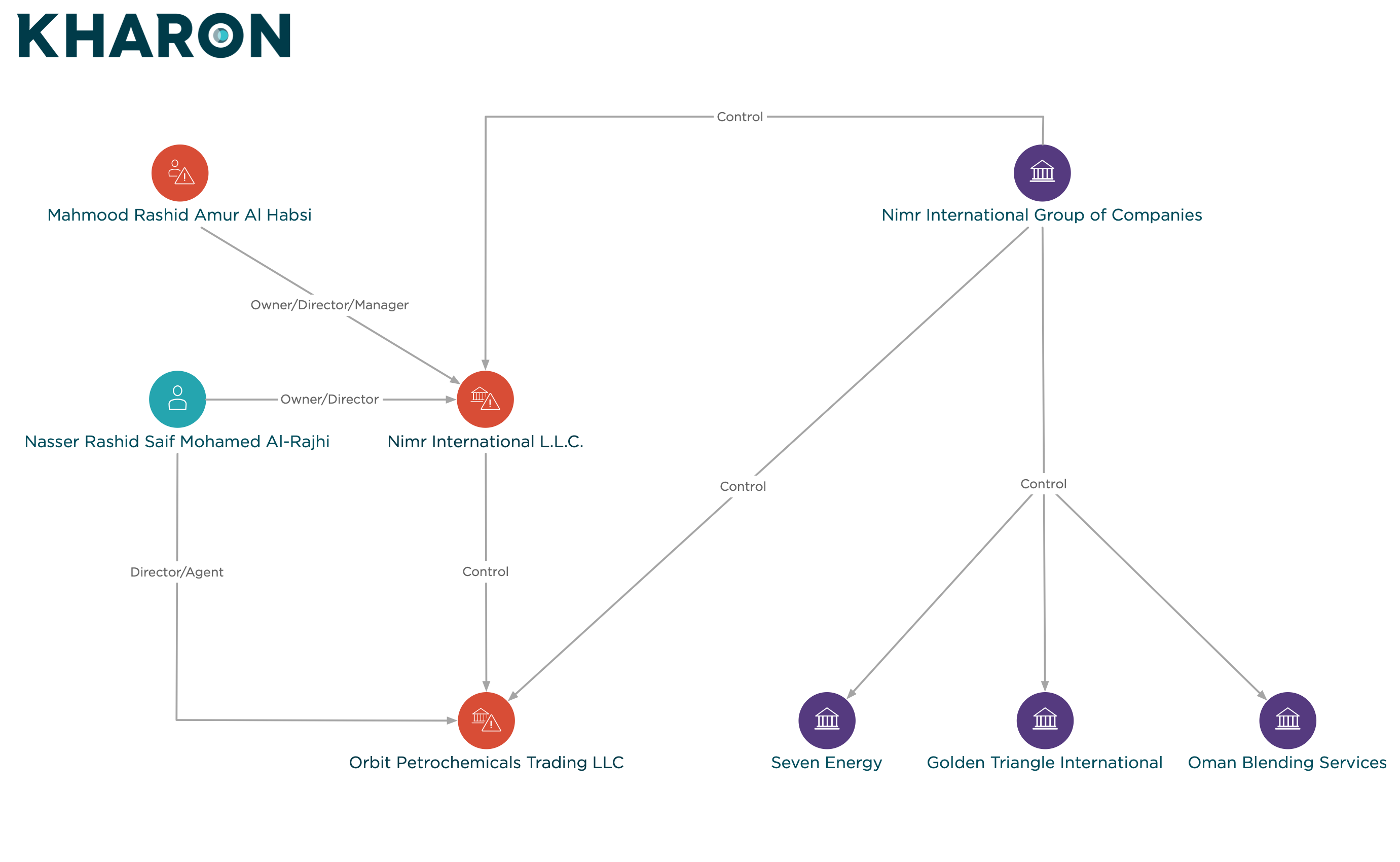 A Liberian-registered firm owned by Al Habsi, Bravery Maritime Corporation, owns the crude tanker Oman Pride, which was used to transport Iranian oil, according to the Treasury. Nimr International and Golden Triangle share identifiers with the vessel's operator, Kharon found. This past June, Bravery Maritime lost a lawsuit filed in the U.S. over its default on loans related to the vessel.