By Peter Maroulis, Nick Grothaus, and James Disalvatore
December 5, 2022
---
Sanctioned Russian far-right and neo-Nazi paramilitary units fighting in Ukraine continue to raise cryptocurrency through online fundraising efforts in order to support their operations, according to a Kharon investigation. Several of these crowdfunding efforts are bolstered by online facilitators, with tens of thousands of followers on Telegram, raising funds for military gear and equipment.

With the Russian invasion of Ukraine in February this year, concern over extremist groups' use of cryptocurrency and other blockchain related technology has grown. As Kharon reported in July, Russian neo-Nazi groups have in at least one instance attempted to raise funds via the sale of non-fungible tonkens (NFTs). Other recent reports have detailed similar efforts by Russian neo-Nazi groups and far right militias.

One such facilitator calls himself "Signalman Kiba'' and runs a Telegram channel that has over 7,500 followers. Kiba says on Telegram that he is a "friend" of Task Force Rusich, a U.S.-sanctioned Russian neo-Nazi group fighting in the Ukraine. The Rusich Telegram channel has linked to Kiba's content and also called him a friend of the group.

Magomedkhabib Magomedovich Gadzhiev is another fundraiser for Russian paramilitary groups. He has solicited cryptocurrency donations using his Telegram channel, "Shalnyak," which has over 17,000 followers. Gadzhiev claims to have used donated cryptocurrency to acquire military gear for pro-Russian paramilitaries.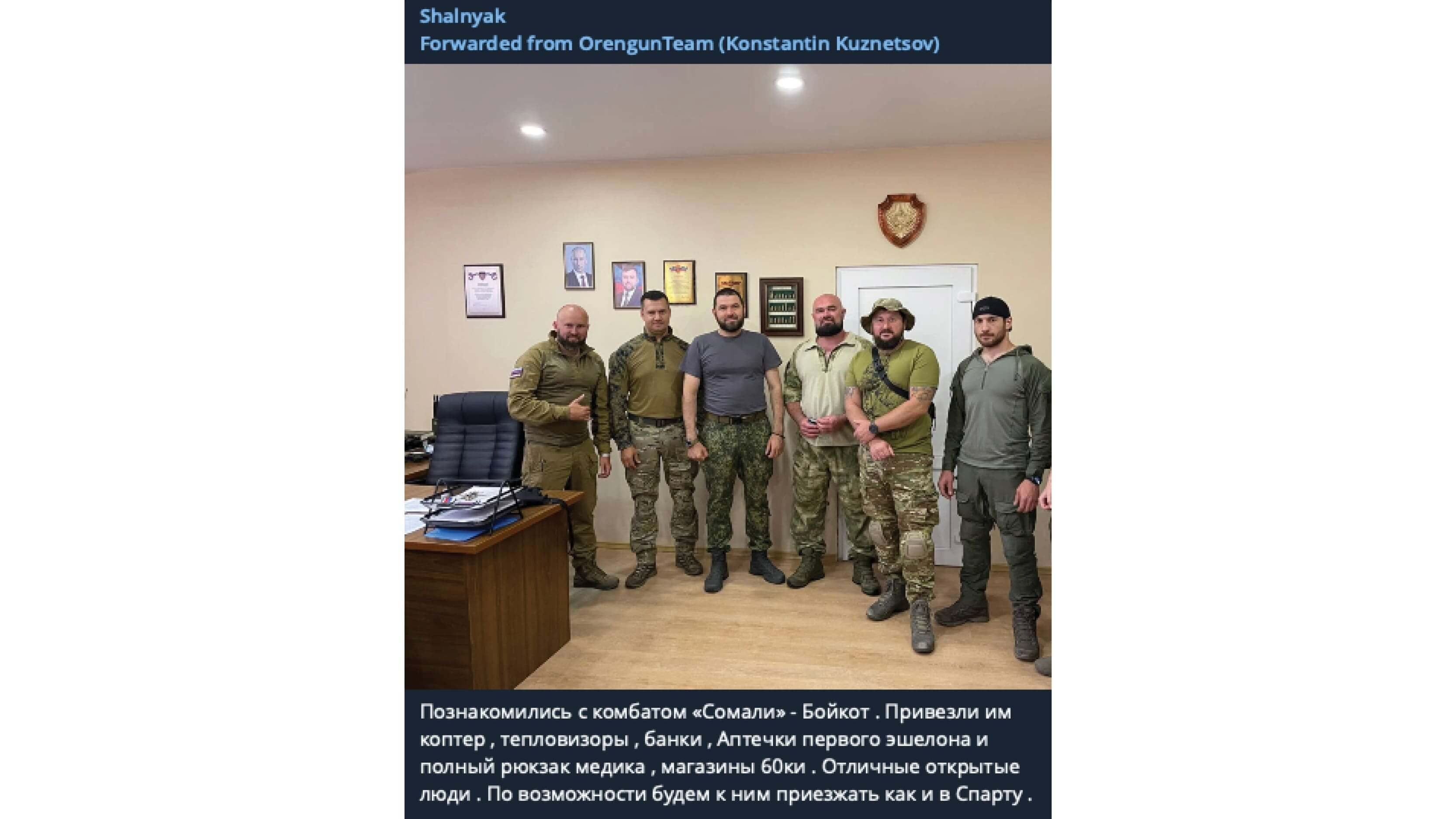 The units that Gadzhiev has supported include the Sparta Battalion and the Somali Battalion, two armed separatist groups that have fought in Ukraine since 2014 to support Russia's control of the Donetsk region. The European Union sanctioned both units and their commanders in 2015, while the U.K., Australia, and Canada sanctioned them in 2020, 2017, and 2015 respectively.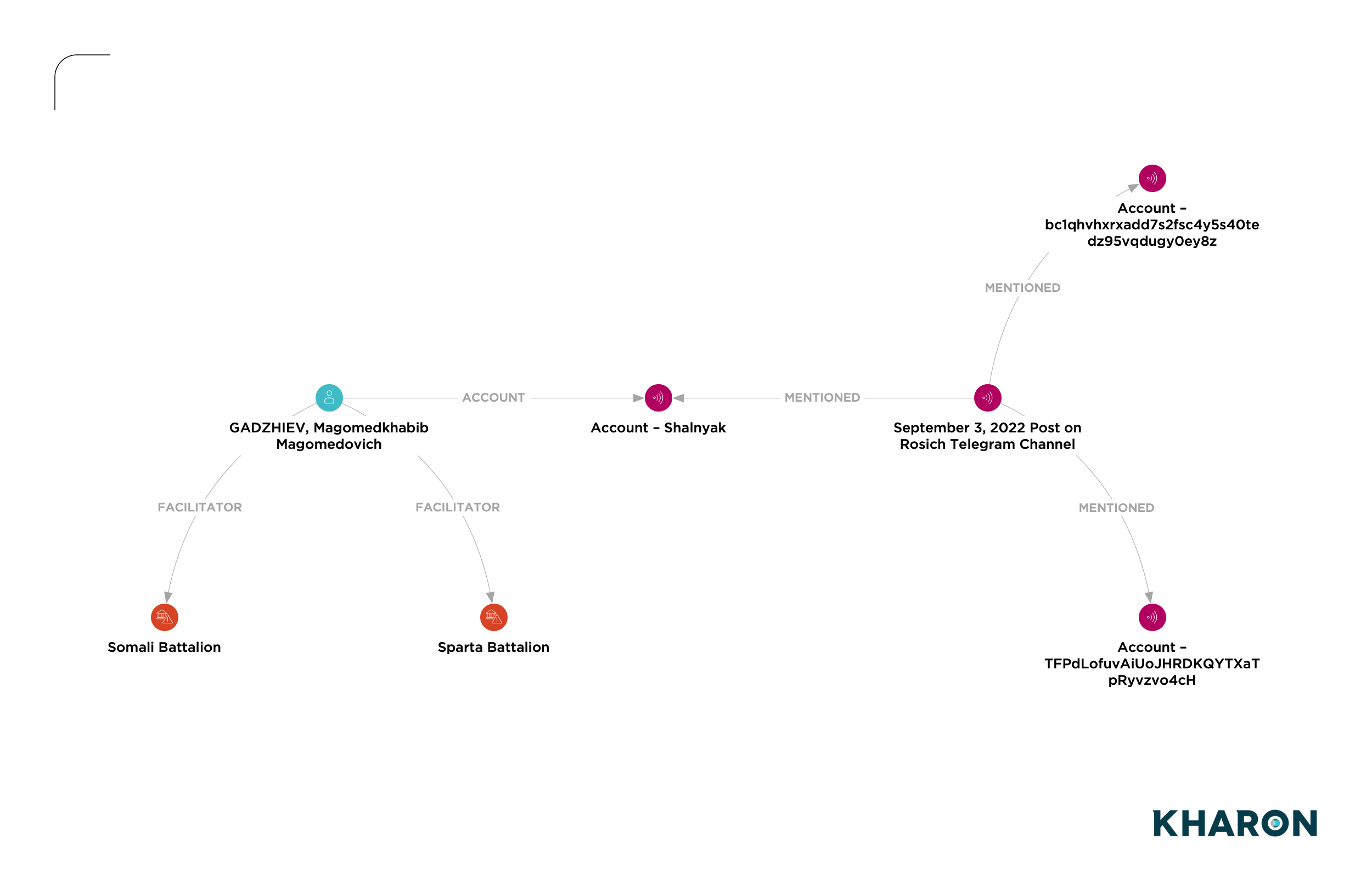 Three other Telegram channels that solicit support for Russian forces in Ukraine collectively promote 12 different wallet addresses for donations using various cryptocurrencies, including Bitcoin, Ethereum, Tether, and Monero.

While these accounts largely claim to raise funds for more mundane wartime supplies, such as first aid kits or firearm sights, a few have solicited funds for more ambitious projects and materials that sometimes beggar belief.

For example, "Kiba" has solicited donations in order to provide an armed UAZ van. On November 21, 2022, he posted an update for his followers claiming to have delivered one such vehicle to Russian forces.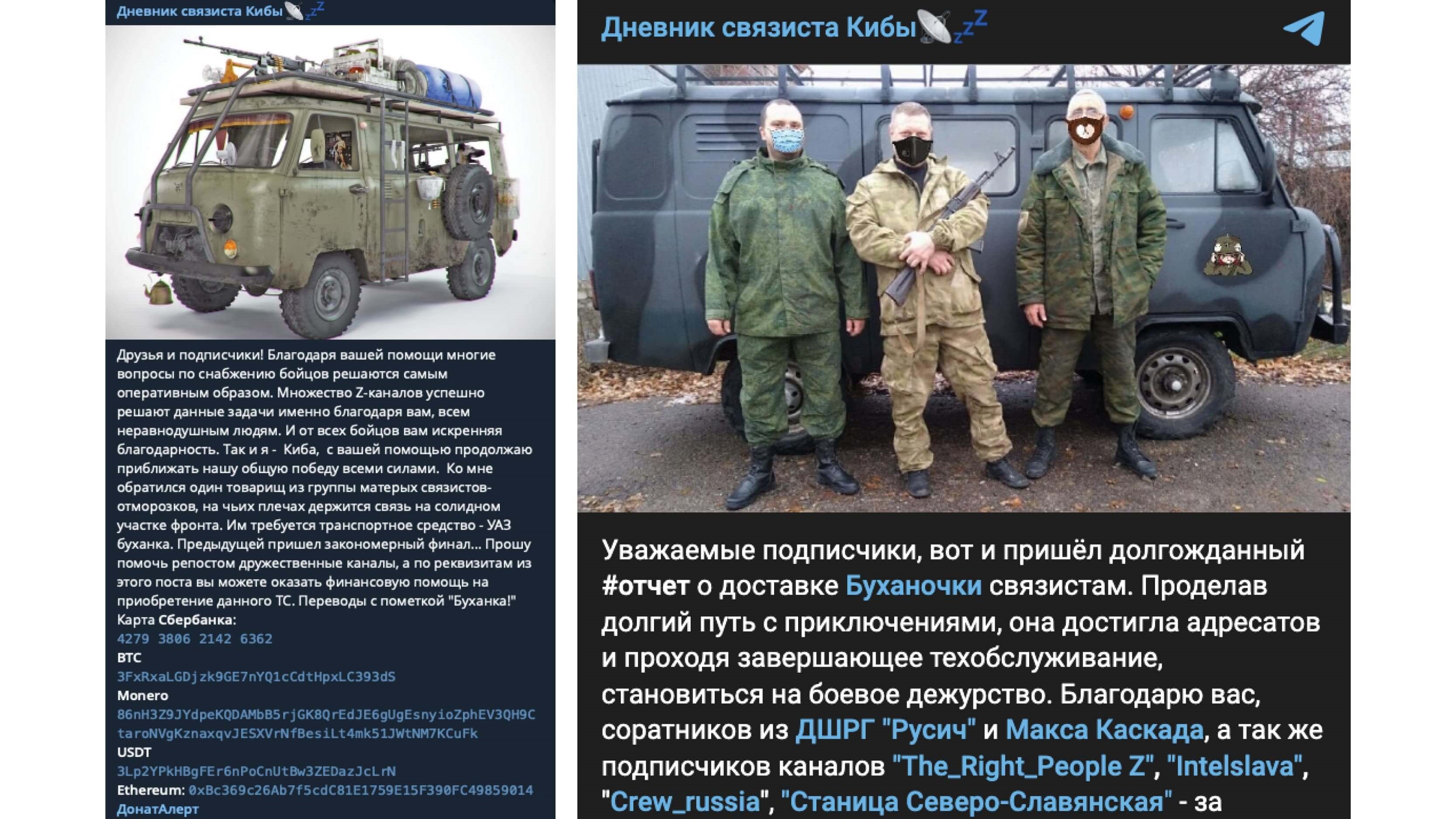 Many of these fundraising campaigns are fixated on buying various types of drones and UAVs for the militias fighting on the front lines. In July, the Shalnyak channel asked for donations to buy Russian militias a UAV copter. At least one group appears to be undertaking even more ambitious plans to develop their own UAV for use in the war with Ukraine. The Zapiski Veterana Telegram channel, which has over 290,000 subscribers, has used cryptocurrency as a way to crowdfund the development of a new UAV they call the "Perseus-1." The channel claims that the initial Preseus-1 prototype was able to achieve a maximum speed of 130 kilometers per hour with a range of 40 kilometers.