By Kharon Staff
July 12, 2023
---
Military and civilian organizations within the U.S. Department of Defense (DoD) and their private sector university partners must conduct periodic risk-based security reviews of foreign academic partnerships to counter unwanted government influence, a new U.S. government policy memorandum announced. 
In June 2023, the Office of the Undersecretary of Defense for Research and Engineering (OUSD(R&E)) released the new policy for risk-based security reviews of academic and research partnerships as part of the U.S. government's effort to combat foreign influence in federally funded scientific research. The policy, signed by Undersecretary of Defense for Research and Engineering Heidi Shyu, ensures DoD's implementation of an all-of-Government risk-based security review process as mandated by the National Defense Authorization Act (NDAA) of 2019 and National Security Presidential Memorandum-33 (NSPM-33), which seeks to strengthen protections of U.S. government-funded Research and Development (R&D) against foreign government interference and exploitation. 
Some government influence at foreign academic institutions leads to practices and behaviors that increase the likelihood that R&D efforts may be misappropriated to undermine national or economic security, as well as violations of research integrity, the policy notes. In April, Kharon published an insight reviewing the challenges that western universities face in identifying the military affiliations of Chinese counterparts. 
DoD's "Policy for Risk-Based Security Reviews of Fundamental Research" recommends a variety of factors as part of the risk-based security review in assessing a foreign entity's affiliations, to include: associations with an entity on the U.S. Bureau of Industry and Security (BIS) Entity List, the Denied Persons List, and the list of specially designated nationals and blocked persons maintained by the U.S. Department of the Treasury's Office of Foreign Assets Control (known as the SDN List), among others.
"Risk-based security reviews shall be conducted, at a minimum, on all fundamental research project proposals that are selected/or award[ed] based on technical merit," the new policy notes. DoD Components, to include military departments, agencies, and civilian organizations within the Office of the Secretary of Defense, must review research project proposals selected for award to identify security risks associated with foreign government-connected entities and malign foreign talent recruitment programs as defined in the CHIPS and Science Act of 2022.  
Foreign Institutions Engaging in Problematic Activity 
The new DoD policy memorandum includes a list of several dozen research institutions in China, Russia, North Korea and Iran "that have been confirmed as engaging in problematic activity," and advises caution for engaging with those on the list or others not specifically named. 
Ocean University of China – a national public research institution with disciplines ranging from journalism to finance – is among those named. The university, located in the eastern province of Shandong, has not previously been flagged for Chinese military connections, nor has it been subject to sanctions or previously named on any government watchlists. 
In June 2020, the university ranked first in two competitive bids to conduct simulation and statistical research on underwater and ocean dynamics for Unit 61540 of the People's Liberation Army (PLA), according to a PLA bid announcement reviewed by Kharon.
The University's Institute of Oceanography in Sanya, a coastal city in the South China Sea, likewise ranked first in an August 2020 bid with the PLA's Strategic Support Force to procure a marine environment reanalysis and impact assessment system.
Ocean University is also a member of the governing body for Qingdao National Laboratory for Marine Science and Technology (QNLM) – a deep sea observation research institution that has joint research laboratories with Chinese state-owned defense-related companies and academies. QNLM was added to the BIS Entity List in March 2023 for "acquiring and attempting to acquire U.S.-origin items in support of China's military modernization efforts," according to the U.S. government.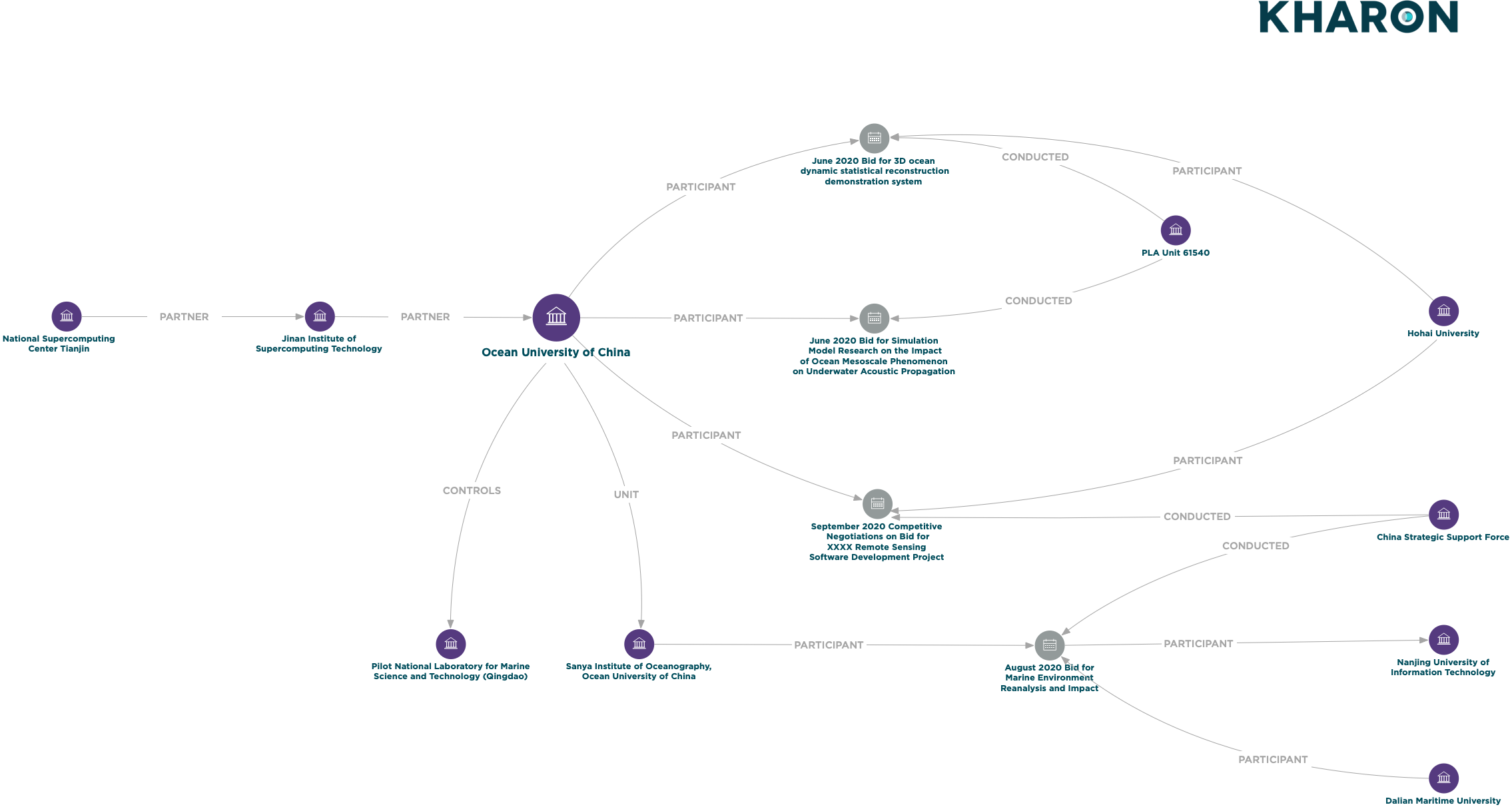 For more insights on the risk dynamics for Chinese military end uses and end users in risk-based compliance and decision-making, see "China's Military-Industrial Complex: Understanding How New Regulations Impact MEU Risk Management."