Ramadan TV Series Produced by Sanctioned Palestinian Group
The Iran-backed terrorist group Palestinian Islamic Jihad (PIJ) has broadened its use of media into Netflix-style dramatic fictional content. Competing with the global popularity of Israeli shows like Fauda, Iran and PIJ are stepping up in the battle for hearts and minds.
(Source: Middle Town Media)
By Kharon Staff
Wednesday, April 28, 2021
The Palestinian Islamic Jihad (PIJ) -- a sanctioned terrorist group responsible for suicide and rocket attacks against Israel -- produced a new TV drama series airing throughout the Middle East during the Muslim holy month of Ramadan. 
In the first several episodes seen by Kharon, the show -- "Milad Al Fajr" (or "The Birth of Dawn") -- showcases the rise of a Palestinian militant group in the 1980s and glorifies attacks and roadside bombings against Israelis.
Played by Palestinian actor Ghassan Salem, "Jihad" is the star of Milad Al Fajr. As a child, Jihad's father was killed by Israeli forces in the Gaza Strip. In pursuit of revenge, Jihad later joined a militant cell plotting attacks against Israelis. 

In the drama series, Jihad is radicalized while in prison following multiple arrests by Israeli forces, where he is recruited by a ringleader planning terror attacks against Israeli soldiers. Palestinian militants then begin a series of knife attacks and roadside bombings against Israeli forces that are celebrated by an acquaintance of Jihad's, who says: "Let them live looking over their shoulders, insecure and in fear."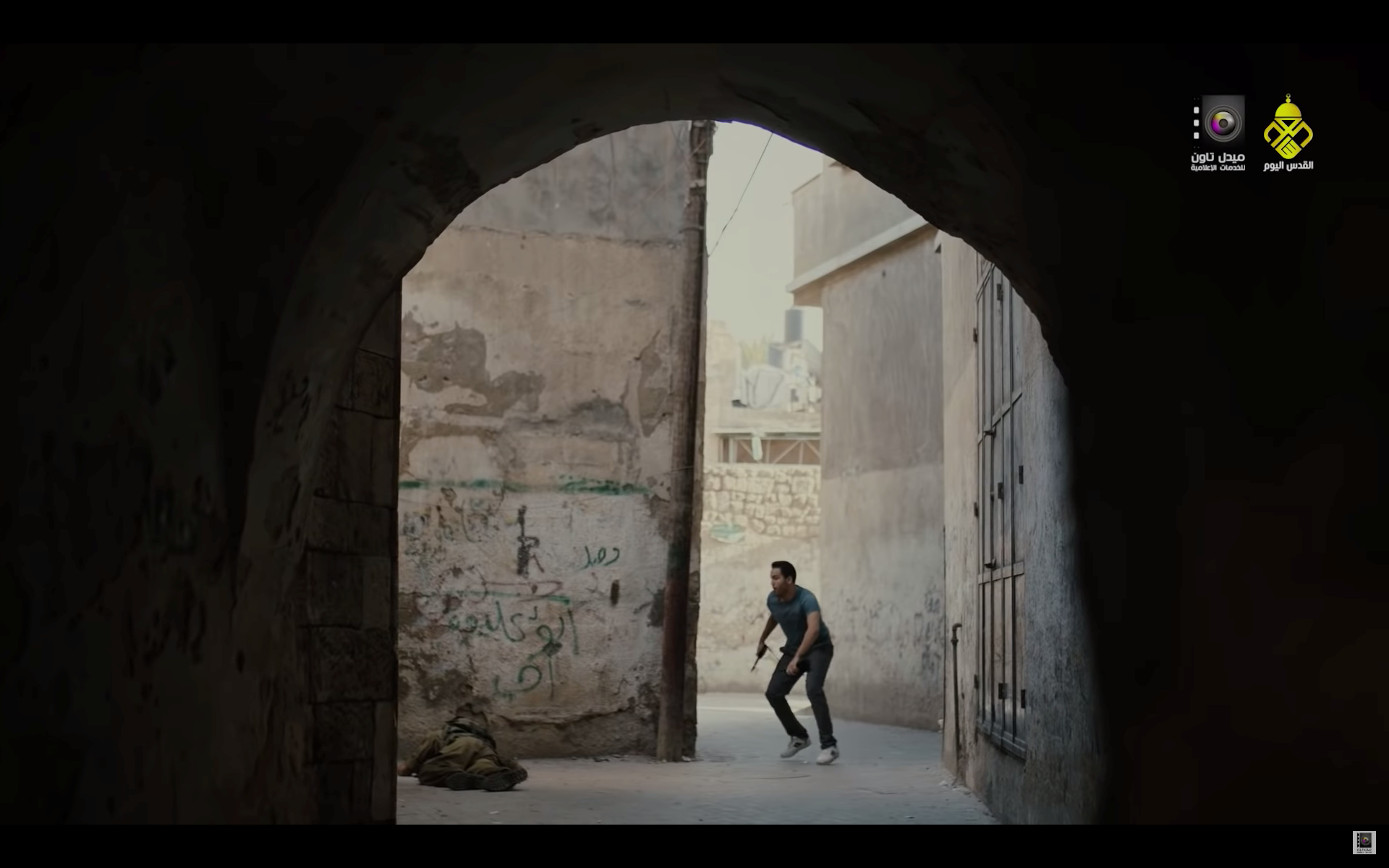 In the Middle East, Ramadan is the biggest season for newly produced TV shows and soap operas, and each year media networks focus on producing a hit show to grab attention and ratings. 
The series is produced by Al Quds Today TV, a channel controlled by Palestinian Islamic Jihad; the Al-Quds Brigades, the armed military wing of PIJ behind the group's suicide, bombing and rocket attacks, are thanked by name in the credits of the series. 
PIJ was designated in 1997 by the U.S. State Department as a foreign terrorist organization (FTO). The organization was also sanctioned by the European Union, U.K. and Canada in the early 2000s. Since the 1980s, PIJ has been responsible for suicide bombings and rocket attacks against Israelis. In 2001, PIJ signed a joint statement with the sanctioned Palestinian terrorist group Hamas declaring "Americans are the enemies of the Palestinian people [and a target] for future attacks." More recently, the group has engaged in firing rockets into Israel, while Israel targets the group's leadership and operatives with airstrikes.  
With this new series, PIJ and its Iranian backers are competing with the global popularity of new Israeli action dramas. The hit Israeli show "Fauda" -- centred around a counter-terrorism commando unit of the Israeli Defense Forces (IDF) -- won over international audiences, including in the Arab world. With Milad Al Fajr, PIJ and Iran are attempting to use the same entertainment medium to connect with Arabic-speaking audiences in the Middle East in the battle for hearts and minds. 
Milad Al Fajr has been praised by PIJ's leadership and presented as an "important part of the memory of the Palestininan people in their struggle against the occupying entity," said Wael Abu Fannouneh, the executive director of Al Quds Today TV, in an interview. Fannouneh also had a role in the show's production, according to its credits.
Youssef Al-Hasayna, a member of the PIJ political bureau, praised the show as "a wonderful artistic project" and blessed the series in an infographic posted on social media as "forming a combatant art painting that embodies the Palestinian cause." The show turns the compass "toward reformulating and reshaping awareness of Palestine's identity, belief, humanity, and history," he said.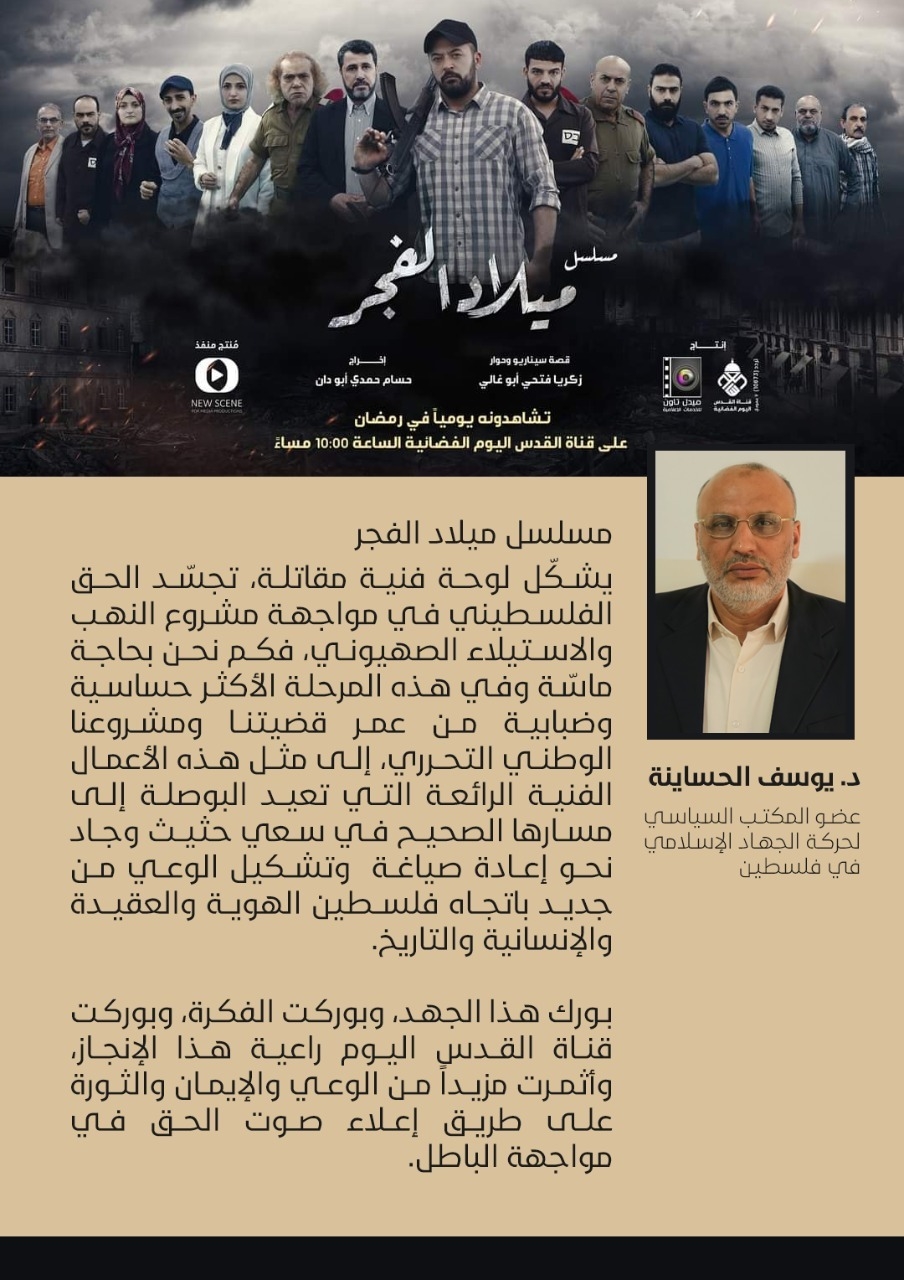 "As you are watching the #Milad_AlFajr series, you will get to know the spirit and will of the missionary combatant who carried the banner and idea and believed in it to the point of suffering," PIJ said in a Twitter post on April 11.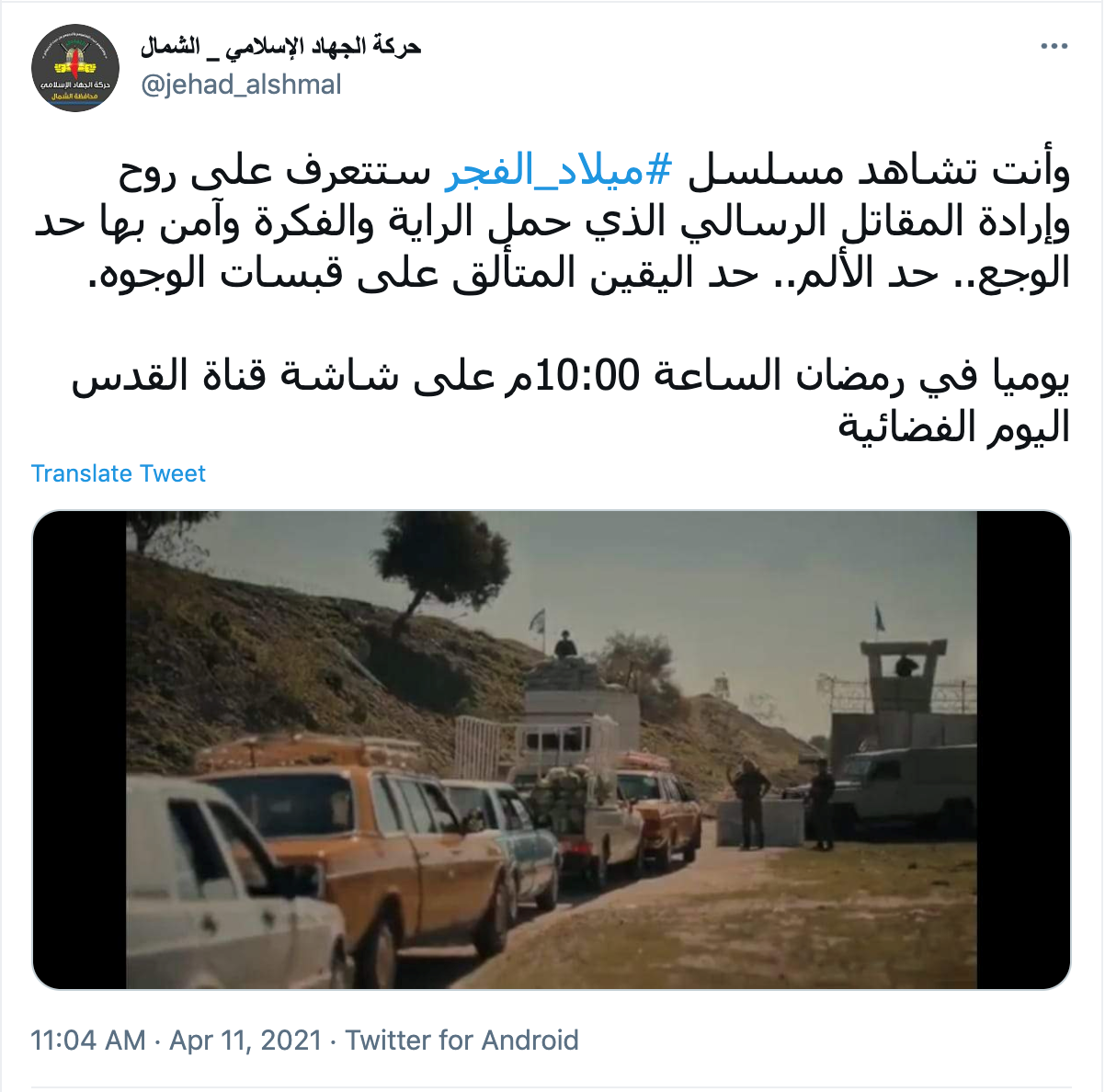 In recent years, PIJ has enjoyed a close relationship with Iran, a U.S.-designated state sponsor of terrorism (SST). Nafez Azzam, a PIJ leader, said in 2019 that the group is proud of its ties with Tehran. Ahmad Al-Mudallal, another PIJ leader, said earlier this year that Iran's support for PIJ is logistical, financial and political, and the relationship between the two is based on a shared anti-Israel ideology. Esmail Qaani, commander of Iran's Islamic Revolutionary Guards Corps-Qods Force (IRGC-QF), called PIJ Secretary General Ziyad Al-Nakhalah in February 2020 to affirm his support. 
Zakaria Fathy Abu Ghaly, who wrote Milad Al Fajr, authored the 2013 book "The Story of a Man from Another Time...Awad Al-Qiq, The Witness and the Martyr," which was published by a PIJ-controlled training center. Al-Qiq was an engineer for the Al-Quds Brigades who developed and supervised the group's rocket systems before he was killed in an Israeli strike. More recently, Abu Ghaly served as of late 2020 as the media official of a PIJ trade union, according to a report by Al Quds Today TV.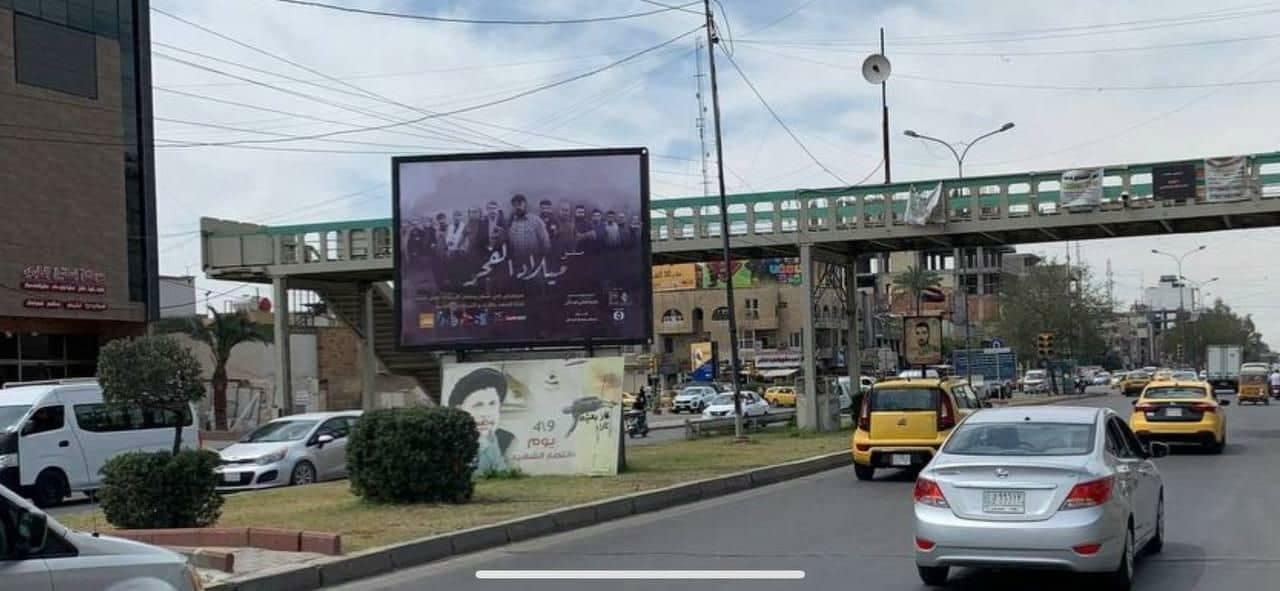 Milad Al Fajr is advertised and airing on the various TV outlets of Iran-backed proxies in Iraq, Yemen and Lebanon, Kharon found. Billboards promoting the show have gone up in Iraq, according to posts on social media.
New episodes are broadcast each evening of Ramadan on Al Quds Today TV. On Al-Ahad TV, a network controlled by the Iran-backed Iraqi militia Asa'ib Ahl Al-Haq (AAH), it airs locally at 5 p.m. The series is also televised on Al-Masirah TV, a Yemeni outlet controlled by the Iran-backed Houthi rebels. And Milad Al Fajr broadcasts on other Arabic outlets, including the Muslim Brotherhood-backed Watan TV and the Libya-focused February Channel.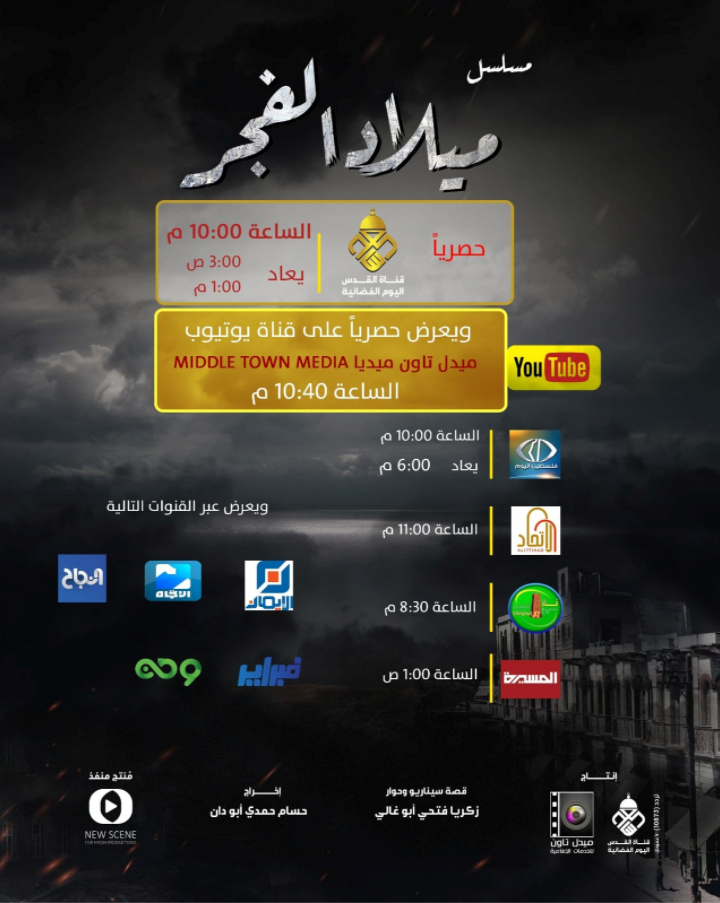 The show is scheduled to air after Ramadan on Al Manar TV, a Hizballah-controlled channel, Middle Town Media said in a Facebook post.
Analysts from the Counterterrorism/Middle East team contributed to this report.
---