By Peter Maroulis and Maxim Kondratenko
July 26, 2023
---
The Russian government, and sanctioned Russian persons, are "going out of their way" to circumvent sanctions and acquire dual-use goods through intermediaries, the European Union (EU) and U.S. government recently warned. Following up on these warnings, on July 20, the U.S. Department of the Treasury sanctioned nearly a dozen foreign exporters that have transferred advanced electronics and components recently flagged by authorities as high-risk of evasion to Russia.
High Priority Battlefield Products
As part of its 11th sanctions package against Russia announced in late June 2023, the EU released a priority list of sanctioned battlefield goods to which businesses "should apply particular due diligence and which third countries must not export to Russia." The list – developed in coordination with the U.S, U.K. and Japan – includes 38 Harmonized System Codes (otherwise known as HS Codes, used globally by customs authorities to classify goods) of electronic integrated circuits, semiconductor devices, radio navigation equipment, and other signal and optical components. These products have been found in Russian military systems in Ukraine, such as the Kalibr cruise missile, the Kh-101 cruise missile, the Orlan-10 UAV and Ka-52 "Alligator" helicopter.
Weeks earlier, on May 19, 2023, the U.S. Department of Commerce's Bureau of Industry and Security (BIS) and the Financial Crimes Enforcement Network (FinCEN) issued a Joint Alert, which included nine HS Codes later added to the EU list of sanctioned battlefield goods. In its guidance, the U.S. urged "continued vigilance" by financial institutions for attempts by Russia to evade export controls and acquire those items for its military production. "Treasury and BIS assess that Russia is specifically using evasive methods to acquire these items," the alert notes.
"Financial institutions are also strongly encouraged to conduct due diligence when encountering one of the nine listed HS codes to identify possible third-party intermediaries and attempts at evasion of U.S. export controls."

FinCEN & BIS Joint Alert (May 2023)​
Intermediaries and Transshipment Points
Recent Kharon investigations have demonstrated how Russian companies acquire western dual-use goods, including equipment with potential military application, through front and shell companies, and procurement agents in third countries to obscure the identity of their Russian end users.
On July 20, 2023, the U.S. sanctioned OSOO Kargolayn (Cargoline) and other Kyrgyz-based entities that were frequent exporters of items that fall under controlled HS codes to Russian military end users, to include electronics components and other technology flagged in recent EU and U.S. guidance.

Kharon previously reported

that Cargoline LLC and another Kyrgyz company, AKKA Aviation Services LLC, became involved in the sale of Western-manufactured aircraft components to Russia after the 2022 invasion of Ukraine. The two firms have shipped parts worth approximately USD 11 million manufactured by Airbus, Boeing, Honeywell and others to Russian civil aviation companies, according to a Kharon review of trade data. 



Saturn EK OOO is a Russian electronic components supplier also sanctioned on July 20 for importing sensitive dual-use technology. Between January and May 2023, Saturn EK received more than 100 shipments of high priority battlefield HS code products from a Turkish trading company. Saturn has previously supplied semiconductor components to Sinno Electronics, a Russian entity sanctioned and subject to export control restrictions by the U.S. government since September 2022.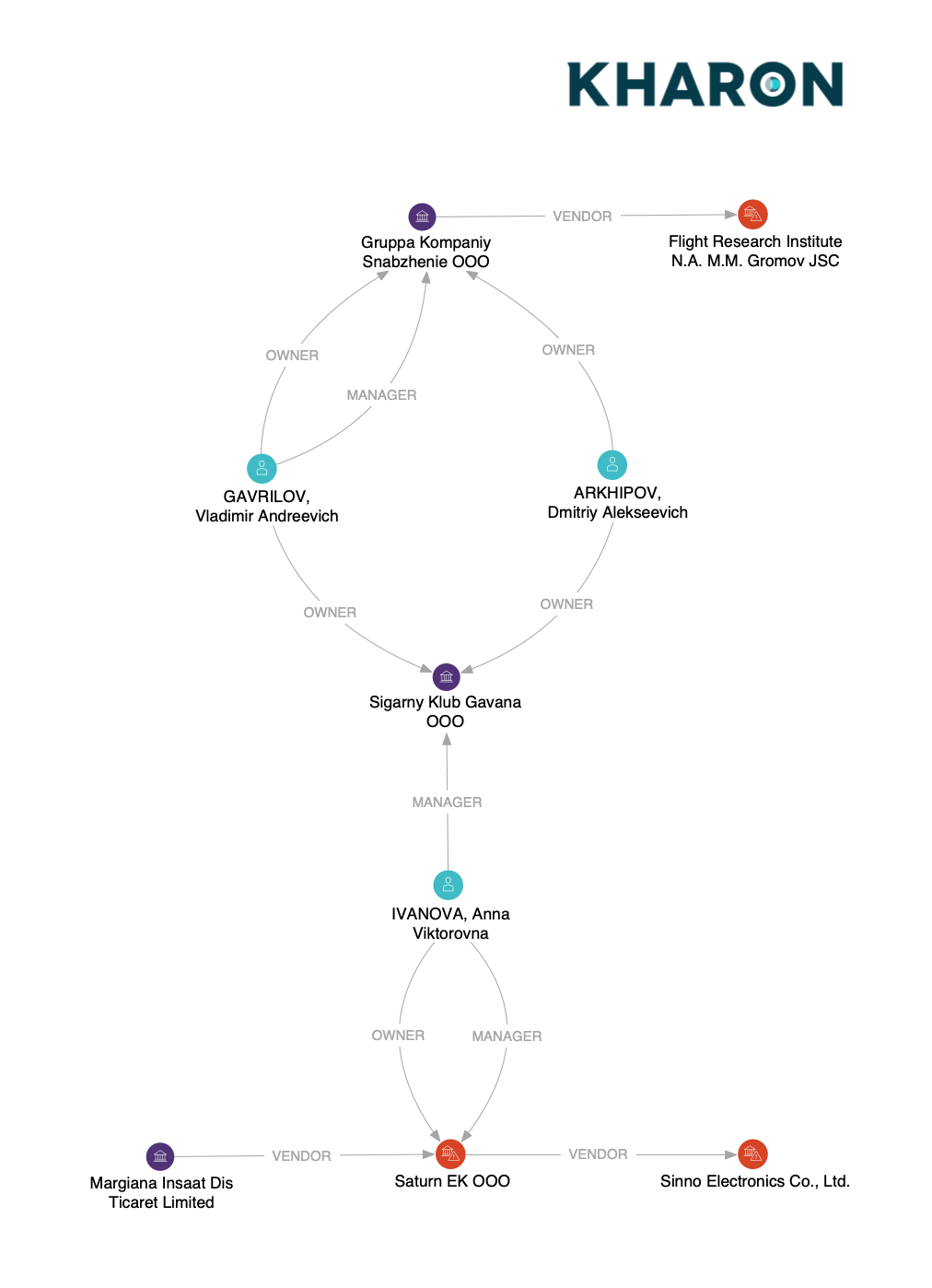 Kharon ClearView and LensView users can explore the full, live chart directly in the Kharon platform. Click here to view.
Regulators have warned that businesses, financial institutions, and customs authorities should be aware of exposure to sanctions and trade control evasion risk related to certain HS codes and products exported to Russia.
---
For more information on how to identify exposure to HS codes and high priority battlefield products to Russia, or to schedule a demo, contact a Kharon Expert today.