United Nations atomic inspectors confirmed Monday that Iran is preparing to use advanced centrifuges, its latest breach of the nuclear agreement struck in 2015 with global powers. 
Iran had announced the step over the weekend. The International Atomic Agency said its inspectors verified the installation of new centrifuges, saying they had been "prepared for testing" but none were used at the time of the inspection, which was conducted Sept. 7-8. 
The nuclear deal was signed to prevent Tehran from building nuclear weapons, which Iran has long denied having done, or wanting to do. The U.S. exited the deal in May 2018 and subsequently reimposed sanctions on Iran's nuclear sector, triggering heightened ongoing tensions between Washington and Tehran. In July, the IAEA confirmed that Iran had resumed uranium enrichment beyond the levels allowed under the nuclear deal. 
Iran has said its enrichment is a response to the U.S. sanctions. The other parties to the deal have urged Iran not to back away from the agreement. Iranian Foreign Minister Javad Zarif wrote a letter to European Union official Federica Mogherini last week that Iran had stopped honoring the deal's limits on research and development, according to the New York Times.
As part of the U.S. "maximum pressure" campaign against Iran, the Treasury Department in late March sanctioned more than 30 researchers and organizations tied to Iran's prior nuclear weapons program. The sanctions included subordinates and associates of the Iranian Organization of Defensive Innovation and Research, known by its Farsi initials as SPND, which was designated by the U.S. in 2014 for carrying out activities related to Iran's prior nuclear weapons program. The program was known as the "Amad Plan." 
Tehran has long denied the existence of the "Amad Plan," but a 2015 U.N. report found that Iran had coordinated a weapons program until 2003 and aspects of it continued through 2009. Records for the "Amad Plan" were preserved and the scientists involved were reassigned to other SPND projects, the U.S. said.
SPND was also sanctioned in 2012 by the European Union; it was founded in 2011 by Mohsen Fakhrizadeh, who is under U.S. and United Nations sanctions. For years, Fakhrizadeh managed activities useful to the development of a nuclear device, the State Department said in 2014.
The SPND lists its address at Malek Ashtar University of Technology, located in Tehran. The university is sanctioned by the U.S., EU and U.N. for its affiliation with Iran's Ministry of Defense and Armed Forces Logistics (MODAFL). Scientists associated with the Malek Ashtar University of Technology included Sa'id Borji, and Gholam Reza Eta'ati.

Borji and Akbar Motallebizadeh were both sanctioned in the March action against SPND over their ties to the Shahid Karimi Group, which works on missile and explosives-related projects for SPND.
Motallebizadeh previously led the Shahid Karimi Group, where he supervised SPND projects, according to the Treasury; he has also served as an adviser to Fakhrizadeh. Borji is an explosives and metals expert for the Shahid Karimi Group, which has also assisted SPND's efforts to procure equipment used for containing explosives, the Treasury said.
Borji owns Azar Afrouz Saeed, a company making "explosive spherical tanks" that has "colonels" among its managers, according to the company's website. Borji also co-owns Arvin Kimia Abzar, an oil services business, with Motallebizadeh; they are both directors of Parsian Asr Arvin, an industrial materials firm, according to Iranian corporate records.
Some of the sanctioned actors continued commercial activity through at least the end of 2018, Kharon found. Kimiya Pakhsh Shargh (KPS) and Paradise Medical Pioneers Company (PMP) were among the SPND's front companies sanctioned in March.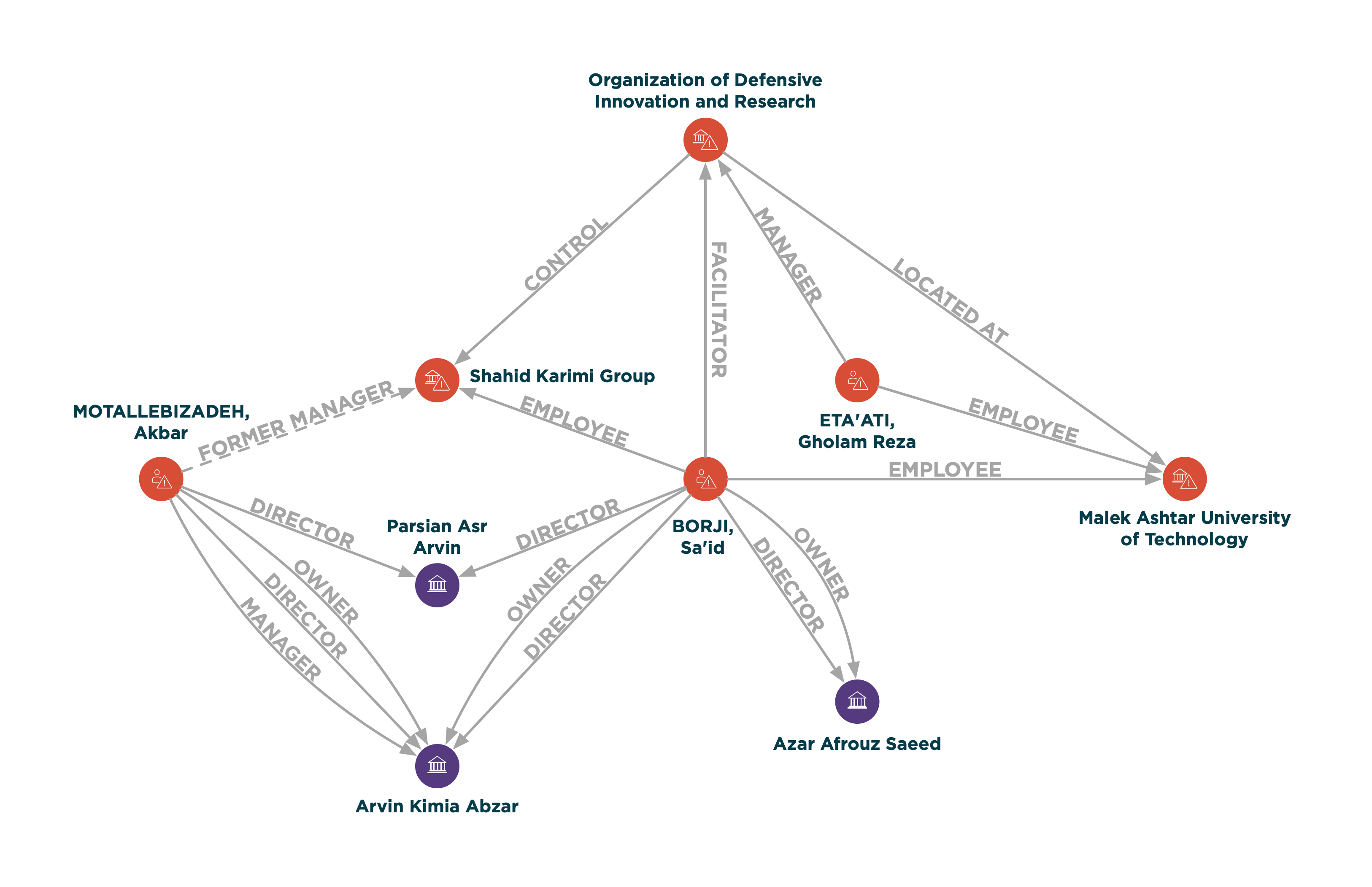 KIMIYA PAKHSH SHARGH
Tehran-based KPS takes direction from SPND officials, and it procures materials such as radioisotopes from foreign suppliers, according to the Treasury designation statement. Though these radioisotopes have legitimate medical applications, they can also have other uses, such as testing and grading welds, and identifying structural irregularities, the Treasury said. 
Mehdi Masoumian is the majority owner and managing director of KPS, according to the Treasury. Masoumian is also the majority owner or director of multiple companies active in medical and pharmaceutical imports, manufacturing and research.  
Mansoureh Masoumian holds a small stake in KPS and in Rahkar Teb Kian, another firm majority owned by Mehdi Masoumian. Mansoureh has also conducted research on electro-magnetic waves with scientists affiliated with the Sadra Research Center, which was also sanctioned in March for being owned or controlled by SPND. 
The Sadra Research Center specializes in cognitive sciences and has studied ways to mentally improve Iran's elite military personnel, according to the Treasury. Two men —  Ahmad Mar'ashi and Seyed Mohammad Mahdavi — were identified by Kharon as affiliates of the research center, according to academic materials.
From July to September 2017, KPS imported radioisotopes and other materials from a Russia-based firm, according to trade data. The Russian firm supplies sources of ionizing radiation for industrial and medical purposes, its website said. 
PARADISE MEDICAL PIONEERS COMPANY 
PMP is a "cover company" that researches and produces composites, steels, polymers and other materials for customers, including SPND, according to the Treasury designation statement. It is administratively subordinate to SPND and SPND officials, including Fakhrizadeh, hold positions within the company, the Treasury added.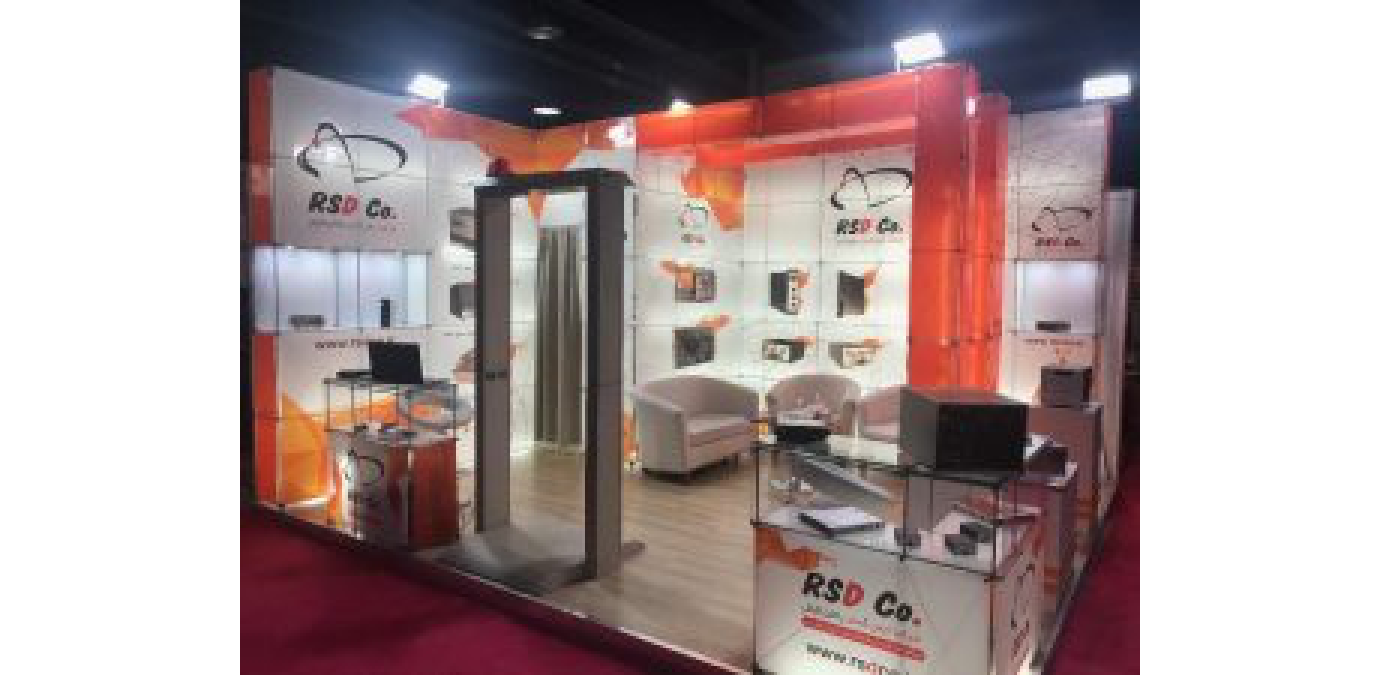 PMP, which describes itself as a medical equipment company selling dental and orthopedic implants, published a catalog of fuel control products.
Ali Gharibian, PMP's chairman, has ties to Fakhirzadeh. Gharibian co-directs Imen Gostar Raman Kish Company with Mohammad Sadegh Naseri, who was designated by the EU in December 2011. Imen Gostar Raman Kish, according to its website, manufactures x-rays and nuclear electronic products.
At the time of his designation, Naseri was the head of the Physics Research Institute, which is part of the Physics Research Center — an organization formerly headed by Fakhirezadeh.
Analysts from the Iran team contributed to this report.