Retaliations Follow Israeli Strike Killing Senior Leader of Palestinian Islamic Jihad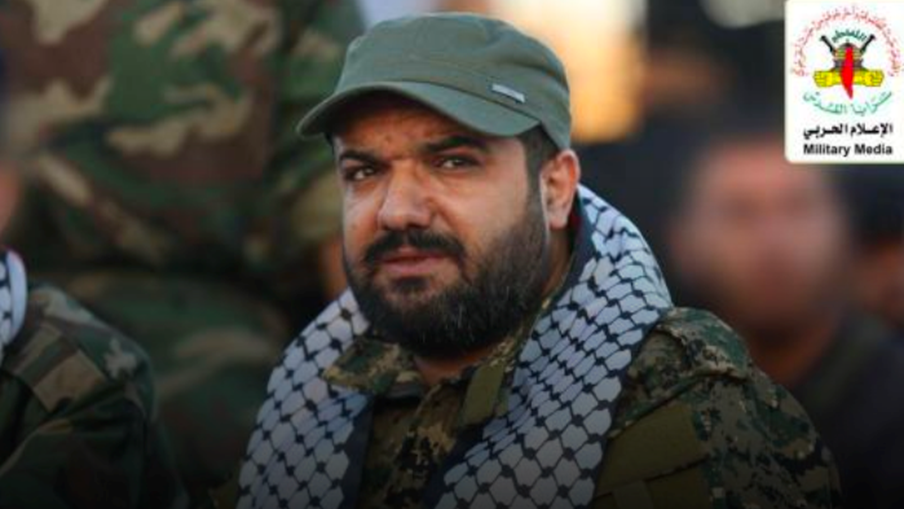 Baha Abu Al-Ata (Photo: al-Quds Brigades website)
By Zach Caldwell
Tuesday, November 12, 2019
Israel and the Palestinians in Gaza traded fire on Tuesday after the killing of Palestine Islamic Jihad (PIJ) leader Baha' Abu al-'Ata in an Israeli airstrike east of Gaza City.
Al-'Ata was killed in a joint operation by the Israeli Defense Forces (IDF) and the Shin Bet security service, Israel announced. In a joint statement, PIJ and Hamas said that Israel "crossed all the red lines and will bear the consequences of the crimes in Gaza and Damascus." 
PIJ's military wing, the al-Quds Brigade, retaliated by launching nearly 200 rockets at Israel as of late Tuesday. Israel responded with further airstrikes, with the Palestinian death toll rising to 10 as of late Tuesday evening local time, according to media reports. PIJ said four of the dead were members of the group.
Sanctioned by the U.S. in September for his leadership role in the terror group, al-'Ata served as the Gaza and North Battalion commander of the al-Quds Brigades. He also was a member of the PIJ Higher Military Council. The IDF blamed al-'Ata for a number of rocket attacks over the past year, including a barrage last weekend, and said his next attack was "imminent."
Al-'Ata survived a 2012 airstrike on a PIJ facility in northern Gaza targeting him and three other PIJ leaders. In the time since, he had maintained a low profile, opting not to conduct interviews and rarely appearing in public. 
The al-Quds Brigades confirmed al-'Ata's death in a statement on Tuesday, commending his "great and honorable jihadist career" and announcing that his wife Asma had also died in the strike. The al-Quds Brigades, sanctioned in 2001 along with PIJ, also declared a general state of readiness and vowed "a response without limits." That response has so far included a series of rocket attacks that the al-Quds Brigades claimed hit multiple Israeli cities, including Tel Aviv and Hadera. 
The IDF hit facilities of Hamas, the ruling power in the Gaza Strip, after a rocket strike on Friday, in an effort to put pressure on Hamas to restrain PIJ operations. IDF spokesman Jonathan Conricus told Israeli media that, in the period leading up to the strike, attempts were made to warn 'al-Ata to curb militant activity that went unheeded. 
Nadav Argaman, the head of the Shin Bet security service, said in a televised statement on Tuesday that al-'Ata had "rejected the understanding reached between Israel and Hamas."
Separately, the IDF late Monday struck the Damascus residence of Akram al-Ajouri, a member of the PIJ Political Bureau. Al-Ajouri was not injured, but his son Muath was killed. 
The strike against al-Ajouri reflects a continued presence of PIJ in Syria. 
Beyond its militant and political activity in the country, PIJ has also established charitable networks inside Syria, allowing the group build support among Palestinian populations inside and outside Syria. The Damascus-based, Charitable Association for the Relief of the Palestinian People (CAARP) is active in Syria, Lebanon and Gaza. Its manager in Syria participates in Palestine-focused initiatives, along with senior PIJ leadership inside Syria. 
CAARP's Gaza branch is led by Omar Abdallah Shallah, a PIJ leader and brother of PIJ Secretary General Ramadan Aballah Shallah. Last month, CAARP distributed assistance to Gaza orphans in a project financed by the Turkish charity IHH Humanitarian Relief Foundation. In 2015, CAARP participated in a joint aid distribution project in Damascus that included PIJ representatives, the sanctioned Iranian organization, Imam Khomeini Relief Foundation, and an official from the Iranian embassy.


---