Amid the recent death of dozens in a gasoline pipeline explosion and billions lost by state-owned fuel company Petroleos Mexicanos (PEMEX), the newly inaugurated Mexican government has moved to address the worsening fuel theft crisis ravaging the country.
Mexican President Andres Manuel Lopez Obrador has ordered the shutdown of pipelines beleaguered by fuel theft. Guarded tankers are now delivering gasoline, which has prompted long lines at the country's gas stations.
Beyond the headlines of the deadly blasts, financial losses, and logistical chaos, the crisis is rooted in criminal bands and corrupt politicians scheming to extract gasoline from the country's pipeline infrastructure. A portion of this stolen fuel is often then sold by the same gas stations that are licensed as PEMEX vendors.
In January 2019, Mexico's Financial Intelligence Unit (FIU) issued a list of blocked companies and individuals, including local politicians and their firms, under investigation for their role in oil theft, according to Mexican media.
Among those named on the list sent to Mexico's banks were Jesus Everardo Villarreal Salinas and Jose Luis Romero Calzada, former politicians from the states of Tamaulipas and San Luis Potosi, which are hotbeds of fuel theft.
FORMER POLITICIANS SUSPECTED OF OIL THEFT MAINTAIN INTERESTS IN OIL SECTOR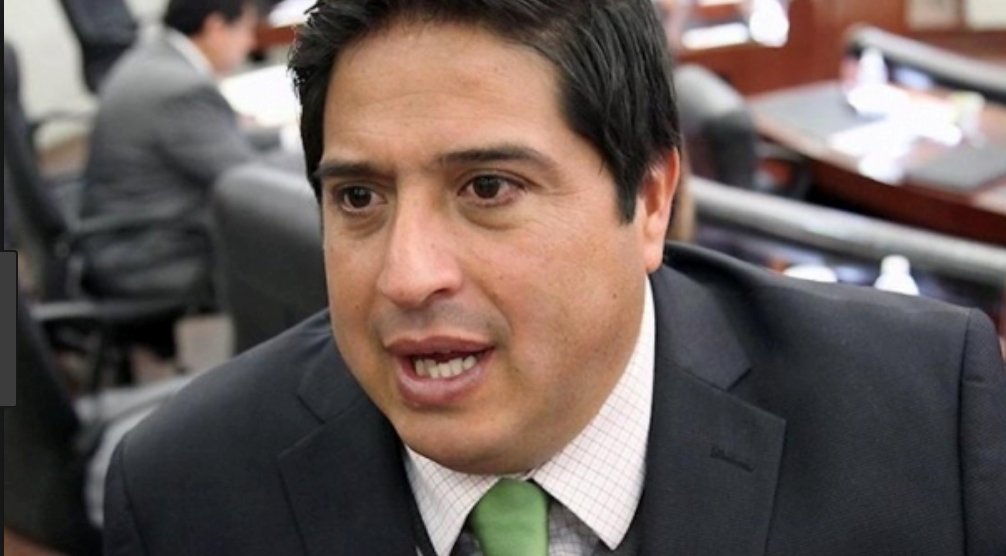 Jose Luis Romero, who served as a congressman in the state of San Luis Potosi from at least 2015 until September 2018, is an owner of Tekmol de Mexico, S.A. de C.V., a San Luis Potosi-based conglomerate also under investigation by the Mexican FIU for fuel theft.
Tekmol de Mexico has benefitted from government contracts. In 2015, Mexico's Secretariat of Energy awarded Tekmol de Mexico a 30-year concession for the commercialization of biodiesel. Tekmol de Mexico also holds concessions from Mexico's Secretariat of the Environment to process hazardous waste, including for the production of alternative fuels.
The Tekmol de Mexico group of companies engage in gas distribution, oil lubricant production, transport, agriculture, and tourism. The conglomerate's holdings include Grupo Gasolinero Romcal, S.A. de C.V., a gas station located in San Luis Potosi licensed to sell PEMEX gasoline.
Jesus Everardo Villarreal Salinas was a congressman in the state of Tamaulipas from 2005 to 2007, then later became mayor of the border city of Reynosa from 2010 to 2013. The same year Villarreal Salinas entered office as mayor, he became the co-owner of Regina Energy, S.A. de C.V. with his father, Arturo Villarreal Tijerina, who is also under investigation by the FIU for fuel theft.
Regina Energy S.A. engages in commercial activities related to Mexico's petroleum sector. According to its corporate records, the company is registered to treat hazardous materials, manufacture and distribute chemical products, and supervise civil engineering works.
Villarreal Salinas is the sole owner of Golfo Verde, S.A. de C.V., another hazardous material treatment company based in Reynosa. Golfo Verde was awarded a toxic waste management concession from the Mexican government while Villarreal Salinas was serving his term as mayor of Reyonsa.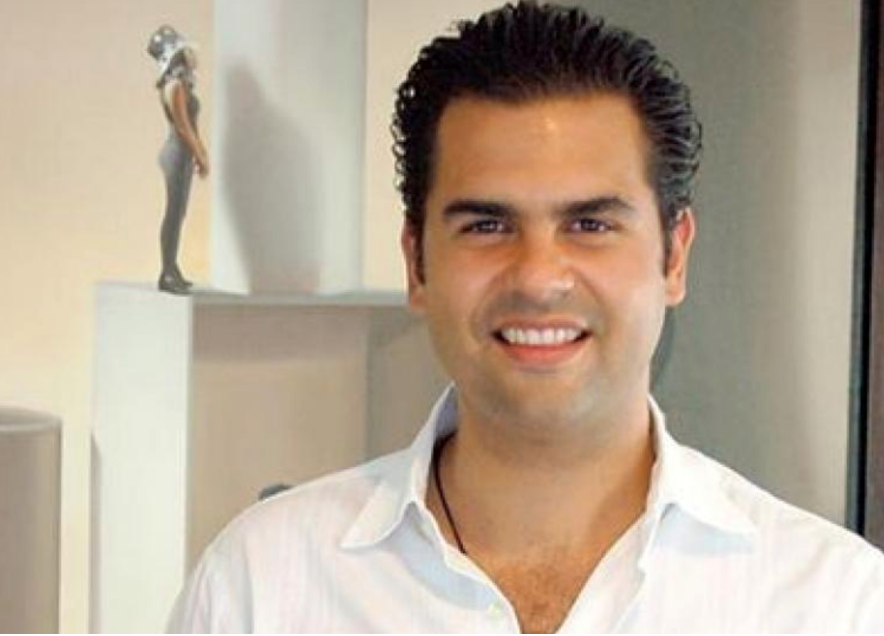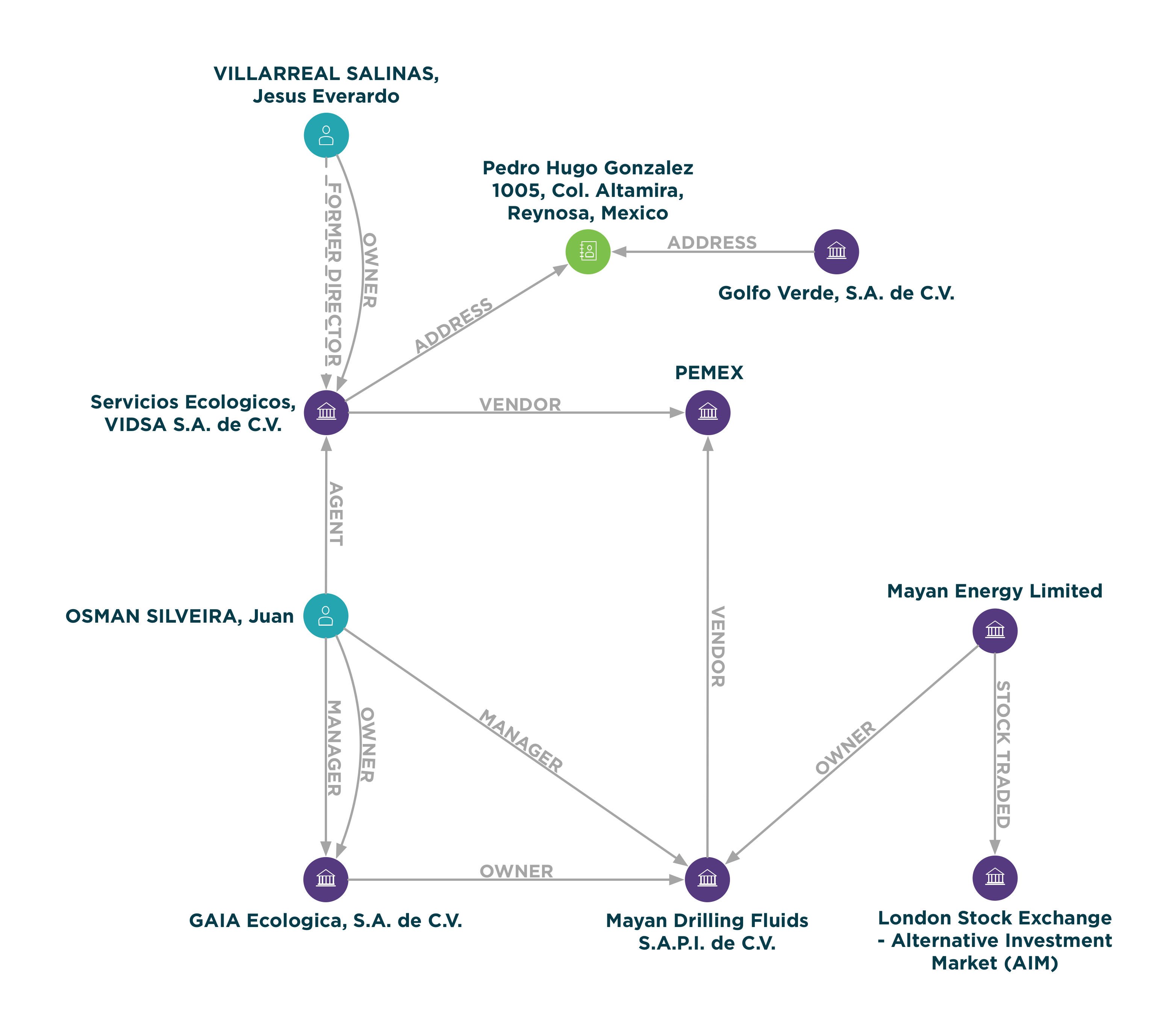 Golfo Verde shares an address in Reynosa with Servicios Ecológicos, VIDSA S.A. de C.V., which was named in the FIU list of fuel theft suspects. Villarreal Salinas owns nearly all of the shares for Servicios Ecologicos, which was a supplier to PEMEX up until early 2019.
A representative for Servicios Ecologicos, VIDSA, Juan Osman Silveira, was also named to the FIU's fuel theft blacklist. Osman Silveira's Veracruz-based GAIA Ecologica, S.A. de C.V., co-owns Mayan Drilling Fluids S.A.P.I. de C.V. with British Virgin Islands-domiciled Mayan Energy Limited, a publicly listed company on the London Stock Exchange's Alternative Investment Market.
Mayan Drilling Fluids S.A.P.I. de C.V. signed a deal with PEMEX in 2016 to provide waste remediation services. The company also services oil fields at a 22-acre property located in the oil-rich state of Veracruz.