By Kharon Staff
September 11, 2023
---
A disinformation network tied to Russia's Wagner Group remains a disruptive force in sub-saharan Africa despite efforts by social media companies to remove the network's presence from their platforms, Kharon has found. The network, which is tied to the Togolese company Group Panafricain pour le Commerce et l'Investissement SA (GPCI), operates multiple websites that support Russian interests and attack Western policies and initiatives in the increasingly critical region.
GPCI's continued activity comes as Russia looks to broaden its influence in Africa. Russia has made some inroads on the continent with Wagner and other private military companies providing support to help local governments. Online propaganda has been an important piece of Russia's strategy with social media company Meta's Facebook platform being used as a primary conduit of disinformation activity. 
Fake News Content
In May 2023, Meta announced the removal of almost 300 accounts and pages linked to the GPCI network. However, videos, news stories and images produced by organizations connected to GPCI, including CCB News, have continued to circulate on Facebook.
Harouna Douamba, a Burkinabé-Ivorian lobbyist who has reported ties to Wagner, leads GPCI, according to multiple newspaper reports. Douamba also leads an Ivorian pan-Africanist NGO, Aimons Notre Afrique (ANA). Lobaye Invest, a Central African Republic-based company that has been sanctioned by the United States, United Kingdom, and European Union for its ties to Wagner, financed ANA media operations, the sources said.
Archived versions of GPCI's website, which is no longer accessible, indicates that the company managed more than 20 websites purporting to be legitimate news sources. Some of these websites are no longer accessible. Those that remain live continue to post articles praising Russia and the leaders of the Russian-aligned military juntas in Burkina Faso, Mali, and Niger. 
As recently as August 15 of this year, the Facebook page of the Burkina Faso chapter of pan-Africanist organization Coalition des Patriotes Africains (COPA/BF) posted images bearing the CCB News logo. The text of these images complains of vague conspiracies and calls on people to support the Burkina Faso military government. COPA/BF has organized several demonstrations in recent years at which Russian flags were flown, and in November 2021 attempted to impede a French military convoy.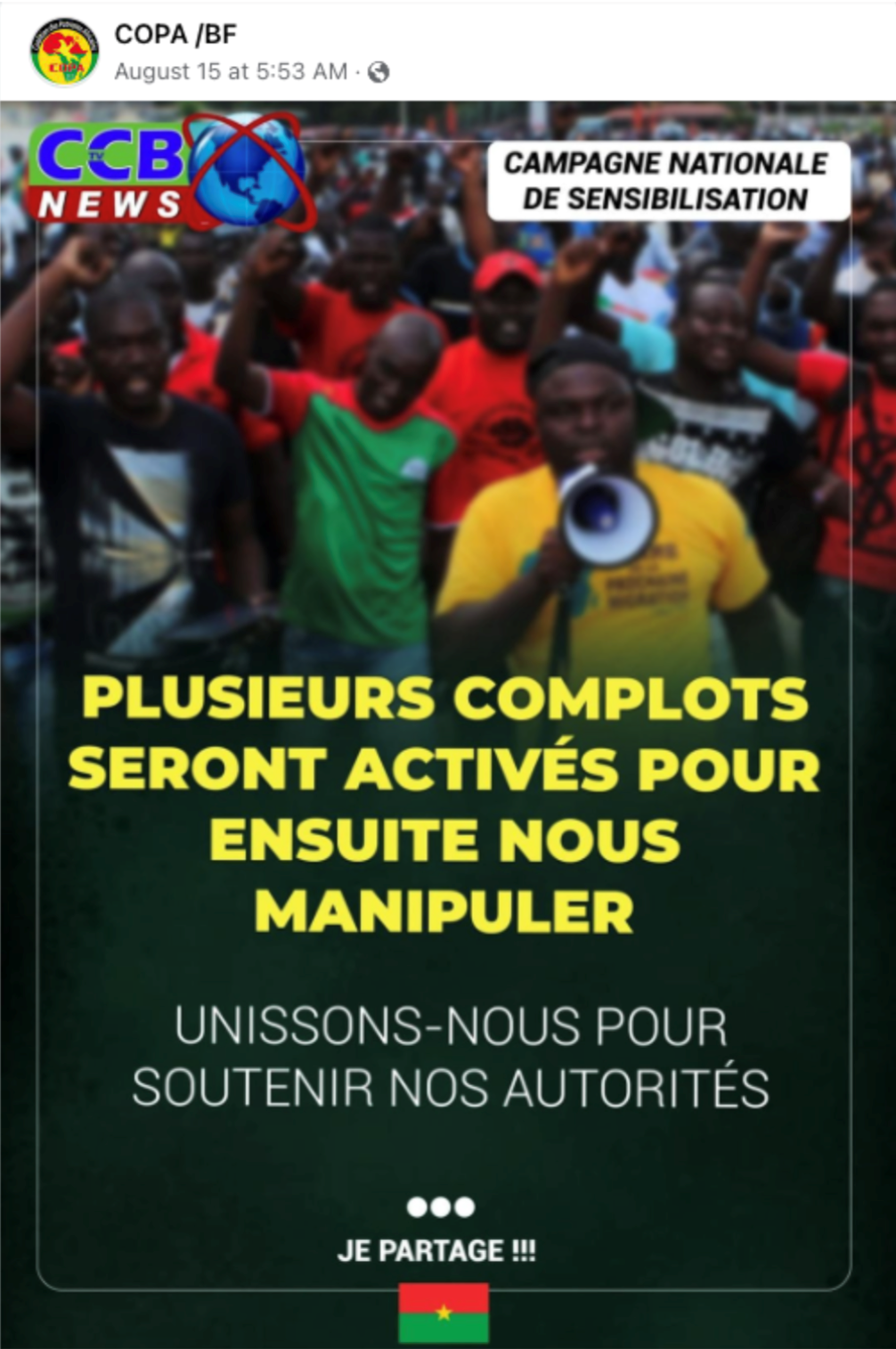 In July 2023, an article published by the GPCI-managed Miroir d'Afrique celebrated the participation of Burkinabé President Ibrahim Traore in the second Russia-Africa Forum. "In seizing the opportunity to establish a new partnership with Russia . . [Traore] places his country on the path of progress and stability," the article said. 
The same month, an article in La Nouvelle du Continent criticized U.S. sanctions on Malian officials linked to Wagner, asking, "Is the United States really jealous of Wagner's market in Mali?" 
The sites also accuse France of perpetuating imperialism and collaborating with jihadist organizations in the Sahel. An August 2023 article published by the GPCI-operated Le Reveil Africain claims that terrorist groups have been "formed and supplied by France in the interest of its Machiavellian plans." 
Such rhetoric has sown distrust in Western counterterrorism operations in Africa, enabling Russia and organizations such as Wagner, which claim to offer security without conditions or hidden interests. Last year, Mali's military government hired Wagner to help in its more than decade-long fight against Islamist militants. The agreement came after Mali and Burkina Faso forced out several thousand French troops amid fraying relations between the two countries and France.
Domain data further indicates that at least three additional websites that post similar articles were registered in June 2023. Data also shows that these domains share a registered IP address with websites managed by GPCI and were registered after Meta's announced takedown.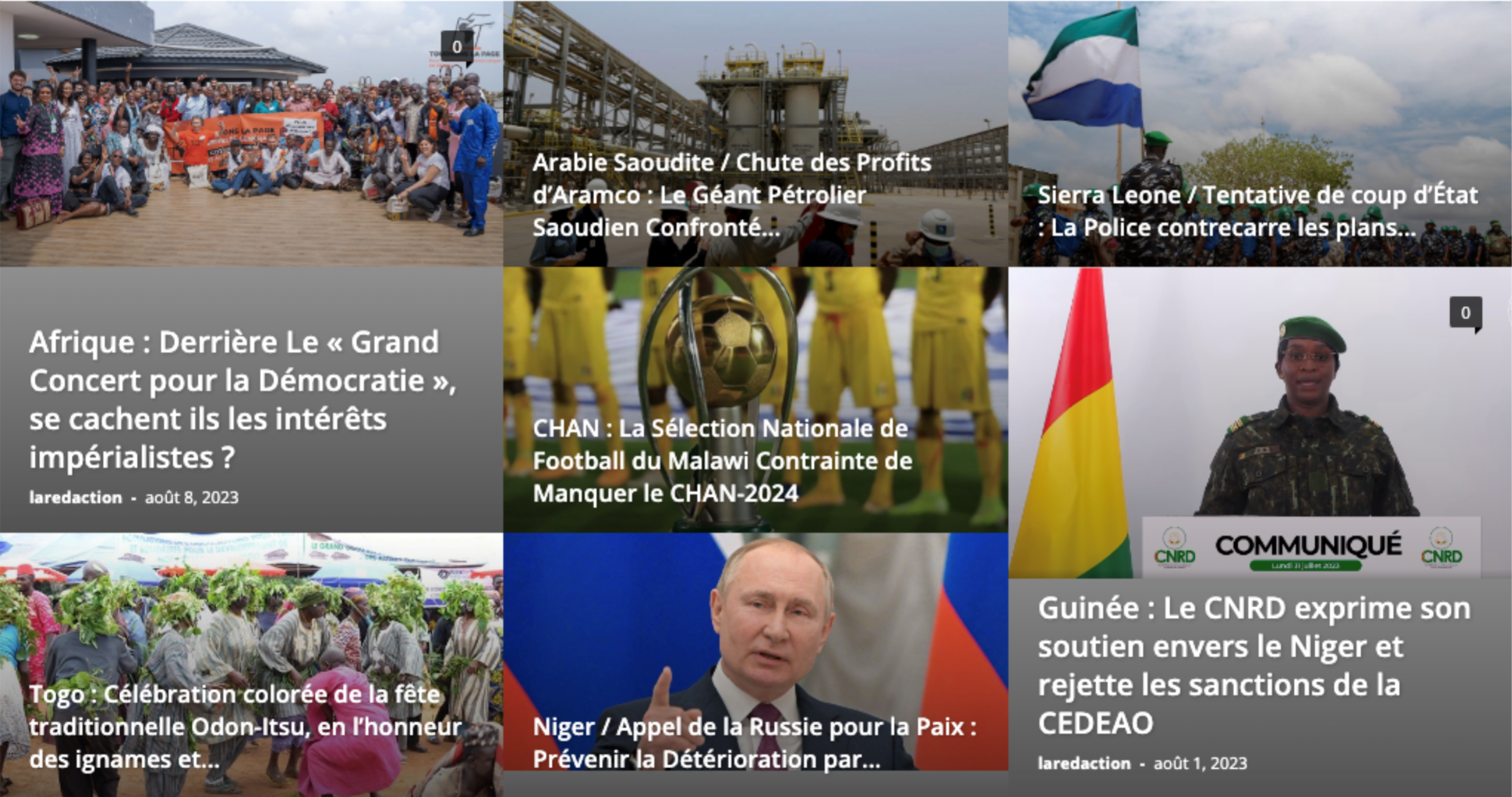 It is uncertain how active and effective these propaganda networks will remain following the death of Wagner leader Yevgeniy Prighozin. However, recent U.S. intelligence reports have shown that Russia continues to prioritize its influence operations in the U.S., Europe and beyond. 
Wagner propaganda networks, birthed by Prighozin and his associates, are therefore unlikely to disappear quietly. Instead, they may endure in different structures along with the other branches of Wagner's network under new leadership.