Sanctions Resume for Belarusian Industrial Conglomerate
End of wind-down period triggers new wave of supply chain considerations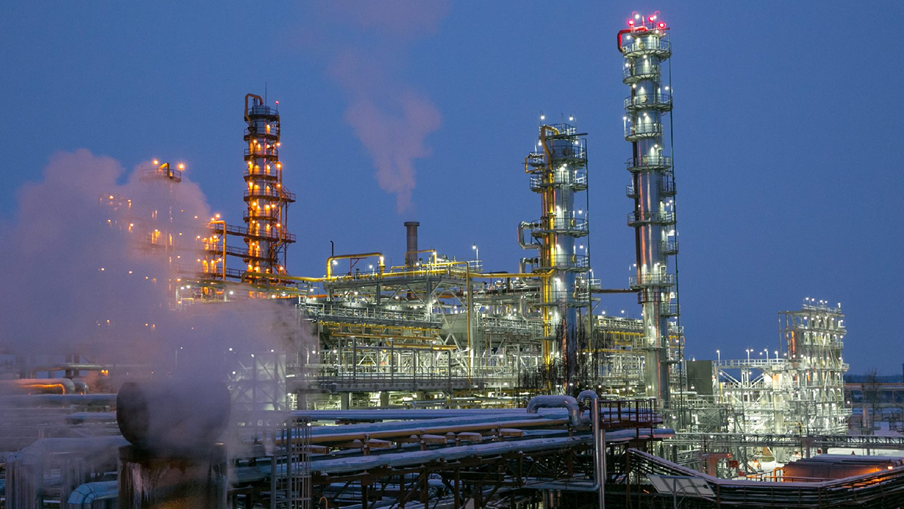 (Source: social media)
By Abigail Buhrman and Samuel Rubenfeld
Thursday, June 3, 2021
The U.S. on Thursday resumed its full sanctions on nine Belarusian state-owned enterprises, including a massive industrial conglomerate, that had for years been granted relief through general licenses.
Belarusian State Concern for Oil and Chemistry (Belneftekhim), which was sanctioned in 2007, is one of the largest industrial complexes in the country, according to its website. In March 2008, the U.S. issued guidance saying that any entity majority owned by Belneftekhim is itself blocked under U.S. sanctions law, birthing what later became known as the "50 Percent Rule." Since 2015, the U.S. had issued general licenses that allowed transactions with Belneftekhim, several of its subsidiaries and other sanctioned Belarusian state-owned enterprises. 
Wind down: In April, however, the U.S. provided a 45-day period to conduct wind-down transactions with the nine designated entities, including Belneftekhim, citing democratic backsliding and suppression in Belarus following an August 2020 presidential election marred by fraud. The wind-down order "had tangible results" within weeks, though the ultimate effect was "yet to be seen," according to an analysis published May 18 by the Jamestown Foundation, a think tank.
Late last month, the government of Alyaksandr Lukashenka forced a commercial airliner traversing the country's airspace to land in the capital, Minsk, and detained dissident journalist Roman Protasevich and his girlfriend. The move was met with immediate condemnation and threats of additional sanctions by the West, and countries barred aircraft from entering Belarusian airspace. Lukashenka, meanwhile, has turned to his ally, Russian President Vladimir Putin, for additional support; they held a summit in Sochi, during which Lukashenka detailed the forced landing of the civilian aircraft and subsequent detainments, according to a TASS report.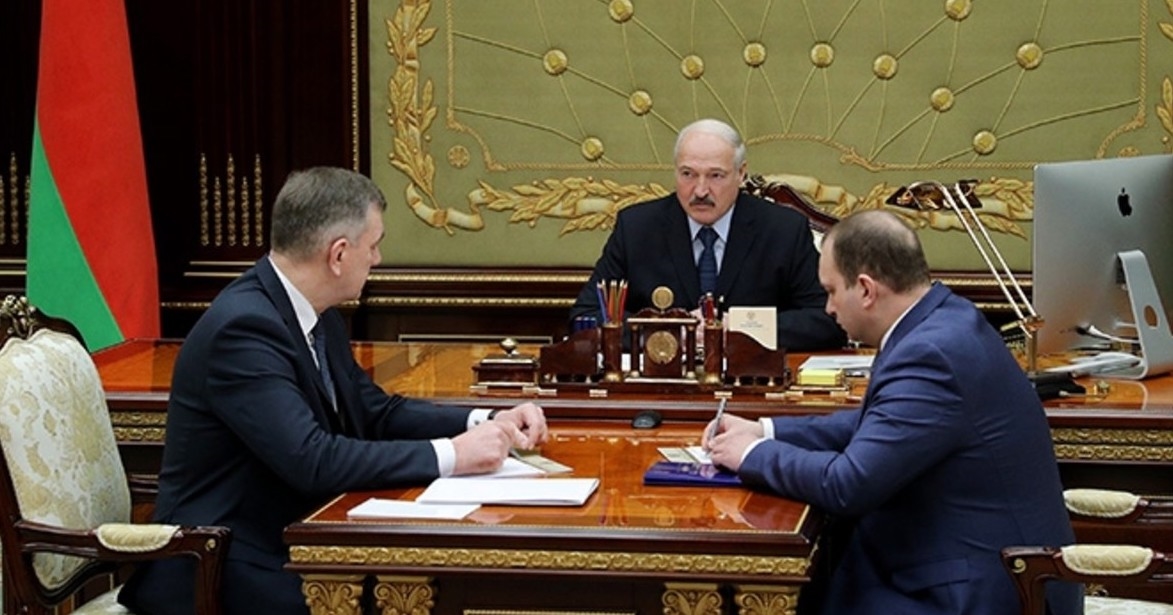 The resumption of full sanctions on Belneftekhim and the other companies named in the license will form part of the U.S. response to the detainment of Protasevich, the White House said. Later on Thursday, Belarus retaliated against the U.S. action, calling the resumption of sanctions "illegal" and reducing staff at the U.S. embassy, according to media reports; the U.S. said it was aware of the new restrictions on its diplomats.
Should the European Union also designate Belneftekhim and other Belarusian state enterprises, "it will really become a painful moment for the Belarusian economy," an expert told Belsat, a Polish media outlet aimed at Belarusian audiences. 
Diversified export industries: Along with a foreign distribution network, Belneftekhim has subsidiaries involved in crude oil production, refining and transportation; oil product sales; chemistry and petrochemistry; scientific research and development; construction; repair and commissioning, its website said.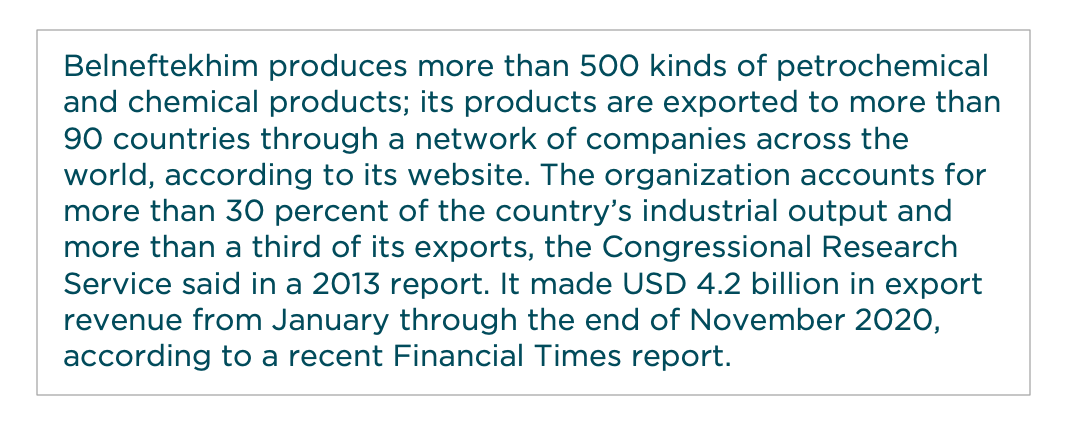 A number of Belarusian manufacturers, including several Belneftekhim subsidiaries, signed contracts with Russian partners at a gas and oil exhibition held in late May in Ufa, Russia, according to a Belarusian media report.
Naftan, a Belneftekhim oil-producing subsidiary sanctioned in 2011 and named in the wind-down license, reported a revenue of BYN 6.5 billion (about USD 2.5 billion) in 2020, a drop of more than BYN 1.1 billion from the year prior, according to reporting by the Radio Free Europe/Radio Liberty (RFE/RL) Belarus service. Belneftekhim also owns a stake in Grodno Azot, which was sanctioned in 2011 and fell under the U.S. license, and Gomel Chemical Plant, a leading Belarusian phosphorus fertilizer producer. 
The Mozyr Oil Refinery, in which Belneftekhim holds a 42 percent stake, supplies up to 80 percent of its products outside Belarus, including to countries across Europe, its website said.
Beyond oil and petrochemicals, Belneftekhim subsidiaries also produce goods such as artificial and synthetic fibers, including polyester. Grodno Khimvolokno, a producer of polyester yarns and fibers sanctioned by the U.S. in 2011 and named in the wind-down license, lists companies in Lithuania, Latvia, Poland, Germany, the Netherlands, China, Russia, Ukraine and others as dealers of its products. Several dealers are ultimately majority owned by Belneftekhim, however, disclosures show. 
An unnamed Grodno Khimvolokno employee told RFE/RL's Belarus outlet that the packaging of the company's products "will soon cease to bear the plant's logo" to create "a virtually unbranded product" that will make it easier to circumvent the sanctions with anonymous packaging.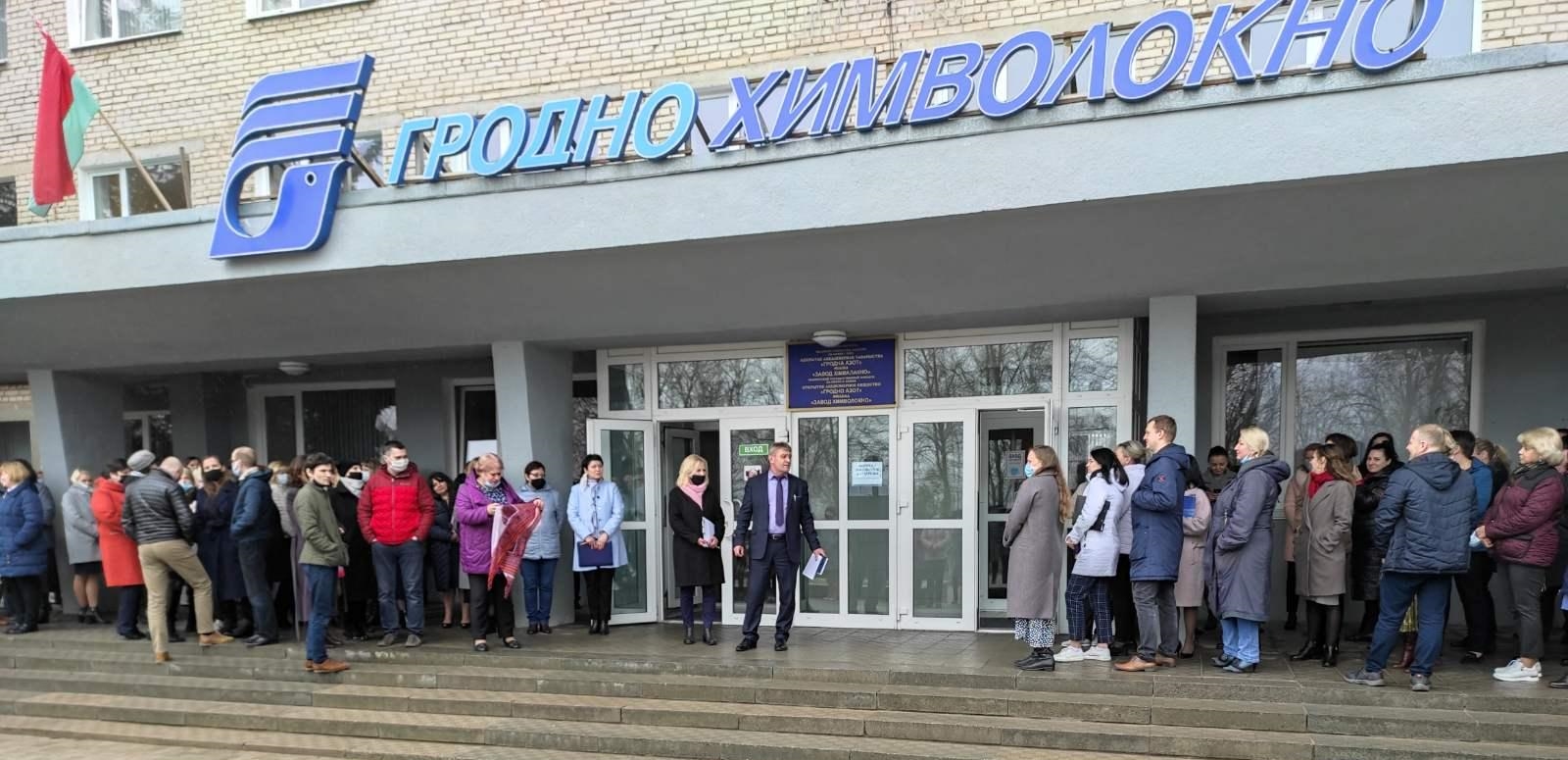 Belneftekhim also holds majority stakes in SvetlogorskKhimvolokno and Mogilevkhimvolokno, producers of polyester fibers and synthetic textiles, according to their websites. Mogilevkhimvolokno's products are supplied to more than 30 countries, its website said.
Belshina, one of Europe's largest tire manufacturers; Lakokraska, the "largest producer of paint materials in Belarus," and glass producer Polotsk Steklovolokno were all named in the wind-down license and previously sanctioned by the U.S. Lakokraska produces paints, primers, wood varnish, and automobile coolants under its brands Lida, Fresko, Massive, and Garage; more than two-thirds of its output is exported abroad, according to its website.
---