By Samuel Rubenfeld and Audrey Everist
February 3, 2022
---
An effort to export an industrial microwave system and a counter-drone system from the U.S. to Iran was revealed by federal prosecutors late last month when they announced a guilty plea by a U.K. citizen and unsealed a related indictment against an Iranian national.
The scheme involved sending goods through the United Arab Emirates and obscuring the intended Iranian end-users, according to court records released by prosecutors on Jan. 27. 
Both industrial microwave systems and counter-drone systems have potential civil and military uses, prosecutors said. With some modification, an industrial microwave system can be used as a directed-energy weapon system. A counter-drone system can be used to stop, identify, redirect, land or take control of a drone, which is also known as an unmanned aerial vehicle. 
Exports to Iran of either item require a license from the U.S. Treasury Department, which last year sanctioned a number of people and companies supporting the Iranian drone program. 
Saber Fakih, a U.K. citizen, was "the primary liaison" between the U.S.-based supplier and Alireza Taghavi, an Iranian national seeking to facilitate the purchase of an industrial microwave system, according to a statement of offense Fakih signed as part of his plea deal. The pair also coordinated on an attempted purchase of a counter-drone system, according to the statement. 
Neither item appears to have made it into Iranian hands, however, according to court records. The industrial microwave system was seized by U.S. Customs and Border Protection (CBP) and funding for the purchase of the counter-drone system dried up, Fakih's statement said.
"Fakih and his co-conspirators attempted to evade U.S. sanctions and obtain highly sensitive pieces of equipment for Iran from unwitting U.S. suppliers," said Assistant Attorney General Matthew G. Olsen of the Justice Department's National Security Division, in a statement. "In doing so, Fakih jeopardized not only U.S. national security, but the national security of any other nation Iran decides to target."
Fakih pleaded guilty to violating U.S. sanctions laws for his role in the scheme. Fakih admitted conspiring with four others, including Taghavi. A separate indictment against Iranian national Jalal Rohollahnejad, who is under U.S. export restrictions, was unsealed in the case. In the indictment, Taghavi appears to be identified as "Co-Conspirator D," while Fakih appears to be "Co-Conspirator B," according to the descriptions of their conduct laid out in Fakih's statement.
Rohollahnejad and Taghavi had held themselves out as representatives of Rayan Roshd Afzar, a company sanctioned in 2017 by the U.S. for its support of Iran's Islamic Revolutionary Guard Corps (IRGC), prosecutors said. Rohollahnejad had been added in March 2020 to the U.S. Department of Commerce's Entity List for procuring goods on behalf of Rayan Roshd Afzar. He became a minority owner of Rayan Roshd Afzar in 2021, according to Iranian corporate records, and held leadership positions in two subsidiaries of Rayan Roshd Afzar's parent company, Kharon found.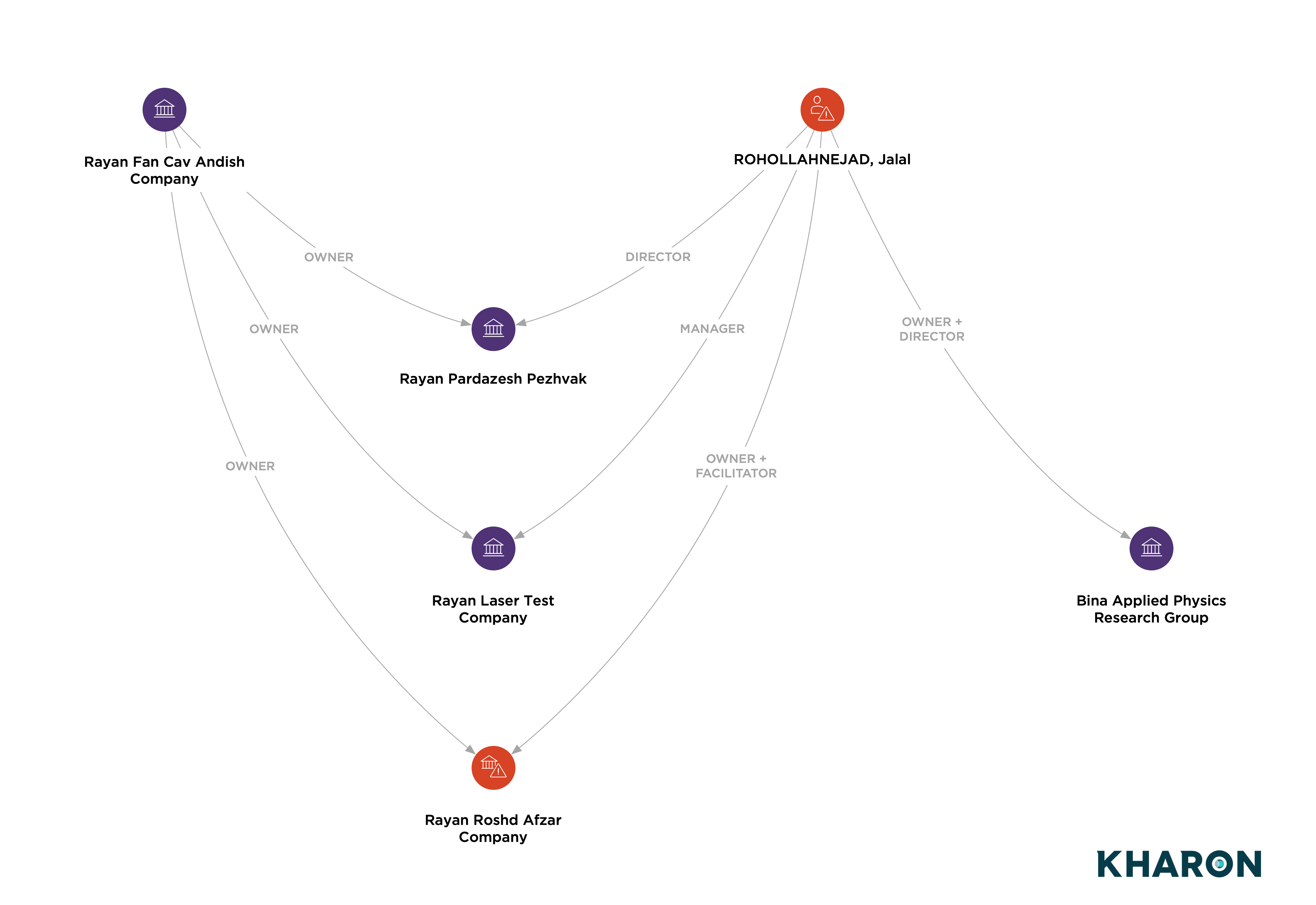 In October 2017, as the attempted purchase of the industrial microwave system was underway, Fakih told the U.S. supplier that a company in Dubai would be the end-user of the product, according to his statement of offense. He sent similar information late that month to Taghavi and another co-conspirator, and a U.S. logistics firm filed an export document with CBP in November listing a Dubai firm as the ultimate consignee for the industrial microwave system. 
The Dubai company isn't named in the court records. By mid-December 2017, according to the indictment of Rohollahnejad, two of the unnamed conspirators discussed who the Iranian end user would be, so that they could arrange shipment of the industrial microwave system. 
Co-Conspirator D said it should be shipped to Tose'e Soroush Saman Co. Ltd., which holds itself out as a technology company based in Tehran with ties to the Iranian military, the indictment said. 
But the item never left the Port of Newark; unbeknownst to Fakih or his co-conspirators at the time, it was detained by CBP, the statement said. Fakih learned in late December 2017 that it was being held, and for months he regularly communicated with the U.S. supplier and a freight forwarding company, saying the end user wanted more details on why it hadn't cleared CBP. 
In late January 2018, Fakih received a report written by Taghavi intended for Rohollahnejad saying the item was seized by the U.S. government, according to the statement of offense. "The shipping agent have always asked for (sic) end buyer to whom the cargo is being shipped to, which has been kept hidden as the information of the cargo actually being destined for Iran was and still has been kept hidden," the report said, according to the indictment of Rohollahnejad.
Months later, according to Fakih's statement, Rohollahnejad sent an email to Fakih that said: "I remember [Taghavi] told (sic) we can start some other business in oil and gas field to cover some penalties of the microwave oven project. I have some relations in Iran government can support us, also if you can buy [the counter-drone system], I have customer for it too."