Seeking End to Status as 'Honeypot' for Corrupt Assets, U.K. Launches New Sanctions Regime
The U.K. immediately designated nearly two dozen people for corruption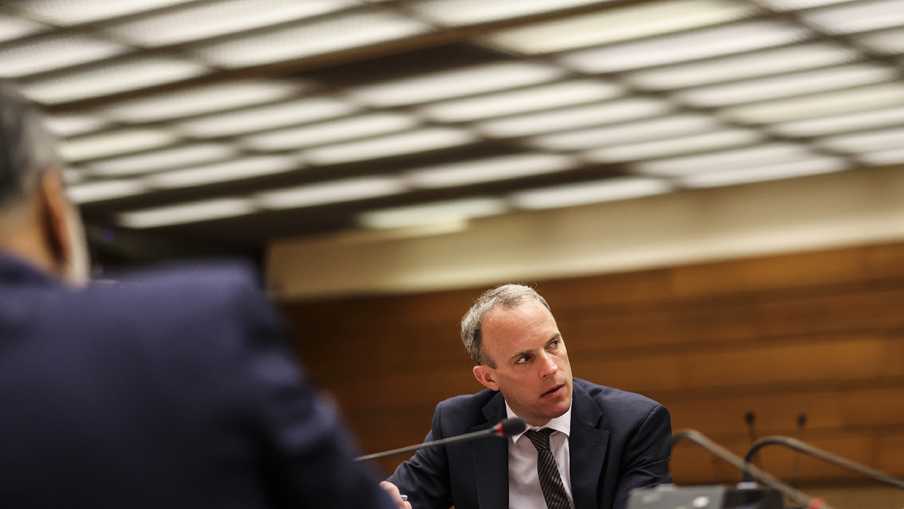 U.K. Foreign Secretary Dominic Raab (right) attends a meeting. (Source: Number 10)
By Samuel Rubenfeld
Wednesday, April 28, 2021
The U.K. government this week unveiled another new tool to curb serious corruption, authorizing sanctions on individuals or groups involved in bribery or the misappropriation of assets.
The legal framework, known as the Global Anti-Corruption Sanctions Regulations, allows the U.K. to designate individuals or organizations without targeting whole countries, U.K. Foreign Secretary Dominic Raab told Parliament. It follows the launch of other U.K. anti-corruption tools in the past decade, such as an anti-bribery law in 2010, the establishment of a corporate beneficial ownership registry in 2016 and a broader anti-graft strategy in 2017 that brought about the ability to freeze bank accounts or demand underlying proof of wealth, Raab said.
"Our status as a global financial centre makes us an attractive location for investment – and we are proud of that," he said. "But it also makes us a honeypot, a lightning rod for corrupt actors who seek to launder their dirty money through British banks or through businesses. That's why we have already taken steps to become a global leader in tackling corruption and illicit finance."
The U.K. government provided guidance explaining how it would consider who to designate under the anti-corruption regulations, including factors such as whether actions constitute "serious corruption," the types of graft and its scale, interaction with law enforcement and the status or connections of the person under consideration. 
Further guidance laid out what a designation conveys and how to comply with the sanctions, as well as enforcement procedures and penalties for compliance failures.
The definition of what constitutes serious corruption includes misappropriation of property, an "entirely novel" concept, according to a client note by the law firm Doughty Street Chambers. Under the regulations, misappropriation of property refers to a fiduciary obligation of a foreign official not to improperly divert, grant or allocate assets with which they are entrusted. The evidential burden is "very low," the client note said, citing the regulatory standard for designation on the basis of "reasonable grounds to suspect" acts of serious corruption.
"The breadth of conduct encompassed by the inclusion of misappropriation of property in addition to bribery gives U.K. sanctions enforcement greater capacity to influence inbound investment," the Doughty Street Chambers client note said. 
Anti-corruption groups welcomed the news, calling the new sanctions regime an important step in the effort against global kleptocracy. "The U.K. needs to make sure its own defences against corruption and money laundering are as robust as possible to give the regime maximum credibility," the U.K. Anti-Corruption Coalition said in a joint statement. 
The new anti-corruption sanctions regime also follows the launch in July 2020 of a framework for sanctions against human rights abusers that has been used against individuals and entities from Myanmar, Belarus, China, Russia and Saudi Arabia, among others. 
Taken together, the actions bring the U.K. in line with the U.S. and Canada, which have similar sanctions regimes, and the frameworks provide an opportunity "to take complementary actions and in partnership," the law firm Baker McKenzie wrote Wednesday in a blog post.
"U.S. sanctions are more likely to compel changes in behavior and disrupt threatening activities when pursued in concert with our allies—carrying a more forceful economic impact by disrupting access to the international financial system—and sending a stronger message to malign actors by virtue of our solidarity," said U.S. Treasury Secretary Janet Yellen. "The use of sanctions can further incentivize businesses to adopt a more proactive corporate risk and due diligence approach, which takes into account both human rights and corruption issues."
Under the new anti-corruption regulations, the U.K. quickly designated nearly two dozen individuals. Among them were several people involved in the diversion of USD 230 million in a Russian tax refund fraud scheme, three men accused of state capture in South Africa, a Sudanese businessman and a number of individuals involved in corruption in Latin America.
All but two were previously sanctioned by the U.S. However, the U.S. and U.K. coordinated new designations on those individuals: current and former Guatemalan government officials involved in corruption. Each had received a visa ban last year from the U.S. State Department.
Gustavo Adolfo Alejos Cambara, a former chief of staff for the Alvaro Colom presidential administration, had sought to influence the judicial selection process of two of the Guatemalan highest courts while in pre-trial detention for prior alleged corrupt activity, according to the U.S. Treasury. He turned to Felipe Alejos Lorenzana, a close associate who is an elected delegate to the Guatemalan Congress, to influence the outcome in a bid to secure a future release from prison, dismiss the charges and protect Alejos Lorenzana from future prosecution, the Treasury said. 
Alejos Cambara has been the target of several corruption-related investigations, including the accusation in 2019 that he received bribes from a businessman as part of a corruption network involved in Guatemalan government construction contracts, the Treasury said. He reportedly purchased offshore assets in Panama and Belize to obfuscate the funds and bought property later gifted to officials in exchange for political favors, according to the Treasury. Alejos Lorenzana allegedly facilitated bribes and payments to congressional representatives from the construction firms to secure ongoing or potential infrastructure contracts, the Treasury said.
"When elected officials in Guatemala pursue self-enrichment in their official duties, it is an affront to democratic principles in the region," Yellen said.
---