Senior Al-Shabaab Leaders Sanctioned by U.S.
Troops advance during a 2012 operation in Somalia against al-Shabaab. (Source: United Nations)
By Samuel Rubenfeld
Friday, November 20, 2020
The U.S. imposed sanctions this week on two senior leaders of al-Shabaab, the Somali affiliate of al-Qaida. 
Al-Shabaab, which has been designated by the U.S. since 2008 as a foreign terrorist organization (FTO), is one of al-Qaida's most dangerous affiliates, threatening the peace and stability of Somalia, as well as Kenya, according to the U.S. State Department. 
"[The] designations reinforce the United States commitment to degrading and defeating al-Shabaab, as well as the broader al-Qaida network," said Nathan Sales, the State Department's coordinator for counterterrorism, in a briefing with reporters.
Al-Shabaab has support networks across East Africa, and a U.S. citizen has a leadership role in the group, Kharon previously reported.
The threat posed by al-Shabaab goes beyond military action and asymmetric warfare, and now includes sophisticated extortion and taxation systems, child recruitment practices and a propaganda machine, a United Nations panel of experts said in a recent report. Last week, Ethiopian security officials announced they had made more than a dozen arrests, including of al-Shabaab members, for allegedly planning terrorist attacks across the country.
Abdullahi Osman Mohamed, a senior al-Shabaab official who is also known as "Engineer Ismail," was sanctioned Tuesday. He is the group's senior explosives expert, responsible for operations and manufacturing management, the State Department said. Improvised explosive devices "continue to be al-Shabaab's primary weapon of choice," according to the U.N. report. 
Mohamed is also the leader of al-Shabaab's media wing, al-Kataib Foundation for Media Productions, and is an adviser to the al-Shabaab "emir," who the U.N. has said is Ahmed Diriye. 
Diriye, meanwhile, has transferred power to his deputy, an act that appears to have increased internal strife within the terrorist group, according to an analysis published in late October by The Jamestown Foundation. 
Maalim Ayman, also sanctioned Tuesday, is the leader of Jaysh Ayman, an al-Shabaab unit conducting terrorist attacks and operations in Kenya and Somalia, the State Department said. He was responsible for preparing the January 2020 attack on Camp Simba in Manda Bay, Kenya, that killed one U.S. military service member and two American contractors, according to the State Department.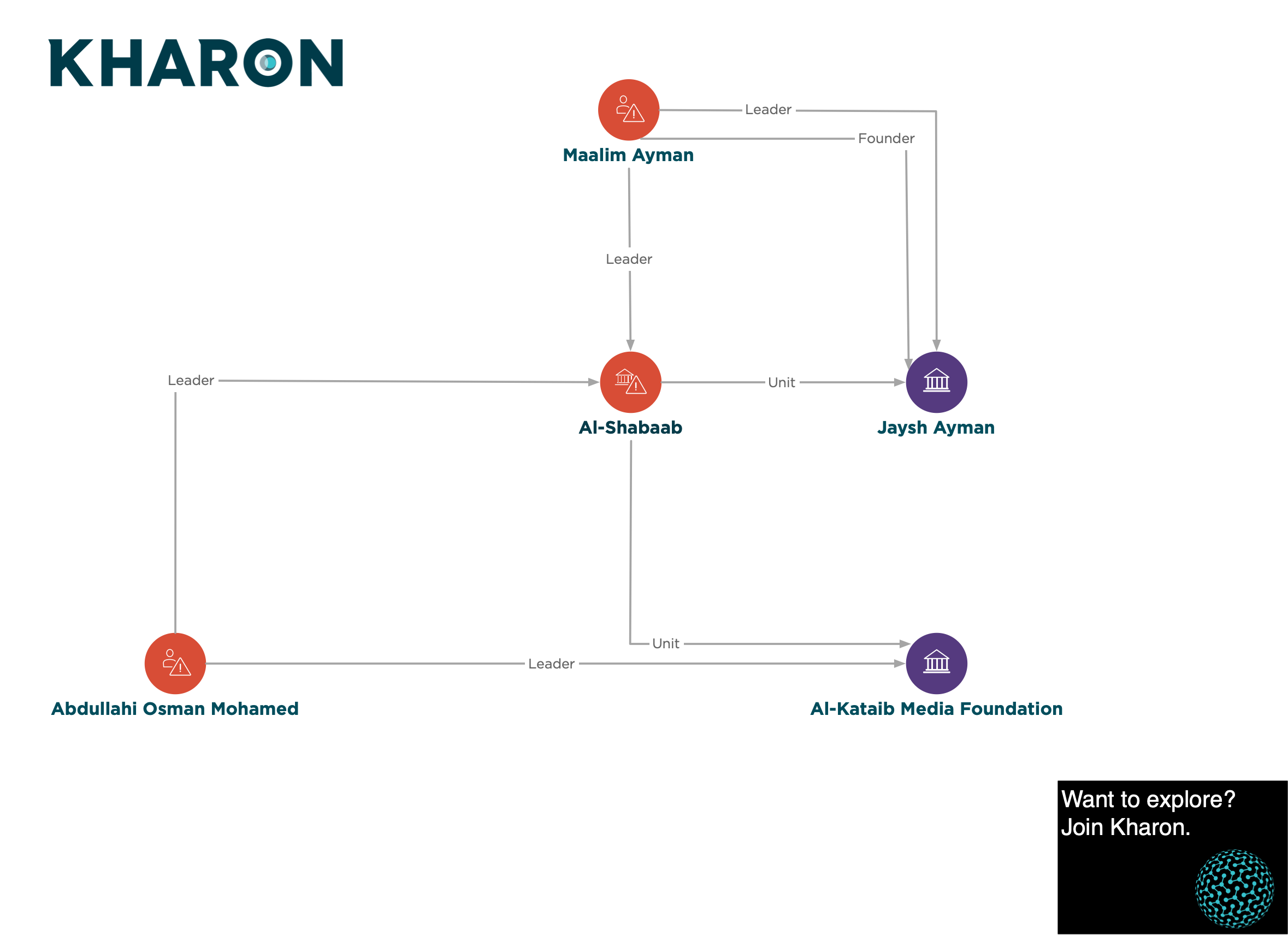 The U.N. panel's report focused on al-Shabaab's "taxation" system, including revenue sources, as well as methods of storage and transfer of funds using formal financial institutions. In line with Somali society as a whole, the report said, al-Shabaab transitioned from a cash-based economy to using a nascent formal financial sector in the country to collect and transfer funds. 
Despite territorial losses and increased aerial strikes targeting the group, al-Shabaab continues to operate multiple checkpoints across the country, extorts businesses in multiple cities and holds bank accounts to facilitate its taxation system, according to the U.N. report.  
"The [U.N.] Panel assesses that the group is in a strong financial position and is generating a significant budgetary surplus, investing these funds in various enterprises, including property purchases and market investments in Mogadishu," the report said.
Four conspiracies involving al-Shabaab revenue generation investigated by the U.N. panel involved USD 13 million. A zakat, or religious obligation, account controlled by the group took in deposits of USD 1.7 million in 10 weeks, according to the report. 
A version of the U.N. report seen by The New York Times named a Somali bank in which the group apparently held accounts. The bank denied serving a sanctioned party, but acknowledged the possibility that al-Shabaab had found ways to use the bank. 
However, the U.N. panel did not include in the public version of the report any associated documentation related to al-Shabaab's financing, saying the receipts and account analysis were contained in a "strictly confidential" annex. 
Zach Caldwell contributed to this report.
---