By Kharon Staff
September 1, 2023
---
In its first use of a new sanctions enforcement authority, the U.K.'s Office of Financial Sanctions Implementation (OFSI) warned that the private sector must allocate appropriate resources to prevent sanctioned persons, or entities owned or controlled by sanctioned persons, from accessing funds in the hours and days following a designation.
On August 31, OFSI published a "Disclosure" detailing sanctions breaches by Wise, a U.K.-based foreign exchange financial technology company, that were "assessed as moderately severe." The enforcement relates to a low value cash withdrawal by a company owned or controlled by a person sanctioned under the Russia Regulations within hours of their June 29, 2022 designation. Wise self-reported the breach and has taken steps to improve its sanctions compliance process, OFSI noted.
Oligarch Vladimir Potanin, Russia's second richest man and a key Kremlin supporter, was sanctioned by the U.K. government on June 29, 2022 alongside Putin relative Anna Tsivileva, her company JSC Kolmar Group, and a group of Russian companies and individuals supporting the Syrian government. OFSI did not disclose the exact entity tied to the August 2023 Wise enforcement action.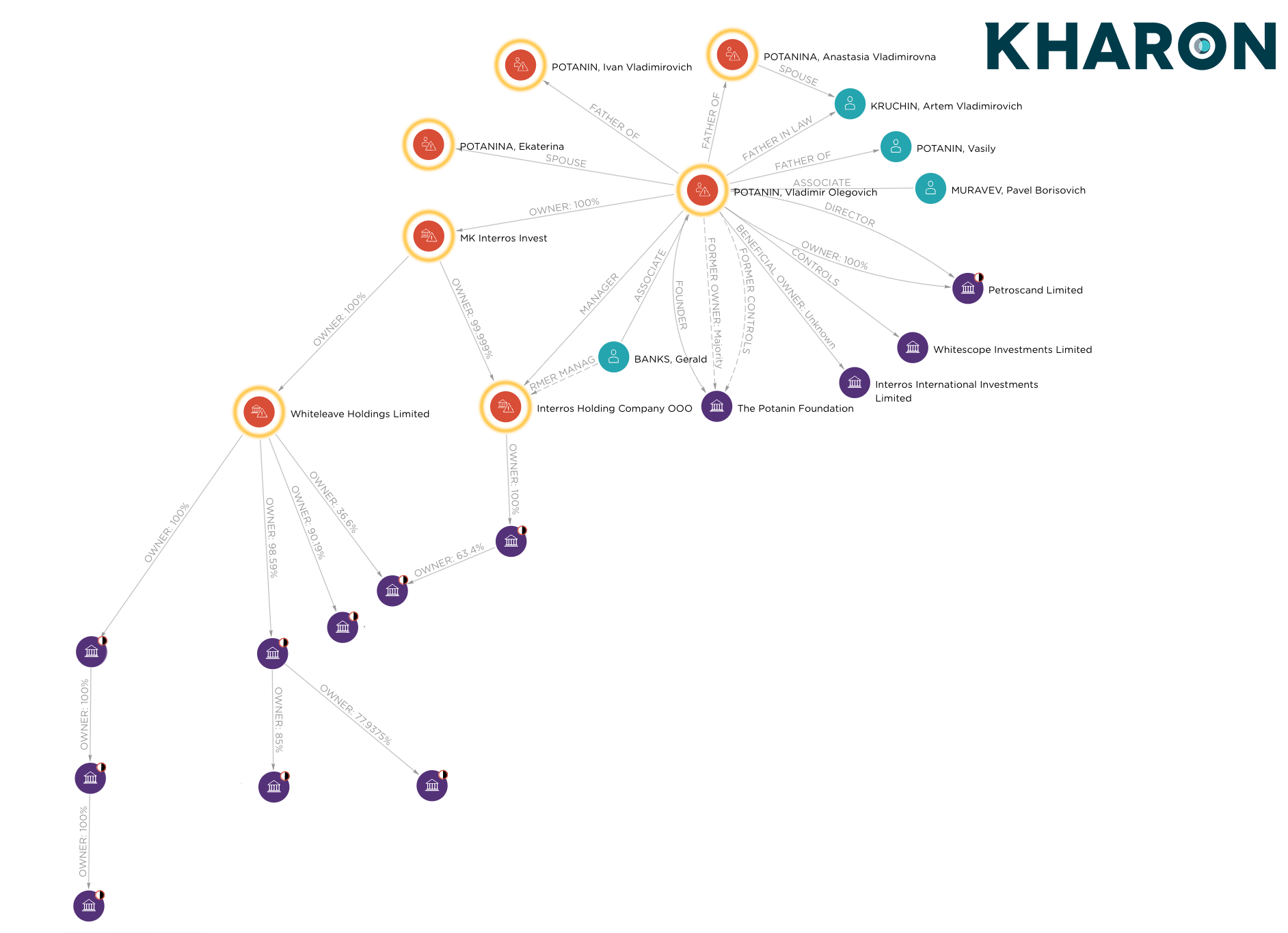 Kharon ClearView and LensView users can explore the global network of enterprises owned or controlled by sanctioned Russian oligarch Vladimir Potanin and his close associates in the Kharon platform. Click here to view.
Under the U.K.'s Economic Crime (Transparency and Enforcement) Act 2022, OFSI acquired the power to publish details of financial sanctions breaches in cases deemed "not serious enough" to justify a civil monetary penalty. OFSI has published updated guidance on how it intends to use this new authority and its categorization of the severity of the breach (lesser severity, moderate severity, or serious enough to justify a civil monetary penalty) when determining enforcement outcomes.
"Taking robust but proportionate enforcement action where it is justified is crucial to the effectiveness of our sanctions. It punishes those guilty of the worst breaches of sanctions, acts as a deterrent to them and others, and – through the associated publicity and compliance lessons OFSI produce – helps others understand how they can improve their compliance systems."

– Blog post by OFSI Director, Giles Thomson, August 31, 2023
Compliance Lessons Learned
Although the reported monetary value of the Wise breach was low and of moderate severity, OFSI notes that "important compliance lessons can be learnt" to ensure effective sanctions risk management.
First, private companies and individuals must ensure that no funds or access to funds are made available to designated persons, or entities owned or controlled by designated persons, immediately following a sanctions announcement.
In the case of Wise, the account associated with the designated person was suspended after its customer screening system raised an alert for a possible name match. The suspension prevented transfers into and out of the account, but did not block activity on the debit card associated with the account until the match was investigated by a Wise specialist five days after the initial designation.
According to OFSI, private industry should take steps to fully address sanctions risk exposure by promptly restricting all forms of access to funds by designated persons or entities owned or controlled by them. Companies must also allocate proportionate resources for screening and alert reviews whenever business is conducted, including weekends if necessary.
Kharon's Rapid Response offering provides a timely, cost-effective solution that saves organizations resources from distracting fire drills.

Following each new sanctions listing and delisting, Kharon's Rapid Response clients promptly receive the data, intelligence, and assurance needed to screen customers, transactions, and supply chains for sanctions compliance, including with the 50 Percent Rule, in order to make quicker, more informed decisions. [Learn more.]