By Abby O'Keefe
August 3, 2023
---
Terrorist groups continue to demonstrate agility in utilizing new financial technologies to generate revenue and raise funds, a new United Nations (U.N.) report finds, highlighting the challenges faced by governments and private institutions in counter-terrorism financing efforts.
In its July 2023 report to the U.N. Security Council, the Al-Qaida and Islamic State in Iraq and the Levant (ISIS) Monitoring Team notes that the global terrorist threat – while "dynamic" and "suppressed in some conflict zones" – remains resilient. According to the report, the structures of these groups, which are built to withstand pressure and operate autonomously, means there is continued risk of resurgence despite ongoing counter-terrorism measures and sanctions.
Afghanistan in particular "remained a place of global significance for terrorism," with approximately 20 terrorist groups operating in the country since the Taliban's takeover of the government, according to the U.N.. Political and economic instability in parts of southwest Asia, north and east Africa create favorable conditions for terrorist groups like Al-Qaida in the Arabian Peninsula (AQAP), Al-Shabaab, Jamaat Nusrat al-Islam wal-Muslimin (JNIM) and others to establish safe havens and exploit natural resources.
Sources of Funding
Significant cash reserves and the use of businesses to generate revenue remain at the disposal of terrorist groups. The source of these funds varies depending on the local circumstances in which each group operates, according to the U.N..
In January 2023, the U.S. government imposed sanctions on Sham Express, a Turkish company founded in 2018. The company was sanctioned for its role in facilitating the transfer of funds by individuals affiliated with ISIS, including its finance leader Abd al-Rahman Ali al-Rawi. According to the U.S. government, Sham Express was used by ISIS financial facilitators to support the smuggling of gold from Syria and Sudan through Iraq, Egypt, and Libya as a means of generating funds.

In 2021, a co-founder of Sham Express established Rawasi International Jewelry Consulting (FKA Sham Express International), a global trading and shipping company that is registered and located at the same address as the sanctioned entity. Trade data reviewed by Kharon indicates that both Sham Express and Rawasi International have sent dozens of shipments of products from Turkey to companies in Africa not previously affiliated with ISIS.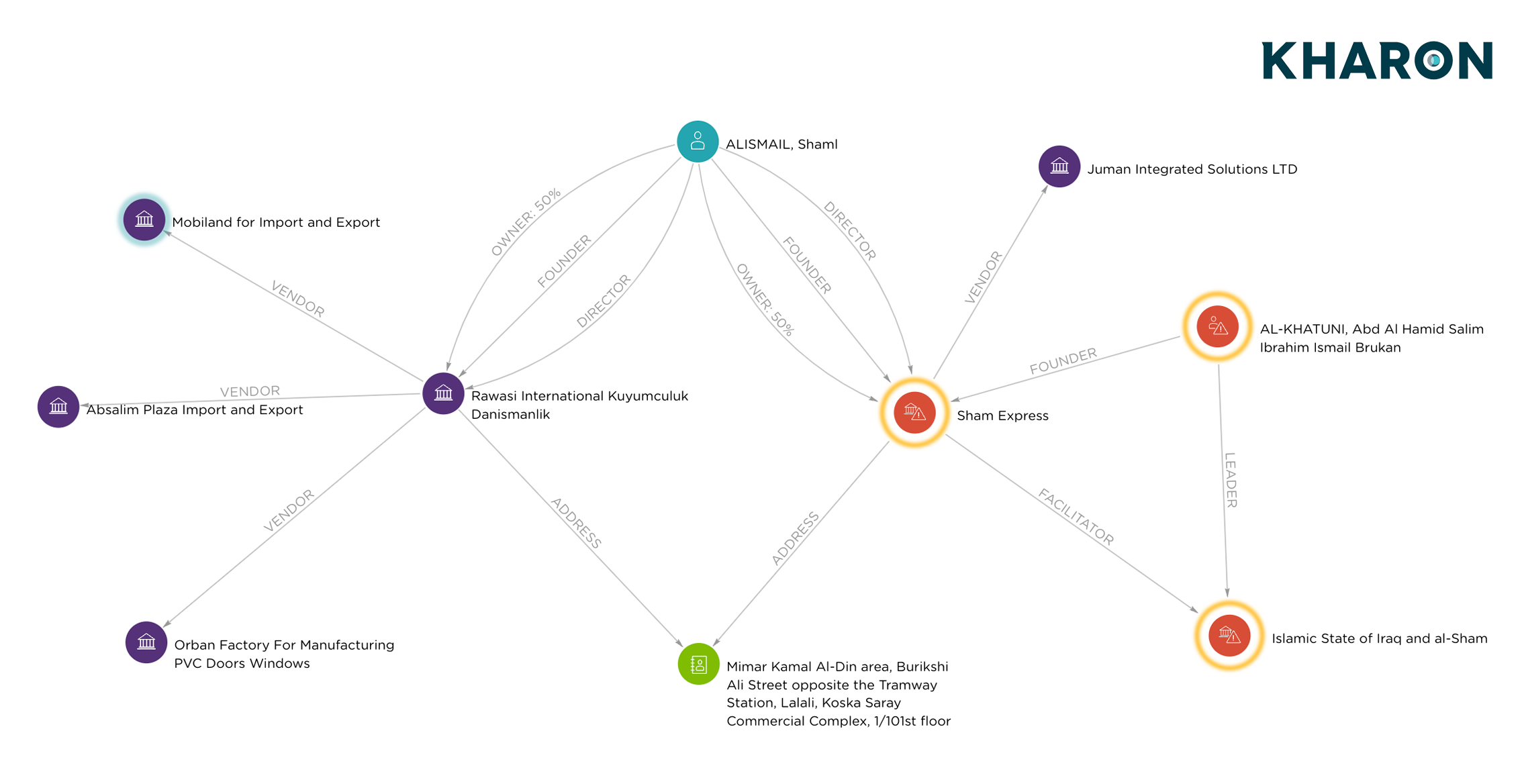 Kharon ClearView and LensView users can explore the Sham Express commercial network directly in the Kharon platform. Click here to view.
In Somalia, where Al-Shabaab controls territory, the group collects taxes from local residents and businesses, while also generating revenue through mining and illegal charcoal smuggling, the U.N. report says.
In May 2023, the U.S. Department of the Treasury sanctioned an Al-Shabaab financial network, which has generated millions of dollars in revenue through charcoal smuggling. A review of official records, company websites, and previous U.N. reports illustrates how the individuals and entities facilitating Al-Shabaab's charcoal smuggling operations are involved in managing other trading companies doing business between Somalia and the Gulf.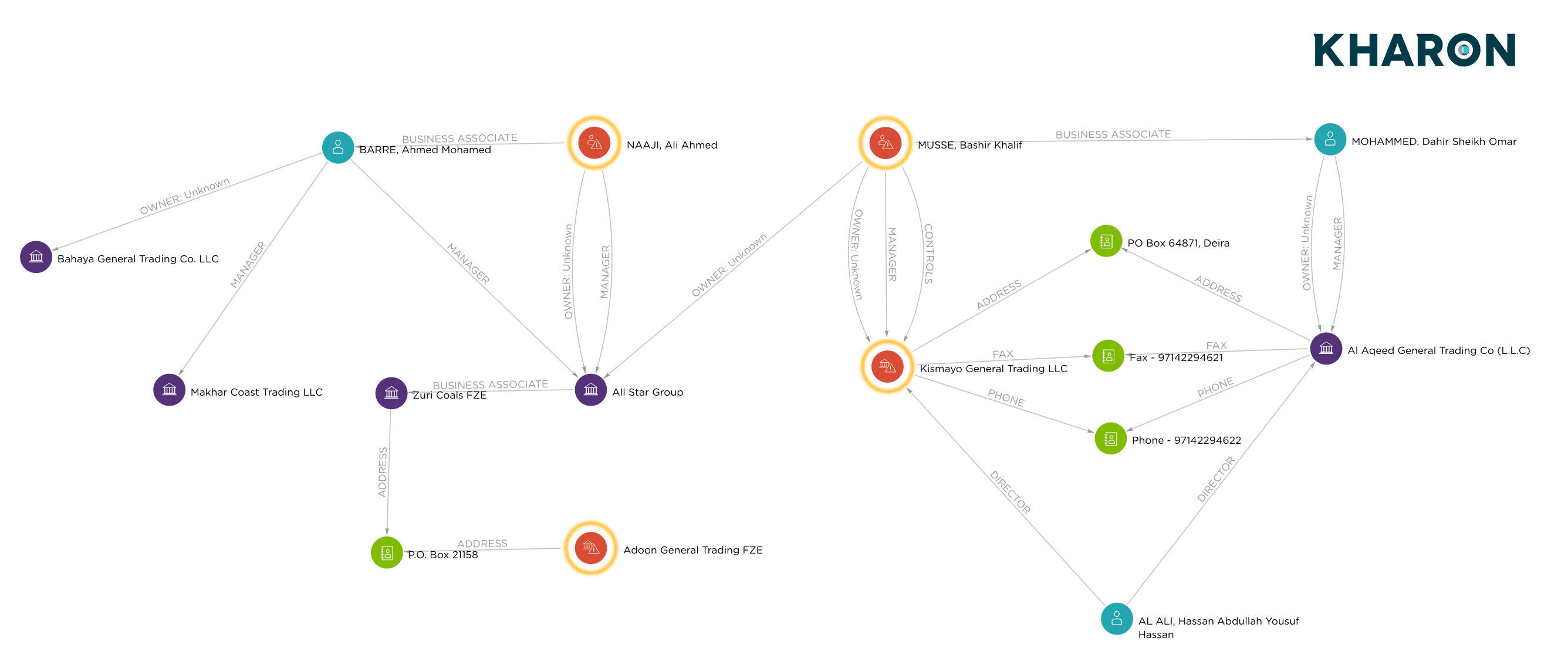 Kharon ClearView and LensView users can explore the U.S.-sanctioned Al-Shabab charcoal smuggling network directly in the Kharon platform. Click here to view.
The U.N. report also highlights that member states have observed the ability of terrorist groups to adopt new financing methods and technologies. This includes the use of Bitcoin, crowdfunding, and virtual assets for international funds transfers. These new tools provide terrorist groups with the means to continue to operate and recruit supporters.
​