By Jake Galant
August 1, 2023
---
A Taiwanese shoemaker that is an original equipment manufacturer (OEM) for international footwear brands has a wholly-owned subsidiary in China that has exhibited indicators of forced labor, highlighting the challenges apparel and footwear companies face in ensuring compliance with forced labor regulations.
China plays a critical role in the manufacturing of footwear and sourcing of key components used by the footwear industry, to include natural fibers like cottons, leather, synthetics, recycled polyester, rubber, and wool. Other top global shoemakers, such as Vietnam, are heavily dependent on China's raw materials for their products.
Use of Labor Transfers
The transfer or use of laborers through Chinese government-sponsored programs from Xinjiang under the guise of "poverty alleviation" may be an indicator of forced labor, the U.S. government has warned.
In March 2018, Fujian Sunshine Footwear received a transfer of 62 "registered impoverished people" from Akto County in the Xinjiang Uygur Autonomous Region; the transfer was organized by the county's Human Resources and Social Security Bureau, according to an Akto County report. Fujian Sunshine Footwear is a Chinese company wholly owned by Fulgent Sun International – a publicly traded manufacturer in Taiwan. Fujian Sunshine Footwear is located in Quanzhou, China, which sits immediately across the Strait from Taiwan.
A November 2021 Chinese media interview with a government official of Kizilsu Kyrgyz Autonomous Prefecture discussed the government's poverty alleviation through employment efforts, including providing subsidies for "vocational skills training", and mentioned a farmer from Kizilto Town, Akto County, who started working at Fujian Sunshine Footwear Co., Ltd. through a "labor transfer." The U.S. government's 2021 Xinjiang Business Advisory identifies nonstandard hiring practices, hiring through government recruiters, and terminology related to poverty alleviation and reskilling as possible indicators of forced labor.
In 2022 and 2023, Fujian Sunshine directly shipped over a million kilograms of shoes and related footwear products to major brands in the United States. Fujian Sunshine also supplied basic materials like shoe pads, woven fabric cotton, rubber soles, shoe buttons, and zipper sets to Fulgent Sun International's Vietnam-based subsidiary, Fulgent Sun Footwear Co., which has produced shoes for other major Western footwear and apparel companies, according to a review of trade data.
Fulgent Sun International, the parent organization of these two companies, is also listed as an OEM for a number of international brands in the U.S., France, U.K., South Korea, and elsewhere. Several of these brands were recipients of shipments from Fujian Sunshine Footwear and Fulgent Sun Footwear in 2023.
Despite the focus on Xinjiang as a source of forced labor risk, the CBP detentions to date have targeted a substantial number of imports from intermediary countries like Vietnam; nearly half of detained shipments in the apparel, footwear, and textiles industry have been from non-China sources.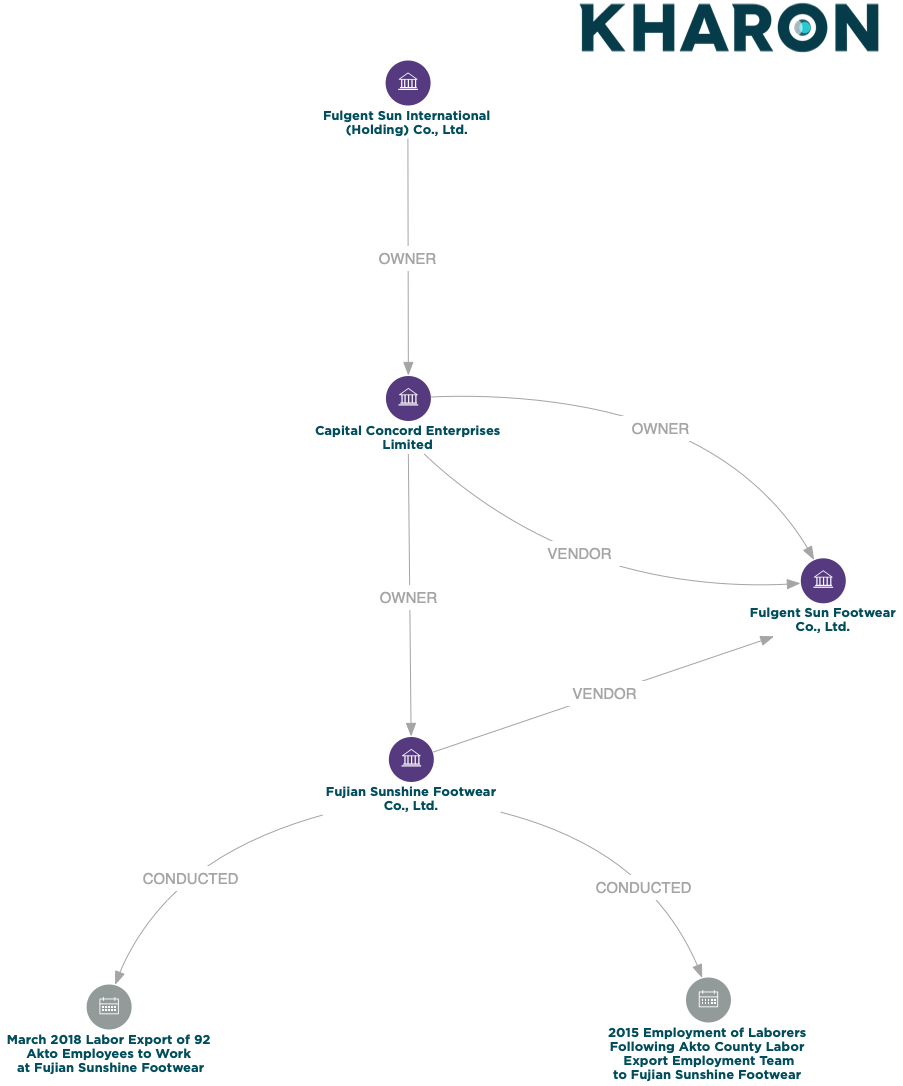 Sourcing Raw Components 
The Uyghur Forced Labor Prevention Act (UFLPA) prohibits the importation of goods into the United States mined, produced, or manufactured wholly or in part with forced labor in China. Cotton and its downstream products from Xinjiang were also added to the U.S. Customs and Border Protection (CBP) Withhold Release Order list in January 2021, banning their import into the United States. 
The U.S. government in its 2021 Xinjiang Supply Chain Business Advisory also highlighted raw materials used in the production of footwear, such as cotton, as high risk for exposure to forced labor in Xinjiang. Kharon has previously reported on companies involved in the production and sourcing of raw components from Xinjiang used in global apparel and footwear production
​"Third country risk is the highest risk…we [CBP] look at just the volume of the manufacturing and the affiliations of these companies in Southeast Asia that are tied back to China and the Xinjiang Region that creates a significant risk in supply chains."

- Eric Choy, Executive Director for Trade Remedy and Law Enforcement, U.S. CBP

ED Choy's full remarks can be viewed here:
A ​Fireside Chat with CBP: UFLPA Enforcement, Year One and Beyond