By Robert Kim
October 27, 2022
---
The U.S. and European countries have recently announced a series of sanctions, criminal charges, and arrests against front companies, businesses, and individuals in Europe, Asia, and the Middle East involved in Russia's supply chain of weapons, military equipment, and essential foreign-sourced electronic components that power them.

Statements, Alerts, and Guidance

At a recent meeting of countries imposing economic restrictions on Russia in Washington, D.C., U.S. Deputy Secretary of the Treasury Wally Adeyemo stated that the U.S. government and its allies "are regularly sharing information" on Russian defense procurement and sanctions evasion networks, hinting at the extent of the multilateral effort underway targeting Russia's defense industries and their supply chains.

An October 14 Treasury-Commerce-State Alert noted that Russia was attempting to evade Western sanctions and export controls "using a range of techniques, including front companies and fraudulent end-user licenses" in order to overcome the impacts of its military supply chains and to continue to illicitly procure foreign-sourced technology.

OFAC issued guidance on the same day stating that non-U.S. persons that provide ammunition or other support to the Russian military-industrial complex may be sanctioned by OFAC.

A week later, on October 20, the EU imposed sanctions on three Iranian military leaders and a company responsible for Iran's exports to Russia of the UAVs used to attack Kyiv. They included the commander of the Islamic Revolutionary Guard Corps Aerospace Force (IRGCASF) and an IRGCASF-linked company responsible for the design and development of the Shahed series of UAVs supplied to Russia.

Enforcement Actions

On October 19, the U.S. Department of Justice and OFAC announced criminal charges and sanctions against a Russian network that procured military and dual-use technologies from U.S. manufacturers and supplied them to Russian defense industry end-users. The network included a German company and entities in the United Arab Emirates and Malaysia that obtained advanced semiconductors and microprocessors used in fighter aircraft, missile systems, smart munitions, and other military applications.

An indictment unsealed on the same day alleged that individuals and companies in Latvia and Estonia attempted to smuggle to Russia a dual-use export-controlled item that required a license from the Department of Commerce to export to Russia because of its potential application in nuclear proliferation and defense programs.

Previously, in late September, the U.S. Department of the Treasury sanctioned Chinese and Armenian entities identified as "suppliers" to the Russian military.

Related Typologies

Companies outside of Russia have acquired western-origin technologies for Russian defense and military end users, according to Kharon research.

Two Hong Kong-based companies sold electronic components, including U.S.-origin parts, to a Russian-based firm that acts as the "principal importer" for a company that sells foreign products directly to Russian defense companies, according to trade and corporate records.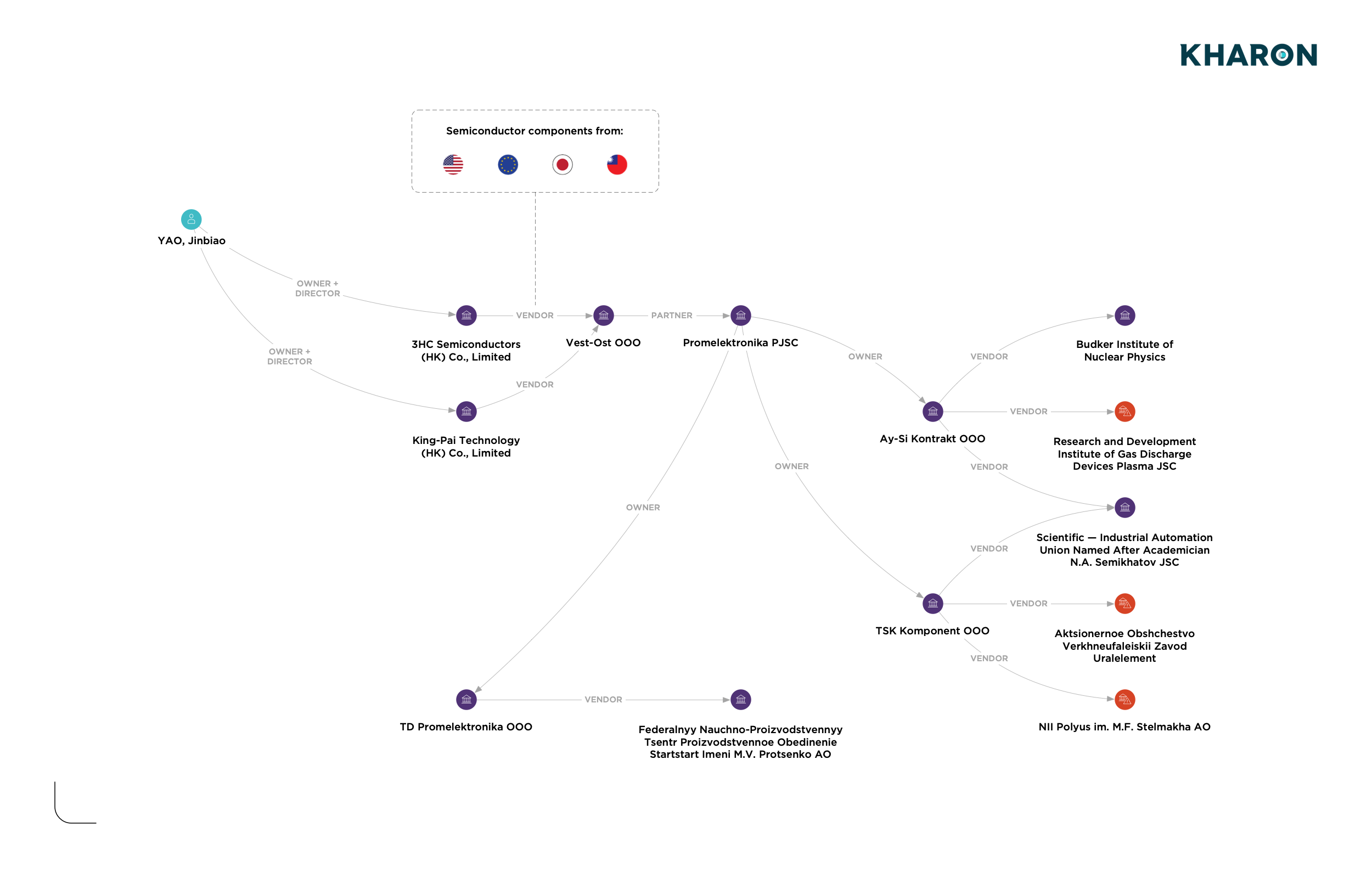 Prior to the Russian invasion of Ukraine in February 2022, a Germany-based company acquired dual-use items from manufacturers in the U.S. and other Western countries and distributed them to Russian defense, military, and intelligence end users. This German company is connected to a network of companies that OFAC sanctioned in March of this year for acquiring Western technology for Russian military and intelligence use.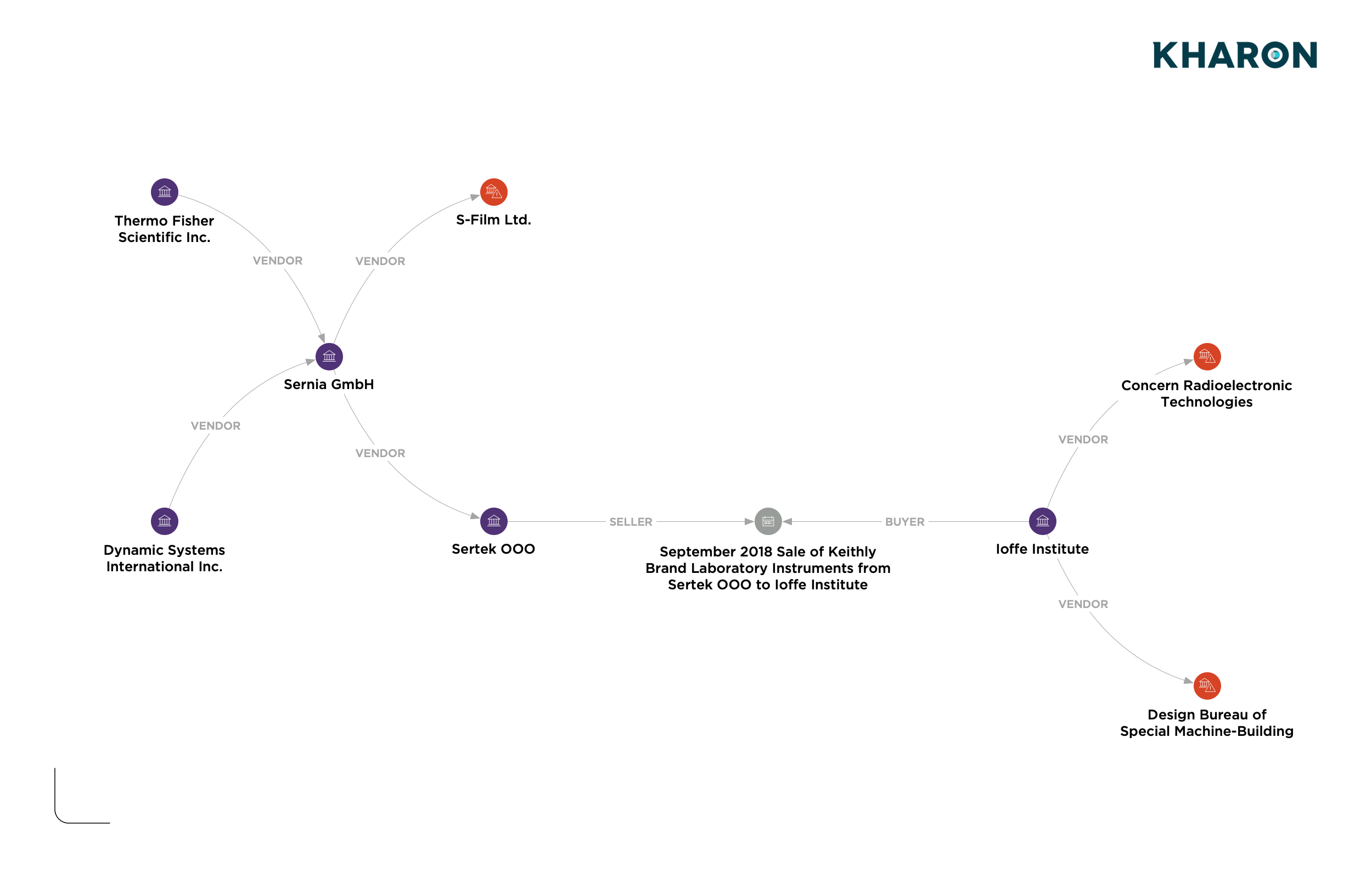 By targeting Russia's access to foreign-sourced microelectronics and technologies essential to the production of modern weapons and military equipment, Western nations are seeking to deprive Russia of weapons and systems to replace those lost on the battlefield.